The Greatest Showman Review
By Lora Grady
Quite a Show
The glitzy, inescapable ad campaign that 20th Century Fox unleashed to promote "The Greatest Showman" wants to convince us that what we really need to perk up our spirits this holiday season is a bold, boisterous, tent-revival of a musical about the life and times of 19th century circus magnate/jack of all trades P.T. Barnum. The crazy thing is, they just may be right.
There are many reasons to go to the movies. Escapism is a good one, and that's exactly what "The Greatest Showman" offers, both in subject matter and as a viewing experience. It's a pure Hollywood treatment of Barnum's rags to riches drive to become the self-styled "circus king." He used colorful promotions and over-the-top promises to reel in curious crowds eager to check out mysterious wonders waiting behind closed doors: exotic animals, daring acrobatic acts, and an assortment of human oddities, both legitimate and faked. Barnum's legacy can still be seen in surprisingly disparate pieces of modern culture, including aquariums (yes!), fast-talking pitchmen, the unexpected benefits of bad press, and a really excellent X-Files episode.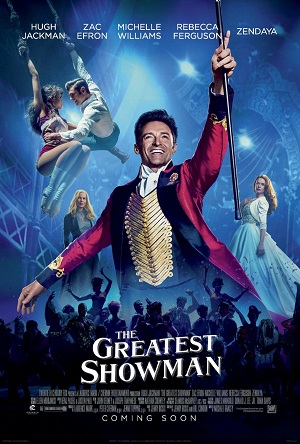 Hugh Jackman ("Logan"), himself something of a show-biz renaissance man, plays Barnum as a hard-driving dreamer whose multiple ambitions are underpinned by a stubborn commitment to provide a suitable life for his socialite wife, Charity (Michelle Williams, "Manchester By the Sea"). She's happy enough with a cozy home in a New York tenement building where her clever husband entertains their daughters with homespun sleight-of-hand shows on the rooftop. But from childhood he's had visions of something spectacular, and it's a hand over hand climb of sheer persistence that launches him from shabby wax museum huckster to the suave, tuxedoed promoter who rubs shoulders with bejeweled theater crowds as he introduces destined-for-stardom opera singer Jenny Lind (Rebecca Ferguson, "The Snowman") to New York's glitterati.
Along the way Barnum acquires a business partner, Phillip Carlyle (Zac Efron, "Baywatch"), a wealthy scion and occasional playwright who brings an infusion of funds and a touch of respectability to Barnum's still-tawdry spectacle. Carlyle immediately falls for trapeze artist Anne Wheeler (Zendaya), thus providing "Showman" with its requisite star-crossed romance. Zendaya was strategically underutilized in this year's "Spider-Man Homecoming" but here she steps into the spotlight, proving to be a strong leading lady who's both a remote, ethereal beauty and a headstrong woman well-schooled in life's realities.
But that's more than enough about the plot. What you really need to know is that "The Greatest Showman" is a musical: a colossal, breathtaking, heart on its sleeve, throw your head back and sing to the rafters musical that's both old-fashioned in its unabashed sentiment and modern in its sensibilities. Though the songs here were penned by Benj Pasek and Justin Paul, who won an Oscar for their work on "La La Land," "Showman" has more in common with 2001's "Moulin Rouge" in its saturated technicolor audacity and sheer visual dazzle.
"Showman's" musical numbers lean toward the anthemic, with both the title song and a showstopping ensemble number, "This Is Me," featuring soaring choruses and ebullient choreography. A negotiation between Barnum and his would-be partner Carlyle at a local tavern also breaks out into a full-fledged dance number, complete with cast members dancing on tables, and showcasing deft footwork by both Mr. Jackman and Mr. Efron. In fact, from start to finish "Showman" is a reminder that Mr. Jackman is a formidable triple-threat. He effortlessly carries the film by creating an empathetic, believable Barnum, and there is a natural touch of strain in his singing voice that lends a lovely yearning quality to his big vocal moments. He's earned a Golden Globe nomination for this performance, and a win would be well-deserved.
But "Showman" isn't all fast-paced anthems, and other cast members have their turn in the spotlight with more sedate songs. Michelle Williams reveals a sweet singing voice as she muses on her life with Barnum in "Tightrope," and Mr. Efron and Zendaya make the most of a romantic duet that's audaciously staged via trapeze. And "Never Enough," the showpiece in a scene where Barnum learns whether his gamble on singer Jenny Lind will pay off, is an exquisite pinnacle that touches off shivers of pure emotion.
"The Greatest Showman" occasionally feels a touch calculated - you can imagine its songs on the lips of future hopefuls on "The Voice" or backing feel-good ad campaigns - but never cynical. You'll know before you go whether you're someone who's able to willingly lose yourself in big movies, and if so, "Showman" is a fantastic multi-sensory immersion experience. If you're not keen on musicals perhaps give this one a pass. But for would-be fans, this is a roaring, rousing crowd-pleaser that should be seen on the big screen - and if you feel the urge to sing along, go for it.