Spider-Man Homecoming Review
By Lora Grady
So, there's a new Spider-Man movie.
Yes, it's the third time in the last decade and a half that Hollywood has rolled out a new live-action take on the hardy webslinging hero, and one might wonder if there's really any possible way to reboot this longstanding Marvel franchise without running the risk of arachno-fatigue. Surprisingly, there is: use the latest take as an opportunity to bring Spidey fully into the Avengers fold.
"Spider-Man: Homecoming" is a fresh, fun update that presents Peter Parker (Tom Holland, "In the Heart of the Sea") as a sweetly earnest high school geek who's coming to terms with a full array of superpowers brought on by a bite from a radioactive spider. Audiences were introduced to Mr. Holland's Spider-Man in last year's "Captain America: Civil War." Here he takes center stage in a story that sets high-flying heroics against the backdrop of everyday adolescent life, so we see Peter struggle to find his place in the superhero pantheon while also juggling high school and home responsibilities, often to comic effect.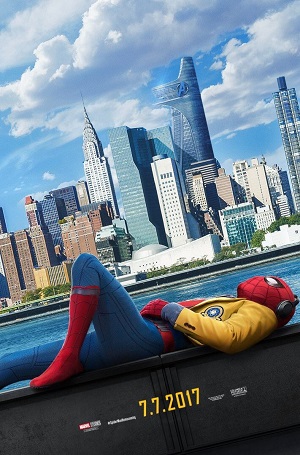 "Homecoming" does a great job conveying the strange indignities of living a double life, however well-intentioned. Peter fidgets through his school days, keeping his identity secret from best buddy Ned (Jacob Batalon, "North Woods") and his pals on the academic decathlon team, including brainy beauty Liz (Laura Harrier), on whom he's got a wicked crush, and grouchy iconoclast Michelle (actress/singer Zendaya from Disney Channel's Shake It Up). He lives for the evenings when he stows his school backpack behind a convenient alley dumpster, dons his crimefighter costume, and spends his night rousting bad guys from his rough-and-tumble Bronx neighborhood. When there's no big ticket crime to be found Peter's happy to right the smaller wrongs; it's a hoot to see him foil a would-be bicycle thief or provide directions to an old lady with the same forthright enthusiasm.
Peter's raison d'etre is joining the Avengers. He's spent some time with the team and he's trying to impress the lead man himself, Tony Stark, aka Iron Man. But being a hero-in-training, Peter's mostly under the watchful eye of "Happy" Hogan (Jon Favreau, "Chef"), Stark's bodyguard and aide de camp. The film has lots of fun with the dour Happy trying to keep Peter within the bounds while also juggling Stark's demands and moving the massive Avengers HQ to a new complex outside NYC.
"Spider-Man: Homecoming" has miles of storyline, starting with the intro of very modern villain Adrian Tooms, "The Vulture" (Michael Keaton, "Birdman"), a NYC contractor who shifts to the dark side after economic hardships and an encounter with the Stark-inspired Department of Damage Control sink his salvage business. Mr. Keaton made his mark as the first big-screen Batman, and it's fun to see him return to the superhero universe, this time as a super-baddie. Through his neighborhood crimefighting Peter picks up the thread of Tooms's weapons-smuggling operations and he's eager to take on the bad guys, but Stark and Happy aren't ready to bring him off the bench for this one. A frustrated Peter heads back to high school and decides to keep sleuthing on his own.
The "Homecoming" screenplay from lead writers Jonathan Goldstein and John Francis Daley packs in an almost frantic amount of content. It shifts between Peter's school life where he sighs over the girl of his dreams, deals with a rich bully, and messes around in chem lab to perfect his web-spinning supplies, to home where he hides his double life from guardian Aunt May (Marisa Tomei, "The Big Short"), to his ongoing pursuit of Tooms and his criminal syndicate. This pursuit leads to no fewer than three major setpiece showdowns as Peter learns on the job by foiling plots atop the Washington Monument, aboard the Staten Island Ferry, and finally in a frantic chase across the Coney Island Boardwalk. Along the way he's guided, lectured, and occasionally bailed out by Stark, who drops in to provide virtual or on the spot mentoring as he assesses Peter's readiness to step up as a one of the Avengers.
"Spider-Man: Homecoming" is loads of fun, and you don't have to be up to date on every entry in the Marvel canon to follow along and enjoy it. As Peter Parker, Mr. Holland hits just the right notes of eager teenager and excited fanboy as he gee-whizes his way through adventures, learns about his powers, and proves himself to his hero Tony Stark. Fans of the franchise will be delighted with this entry, and viewers who are just dropping in will enjoy this one as well. Marvel strikes again; don't fight it, just let yourself get caught up in its web.