Baywatch Review
By Lora Grady
The Buoys Are Back in Town
Exactly whose idea was it to reboot 90s syndicated staple Baywatch for the big screen? He - or she - can't necessarily be lauded for deciding that the world was still smarting from the loss of the reliably cheesy, surprisingly durable LA lifeguard yarn... but they ought to be thanked for the inspiration to put Dwayne "The Rock" Johnson and Zac Efron front and center in bathing suits.
In this "Baywatch" update, Mr. Johnson ("The Fate of the Furious") heads up the beach patrol as heroic lifeguard Mitch Buchannon, a role made famous by David Hasselhoff in the original. Mitch takes his job monitoring an impossibly scenic stretch of California coastline verrrrry seriously: he's ready to enforce the rules, lecture families about beach safety, or hop on an ATV to mount a rescue at a moment's notice. He even snaps into crimefighter mode on occasion, though his long-suffering boss (Rob Huebel, "How to be a Latin Lover") and a surly local cop keep insisting that he's "just a lifeguard."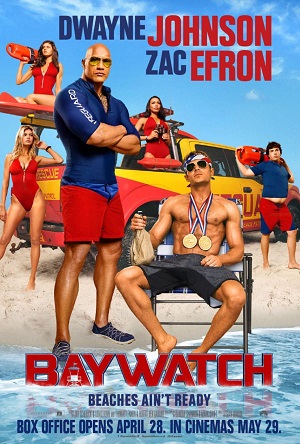 The Baywatch team, including down to earth beauty CJ (model Kelly Rohrbach) and sporty Stephanie (Ilfenesh Hadera), are putting a new group of potential trainees through their paces on the beach. Cue Mr. Efron ("Mike and Dave Need Wedding Dates") as bad boy Matt Brody, an Olympic-caliber swimmer (yes!) who's fallen from grace after letting his crew down in a relay event (hint: big lesson coming about being part of a team). He squabbles with Mitch over tryouts but gets the nod along with Summer (Alexandra Daddario, "San Andreas"), who quickly rebuffs Matt's advances. Rounding out the team is amiable schlub Ronnie (Jon Bass, "Loving"); he's got a debilitating crush on CJ, and he's astonished at his good fortune.
As the team settles down to business on the beach, they're visited by purring, predatory Priyanka Chopra (Quantico) who owns the local country club and has her eye on Mitch. Turns out she's also eyeing the public waterfront, wanting to annex it for her club. Meanwhile, someone's been smuggling drugs ashore, and when Mitch and team race to the site of a nearby yacht that's caught fire they find a local politician - but oh good lord, that's already way more info than you'll ever need about this particular plot.
Because really, the plot's just here as a vehicle for the jokes. "Baywatch" announces its intentions up front with an opening bit where Mitch strides across the beach and greets admirers, including a guy who's so enamored that he spends each day sculpting the burly lifeguard's likeness in sand, and a surfer dude with lingo so inscrutable that we get subtitles as the two chat. One running gag has Mitch tossing teen-idol epithets at Matt ("Hey, hold on there, N'Sync"), and they do show some restraint by letting the bit build for a while before pulling out the inevitable "High School Musical."
Mr. Johnson has solid comedic skills and the wit not to take the proceedings too seriously. With his imposing physique he's practically a walking caricature and he plays along, posing impressively on the beach in the film's opening, and looking bereft in an ill-fitting electronics store employee uniform after he's kicked off the Baywatch squad. Mr. Efron takes it easy as the would-be rebel who's looking to redeem himself, and of course he holds his own on camera in the looks department. As a wowed onlooker observes while watching him navigate chin-up bars on an obstacle course: "How does he have so many abs??"
To be fair, "Baywatch" provides plenty of eye candy with both genders well represented. Of course everyone's gorgeous in this beach community, from the super-fit main cast in their iconic red bathing suits to the rhinestone-bedecked extras tossing back champagne at a country club gala or slinking around on nearby yachts. The absurdly voluptuous Ms. Chopra is a stunner in clingy evening gowns that still somehow allow enough mobility to climb up scaffolding when the situation warrants. Even the scenery is over-the-top, as if the sunrise itself were posing for its close-up.
"Baywatch" isn't a great movie. It runs longer than it needs to, and the raunchy humor is occasionally over the top. But it's pretty funny and it looks great, and darned if there aren't a couple of drop-ins from classic cast members in the third act to put a stamp of approval on the proceedings. If you're looking to cool off as summer heats up, catching "Baywatch" in an air-conditioned theater could keep you amused... and you won't have to worry about getting sand in the car on the way home.