San Andreas Blu-ray Review
By Rachel Cericola
The Film
Dwayne Johnson just can't shake "The Rock." That's because every single one of the likable action star's movies seems reminiscent of his alter ego. It's almost like you're waiting for that catchphrase to be coming.
In San Andreas, what seems to be cooking is a series of staggering earthquakes. Thankfully, Ray Gaines (Johnson) just happens to be a rescue pilot for the Los Angeles Fire Department. However, the real hero of the film is Dr. Lawrence Hayes (Paul Giamatti). At least he's trying to save a few people he's not related to by getting the word out.
Ray, on the other hand, swoops in on a helicopter to save estranged wife Emma (Carla Gugino) and steals a plane, then a boat, to find daughter Blake (Alexandra Daddario). She's hanging out on another side of town with a couple of British guys (Hugo Johnstone-Burt and Art Parkinson). Guess he's gotta save them too.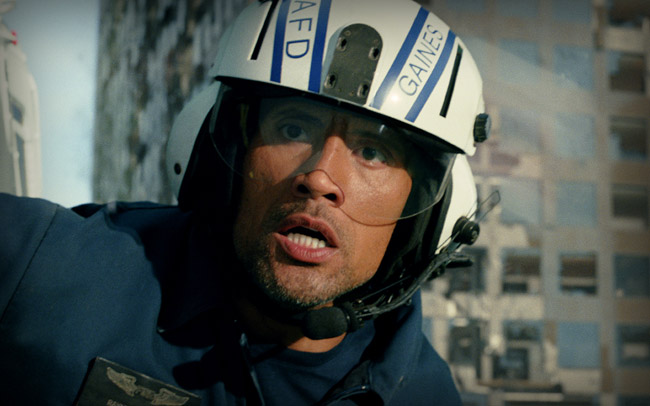 Okay, Ray does pull a few people out of harm's way. And thank goodness for that, because no one else really seems to be doing anything heroic.
If they were, you'd probably miss them. San Andreas has a lot of characters that don't get anything to do. (The Good Wife's Archie Panjabi plays a reporter who gets to interview Giamatti for 2 minutes and then spends the rest of the movie hiding under a desk and looking worried.) After all, there are earthquakes to endure -- a lot of them. They also throw in a tsunami, just to make sure no one is spared.
When you do get a chance to breathe, the movie shows us that this little family can survive, but does that matter when so many innocent people are left to perish? Meh, you don't get close enough to any of them to care. San Andreas is just one big CGI feast for your eyeballs.
Still feeling a bit shaky about this movie? Check out Tom Fugalli's theatrical review of San Andreas.
The Picture
Let's face it; a movie like San Andreas is really about the eye (and ear) candy. Warner Bros. delivers an eye-popping 2.40:1 image filled with tons of imagery to ogle. There are several close-ups that show the tiny stubble on Dwayne Johnson's head and the worry lines on Paul Giamatti's face. However, even when there's a wide shot of the crumbling California landscape, this movie remains pretty razor-sharp. Colors are also really impressive throughout, whether the film is focused on skintones, an aerial shot of the green landscape, the people and things in Dr. Hayes' classroom, or whatever/whoever is under that grimy water.
The Sound
What a ride! If you have Dolby Atmos, a disaster movie about earthquakes should be required viewing. San Andreas is proof of that. Overhead sounds can be as tiny as birds tweeting, but of course, when disaster strikes, this track really kicks into high gear -- and pretty much stays there for the entire length of the movie. The creaky stairwell inside the Hoover Dam, crashing glass, crunching metal, blaring sirens, and crumbling buildings will have you ducking for cover. About every two minutes, someone or something is falling. Even Ray's helicopter provides a steady source of overhead sound through the first half of the movie. However, it's not just overhead; this track has a ton of other sounds that move through the surrounds with awesome directionality. San Andreas may not be a great movie, but it has a great audio track that may make this Blu-ray worth the purchase price.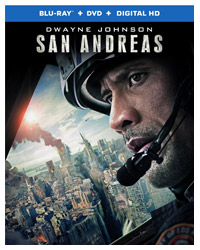 The Extras
All of the featurettes for San Andreas are short, but worth a peek. The entire production is packed into the 6.5-minute "San Andreas: The Real Fault Line," with Dwayne Johnson getting his own, lengthier short (and rightfully so!). Composer Andrew Lockington also gets his own say in the 6-minute "Scoring the Quake." There's also a trio of entries for deleted scenes, stunts, and a Gag Reel. For something more in-depth, Director Brad Payton provides a feature-length audio commentary.
Final Thoughts
This disaster flick isn't a total disaster. San Andreas delivers exactly what you'd expect and more... like a lot more. The action is almost too much. Of course, too much is never enough when it comes to the AV presentation, which is stellar here. As mentioned, the audio track alone may be worth the purchase price of this film, as well as a Dolby Atmos upgrade.
Product Details
Actors: Dwayne Johnson, Carla Gugino, Alexandra Daddario, Ioan Gruffudd, Archie Panjabi, Paul Giamatti
Director: Brad Peyton
Audio/Languages: Dolby Atmos (English), Dolby Digital 5.1 (French, Portuguese, Spanish), DVS 2.0 (English)
Subtitles: English SDH, French, Portuguese, Spanish
Aspect Ratio: 2.40:1
Number of Discs: 2
Rating: PG-13
Studio: Warner Bros.
Blu-ray Disc Release Date: October 13, 2015
Run Time: 114 minutes
List Price: $44.95
Extras:

Commentary by Director Brad Peyton
San Andreas: The Real Fault Line
Dwayne Johnson to the Rescue
Scoring the Quake
Deleted Scenes
Deleted Scenes with Commentary by Director Brad Peyton
Gag Reel
Stunt Reel
Standard-Def DVD
UltraViolet Digital Copy