Monster Beats Tour By Dr. Dre In-Ear Headphones Review
By Chris Chiarella
And The Beats Go On…
Go shopping anywhere for portable audio accessories and you'll see countless in-ear-type headphones or "earbuds" to choose from, plus now there's a whole high-end earbud industry out there. If you're a manufacturer, how do you make yours stand out in such a crowded marketplace? Building upon their quickly, successfully established Beats by Dr. Dre brand, Monster has expanded their status-conscious headphone line to include the new "Tour" model, named in reference to the fact that these are clearly intended for on-the-go use. Unlike Monster's original model; the larger, over-the-ear-design Beats by Dr. Dre "Studio;" the far more compact Tour does not include a plug adapter for home use.
But what helps set the "Beats Tour By Dr. Dre" apart from competing earbuds are the user-friendliness of the revolutionary cable, the driver design and subsequent performance, and of course the aforementioned distinctive styling. This being a Monster product, let's start with that necessary evil, the cable. Why "necessary"? Because wireless earbuds don't exist [editor's note: actually they do in wireless Bluetooth earphones like Etymotic's et8, but they're not that common]. Why evil? Well, not only do I tend to snag my headphone wire on just about every doorknob, hip-mounted cellphone and small child's neck in sight, but I've been known to stuff them into a pocket when I don't have time to properly spool and stow them. What emerges is a Gordian mess that I usually only bother untying just enough to reach from my portable media player to my head.
Knot to Be Outdone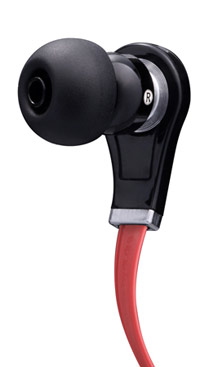 The result of ten years of research and three years in active development, the ribbon-shaped red cable on the Tour is touted as the first-ever to be tangle-free. The legend goes--although if it happened so recently, can it really be considered a legend?--that when "The Little Monster" Kevin Lee (son of Head Monster Noel) was cooking up a batch of fettuccine, he noticed how the flat noodles slid off one another rather than knotting up when he strained them. The lightbulb went on and the tangle-free Monster Cable was born. (I cook fettuccine two or three times a day, and all I can come up with is, "Mmm, food!")
Within the tough, flexible, uniquely textured Duraflex protective jacket is Monster's XLN headphone cable, with magnetic flux tube and micro-strand conductors which serve to extend frequency response while picking up less radio-wave interference. They passed my pocket test with flying colors, but that doesn't mean that we can or should try to impress our friends by tying actual knots in the cable then trying to escape.
Stick It in Your Ear
Most included-in-the-box-with-your-player or inexpensive aftermarket earbuds tend to be so tiny as to practically disappear into the ear canal. (Those bundled with the Creative ZEN X-Fi are a notable exception). Their physical limitations mean that they are simply unable to reproduce genuinely impactful lows or clean highs. By necessity, the Tour 'buds actually protrude from the ear just a bit, owing to the larger, more elaborate driver array. The magnets are extremely fast and accurate, in a low-mass, high-efficiency design to make the most of a headphone signal, aided by the 24-karat gold contact on the plug.
The Monsters knew that a great many of these Tours would be used with the ubiquitous iPod (most recent estimates give Apple 111% of the portable MP3 market, which sounded a little high to me), and so were optimized for use with the iPod's Sound Check feature, which balances playback on all tracks to a consistent volume level. Heck, I was even loaned The Little Monster's own personal iPod for my first round of demos.

The 'phones arrive with the medium eartips already in place--the common soft silicone bulbous shape--so they can be enjoyed by the vast majority of listeners right out of the box. Large and small replacement tips are also included, in addition to two pairs of flange-style "Airlocks," a triple layered design that can be inserted relatively deeply in the ear for superior sound quality at lower volumes, while still extremely comfortable and effectively blocking external noise. This is passive noise isolation mind you, essentially an earplug, versus the active noise cancellation people use on airplanes.
After some trial and error, I found my ideal combination of comfort and performance with the larger flange-type tips. The replacement tips fit tightly over the hard nubs at the heart of each earpiece, and so removing the old and installing the new can be a chore, but well worth it, for me at least. The open ends of the hard central earpieces are covered with a sound-invisible metal mesh to keep out, y'know, gunk. These tips were comfortable and secure, although there is still the usual business of wedging them snugly into our headholes. Once in place, they did a fabulous job of blocking out ambient noise.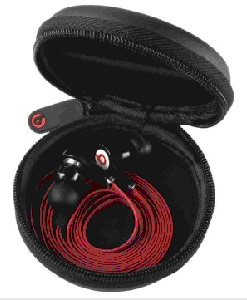 How Low Can You Synch?
I've read consumer comments both for and against the Tour's performance on bass specifically, and while I didn't feel a thump in my gut, I certainly felt it in my head. That's only fair, as no earbuds are capable of moving enough air to provide an experience rivaling loudspeakers, or large headphones. Dynamic range was acceptably wide, as highs were dependable and midrange was always solid. Even the musical accompaniment to certain applications and games like Word Fu had a detailed resonance that rung true.
Efficiency meanwhile is outstanding: When driven at the full volume of an iPod touch with Sound Check and Volume Limiter engaged, even tracks originally encoded to MP3 at lower volume came through loud and clear. Switching from music to this year's Sound Editing Oscar winner, The Dark Knight, I was impressed by the spaciousness, the detail and even the preservation of much of the directionality (although that's largely in the software) thanks to the speed and precision of the drivers. Most of my demos were conducted at 100% volume for the full effect, and while there was only minimal high-end distortion, you should never run your headphones so loud as to cause pain.
The small but tough puck-shaped, zippered case provides safe storage, with the Beats "b" molded on the top. (Or maybe it's a "q" if you hold it upside down: Quincy Jones, take heed!) Even more than over-the-ear headphones, it's important to keep them stored in the case, as they go inside the delicate, vulnerable area of the ear, and we don't want dirt and germs contaminating them.
Turn-Ons
Comfortable, with an array of replaceable eartips
Outstanding noise isolation
Surprisingly solid bass and wide dynamic range
Turn-Offs
No microphone or adapter for iPhone, no in-line volume control
A serious investment, as pricey as an entry-level nano
Final Thoughts
The snazzy looks and status--and price premium--of Dr. Dre's lifestyle brand are definitely embodied in the Beats Tour, with performance that exceeded my expectations from the earbud form factor. The tangle-free thing is a big deal, as I'm sure I'm not alone in the hours lost freeing my cables from themselves, now if only they could invent a cable that didn't get caught on everything else. Maybe when Kevin Lee cooks up a pot of farfalle….
Where to Buy
Manufacturer's Specifications
Weight: 0.71 oz./20 g
Connector: 1/8" (3.5mm) stereo mini-plug, gold-plated
Cable Length: 1.2 meters/3.94 feet
Color: Black with silver and red accents, red cable
Warranty: 1 Year, Limited
MSRP: $149.95
What's in the Box?
1 pair of Monster Tour by Dr. Dre Headphones
1 Carrying Case
Three pairs of standard Monster-designed eartips
Two pairs of different-sized triple-layer "Airlocks"
Three pairs of standard Monster-designed eartips
Two pairs of different-sized triple-layer "Airlocks"
Quick start guide
Manufacturer's Contact Information:
Monster Cable Products, Inc.
455 Valley Drive
Brisbane, CA 94005
ph: (877) 800-8989
Web sites: