Creative ZEN X-Fi Portable Media Player with Wireless LAN Review
By Chris Chiarella
X-Fi with Wi-Fi Knows How to Satis-Fi
When I was a lad, I dreamed of a portable TV. Not the lunchbox-sized black-and-white one that rests on your knee when you're tailgating, mind you: I had visions of a color screen that fit into my pocket. VCRs and TiVos were still a ways off, but if I could have wrapped my head around the notion of selecting my own programming to watch, I would have been all for that, too. Back then I'd never heard of Al Gore so I couldn't have predicted the impact of the internet on portable entertainment, either. So a device like the Creative ZEN X-Fi is a whole lot more interesting than anything I could have imagined.
The newest additions to the ZEN line take their name from X-Fi, Creative's highly-touted "Xtreme Fidelity" Audio technology, now in a portable player. They built their reputation on the SoundBlaster audio card after all, and X-Fi debuted on their best cards, proprietary processing which honestly does make compressed audio tracks and video clips sound more like the real thing. The ZEN X-Fi with Wireless LAN goes a step further to offer connection to a Wi-Fi network, streaming digital video, audio and JPEG photos from your host PC. This opens up a world of entertainment possibilities beyond what's loaded into the player's 16 or 32 gigabytes of onboard memory. Even those high capacities can be promptly enlarged with the use of a Secure Digital (SD) memory card, too.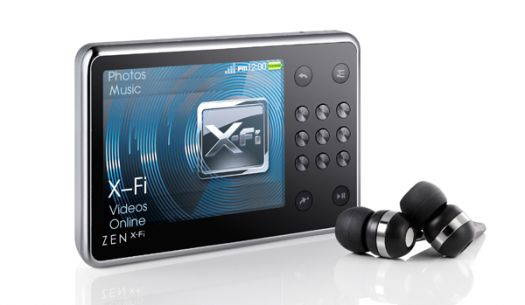 Fans of online chat/IM will be happy to learn that this Wireless LAN model also supports Yahoo Messenger or Windows Live Messenger, and Creative has also thrown in such serious applications as a Calendar, Contact and Task Lists. And now that the current Zeneration packs an external speaker, the ZEN X-Fi can also be used as an alarm clock.
Working the Network
When in Auto mode, the Wireless LAN feature automatically detects available networks. One of the hardest parts about linking into my home network was entering my router password, using the nine tiny alphanumeric keys, a three-by-three array of unmarked brushed aluminum studs. These are used in conjunction with dedicated Back, Pop-Up Menu/Options, Play/Pause and X-Fi buttons. This last one can actually be programmed by the user as a shortcut to any feature or menu we choose.
To communicate between PC and portable, we must install Creative Centrale media management software on the computer. I've always found Creative's media managers to be painless and rather friendly to use. The ZEN plays nicely with iTunes inasmuch as it can locate and access non-DRM-protected files (i.e. MP3s and iTunes Plus) that we might have compiled over the years. Centrale adds the usual My Music, My Picture and My Video folders and we can add any others on our own.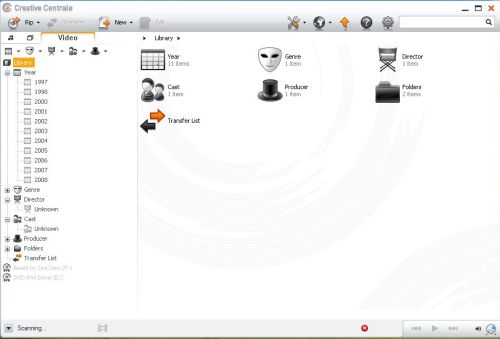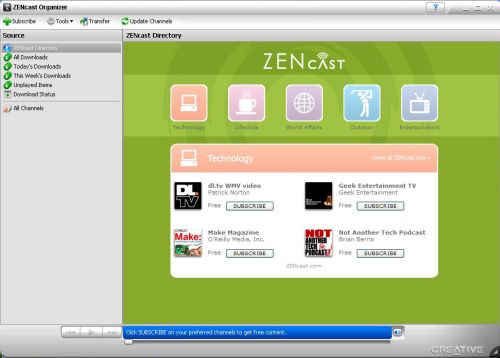 I gave the application a few hours to scan my hard drive and build a library. Whilst in Settings, I needed to click on the plus sign for each of the three media and check the box to "Enable Creative Centrale Media Server" for this PC. ZEN in hand, I then navigated to the Online section of the user interface, chose Media Server, waited through a quick search, and landed on a familiar albeit technical name for my computer. One more tap of the center button and BAM, I was streaming.
Well, maybe "Bam" is too strong of an onomatopoeia here: While communication between ZEN and PC had been successfully established and maintained, attempts to watch favorite videos remotely were often met by a variety of error messages. Turns out that videos beyond the player's resolution cannot be displayed, either streamed or from onboard flash memory, unless they have been previously transcoded to 320x240, by Centrale or by Windows Media Player. Some smaller web videos I'd saved to my computer were already that small, and I was indeed able to view them, even though the file did not reside on the ZEN. Pretty sweet!
What's On?
But of course, when you want to load up and leave the nest, the ZEN X-Fi works with the DRM-protected portable Windows Media Video copies of movies now being included on DVDs and Blu-rays from Fox and their ilk. It's also compatible with paid third-party audio and video providers like Audible, Vongo, Napster and Amazon Unbox. We can also download the free ZENcast Organizer application to help us find and nab more free audio/video content, podcasts on a wide variety of topics.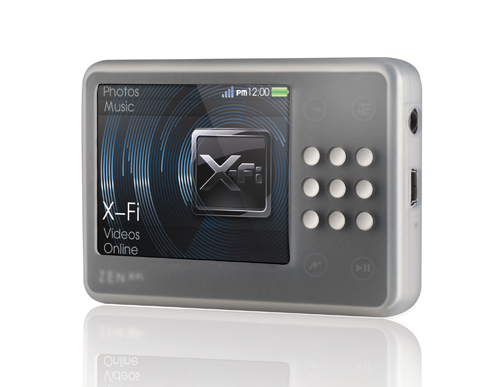 Full-length movies are watchable at this screen size and shape but, to the studios' credit, an official, licensed Digital Copy is usually presented in the original aspect ratio, which means a significant portion of the available two-and-a-half-inch, 4:3 LCD is lost to black bars. One adjustment, accessible while we watch, allows us to vertically stretch the image to fill the screen, with no bars. Everyone is instantly anorexic, but the eye can forgive.
Augmenting its allure as a futuristic multimedia titan is its wee size, roughly the dimensions of a credit card and no thicker than a stack of 12. And at this weight (less than one of the Snickers I had for breakfast), it can really disappear into just about any pocket without even making it sag. As I mentioned, it does have a small bottom-firing slot speaker, one of the other changes from the previous generation. Although it is easy to unintentionally cover it with the right thumb while holding the player, the external speaker is great when you want to quickly share a video clip, or you just don't feel like wearing headphones.
Sound Master
Then again, the bundled EP-830 earbuds do fit comfortably inside the ear with interchangeable silicon pads that also plug out a lot of ambient noise. They are a smart design incorporating substantial drivers that extend out from the ear canal, with respectable low frequencies and solid imaging. These are the same headphones that Creative will be selling for $50 by themselves in the near future. The audio can be further tweaked to our taste with the eight EQ presets as well as five customizable bands. Bass Boost and the leveling Smart Volume plus adjustable, eardrum-saving Restrict Volume controls are icing on the sonic cake.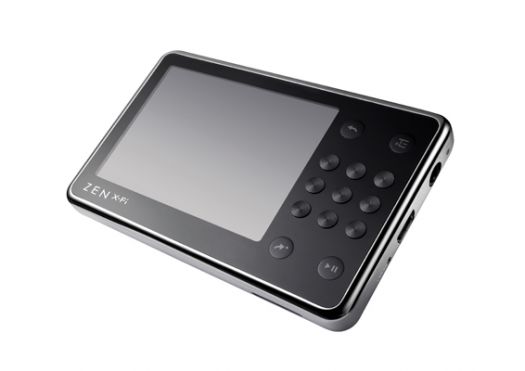 The effects of X-Fi Crystalizer and X-Fi Expand are subtle, not something we would notice when using the onboard speaker, and even from earbuds the difference is less pronounced than with on-ear or over-the-ear headphones. I switched to a pair of Creative Aurvana Live! at this point to more accurately judge this aspect of the ZEN X-Fi's performance.
Right away I noticed that the X-Fi Crystalizer appears to boost the overall sound level while also imparting a slightly wider, slightly more organic dynamic range. X-Fi Expand seemed to move the sound away from my skull, as if originating instead from a less localized area of the headphone, for a more realistic musical experience. Crystalizer can be set to On, Off or Max, Expand independently to On/Off, so we're bound to find a combination that suits us after some trial and error.
Turn-Ons
Head-turningly compact but
Proprietary audio tweaks make it sound BIG
Works great with established content providers and Digital Copy
Highly customizable
Turn-Offs
Video streaming requires resizing of our existing video files
No video output
Comes with the shortest USB cable I've ever seen!
Final Thoughts
In a world of portable media player leaders and followers, kudos to Creative for going their own way. The design and feature set are uniquely theirs, with improvements over the first generation and an attractive value for those looking to go beyond the ordinary.
Where to Buy:
Manufacturer's Specifications
Dimensions: 2.2" H x 3.3" W x 0.5" D
Weight: 2.4 ounces
Screen size (diagonally): 2.5"
Screen type: Thin Film Transistor LCD
Resolution: 320 x 240
Input: Microphone
Video Outputs: n/a
Audio Outputs: Analog stereo mini-jack
Data: USB 2.0
Wireless: 802.11b/g
Available finishes: Black with silver trim
Card slot: SD (supports SDHC)
Battery: Built-in lithium ion
FM Radio: Yes, with 32 station presets
Voice Recording: Yes
Video Playback Formats: MJPEG, WMV, MPEG-4 (including DivX and XviD)
Audio Playback Formats: MP3, WMA, AAC4, WAV (ADPCM), Audible 2, 3, 4
MSRP: $199.99 (16GB), $279.99 (32GB)
What's in the Box?
1 Zen X-Fi player
1 pair of EP-830 earphones
1 USB 2.0 cable
1 Installation CD
Manufacturer's Contact Information:
Creative Labs, Inc.
1901 McCarthy Boulevard
Milpitas, CA 95035
ph: (800) 998-1000
website: http://www.creative.com/