Monster Beats By Dr. Dre Studio Headphones Review
By Chris Chiarella
"Ladies and Gentlemen… The Beats!"
Time was, Monster Cables' wares were strictly … you know, cables. A quick look at their product line now reveals everything from power amplifiers to iPod cases to loudspeakers to spray cleaners to their own record label. And, after more than three years of top-secret development, they can add headphones to the list.
Beats by Dr. Dre began with the eponymous recording artist/producer, working alongside Jimmy Iovine, chairman of Interscope Geffen A&M Records, himself an accomplished producer and engineer. Dre drew upon their long and varied artistic backgrounds to conceive headphones that would deliver more of the music that they hear in the studio, without the compromises common to popular equipment. They ultimately partnered with Monster to create what would become the flagship model, the Beats By Dr. Dre "Studio" Headphones. Combining new materials, large proprietary drivers, and a digital amplifier, these much-anticipated 'phones received their final industrial design from Robert Brunner.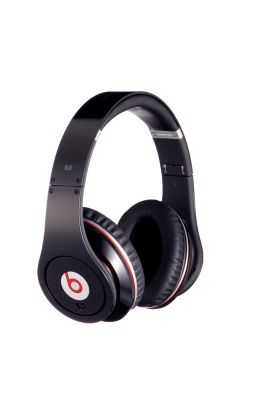 Essential to an authentic studio experience is the isolation from distraction, and so Beats By Dre offer active noise cancellation. A small microphone inside reads the ambient noise of the listening environment, and then circuitry generates an opposite soundwave, which can more or less negate the unwanted din. This process requires a fraction of a second to perform, and so the sudden blast of a gunshot for example would not be eliminated. Noise cancellation technology is ideally suited to combat the constant drone of an airplane, for example, which is the primary use of such headphones.
A pair of AAA batteries goes inside the left earcup, and the right side offers two controls. There's a master On/Off switch with a red indicator light, and pressing the large "b" emblem mutes both the music and the noise cancellation, should you want to discuss your drink cart options with the flight attendant without removing the headphones. They fold and unfold with a pair of locking hinges, but we must take care not to overextend the rigid plastic headband when putting them on or taking them off, lest calamity occur.
The headphones must be powered on--which again automatically engages the noise cancellation--in order to deliver the music. Two interchangeable cables are provided to run between the Beats and source device. One cable has standard mini-plugs on both ends, the other is Monster's " iSoniTalk," intended for use with the iPhone or other music-enabled phone, with a microphone and answer button attached to the cord.
Musician, Heal Thyself
So how would performer-designed gear perform? Switching on Beats By Dre initiates a fast fade down from ambient noise to a faint, high-pitched sonic artifacting of the cancellation process. I wanted to dismiss it as white noise, constant and eventually ignorable, but it was actually intermittent, here one moment and gone another. When the noises--white and ambient--subsided, I was left with just a gentle whoosh. For comparison, I switched to a pair of Creative Aurvana X-Fi noise-canceling headphones that I like quite a lot, which when activated are more reminiscent of a distant wind. Apples and oranges, and once the music starts, all artifacting disappears.
In the cacophonous confines of an airplane, I'm content to judge headphones on a Pass/Fail basis: Do they comfortably, effectively block out the omnipresent growl of the engines and render enjoyable music and movies? The answer here is a resounding yes, as the Beats felt remarkably good across my skull for four straight hours, solid yet lightweight with a slim swath of padding under the band. Neither are they as perspiration-inducing as I was expecting, as the ear-encompassing cushions are breathable despite earning their keep by sealing off the outside world.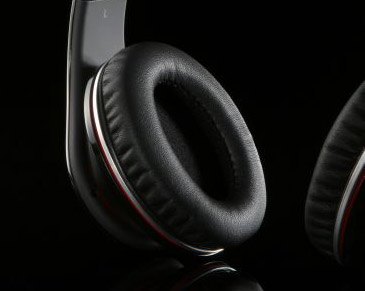 Back on the ground, accompanying me on a variety of errands, the Beats brought the soundtrack of my New York City backdrop down to a dull roar, even taking the edge off of passing fire trucks and police cars and in point of fact removing a layer of unpleasantness from all manner of daily life. I'd expose an ear once in a while to hear what I was missing, and I never truly appreciated before how raucous a shopping mall can be.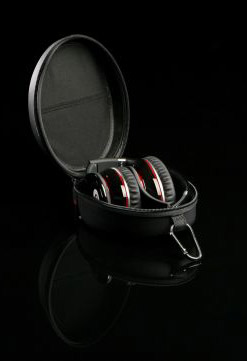 Spinning and Grinning
At home, plugged into a dedicated CD player, the Beats stood up to some serious listening. They delivered more subtle nuances than I'd heard in quite while, be it the sustain of a note, the random squeak of fingers on strings, the singer's breath, the tiny quavers in a his voice: the "human" aspects of a performance. Other times, I could almost see the dust jumping off the kick drum as I felt the genuine thump of the bass, both in my ears and in my hands when I held the earpieces. Driven to maximum volume levels, there was some modest clipping on both highs and lows, but generally the sound quality remained excellent, and I could definitely appreciate the more expansive dynamics of full-bitrate audio CD.
While the end results on MP3s were not as sumptuous of course, a new level of clarity was imparted, particularly on more complex rock-and-roll soundscapes crafted in painstaking studio sessions. Individual instruments and secondary vocals could be effortlessly discerned: Seems like Dre and Iovine might have achieved their goal after all.
The output level here is significantly higher than on other headphones I've tried, and no volume control is offered on the Beats themselves. Monster recommends that iPod users activating the Sound Check feature to standardize the volume on all tracks and prevent unpleasant--possibly painful--surprises. Despite the ample power, battery life was generous, as I made it through half my testing on the original pair of batteries included in the package. They only died after I tucked the Beats into my bag without switching them off. (Long day…).
Turn-Ons
Outstanding audio on a range of applications
Effective noise cancellation
Eminently comfortable
Sexy esthetics (these are the "turn-ons" after all)
Turn-Offs
No sound at all without batteries, or when noise cancellation switched off
Monster warns against headband damage if handled roughly
Folds smaller but not flat
Final Thoughts
I should point out that as I wore the Beats By Dre for a few weeks during this review, multiple strangers asked me longingly where I acquired them. Initially in short supply, word is apparently out on them already, and they have become a bona fide object of lust: Even the squat, semi-hard case with monogram and carabiner clip is eye-catching. And these headphones treated my ears pretty well, too.
Where to Buy
Manufacturer's Specifications
Drivers: 40mm
Frequency response: 20Hz-20KHz
Sensitivity: 110dB
Maximum Output: 115dB
Total Harmonic Distortion: Less than 1.5% at 1kHz out 1mW
Active Noise Reduction: -14dB (at maximum)
Rated Wattage (L + R): 60mW
Weight: 270 grams (250 without batteries)
Connector: 1/8" (3.5mm) stereo mini-plug, gold-plated
Cable Length: 1.3 meters
Color: Black with silver and red accents
Warranty: 1 Year
MSRP: $349.95
What's in the Box?
1 pair of Monster Beats by Dr. Dre Headphones
1 1.3-meter cable
1 1.3-meter Monster iSoniTalk cable
1 Touring Case
Monster Clean Cloth with Aegis Microbe Shield
1 1/8"-to-1/4" stereo plug adapter (24K gold contacts)
1 airplane plug adapter
Manufacturer's Contact Information:

Monster Cable Products, Inc.
455 Valley Drive
Brisbane, CA 94005
ph: (877) 800-8989

Web sites: