Microsoft Zune HD 32GB Portable Media Player Review
By Chris Chiarella
Edited by Chris Boylan
Microsoft Zune HD 32 GB Review
Zune Enough for Us
I've heard plenty of arguments from all corners of The Biz that, going back to the very first iteration in 2006, Microsoft's Zune portable media player was/wasn't going to be the software and gaming giant's iPod killer. Maybe I could believe it (the screens have always been gorgeous), then again maybe I had my doubts (one of the keys to the iPod phenomenon has undeniably been the support of the iTunes software and online store), but this town has proven big enough for plenty of competition.
The recent Zune HD device combines most of the expected features with enough unique, high-end twists to renew that debate all over again. The hardware, and the thinking behind it, has evolved over the years, leveraging strengths that The Other Guys simply don't have. It has been a profound series of changes across multiple media, beginning with the well-entrenched. Xbox 360 gaming console. There has been an online sale/rental download service inside the Xbox 360 for years, but it has since been redesigned, and re-branded as the Zune Video Marketplace, with more options than ever.
With a single user ID, consumers can link their Xbox LIVE account and their Zune account over on the computer. And, as part of Microsoft's plan to optimize the experience on the Zune HD in the living room, on the computer, or even in someone else's home theater; a single purchase nets us three different files of the same movie. The first, and largest, is 1080p video with 5.1 audio, and it resides on the Xbox 360 hard disk drive. In between is a smaller "HD" file to be enjoyed on a high-quality computer screen, and last is a "Device" file, to watch on the go or, when we plug the player into a Zune docking station, it can output this video at up to 720p. No one else can match this solid portable/computer/console/home theater synergy.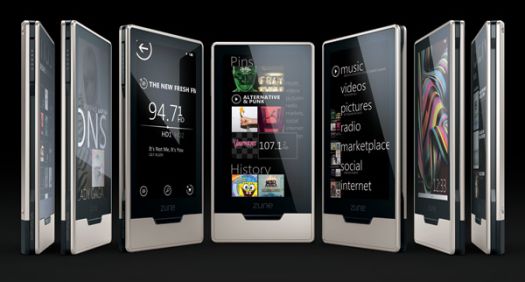 The device itself is extremely light, slender, with beveled back edges and only three hard controls. The side button doesn't do much on its own, rather it calls up the soft playback controls on the touch screen during use: Play, backward/forward Skip and Volume up/down keys appear. From there, it's just the Power and Back buttons. The bright, colorful 3.3-inch OLED screen is not much larger than the previous generation, but at 480x272 pixels it is a major stride forward in terms of resolution when compared to the 240×320 of every prior model.
Inside our review sample is 32GB of flash data storage - a 16GB version is also available, and a 64GB version will be available later this summer.  Also inside is NVIDIA's first-generation "Tegra" processor, the APX 2600, same as what's inside the new Microsoft KIN mobile phone. The Tegra provides the necessary power to tackle assorted multimedia applications with strong picture quality on the go plus HD video on the TV, while also increasing efficiency to extend the battery life. In addition to music and video, the Zune HD delivers FM and HD Radio (iBiquity's "hybrid digital") with its built-in tuner, games and useful applications, photo display, social networking and an internet browser via integrated Wi-Fi.
"Start"
Out of the box, most options hit us with "To continue, sync with the Zune software on your PC," so that's where I went. Zune is different from Windows Media Center, and if you don't have it you'll need the free download, and make sure you have the latest version. I had to reboot after I first plugged the device into my Windows XP computer via USB and it installed automatically. I then needed to immediately update the software inside the Zune HD for it to work with my PC. After I dug out the necessary personal information from my existing Xbox LIVE account, I was able to link the two, and future video purchases would be shared between the PC and my Xbox 360.
And share I did: Armed with 1,600 Microsoft Points ($19.99), I selected the HD version of Star Trek (2009) via the controller of my newly software-updated Xbox 360. (A 480p/Stereo edition costs 1,200 points.) The download began immediately... and required the better part of a day over ethernet, although a streaming iteration was available almost instantaneously. This streamed version looks more like DVD, sometimes worse, with the occasional internet hiccup, but it's just to keep us entertained until the 9.2-gigabyte 1080p/5.1 audio Windows Media Video file is ready to view. It's just as well that it takes so long, otherwise I'd be downloading far too many of these $20 bad boys.
Back on the computer, I was surprised that the purchase did not show up automatically in my Zune account, but when I clicked on the "Buy" button for Star Trek in the embedded Marketplace section of the Zune application, it allowed me to "Restore" this title to my PC library. It also neatly explains why we might choose HD over SD, all the pros and cons. The 720p WMV portable file was almost exactly one gigabyte, while the HD file for the computer was 5.75 gigabytes. Purchases can be downloaded up to five times on a combination of PCs and Xbox 360s. Although the Zune HD can be plugged directly into the Xbox 360, and is recognized by the console, content cannot be transferred between the two.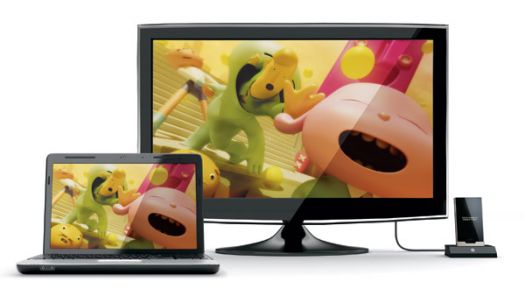 My one real gripe about the Zune HD is its incompatibility with the WMV Digital Copy files included with many, many major Hollywood motion pictures that I've reviewed on Blu-ray. It's a disappointment, and it doesn't make a whole lot of sense: The files are in Microsoft's own protected Windows Media Video format; often with large and small versions included for computer and portable use, respectively; and this is a Microsoft portable video player. When I choose the Apple iTunes-format Digital Copy (as I did with the Star Trek Blu-ray), I can play the movie on an iPod, iPhone, the computer or in the home theater on an AppleTV, without having to purchase it again. That makes sense to me.
Big Picture, Small Player
Microsoft sells an optional audio/video dock with remote control and HDMI out to the TV, and the Zune HD's video output can be set to HDMI Auto, 720p or 480p, in addition to composite video. The first time I connected player and dock, they did this nifty trick whereby they took advantage of the Wi-Fi in the Zune HD to update the dock software. On the TV screen, the top menu is a slightly stripped-down version of the Zune HD's own vivacious layout, but during music playback it appears to serve up the same cool graphics as on the player's OLED display, with band photos, album art, name and track title, even a playback clock that drifts across the screen. This little show is created for most of my music, including recent iTunes purchases and stuff I ripped from CD, not just the cover and metadata but band biographies with embedded internet links.
On my Samsung HL-T5087S 50-inch DLP, the 720p Star Trek (stored on the Zune HD, delivered via the HDMI dock) is a definite cut above even an excellent DVD presentation. I disconnected mid-movie and went to play it again later while on my way somewhere and it picked up right where I left off. According to my purchase history, my last actual video download to the Xbox 360 was back in 2007, at a then-maximum resolution of 720p, so I was pleasantly surprised by the exceptional quality--in the realm of Blu-ray--of the 1080p version on the console, which was remarkably pure and sharp.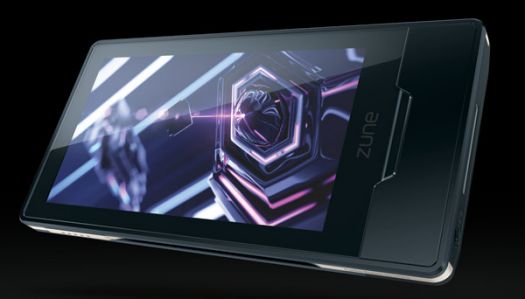 In the field, we can access the marketplace and download music and applications directly to the Zune HD, wirelessly. The applications--all currently free--range from a virtual piano to a stopwatch to hardcore Microsoft time-wasters like Hexic, although the touch interface is not always an improvement over previous controls. Facebook and Twitter are also among the apps, as there is a real social aspect to Zuning as well. I'm used to approved friends keeping an eye on my gaming life over on the Xbox 360 (I have this sweet-ass customized avatar, not blue or anything), and now curious admirers can check out what I'm watching and listening to on the computer.
Song purchases to the device can later be synced back to my Zune "Collection" on the computer at no additional charge. I grabbed "Tumbling Dice" from The Rolling Stones' reissued Exile on Main Street, and was pleased to see that the file was an unprotected MP3 at a generous 320 megabits-per-second. Tracks range from $1.00 to $1.25, and Microsoft sells a Zune Pass for unlimited monthly access to all 7,000,000+ available tunes (plus ten keepers) for $14.99.
Turn-Ons:
Cross-platform "ecosystem" combines 1080p at home and 720p-to-go
Built-in HD Radio/FM tuner
Wi-Fi, with downloading directly to the device, plus social connectivity
Turn-Offs:
Does not support Windows Media Video Digital Copy
Zune software could be more intuitive, less sluggish
Final Thoughts
The Zune interface both at the keys and on the go is kind of, y'know, pretty (there, I said it), so while I did have to really search (and wait) for what I wanted at times, the lively Zune experience might indeed have an edge over the plainer, more static iTunes in terms of sheer fun. And with HD Radio, OLED and 720p in my pocket, the Zune HD player definitely has an edge over every other portable in terms of its high-end feature set.
Where to Buy:
Also Available:
Features/Specifications of the Microsoft Zune HD 32GB Portable Media Player:
Dimensions: 4" H x 2.1" W x 0.4" D
Weight: 2.6 ounces
Screen: 3.3-inch (diagonal) 16:9 OLED, scratch-resistant glass with touch input
Resolution: 480 x 272 (WQVGA)
Input: none
Output: 3.5mm stereo headphone mini-jack
Other: proprietary connector port (USB adapter cable included)
Wireless: 802.11b/g
Compatible Audio and Video Formats: Windows Media Audio, WMA Pro, WMA Lossless, AAC-LC; mp4, .m4a, .m4b without FairPlay DRM), MP3, Windows Media Video Main and Simple Profile, H.264 video Baseline Profile + bframes
Radio: Built-in FM/HD Radio receiver
EQ Presets: Acoustic, Classical Electronic, Hip-Hop, Jazz, Pop, Rock
Storage capacity: 16 gigabytes, 32 GB (tested), 64 GB
Battery: Built-in rechargeable lithium ion
Available Finishes: Platinum Silver (32GB), Black (16GB, 64GB)
MSRP: $199.99 (16GB), $269.99 (32GB), $349.99 (64GB)
What's in the Box?
Zune HD
Zune Sync Cable
Headphones
Three pairs of foam earpiece covers
Manufacturer's Contact Information:
Microsoft Corporation1 Microsoft WayRedmond, WA  98052
phone: 800-MICROSOFT
Website: www.zune.net