Star Trek Blu-ray Review
By Chris Chiarella
The Movie
This is not your father's (or older cousin's) Star Trek, a new beginning in every way and yet one which honors its beloved roots. Whereas the 1960's TV show has long been mocked for its unavoidably low production values, this big-screen reboot is awash in elaborate sets, costumes, props and more. The story begins moments before the birth of the child who will be Captain Kirk (Chris Pine), jumping ahead a few years at a clip to reveal James T. as a promising cadet at Starfleet Academy, where the galactic peacekeepers of the 23rd century are molded.
The plot of Kirk's first voyage on the newly commissioned U.S.S. Enterprise to thwart a rogue Romulan is complicated (perhaps too much so?), a tale involving black holes and time travel, which ultimately creates an "alternate reality" that gives director J.J. Abrams license to break free of (some) Trek canon and go his own way. The results are fast, furious, and remarkably original, while still throwing longtime fans many a bone: a "red shirt," a Vulcan nerve pinch, classic quotes galore.  Whether you're a long time fan or new to the franchise, this Trek is sure to please.
Be sure to check out Joe Lozito's Star Trek movie review, too.
The Picture
Since we're still a couple of centuries away from warp engines, Star Trek relies heavily upon special effects, executed with a profound subtlety that is masterfully maintained for the small(er) screen. Hero and villain vessels in particular boast a nigh-impossible level of detail. There's faint ringing in the 2.4:1 frame during dissolves, and mild noise in soft lighting and smoke, and some instances of notable grain. Out-of-focus backgrounds and foregrounds can look slightly compressed, but they fare better here than on most discs I've watched recently. I do wish that the blacks had a little more detail, so no, this is not a "perfect" HD video master, but those ubiquitous digital effects are routinely eye-popping, and most of the accompanying live action footage is first-rate as well.
The Sound
The Dolby TrueHD 5.1 mix boasts room-shaking bass, and a particularly powerful kick whenever a starship jumps to warp speed. The storytelling is quite dramatic and the audio needs to help sell the sheer fantasy as when we exit warp into a debris-filled battlefield, gigantic portions of other ships swirling and crashing and scraping all around us. The rears are so wonderfully, organically active, it's as if 5.1 is the only game in town and suddenly everything else is just ordinary. Deft, sparse use of quiet and outright silence provide striking contrast. Star Trek is a real treat for the speakers.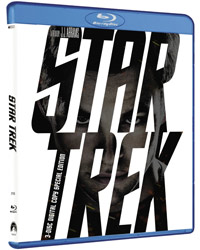 The Extras
The audio commentary gathers a number of key players: director/producer J.J. Abrams, fellow producer Damon Lindelof, executive producer Bryan Burk, and writer/executive producers Alex Kurtzman and Roberto Orci. Disc One also features brilliant, appropriate implementation of BD-Live, bringing us up-to-the-minute RSS news feeds and images compliments of NASA, and this feature worked for me more than a week before street date! Must be something to do with that rift in the space/time continuum.
Switching over to Disc Two, the featurettes are plentiful, some exclusive to Blu-ray, several of which can also be viewed in an extended version with branching to additional BD-exclusive video "pods" for further insight. "To Boldly Go" (17 minutes) provides overview and perspective, with branching to four pods (these can also be accessed directly). A look at the critical "Casting" runs 29 minutes, and "A New Vision" (19-and-a-half minutes) analyzes the style of the movie, with an extra three-minute pod. We're given 24-and-a-half minutes on "Starships" before we get to the seven additional pods, 16-and-a-half on "Aliens" (with five more pods) and 16 on "Planets" (with two pods).
"Props and Costumes" (nine minutes) has a pod, "Ben Burtt and the Sounds of Star Trek" does not, but these 12 minutes are exciting for anyone (like J.J. himself) who's a fan of Star Wars as well as Trek, and wants to know more about the Oscar-winning audio genius. We're also clued into composers Michael Giacchino's work on the "Score" (six-and-a-half minutes) and the enduring legacy of "Gene Roddenberry's Vision" (about 9 minutes).
I feel as though the technical aspects of the movie were not as thoroughly revealed as they might have been (no dedicated section regarding the contributions of F/X mavens Industrial Light & Magic?), but creatively and story-wise, it's hard to imagine any topic not discussed, even as they pertain to deleted scenes and roads not taken. Combined, these featurettes are a long, interesting look at a big, fascinating production.
The deleted scenes offer optional commentary by Abrams, Burk, Kurtzman and Lindelof. There are nine in all, some quite brief, totaling 13-and-a-half minutes. They are in various states of completion but all in HD. The gag reel runs about six minutes. In addition to the high-definition video, all of the above Disc Two content is in Dolby Digital 5.1.
For the BD-exclusive Starfleet Vessel Simulator, we can take highly interactive self-guided tours of the Enterprise or the Romulan mining ship Narada, with pop-up text, video inserts, alternate views and more, all in glorious HD. The trailer gallery includes my favorite (one of the first bits I load up on a new iPod), "Prepare for the Beginning." Disc Three is a DVD-ROM carrying a Digital Copy of the film for iTunes or Windows Media, as well as a free trial of the videogame Star Trek D-A-C for Xbox 360, the PlayStation Network and PC.
Final Thoughts
Against daunting odds, J.J. Abrams and his enterprising team have managed to create a Star Trek that might indeed be all things to all people. I was pleasantly surprised how many non-Trekkers enjoyed the film, while the spirit of Gene Roddenberry's grand interstellar odyssey remains thankfully intact. This is also one of the best-sounding discs of the year, while the NASA BD-Live feature helps keep it real.
Product Details
Actors: Zachary Quinto, Eric Bana, Bruce Greenwood, Karl Urban, Zoe Saldana, Simon Pegg, John Cho, Anton Yelchin, Ben Cross, Winona Ryder, Leonard Nimoy
Director: J.J. Abrams
Audio Format/Languages: Dolby TrueHD 5.1 (English), Dolby Digital 5.1 (French, Spanish)
Subtitles: English, English SDH, French, Spanish, Portuguese
Aspect Ratio: 2.40:1
Number of discs: 3
Rating: PG-13
Studio: Paramount
Release Date: November 14, 2009
Run Time: 127 minutes
List Price: $39.99
Extras:

Audio commentary by J.J. Abrams, Bryan Burk, Alex Kurtzman, Damon Lindelof and Roberto Orci
"To Boldly Go"
"Casting"
"A New Vision"
"Starships"
"Aliens"
"Planets"
"Props and Costumes"
"Ben Burtt and the Sounds of Star Trek"
"Score"
"Gene Roddenberry's Vision"
Deleted Scenes
Starfleet Vessel Simulator
Trailer Galley
Gag Reel
Star Trek D-A-C Videogame trial
BD-Live
Digital Copy