Apple iPod nano (Fifth Generation) 16GB Review
By Chris Chiarella
Edited by Chris Boylan
iPod nano Review
nano-nano!
While Apple might not have invented the portable media player, they have been leading the market by an embarrassingly large margin, non-stop for several years. And while the entire product category continues to evolve rapidly, the fruit vendor has not necessarily been the first to jump onto every trend, and there are still some features that their devices don't offer, yet they still manage to stay ahead of the curve with their own unique additions and reinventions.
Take the latest generation of the iPod nano. While last year's model brought a physical form that seemed almost impossibly thin and light, in pretty colors, and with an affordable buy-in, 2009 saw the addition of major, medium and minor improvements, all in the same-sized shell and just as importantly, at the same price. And so at first glance it might not appear all that different, since said shell is available in the same assortment of sunny hues, albeit with a polished aluminum finish versus 2008's sleek brushed matte texture.
More Screen in the Same Space
But even before we power up (and I'm still amazed and grateful that these things always seem to arrive right out of the box with an ample charge to test drive immediately), we will likely notice the second change: an expanded screen, now 2.2 inches (diagonal), a .2-inch bump. The aspect ratio has changed along with it, as we notice when we hold the unit horizontally. The screen has the same height (240 pixels) but has been widened from 320 to 376 pixels across, making it a little narrower than the computer-standard 16:10 "widescreen." The Click-Wheel control has been moved closer to the bottom as a result.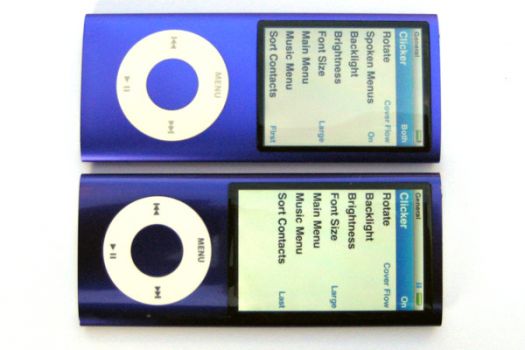 In addition to giving the wider aspect ratio of movies (and much modern TV programming) more elbow room, the additional screen space means that lists within the menus--such as all ten options under "Music"-- can be displayed in their entirety in a single glance, without the need to scroll further, even in the Large font. Considering the Tokyo-level scarcity of real estate on this little guy, this is quite the triumph of design efficiency.
Video, and a Radio Star
Flip it over and we discover evidence of the single most radical addendum to the nano, namely the built-in video camera.  Like all other functions of the nano, it is accessed via the plain language of the Click-Wheel menus, and once activated it turns the screen into a 2.2-inch LCD color viewfinder. Just point it, press the center button and we are recording little MPEG-4 files at 640 x 480 (VGA) resolution. They play back on the wider-screened nano in a pillarboxed 4:3 format, accompanied by AAC stereo audio, which of course means that the nano also packs its own integrated microphone for the first time (plus a tiny speaker!), handy not just for video recording but on-the-go voice memos.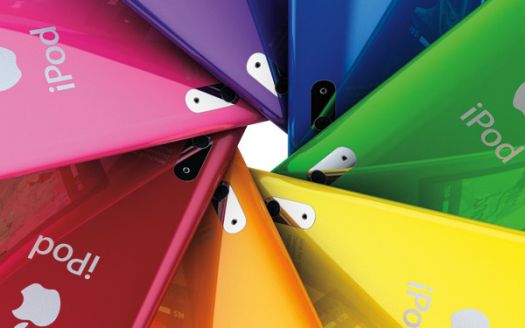 The recording itself was remarkably easy, my very first attempt was... well, nothing I should be ashamed of, certainly. It ran six seconds and wound up as a 2MB .mov file, placed into a folder organized by date. A handful of simple on-board special effects (Black & White, Stretch, Motion Blur, etc.) are supposedly included, but I couldn't seem to find them. Once back at the PC, these hand-made videos are transferred not via the iTunes interface but by dragging and dropping out of a Windows Explorer folder that automatically appears after I connect via USB. (My other iPods don't usually do this.)
Interestingly, the nano-cam can capture vertical videos (3:4), and before you (like others before you) scoff, I found a fitting application of this feature days after the unit arrived, as I needed to describe a poster on my wall to a friend, via email. Granted, it might be a little rough around the edges--no image stabilization, it tends to clip a second off the head and tail, and why can't I take still photos?--but this capability brings tremendous new value to the iPod family.
For many fans, the iPod remains primarily a music player, yet somehow the entire line had eschewed the inclusion of a built-in radio, despite what The Other Guys were offering. This fifth-generation of the nano has finally succumbed to the power of FM, although not without a bit of irony, at least for me. I spend my share of time at the Jersey Shore arcades, noting the "high-value" prizes inside the virtually unbeatable claw machines, and these freakishly accurate counterfeit iPods have touted a built-in FM radio since at least last summer! But this is Apple, and simple FM probably wouldn't impress many of the techies up in Cupertino, so they went and enhanced it with automatic track identification of the currently playing song, a boon to listeners but also essential to enabling the iTunes Tagging feature. Track ID can take a while to kick in accurately, but it's a nifty bonus.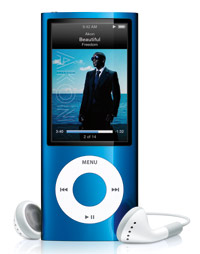 There's also the not-so-small matter of Live Pause, a la TiVo, a new feature that works exactly as I'd hoped it would, caching live playback which we can then skip through at one-minute intervals or scan at will. This is not FM recording per se, rather a 15-minute buffer which disappears when we exit the radio application and cannot be saved. But if we like what we hear, we can "Tag" the current cut with a press-and-hold of the center button followed by a quick tap for confirmation. Back at the computer once again, I reconnected the nano and there, within the "Tagged" section under the Store heading, was the option to buy my chosen song. I was then just one click away from downloading it, but it turns out that I already owned a version of it from a different album and the metadata was not a perfect match, so iTunes didn't make the connection. The nano also maintains a temporary, comprehensive listing of recently heard songs, ostensibly for us to Tag and possibly purchase.
Details, Details...
The user interface is also richer and more detailed this time around. Micro-thumbnails of album cover art are displayed within the submenus for example, and when we're in Cover Flow mode, the screen reports the time of day at top of the frame instead of the unnecessary words "Cover Flow." This is also the first nano to provide VoiceOver spoken music/video info, a breakthrough introduced with this past spring's third-generation iPod shuffle, so we don't have to look down at the screen (or take the unit out of our pockets, as the case may be) in order to see artist and track information.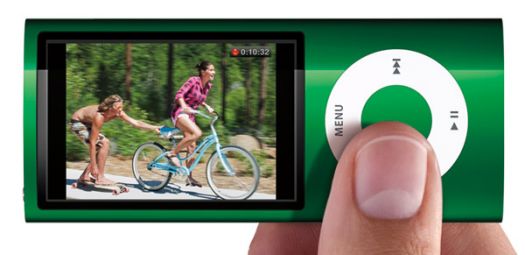 I'm well-acquainted with the iPod touch as well, so I do miss that other player's ability to zoom in or out of widescreen movies on-the-fly with a single tap, while nano requires us to exit playback and delve into the menus for the "Fit to Screen" option. Neither does the nano have the full benefit of iTunes' App Store behind it--that's more for iPhone/iPod touch--just a relatively few Click-Wheel games. But these apparent ceilings are really just a testament to the breadth of product choices within the iPod line: If you want an incredibly compact form factor, cool colors and an unrivaled feature set, it's really like comparing apples and... well, you get the idea.
Turn-Ons:
An easy-to-use VGA quality camcorder... in an iPod!
FM radio (finally!), with Live Pause and iTunes Tagging
Bigger screen, built-in speaker
Turn-Offs:
Shiny new finish becomes smudged more easily
No still photo capture with the video camera
Final Thoughts
As amazing as all the new features (joining the old, and I'm not aware of any that have been lost along the way) is the simple fact that they manage to fit together inside the same physical space as last year, even with the addition of necessary hardware like cameras and microphones. Sure, the antenna for the FM radio is actually the headphone cord, and the new built-in pedometer in the Fitness menu leverages the already-built-in accelerometer. But in finding novel uses for its existing technology while folding in hot, fresh functionality, the fifth generation of iPod nano is that rare upgrade that merits all of its brouhaha.
Where to Buy:
Also Available:
Manufacturer's Specifications
MSRP: $179.99
Dimensions: 3.6" H x 1.5" W x 0.24" D
Weight: 1.3 ounces
Screen: 2.2-inch (diagonal) LCD
Resolution: 376x240 (204 pixels/inch)
Input: none
Output: 3.5mm stereo headphone mini-jack
Other: 30-pin proprietary connector port (USB adapter cable included)
Compatible Video Formats: H.264, MPEG-4, .MOV
Compatible Audio Formats: MP3 (including variable bit rate), AAC, Apple Lossless, AIFF, WAV, Audible 2/3/4, Audible Enhanced Audio, AAX/AAX+
Storage capacity: 16-gigabyte flash drive
TV Output supported (via optional cables): 480i, 480p and 576p
Battery: Built-in rechargeable lithium ion
Available finishes: Silver, Purple, Blue, Green, Orange, Yellow*, Pink, Black and (PRODUCT) RED*   *Apple Store Exclusive colors
Headphones: 20Hz to 20,000Hz frequency response, 32 ohms impedance
What's in the Box:
iPod nano
Apple Earphones
USB 2.0 cable
Universal dock adapter
Quick Start guide
Manufacturer's Contact Information
Apple
1 Infinite Loop
Cupertino, CA 95014
ph: (800) MY-APPLE
web: www.apple.com