Samsung HL-T5087S 50-inch DLP HDTV with DDD 3D Starter Pack Review
By Chris Chiarella
DDDLP
While most manufacturers seem content to run the race of who can make the biggest, brightest, sharpest, and of course the flattest HDTV, Samsung dares to go deep, currently one of only a handful of TV makers to embrace the possibilities of consumer 3-D applications.
By their design, DLP-based rear projection televisions--TVs incorporating Texas Instruments' "Digital Light Processing" technology--run at inherently higher speeds than other HDTV technologies. This "refresh rate" indicates how many times per second the TV "draws" the image on screen. The unit of measurement is Hertz, and the HL-T5087S' refresh rate of 120 Hz means that the image is rendered 120 times each second. A high number like this can result in a more detailed image, and it can also enable nifty optional features like 3-D effects, with the right accessories. If the display were running at the more common, relatively low 60 Hz, there wouldn't be enough frames to fully display the content in 3-D. Samsung is also debuting their first 3-D-capable plasma this year, but let's not get ahead of ourselves.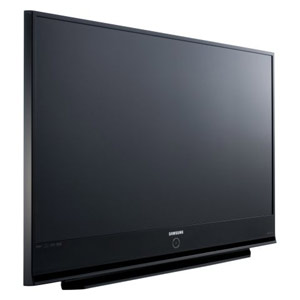 Other entries in this Samsung line released to the U.S. market both at the same time as the HL-T5087S last year as well as in the months since are adding a host of more elaborate features. While no means a stripped-down model, the 87s does lack some of the fancier bells and whistles of the step-up 89 line. Even so, the wide-angle lens inside makes for a shallower cabinet, only 12.8 inches deep for a 50-inch display, a thin-bezelled, high-gloss number with recessed blue-and-white accent lighting that shouts "Sexy…!" before we even pick up the remote.
On-screen menus were intuitive, easy to learn and quick to navigate via a big horizontal bar along the bottom of the screen, which leads to a sequence of sub-menus. The remote control reminded me of the long, skinny PlayStation 3's optional Bluetooth remote with its multicolored keys, but with more heft and that universal "home theater" feel. Also reminiscent of the PS3 is the "WiseLink" USB port to bring digital photos and music to the TV, except for its inconvenient rear/side location. Firmware updates can also be performed here via a connected USB drive.
LEDLP
Samsung's HL-T5087S DLP is the first-ever make and model to combine a single-chip digital micromirror device (DMD, the unique heart of DLP) with red, green and blue LEDs as the light source, dubbed the Cinema Pure LED Color Engine. Traditional single-chip DLPs use a a large, powerful projection lamp to provide white light, combined with a spinning multi-color color wheel to reproduce the picture. Since these three LEDs can be displayed simultaneously in varying intensity, the full spectrum of colors can be reproduced without a color wheel, and we are spared the color-fringing artifacts (a.k.a. RBE or "Rainbow Effect") that could otherwise occur. Plus LEDs can conservatively last 60,000 hours or more, making them likely a done deal for the life of the TV. By comparison, traditional DLP lamp bulbs cost about $350 and need to be replaced every 2,000-3,000 hours of use.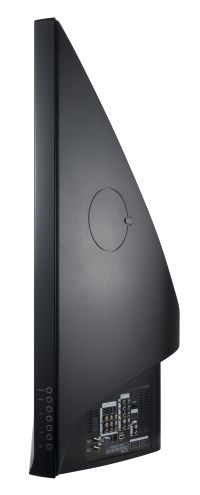 After calibrating the HL-T5087S with the use of the Digital Video Essentials HD Basics Blu-ray from DVD International, I had the pleasure of performing the standardized tests on the latest HQV Silicon Optix Benchmark DVD, Version 1.4 NTSC, as well as the newly released Version 1 Blu-ray for HDTVs. DVD tests were conducted at 480i over component video (the PlayStation 3 will not pass a 480i signal over HDMI), the simplest format signal at the highest quality to gauge the TV's ability to scale and deinterlace standard definition and high definition interlaced content.
Testing, Testing
Starting with the standard HQV DVD, observing the complex Color Bars/Vertical Detail pattern, to judge the display's ability to render finer nuances without flicker, detail was certainly evident at the all-important Marker 1, but there was also some flickering in fine horizontal lines. So far, it was batting .500. The set performed well on the first Jaggies test, as jagged edges did not appear on the spinning white line until it reached the ten-degree mark. This is considered "Very Good" performance for the set's diagonal filter. The set's internal video processor performed almost as well on the moving three-bar "Jaggies 2" test, where mild jaggies were noted only on the bottom of three moving bars. The Waving Flag test, which uses real-world video of the Stars and Bars flapping in the breeze, showed no jaggies on the diagonals of the red and white stripes, but neither did it reveal adequate texture on the brick building in the background.
In the Picture Detail test, an acceptable level of specific texture was discernible on the video of the bridge and grass, not so much on the statue in the distance. On the Noise Reduction challenge, its ability to banish noisy artifacts while maintaining a fine level of subtle image detail varied from shot to shot: Some were almost squeakily clean, others showed definite noise, but never so much as to ruin a shot. Motion-Adaptive Noise Reduction was a bit overwhelming to the HL-T5087S' processing, as the moving roller coaster scene was extremely noise-laden, with smearing artifacts.
The moiré on the stands in the Super Speedway clip of the Film Detail test was unmistakable. We're also supposed to note how quickly it locks on the clean up the unwanted pattern, but it never actually went away, so that point is unfortunately moot here. This means the set can have trouble locking to the inherent 2:3 cadence of film-sourced materials. On the steeplechase of Cadence demos--showcasing the various adjustments that routinely occur to the frame rates between film and video and beyond--the image was sufficiently sharp on the difficult-to-grab newspaper and coffee cup at an assortment of cadences, presented one after another (after another….) The Mixed Media fared well, with only a slight feathering on otherwise smooth video text superimposed onto film content in post-production, about the same on both the horizontal and vertical crawl clips.
Bottom line: The HLT-5087s is good but not great at SD upconversion to the set's native 1080p resolution. If you own a high quality receiver or video processor, Blu-ray Disc player or upconverting DVD player then you may want to let the 1080p upconversion be done before the set sees the signal.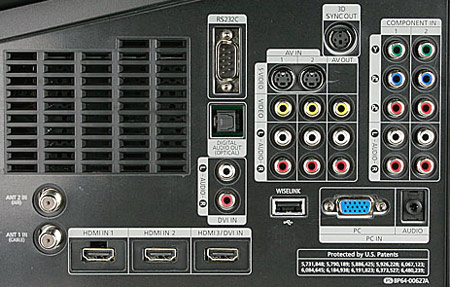 Configuring my PS3 to 1080i output over HDMI, I then switched over to the Blu-ray Disc version of the HQV tests, so we could see how well the Samsung TV could reconstruct a 1080p source from a 1080i signal. On HD Noise Test A, the static image provided was clean with tremendous detail, although later there was some noise on both the moving sailboat and the surface of the water. I noted no loss of video resolution in the Video Resolution Loss Test, as fine horizontal black-and-white lines in the corner boxes of the test pattern were plain as day, with no strobing. Jaggies were almost perfect, which is to say that only very minor jagged edges appeared on this iteration of the three-bar test.

The Film Resolution Loss Test is a Pass/Fail affair, and I'm afraid, well, this TV needs to repeat the class: obvious strobing and vertical bands plagued the boxes in the corners of the test pattern, again indicating the set's inability to detect the underlying 2:3 cadence embedded in the program material. Although this test is irrelevant for most Blu-ray Disc viewing (nearly all Blu-ray content is delivered at 1080p and will not undergo this processing step), it is important if you view 1080i film-based HDTV programs from cable, OTA or satellite. You could potentially see some artifacts such as a loss of detail, moire patterns or a slight jaggedness in diagonal lines. The Blu-ray HQV testing session ended on a high note however, as no noise or flicker was evident in the upper deck seats in the Film Resolution Loss Test - Stadium.
But it's all about the movies, and here this DLP did not disappoint. I'm finding the Blu-ray of Blade Runner: The Final Cut to be terrific demo material, full of old-school analog picture information now with a new-school digital polish. It also flaunts a use of light and shadow plus a color palette like no other film. I was extremely pleased with the solid, inky blacks, the seemingly limitless color gamut, and abundant lifelike detail. Newly manipulated shots blended seamlessly with those untouched since 1982. In short, I would describe the presentation on the HL-T5087S as gorgeously cinematic.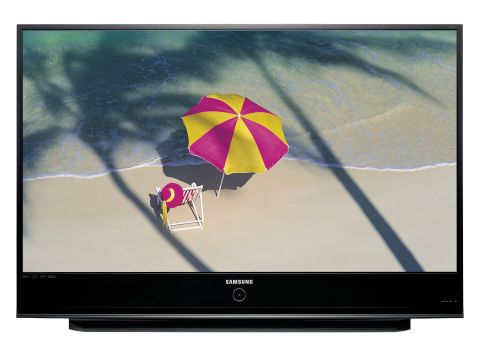 Despite reports that using LEDs as an alternative light source could lead to hotspotting on such a high-gain screen, I noticed no instances of overly bright areas on the big rectangle. Extreme off-axis viewing did result in a significant loss of perceived brightness and clarity, but the picture was still eminently watchable from a variety of viewing positions.
Minute rainbow artifacts were evident to my eye on white patches of an image when viewed at just a few inches from the screen during my evaluation. LEDs reportedly flash too quickly to create the same visible rainbows that can compromise a color wheel DLP, and to be fair these were much less noticeable than on my usual Samsung HL-P5063W DLP display, and not a problem at all at normal viewing distance.
Sonically there's not much to say here: Who relies solely on their TV's speakers anymore, especially with a home theater-ready display like this? A digital optical audio output is supplied to pass signals tuned in from the built-in tuner to an external receiver in their unadulterated form (Dolby Digital or PCM). That being said, the twin onboard 10-watt speakers delivered a full, widespread sound field with ample clarity. Five audio modes are provided in the menus; Standard, Music, Movie, Speech and Custom; this last one allowing us to adjust both the left/right balance as well as individual levels between 100 Hz and 10 kHz via an on-screen graphic equalizer. With the SRS TruSurround XT engaged, there was even the occasional effect that seemed to originate from well outside the screen.
And as for images that transcend the confines of the cabinet….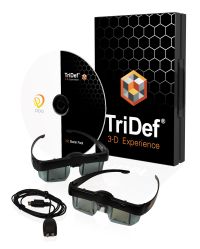 The 3-D Challenge: Solved?
Designed specifically for use with cutting-edge displays like this one, the 3-D DLP Starter Pack from DDD is an accessory kit that bridges the gap between a well-equipped PC and a 3-D-capable HDTV such as the one under evaluation here. In addition to the aforementioned 120 Hz refresh rate, the HL-T5087S delivers a "3D Sync" port on the connectivity panel to accept the infrared emitter cable that, with its two-eyed head positioned atop the TV for line-of-sight, links wirelessly with one or both of the included pairs of LCD glasses. This headgear is lightweight, comfortable, and roomy enough to fit over my own prescription eyeglasses.
The trick inside this stereoscopic 3-D system is that the left-eye and right-eye content is displayed alternately, and the LCD glasses shutter each of the viewer's eyes accordingly, to match the onscreen image. This became clear during the TriDef setup process, as shaded circles and squares appear on screen, and when I covered my right eye as instructed, only circles remained.
Using the included license key, the full version of DDD's TriDef 3-D Experience software must be installed and run on a laptop or desktop running an Intel Core 2 Duo or Athlon X2 Dual-Core CPU, a gigabyte of RAM, NVIDIA GeForce 6600 or ATI Radeon X800 graphics, a DirectX 9.0c-compatible sound card, a DVD-ROM drive and either InterVideo WinDVD or XPack software installed.


The computer must also have a DVI output (DVI-D to be specific) or HDMI output. If your laptop has DVI-D, you'll need a DVI-to-HDMI cable or adapter, a somewhat obscure but obtainable item. Audio and video are more simply managed if we're lucky enough to have HDMI out on the PC. If your PC uses DVI-D output (or if your PC's HDMI output does not carry sound) then you'll also need a mini-stereo-to-RCA-type stereo adapter, lest we watch/play in silence.
What's On?
Once we're so equipped, our new 3-D rig can perform some wondrous feats. The TriDef Media Player runs on top of the movie, performing a real-time 2D to 3D conversion. This process works on any DVD we currently own, in addition to digital video files (WMV, AVI, MOV) and digital still photos. The effect on both photos and videos is quite interesting: More striking than the sense of separation that people and objects assume from their surroundings was the impression that horizontal planes such as floors were actually extending toward the viewer. None of these transformed images was hovering in midair mind you, like the opening animation of the TriDef application does, but it is still surprisingly lifelike. Blu-ray is not supported yet, but a high-def version would probably blow a few minds. Less impressive was Google Earth in 3-D, which really just put some text and simple graphics on top of the satellite imagery to create the illusion of depth as I zoomed from outer space to my own rooftop in a matter of seconds.
But what of "true 3-D" content, that is material created with the deliberate intention of being viewed in three dimensions? Videogames are rendered as we play, essentially being created by the computer under our control moment by moment, and so the custom TriDef drivers written for a handful of PC titles are able to construct a new 3-D version of the game in real time. Included in the TriDef software are the necessary drivers for the games Tomb Raider Anniversary and Command and Conquer III. Drivers for additional supported games--World of Warcraft, Madden NFL '07, Madden NFL '08, The Sims2, The Sims2 Nightlife, Tiger Woods PGA Tour '07, Battlefield 2142 and Need for Speed Carbon--are available online at DDD's website for a charge of $4.99 each, with more 3-D titles to be announced.
3-D is a genuinely compelling addition to Tomb Raider gameplay, as the titular heroine Lara Croft almost put my eye out (with her wildly whipping ponytail, of course) as she ran and jumped all around a virtual world more believably spacious than ever before. Until now I had thought that the quality of the graphics, the image mapping of colors and textures onto the walls and so on, were just fine, until the realism afforded by the TriDef process raised the bar for the entire vicarious experience, suddenly demoting the graphics to "weakest link" status. I wanted everything to be as convincing as the 3-D effect, but alas, the actual computer graphics now seemed a little, well, cheesy in relation to the rest of this brave new videogame world.
The applied effect on DVDs is more subtle than on a true 3-D game title but is certainly worthwhile, greatly enhancing the value of the 3-D setup, particularly if you don't fancy yourself a gamer.


Final Thoughts
If you're into computer gaming and interested in exploring the third dimension, the Samsung DLP/TriDef software/glasses package is something you're definitely going to want to take a look at. Now as the lifespan of this particular DLP model draws to a close, bargains are to be had, meaning you can get the TV itself for under $1400 and the 3D package for another $200. This is actually less than many gamers spend on their super-high end (and much smaller) gaming monitors alone without any 3D option.

Once the whole rig is up and running, it literally adds a new dimension to your home theater and gaming system, one that will impress your friends to no end, especially since the glasses themselves are wireless (2 pairs of glasses come with the starter kit, but more can be added if you want the whole family to play). This system does require a PC in the living room however, and said computer must serve as the DVD or media player as well. The TriDef/Samsung/TI technology definitely works, and it's a far cry from those cheesy red and green glasses of the 50s, particularly with 3D-enabled gaming content. But keep in mind that this is still an early implementation of the technology and optimized 3D movie software is still "coming soon."
The HL-T5087S DLP display itself might be short on proprietary bells and whistles, and lacking high-end features such as Deep Color or xvYCC support, but it is a solid real-world performer with excellent performance on high definition material at a fairly affordable cost. It shines on Blu-ray, and is ready for 3-D today.


Where to Buy:
Samsung HL-T5087s 1080p 3D-Ready HDTV:

DDD TriDef 3D DLP starter pack:
---

Manufacturer's Specifications (Samsung HL-T5087S DLP HDTV):

Video
1080p Full HD Display
ATSC/NTSC Digital Television Tuners
Contrast Ratio: 10,000:1
Auto Aspect Ratio Detection
Game Mode
Color Temperature Control
Audio
SRS® TruSurround XT™
Total Audio Wattage: 20 W (10 W x 2)
Five audio modes with graphic EQ: Standard, Music, Movie, Speech, Custom
Inputs/Outputs:
HDMI Inputs (3)
Component Video with Analog Stereo inputs (2)
S-Video with Analog Stereo inputs (2)
Composite Video with Analog Stereo inputs (2)
Composite Video with Analog Stereo output (1)
Additional Analog Stereo input for HDMI-3 (1, when used as DVI input)
15-pin PC (RGB, 1080p) with Analog Stereo mini-jack input (1)
Optical Audio Output (1)
Antenna Inputs (2, "Cable" and "Air")
WiseLink USB 1.1 (1)
3D Sync Output (1)
RS232C serial control connection
Addtional
Gloss Black Cabinetry
5-Item Illuminated Universal Remote
Input Labeling
Sleep Timer
Energy Star® Compliant
Weight and Dimensions:
Weight: 61.3 lbs.
Weight with Packaging: 77.4 lbs.
Dimensions: 45.2" x 31.8" x 13.4" (WxHxD)
Dimensions with Packaging: 49.6" x 36.8" x 17.4" (WxHxD)
Company Information:

Samsung Electronics America, Inc.
105 Challenger Road
Ridgefield Park, NJ 07660
ph: 800-SAMSUNG
Web site: http://www.samsung.com/
Dynamic Digital Depth USA Inc. (DDD)
3000 Ocean Park Blvd., Suite 1025
Santa Monica, CA 90405
ph: 877-884-4333
Web sites: