MartinLogan Motion 12 7.1 Loudspeaker System Review
By Ian White
Edited by Chris Boylan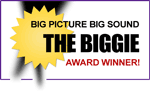 The Lords of Lawrence
If you have ever driven across our great country, there is a distinct possibility that you have driven along I-70 which originates just west of Baltimore and ends a few days later in Cove Fort, Utah. Having eaten your way through Dayton, Indy, St. Louis, and Kansas City (home of the best ribs and steaks in America), you will find it impossible to move any further and stop for the evening (and for some antacid) in Lawrence, Kansas.
Back in 1989, I accepted an invitation to attend the University of Kansas (will not even discuss last weekend's debacle against VCU in the Elite 8), but fate intervened (that's right...I had the lasagna) and I was forced to attend another institution of higher learning. Lawrence is an interesting town; aside from KU which is a wonderful school, the town was the birthplace of Hugh Beaumont, Erin Brokovich, Centron (the leading industrial and educational film company for decades), and a small but feisty high-end loudspeaker manufacturer called MartinLogan.
MartinLogan has changed owners in recent years, but the manufacturer of electrostatic loudspeakers has been at the forefront of high-end audio for decades and continues to make some of the best (if not the best) audio components in the world. Their CLS (available again as the CLX) electrostatic loudspeaker has been featured in museums around the world and will provide one of the greatest listening experiences you will ever have, would you be fortunate enough to find yourself in their presence. I have owned four different MartinLogan models since 1989; once you hear the transparency of a 'stat panel it is hard to listen to anything else, and I was shocked to see the company introduce a more conventional line-up of products over the past few years.
MartinLogan's products have never been inexpensive, so I suppose it made sense for them to offer the rest of the planet a taste of what they can do for a lot less money. The new Motion series of loudspeakers have done extremely well, but MartinLogan is not the type of company that likes to rest on its laurels; they are constantly innovating and offering more advanced products to the line-up. With the release of the new ElectroMotion series, the Motion 12 7.1 system is about as far as you can take this fabulous collection of loudspeakers before venturing into the larger panels.
MartinLogan's loudspeakers are all about transparency and detail; see-through clarity with airy extension that extends beyond the capabilities of most loudspeakers. Their ability to reproduce the human voice is quite frightening; as close as you can get to having a real breathing person in the room with you (you can put away your RealDoll now). You can hear everything through an electrostatic loudspeaker; which can also be a bad thing if the recording is terrible. Over the years, MartinLogan was forced to meld their electrostatic panels with conventional woofers; because people do want to hear and feel bass when they listen to music. The problem is that electrostatic panels are much quicker than conventional drivers. It has taken years and countless changes to drivers and crossovers to get the timing exactly right.
The Motion series are not "poor man's electrostatic loudspeakers." Not by any stretch of the imagination. Conventional drivers are not going to sound like an ESL panel; not even the most expensive drivers that you can buy from companies like Scanspeak, Morel, or Focal. What the Motion series can offer you is a taste of that breathtaking clarity, along with superb resolution and well-integrated bass response. The Motion 12 7.1 system is not inexpensive. With all of its parts, we are talking about a list price of $4,294.70 before you add amplification and cables. Is it worth it? Read on...
The Porterhouse of Loudspeakers...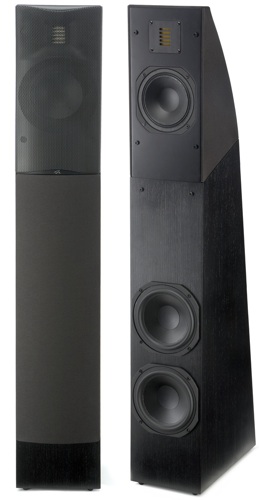 If you have ever eaten in a really good steakhouse (and I don't mean Ruth's Chris...bunch of Philistines), you have probably been tempted by the 32-ounce Double Porterhouse. Yes, that is a lot of red meat for one person to consume in one sitting. Cooked perfectly (medium rare) by the good folks at
Strip House
in New York City or Houston (kosher people like myself shouldn't know these things), the Double with a side of creamed spinach is heaven on earth. It is not cheap, but nothing that emotionally fulfilling ever is. The same reasoning applies to something like the Motion 12 7.1 system. The difference, however, is that you can't enjoy Strip House every night.
The Motion 12 floor-standers are the heart of this 7.1 system and offer a ridiculous level of performance for $1499.95 (per pair). At 42.8"H x 7"W x 14.1"D, they might seem large for your media room, but their footprint is really quite small. When I lifted them out of their packaging, I was immediately struck by the solidity of the design. They weigh 36 pounds and are clearly built to last a long time. The real black ash wood veneer would not be my first choice (it's your only choice so deal with it) if I could select some exotic wood finish for these speakers, but I'm sure it was selected to keep the the speaker affordable. I just had a Martha moment. Won't happen again. The black ash finish does look rather contemporary, so perhaps I'm being a tad unfair.
The Motion 12 utilizes four drivers; the aforementioned 1.4" Folded Motion tweeter, a 5.25" paper cone midrange driver that is in an open-back dipole arrangement, and two 6.5" paper cone drivers that handle the lowest frequencies. The Motion 12 are ported so they really do need some space behind them to sound their best.
Their frequency response is rated at 40Hz - 25,000Hz +/- 3dB, but I would contend that their bass response extends ever lower. They are also very easy to drive; 92dB sensitivity and 4 ohm nominal impedance, which means that you may not need the mega-buck receiver to make them sing in a medium-large sized home theater room.  But please do get something respectable that can hold up to the 4 ohm load.
The binding posts are most certainly unique and I would have to say one of the smartest designs I've ever seen. If you decide to use bare wire without any terminations, the push-style posts are a cinch to use. Push post. Inset wire. You're done. If you want to use banana pins (no spades with these), you have to remove the color-coded rubber inserts first.
The Motion 12 also come with MiniETC spikes and I highly recommend that you use them. The speaker can be a tad wobbly on carpeting, and needs the stabilizing impact of the spikes. Not only do the spikes tighten up the bass response, they also improve the imaging of the loudspeaker.
The overall package feels quite sophisticated and well thought-out. You are getting a lot of loudspeaker for the money.
You talking to me?
A home theater is only as good as its center channel and the Motion C is really, really good. For $499, it borders on outstanding. That being said, it really does not hold a candle to MartinLogan's electrostatic center channel loudspeakers (the Motif is pretty special) which may be the best that you can buy. Did we mention that they're 3 to 4 times the price of the Motion C?  Oh yeah, they are.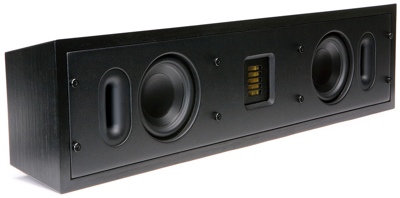 Dialogue through an electrostatic loudspeaker has such precision and clarity that it transforms the home theater experience. No matter how you slice it (there we go...another meat reference), the Motion C will always sound like a box, in comparison; but that doesn't mean that it can't offer exceptional clarity and put some sparkle in your system.
The Motion C is 24" x 6" x 4.4" and that makes it a bit larger than the standard mass market stuff, but smaller than most of its true competition. It weighs close to 10 pounds so your little tyke is not likely to push this thing onto the floor. Its driver complement includes one 1.4" Folded Motion tweeter and two 4" paper cone drivers and is double-ported to the front.
One major bit of advice when setting the Motion C up -- it loses a lot of its magic if placed too close to the floor. Having experimented with 4 different set-up positions, I would strongly recommend keeping it level with the base of your screen. Placing it above the screen is fine too, but angle it downward.
Come on out Cody Jarret...you are completely surrounded!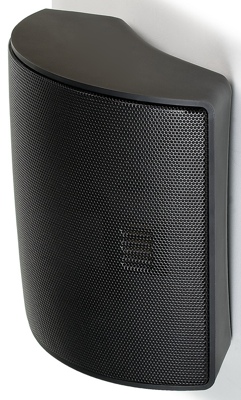 Do you remember the shy, awkward girl who used to stand by herself in the corner at the high school dance? The one that nobody wanted to dance with. The one that eventually went to M.I.T and invented some high tech gadget that made her a billionaire. Surround loudspeakers are that "girl". They may not seem that important at the time, but when you get home and unpack everything, you realize that your surround channels need some love and affection too. If you ignore them and just stick them anywhere, the results are going to be rather unsatisfactory.
MartinLogan's Motion FX is definitely that girl in the corner; but now she's not only super smart, but also a swimsuit model from Belarus. The FX has sexy curves; for wider dispersion of sound and because it can be placed on your rear wall in a variety of ways. Placing them flush against the back wall of your home theater will work just fine, but what if you want to stick them in the corners? Not a problem. Want to mount them on your side walls a few feet from the corner and create an even wider dispersion pattern? Piece of cake. MartinLogan has also included an ingenious mount to make it all possible.
The Motion FX utilizes two 1.4" Folded Motion tweeters and one 5.2" paper cone driver in a very compact package (11.1" x 12" x 6") that looks stunning. They weigh close to 10 pounds each and feel very sturdy.  You will want to find the stud when wall mounting these -- a standard hollow wall anchor ain't gonna cut it. The speaker's frequency response is rated at 74Hz - 25,000kHz and it can play extremely loud without strain. These are not some "throwaway" loudspeakers that the manufacturer included in the box to call it a surround sound system; these are major league transducers.
The Motion 12 system can be configured any way that you want, but for review purposes MartinLogan included a pair of their Motion 4 monitors to round out the full 7.1 channels. The Motion 4 may be the best part of the whole deal; fantastic sound quality, transparent, detailed, and you can drive them quite hard. They may be the best desktop loudspeaker I've heard in years. $250 each. Crazy cheap for a loudspeaker this good.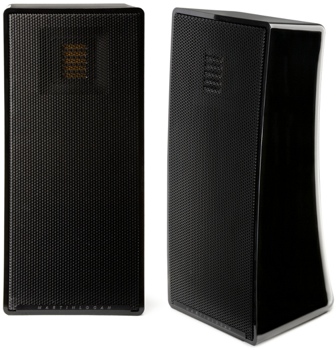 Boom Boom Pow
Now we get to my least favorite part of the program, boys and girls. The dreaded subwoofer. To quote my good friend, Luke Skywalker (he's also my attorney), "It's not that I like the Empire, I hate it. But there's nothing I can do right now." Subwoofers are a necessary evil in a home theater and while you could get away with using the Motion 12s as your source of LFE, it will create feelings of guilt and resentment, not to mention invite unwanted gossip from your wife's friends.
"Did you see the Whites' home theater? They couldn't even afford a subwoofer. I feel so bad for her. She can do so much better. He doesn't even let her watch premium cable."
Who wants to deal with that?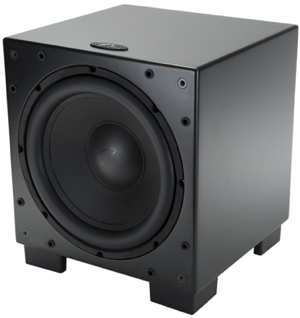 The Dynamo 1000 subwoofer is at the top end of the Dynamo line-up ($995 each) and it genuinely surprised me. I have been a REL user for many years and consider their subwoofers to be the best of the best -- certainly for the money. NHT makes really good subwoofers as well, but the REL are very special products. MartinLogan's Dynamo 1000 looks small, but it packs a wallop. Its 12-inch high excursion poly cone woofer can shake, rattle, and roll. In a small room, it may be too powerful; but it will work perfectly in a living room, media room, or dedicated home theater. It is powered by a 500 watt amplifier and I felt the need to keep its volume level fairly low because it can output a lot of bass. Taut, resolute, and very quick.
It is a relatively compact 14" x 13" x 14" and weighs in at a hearty 36 pounds. Place it correctly and leave it there. I ran one length of interconnect from my Denon receiver to the LFE input, but there is a wireless option for those who may find that appealing. I am not a fan of wireless loudspeakers, but it does exist as a connection option. One really cool feature; you can change the orientation of the 12" driver depending on what sounds best in your listening environment. Want a downward firing driver? Leave the Dynamo 100 as is. Prefer the sound of a forward-facing driver? Take off the legs, flip the cabinet, reinsert the legs/spikes and you're golden. Impressive. Most impressive.
I am Big. It's the Pictures that Got Small...
Setting up a 7.1 channel surround system like the Motion 12 is simpler than you might expect, but there are some placement restrictions if you want to get the best performance out of your investment. The Motion 12 towers need to be at least 6-10 inches from the front wall and at least 2 feet from the side walls to sound their best. The dipole midrange configuration loses its effectiveness if you have the edge of the loudspeaker flush with the wall behind it, sounding far less spacious.
The Motion C center needs a flat level surface and should not be placed too low. The clarity and soundstage will suffer if you do.
The Motion FX should be installed at least 2-3 feet above your seated sitting position to have the most impact. If you stick them in the corners, don't place them at the very top of the wall as the ceiling reflection diffuses the sound too much. I tried them about 14" from the top and achieved great results.
The Motion 4 can be used either as side surrounds or height channels (Dolby ProLogic IIz) in the front of your home theater. There isn't a lot of content yet to justify height channels in my opinion, but it certainly does work. Especially with concert DVDs. Used as side surrounds (which earned some nasty glares from Mrs. White...don't we have enough speakers in this room already?), the Motion 4 was fantastic. Throw in a Blu-ray 3D disc like the recently released TRON: Legacy and you'll begin to understand how 7.1 can be a totally immersive experience.
The Dynamo 1000 is fairly easy to place, as far as subwoofers go. Start in the corner and move it toward the Motion 12 loudspeaker; a few inches at a time. Pull it out about 12-20 inches from the wall and adjust the volume control until you have a nice seamless presentation. If the bass is boomy, you are too close to the corner.  And if you find your specific room is problematic in its bass response, or a simple placement is not giving you great results, then check out our handy dandy subwoofer set-up tutorial.
We're gonna need some more FBI guys, I guess.
I have not watched Die Hard in many years, but it called out to me as I was unpacking the Motion 12 system. Both Bruce Willis and Alan Rickman have made some awful movies since then, but they were both at the top of their game in the action-packed drama. The surround track for this film is rather demanding and it can make a poser home theater system go crying home to Agent Johnson. The Motion 12 7.1 system ate this film for breakfast. The soundstage stretched across my entire media room (and living room) and the dialogue was strong and clear as a cold winter's night. Hans Gruber and friends (doesn't that sound like some creepy kid's show in Germany?) loved to show off their Heckler and Koch MP5s and the gunfire was startlingly real sounding. My kids were so scared, they ran from the room. I am so winning "Parent of the Year" for 2011.
Jumping ahead -- to 2011 in fact -- I threw the recent release of Apocalypse Now into the Oppo-BDP 83 and cued up the beach attack scene. That scene will never get old; Wagner and napalm. The intensity of the sound via the Motion 12 system was surreal. You feel like you were riding shotgun next to Duvall and Sheen.  The sound simply transformed the movie watching experience entirely.
TRON: Legacy wasn't a great film, but it has one of the best sounding audio tracks around thanks to the brilliance of Daft Punk. The 7.1 channel DTS-HD Master Audio track can pulverize an anemic sounding system. The Motion 12 7.1 system was designed for HD quality audio like this and my media room turned into a rave when I cranked up the volume.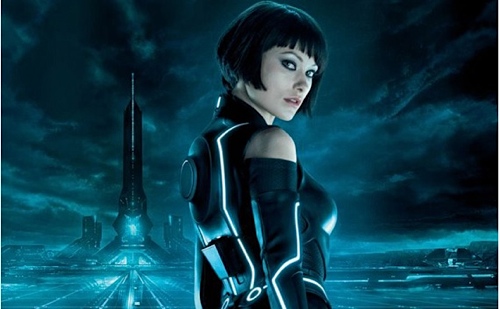 Poorly recorded audio will not be transformed by this system. Garbage in -- Garbage out. The overall tonal balance is quite neutral; it leans more toward the accuracy side of the spectrum. Do not use this system with lean sounding amplification. Avoid silver speaker cables as well because it will tilt the tonal balance too much and make the sound somewhat cool.
The Motion 12 will sound great with tube amps, but they need to have some grunt. EL-34s or 6550s will work splendidly well. The midrange is very clean sounding, but I think it sounds better if you warm the sound up a bit.
Music just flows through this system. Effortlessly. Detail galore with a very smooth top end. You can crank this system very loud. Vocals? Mon Dieu. That's French for Sarkozy wants Qadaffi's collection of Ferraris for his own garage.
If you drive this system with something like the Denon AVR-3311CI, you'll begin to understand that audio is just as important as video in a home theater. Should you decide to add a separate stereo amplifier to the system one day to drive the Motion 12s, you'll realize that they have an unnerving level of quality for their $1,499 price tag.
Turn-Ons
Exceptional sound quality with films and music
Superb design and finish
Very easy to set-up
Amazing levels of transparency and detail
Don't require a $3,000 A/V receiver to sound great
$4,294.00 is actually a bargain for this level of performance
Turn-Offs
Motion 12 is only available in real black ash veneer
Motion C can sound small if improperly set-up
Can sound thin if not matched with warm sounding amplification
Too large for a bedroom HT system
Still out of the reach of most consumers
Final Thoughts
$4,294.00 is not an insignificant amount of money to spend on a loudspeaker system. The MartinLogan Motion 12 7.1 loudspeaker system, however, is worth every single cent of its asking price and would be at the top of a very short list of systems under $10,000 that I would consider truly "world-class". You can certainly do better than the Motion 12 7.1 system, but you would probably still end up writing the check to the same company, and for considerably more money. This is your Double Porterhouse. Take it home, Hoss.
Where to Buy:
Product Specifications:
MartinLogan Motion 12 Loudspeaker
Frequency Response: 40Hz - 25kHz +/-3dB
Sensitivity: 92 dB, 4 ohms -- compatible with 4, 6, and 8 ohm rated amplifiers
Crossover Frequency: 300Hz and 3.0kHz
Recommended Amplifier Power: 20-300 watts per channel
High Frequency Driver: 1" x 1.4" Folded Motion Tweeter with 5.25" x 1.75" diaphragm
Midrange Driver: 5.25 dipole paper cone with cast aluminum baskets
Low Frequency Driver: Two 6.5" paper cones with cast aluminum baskets
Cabinet: Ported with dipole midrange
Crossover: Custom air core and low DCR steel laminate inductors, Polyester film capacitors in series and low DF electrolytic capacitors in parallel
Binding Post Inputs: Push style with banana jacks
Weight: 36 pounds
Dimensions: 42.8"H x 7"W x 14.1"D
MSRP: $1499.95 per pair
Finish: Real black ash wood veneer
MartinLogan Motion C Center Channel Loudspeaker
Frequency Response: 70Hz - 25kHz +/- 3dB
Sensitivity: 90 dB, 4 ohms -- compatible with 4, 6, and 8 ohm rated amplifiers
Crossover Frequency: 2.6kHz
Recommended Amplifier Power: 20-200 watts per channel
High Frequency Driver: 1" x 1.4" Folded Motion Tweeter with 5.25" x 1.75" diaphragm
Low Frequency Driver: Two 4" paper cones with stamped steel baskets
Cabinet: Dual Front Ports
Crossover Components: Custom air core and low DCR steel laminate inductors, Polyester film capacitors in series and low DF electrolytic capacitors in parallel
Binding Post Inputs: Push Style with Banana Jacks
Weight: 9.5 pounds
Dimensions: 24"W x 6"H x 4.4"D
MSRP: $499.95 each
Finish: Real black ash wood veneer
MartinLogan Motion FX Loudspeakers
Frequency Response: 74Hz - 25kHz +/- 3dB
Sensitivity: 91dB, 4 ohms -- compatible with 4, 6, and 8 ohm rated amplifiers
Crossover Frequency: 4.5kHz
Recommended Amplifier Power: 20-160 watts per channel
High Frequency Driver: Two 1" x 1.4" Folded Motion Tweeters with 5.25" x 1.75" diaphragm
Low Frequency Driver: 5.25" paper cone with cast aluminum basket
Cabinet: Folded Motion bass-reflex port
Crossover Components: Custom air core and low DCR steel laminate inductors, Polyester film capacitors in series and low DF electrolytic capacitors in parallel
Binding Post Inputs: Push Stye with Banana Jacks
Weight: 9.5 pounds
Dimensions: 11.1"H x 12"W x 6"D
MSRP: $399.95 each
Finish: Black or White
MartinLogan Motion 4 Loudspeakers
Frequency Response: 70Hz - 25kHz +/- 3dB
Sensitivity: 90dB, 4 ohms, Compatible with 4, 6, or 8 ohm rated amplifiers
Crossover Frequency: 2.9kHz
Recommended Amplifier Power: 20-150 watts per channel
High Frequency Driver: 1" x 1.4" Folded Motion Tweeter with 5.25" x 1.75" diaphragm
Low Frequency Driver: 4" paper cone with stamped steel basket
Cabinet: Folded Motion bass-reflex port
Crossover Components: Custom air core and low DCR steel laminate inductors, Polyester film capacitors in series and low DF electrolytic capacitors in parallel
Binding Posts Inputs: Push Style with Banana Jacks
Weight: 6 pounds
Dimensions: 12.6"H x 5.6"W x 5.25'D
MSRP: $249.95 each
Finish: Black high-gloss
MartinLogan Dynamo 1000 Subwoofer
Frequency Response: 22Hz - 200Hz +/- 3dB
Wireless Receiver: Built-in receiver, SWT-1 transmitter sold seperately
Low Pass Filter Frequency: 35Hz - 120Hz
Low Frequency Driver: 12" high excursion poly cone with extended drive assembly; sealed non-resonant cabinet
Amplifier: 500 watts rms (1000 watts peak)
Impedance: Line level RCA: 20,000 ohms, Compatible with 4, 6, 8 ohms rated amplifiers
Audio Controls: Low Pass Filter Switch: Bypass (LFE In), Variable (Left and Right In)
Inputs: Left and Right/LFE RCA line level
Power Draw: Idle: 15W, Max: 650W
Resolution: 16-bit
Sampling Rate: 48kHz
Wireless Band: 2.4GHz
Antenna: Internal
Maximum Wireless Range: 30-40 feet
Weight: 34 pounds
Dimensions: 14.54" x 13.69" x 14.35"
MSRP: $995 each
Finish: Black
Manufacturer Information:
MartinLogan2101 Delaware StreetLawrence, Kansas 66046
Phone: 785-749-0133
On the web: www.martinlogan.com
Where to Buy: