Denon AVR-3311CI Home Theater Receiver Review
By Dennis Burger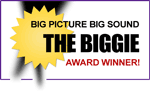 Sometimes Change is Good
I don't deal with change very well. My wife once moved my pear preserves from the bottom shelf of the fridge to the one right above it. They may as well have been in a refrigerator in Guadalajara in an alternate universe, as far as I was concerned. When Sunfire added protruding knobs to its fifth-generation Theater Grand Processor, I threw a hissy fit of Sheldon proportions. In print, no less.
Turn and Face the Strain

So the first time I fired up Denon's AVR-3311CI A/V receiver and found myself faced with a shiny new interface unlike anything I've ever seen from the company, I very nearly boxed it back up and returned it, un-reviewed, with a terse note attached: "To whom it may concern, It is to Denon receivers of old that I dedicate this note, in honor of the holiday they seem to have taken from these parts and in recognition of the imposter that stands in their stead." Never mind the chintzy remote that comes with Denon receivers these days (two, in fact), in contrast to the beautiful, hefty controllers from just a few years ago; it's been ages since I used a pack-in remote, anyway. Mess with my menus, though, and I take it personally.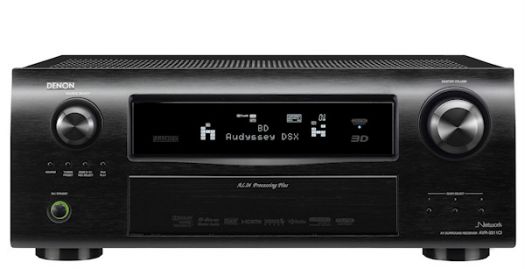 I've been reviewing and recommending Denon receivers for years, and I've set more of them up for friends than I care to count. That old Denon interface was one I knew and loved, one I could navigate deftly and easily. And yes, it's been a couple of years since I cracked open a new Denon box. I expected and looked forward to new features -- Audyssey DSX! AirPlay! Height channels! Oh, my! -- but an entirely new menu system? Balderdash. Shenanigans. Bah and humbug.
Apparently Christmas miracles do happen, though, and apparently I am amenable to change when it's for the better, because before I could add Regards and a signature to my pithy missive, I found myself falling in love with Denon's new GUI. It exudes the sort of elegance that the receiver's exterior deserves, although, truth be told, I'm making a lot of fuss about menus that you'll see briefly, probably only once, and soon forget about. Because for as much as it does, the AVR-3311CI is incredibly quick and easy to set up. Perhaps the calculations for the Audyssey MultEQ XT speaker setup and room correction took a bit longer than I remember regular old MultEQ of old taking, but then again, it nailed the distance and level settings for my subwoofer automatically, which may well be the first time in the history of history that has ever happened.
Look out, you rock and rollers
Even network setup was way easier than it had any right to be. The instant I plugged an Ethernet cable into the back of the AVR-3311CI, it made itself at home on my network and, after a quick installation of Denon's control app on my iPod Touch, opened up access to my entire music library at the touch of a virtual button via DLNA. No muss, no fuss. Just a bit of lag. The Denon app is intuitive to navigate, no doubt, but sometimes it feels like it takes longer to begin playing a song than it did to set up the networking in the first place. Then again, only networked audio device I've set up recently that offered less resistance and did a better job of streaming music was PS Audio's $4000 PerfectWave DAC, which says a lot for the Denon.
Unfortunately, I didn't get to check out the AVR-3311CI's AirPlay capabilities, because that update hasn't come down the pipe yet (look for Denon to add AirPlay to the 2010 network-enabled models sometime in January). It's hard to imagine it being much easier than this.
If you're looking for a more direct connection, AVR-3311CI is also iPod compatible out of the box, without a separate dock, via USB. The first time I hooked up my touch, it took quite some time to locate the device, but thereafter, I found it to be quick and responsive, and the onscreen interface is as intuitive as one could hope for.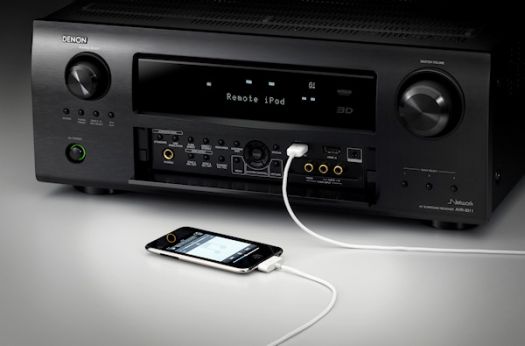 Watch... err... hear the ripples change their size
And so it goes with everything about the AVR-3311CI. In addition to all the expected codecs and surround options (Dolby Digital, Dolby Digital Plus, Dolby TrueHD, DTS, DTS-HD High Resolution, DTS-HD Master Audio, etc.), there are a few less common options.  I really didn't tinker too much with the receiver's million-and-three (or maybe it's just seven -- who's counting?) DSP sound modes, but this was my first chance to pit two different surround enhancement options - namly Dolby ProLogic IIz and Audyssey DSX -- head-to-head in the same receiver. And I walked away from the comparison with even more respect for Audyssey.
PLIIz is a nice enhancement to the AVR-3311CI's familiar sound (if you're heard a Denon receiver at this price point, you know what it sounds like: not as bright as other receivers in its class, but beautifully balanced, with exceptional detail and wonderful, natural midrange), adding ambiance and dimensionality to the surround experience. I'm just not sure it's enough ambiance and dimensionality to justify the two additional speakers.  At least until there is some real PLIIz-encoded material.
DSX, on the other hand, takes a more aggressive approach to z-axis (height channel) processing, and yes, that means it does occasionally generate a slightly wonky height effect here and there, but on the whole, I found myself more engaged in movies and less focused on the technology with DSX's height channels engaged than with PLIIz, if only because I wasn't constantly wondering if there was anything coming out of my height channels. Somehow, more is less distracting.
Just focusing on the height channels alone ignores the fact that DSX is also capable of adding two more channels to the mix: front width channels, at ±60°, on the same vertical plane as your main speakers. And yeah, when I first read about it I made the face you're probably making now. But after taking my height channels down off the wall and moving them to the sides for an afternoon of testing (my room isn't really conducive to permanent wide-front-channel placement), I'm inclined to agree with Audyssey that extra width adds something genuinely valuable to the mix when properly processed -- way more than surround back channels, in my opinion. With width channels engaged, soundtracks like Inception and Toy Story 3, and especially on-the-fly 5.1 game mixes like Gran Turismo 5's raucous aural experience, really approach that mythical, lifelike, three-dimensional soundfield we all long for.

It's just a shame I couldn't try out Audyssey DSX's height channels and width channels at the same time. Both height and width via DSX are such valuable -- and such different -- additions to the mix that I'd like to hear them together, but the AVR-3311CI only offers seven channels of amplification, so you have to take your pick as to where you want those extra two speakers. That's all the better in my case, because permanently rearranging my furniture is down there with prison sex and injecting botulinum toxin into my face on the bottom of the list of things I want to do, but if you're looking for the full DSX experience, the receiver's lack of amplification channels might be a concern.
What do you know? This thing can trace time
In addition to all of the audio processing, the AVR-3311CI sports above-average video upconversion and noise reduction, with full support for 3D passthrough via its six HDMI 1.4a inputs, analog-input to HDMI-output conversion with 1080p upscaling, as well as Audio Return Channel, Deep Color, and x.v.Color Support.
With my Denon DVD player connected via component and set to 480i, the AVR-3311CI performed satisfactorily with Silicon Optix's HQV Benchmark DVD, passing the jaggies tests when upconverting to 1080p, locking onto the "Super Speedway" film cadence test in less than a second, and even doing a pretty admirable job of noise reduction (not superb, but admirable), with no egregious DNR (Digital Noise Reduction) artifacts even at the highest settings.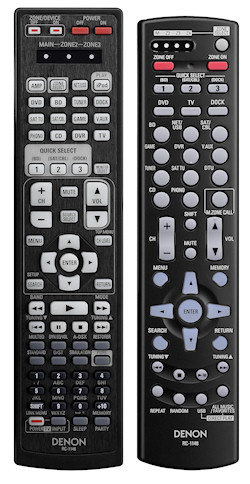 Don't want to be a richer man...
Of course, if you're looking for more extensive video processing, the AVR-3311CI's big brother (AVR-4311CI) does offer such, along with two more channels of amplification to complete the full DSX audio experience, along with Audyssey's new XT32 MultEQ room correction processing. But given how much the AVR-3311CI does, and how well it does it, it's hard to justify the additional $800 expense of the 4311. If you can live with choosing between height and width (assuming you don't need surround back channels, and really, who does?), the 3311 is an amazing value.
Turns Ons
Audyssey DSX Processing
Exceptional sound quality
Amazingly intuitive interface, given the sophistication of the receiver and its numerous features
3D capable with native support for all of the latest lossless audio formats
No iPod dock necessary
Robust networking capabilites
Wonderful build quality and aesthetics
Turn Offs
Craptastic remote, may I suggest a universal instead?

Not enough channels of amplification to use both height and width channels with DSX
iPhone/iPod Touch app is a little slow
Final thoughts
At its price point, the AVR-3311CI is very nearly the perfect receiver. It's easy to complain about the lack of extra amplification channels, but at this price, nine channels is a lot to ask. All things considered, aside from the remote, I wouldn't change a thing.
Buy Now from Authorized Denon Dealers:
Product Specifications
Power Output: 125 watts per channel (7.2)
Finish: Black
Weight: 26.9 lbs
Dimensions: 17.1"W x 6.7"H x 15"D
Surround Modes: Dolby Pro Logic IIx, Dolby TrueHD, Dolby Digital+, Dolby Digital Surround EX Decoding, dts ES Discrete 6.1 Decoding, dts ES Matrix 6.1 Decoding​, dts Neo:6 Stereo-to-Surround Cinema and Music Mode, ​dts 96/24 5.1 for DVD-Video Processing, DTS-HD Master Audio, Dolby Pro Logic IIz, Audyssey DSX
Audio signal delay
Stereo/Direct mode with Pure Analog Path
Video game mode
Mono Movie surround mode
Connectivity:

Cinema EQ
True 24-bit/192-kHz Digital Input Capability (Denon Link & 1394)
Assignable Digital Inputs: 4
Digital to Analog REC out
Analog Audio Inputs: 9 Incl. Sirius Radio
Phono Input
Source function renaming
Front panel A/V inputs with Composite and S-Video
Video Conversion: Composite to S-Video to Component
Video Conversion: Analog to HDMI
Composite Video Inputs: 4
Composite Video Outputs: 3
S-Video Inputs: 2
Component Video Inputs: 2
Component Video Outputs: 1
HDMI Inputs: 6 x 1.4a inputs
HDMI Outputs: 1 x 1.4a output
Banana Plug speaker terminals
Pre-Amp Outputs: Subwoofer
iPod Dock Control Port: Using ASD-1R Denon iDock

56 station auto-preset memory tuning
Direct Function (Tone Bypass)
Speaker Time-delay and level controls
HDMI Audio/Video Repeater Function
HDMI Deep Color Support
HDMI xvYCC Color Space Support
MSRP: $1,199.00
Manufacturer Information:
Denon Electronics U.S.A. (D & M Holdings)
100 Corporate Drive
Mahwah, New Jersey, 07430
ph: 201-762-6500
On the web: usa.denon.com