Apocalypse Now Full Disclosure Blu-ray Review
By Chris Chiarella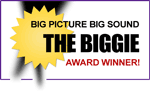 [editor's note: we wouldn't normally publish a review so long after street date, but Lionsgate only sent us the title late last week for consideration.]
The Movie
The challenges of making certain films have become Hollywood legend, although perhaps none more storied in its day than Apocalypse Now. Showered with many Oscars and many millions of dollars for his blockbusters The Godfather and The Godfather Part II, as well as a critical darling for The Conversation, writer/director Francis Ford Coppola announced an ambitious Vietnam War epic unlike any the world had ever seen. He would spare no expense, gamble big, and ultimately create one of the most admired films of the 1970s, but he and his collaborators were lucky to escape with their sanity, and in some cases their lives.
A loose interpretation of Joseph Conrad's Heart of Darkness, Apocalypse Now is the story of Captain Willard (Martin Sheen), sent to execute rogue Colonel Kurtz (Marlon Brando) who has gone insane and is waging his own war deep inside Vietnam, beyond any military control. Apparently, enough time in The 'Nam and everybody goes a little crazy, and so the 1979 original movie balances the underlying absurdity (a commanding officer more interested in surfing than fighting) with "the horror, the horror...."
This set's "Full Disclosure" suffix refers to the inclusion of both Apocalypse Now and the 2000 extended Apocalypse Now Redux, which tends to move the farce, and a lot of smaller moments, to the forefront, for a very different experience. Also here is the theatrically released "making of," Hearts of Darkness: A Filmmaker's Apocalypse, an absolute must-see for any film buff.
The Picture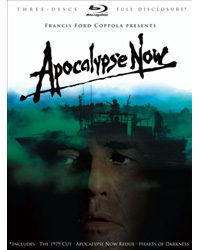 Both cuts of
Apocalypse Now
have been remastered in their proper 2.35:1 aspect ratio, personally supervised by Coppola. Grain is more evident than noise, neither really a problem despite a lower-than expected bitrate, sometimes down to single digits, commonly in the mid-teens, a consequence of fitting both editions of a long/very long movie onto a single disc.
From what I've read, Coppola is especially proud of cinematographer Vittorio Storaro's almost hypnotic use of color and shadow, which are remarkably effective in this high-def debut. There's ample detail in the sands, the jungle foliage, the fine lines of a curtain; lots of smoke and it usually plays nice with the necessary digital compression.
The image, or portions of it, is softer than I'd like, and the restored sequences don't always look as good as the more familiar 1979 scenes, but neither are there any jarring shifts. Surprisingly, some significant film damage remains.
(Hearts of Darkness: A Filmmaker's Apocalypse is presented separately at its original 1.33:1 aspect ratio, in HD.)
The Sound
The sole audio option for the movies on Disc One is DTS-HD Master Audio 5.1, and from the very beginning I was a little freaked out by the not-really-helicopter rotors phasing 360 degrees around the room, starting behind us to the right. Crafted by the great Walter Murch, the sound design displays a sometimes curious quality to the voices, lots of Hueys in the rears and the living jungle all around us. Bass is strong yet precise, and the entire extended "Ride of the Valkyries" sequence has never sounded better, a classic showoff scene reborn. Play this one loud; if your speakers, spouse and neighbors can handle it; and it will rock your world.
The Extras
Both versions of the film share essentially the same audio commentary by filmmaker Francis Ford Coppola, edited and augmented to match up properly with each. Disc One is also BD Touch and Metamenu Remote-enabled for iPhone/iPad/iPod touch interactivity. Disc Two is all bonus material, much of it new, and in HD. Up first is "An Interview with John Milius" (50 minutes) in Coppola's winery, followed by "A Conversation with Martin Sheen and Francis Ford Coppola" (59-and-a-half minutes). "Fred Roos: Casting Apocalypse" includes previously unseen screen tests (12 minutes). The controversial "Kurtz Compound Destruction with Credits" ending (six minutes) looks pretty good in HD, with Coppola commentary. Also here is his entire 2001 video interview by Roger Ebert.
From here it's an archive of old DVD bonus content, mostly brief featurettes. Perhaps most fascinating are the multiple discussions of the sound mixing, the film editing, and the dozen deleted and extended scenes. Orson Welles' original dramatic reading is also here, "The Mercury Theatre on the Air: Hearts of Darkness - November 6, 1938," 36-and-a-half minutes, in mono with an HD graphic.
Hearts of Darkness: A Filmmaker's Apocalypse is joined by a commentary from Coppola and his wife/on-set documentarian Eleanor. There are also 52 pages of John Milius' script excerpts with Francis Ford Coppola's hand-written notes, actual scans readable on a big HD screen. Rounding out the set are a Storyboard Collection and Photo and Marketing Archives. The box also holds a 48-page softbound book full of insider images and quotes.
Final Thoughts
Apocalypse Now is an audacious, sprawling film worthy of study and appreciation from many angles, so kudos to Lionsgate for giving us this appropriately big, elaborate keepsake edition, highlighted by an impressive audio/video upgrade.
Product Details
Actors: Martin Sheen, Marlon Brando, Robert Duvall, Frederic Forrest, Sam Bottoms, Laurence Fishburne, Albert Hall, Dennis Hopper, G.D. Spradlin, Harrison Ford, Scott Glenn
Director: Francis Ford Coppola
Audio Format/Languages (Apocalypse Now/Apocalypse Now Redux): DTS-HD Master Audio 5.1 (English)
Subtitles: English, English SDH, French, Spanish
Aspect Ratio: 2.35:1/1.33:1
Number of discs: 3
Rating: R
Studio: Lionsgate
Release Date: October 19, 2010
Run Time: 147/196/96 minutes
List Price: $59.99
Extras:

Audio Commentary by Francis Ford Coppola on both versions of Apocalypse Now
Audio Commentary on Hearts of Darkness by Francis Ford and Eleanor Coppola
"An Interview with John Milius"
"A Conversation with Martin Sheen and Francis Ford Coppola"
"Fred Roos: Casting Apocalypse"
"Kurtz Compound Destruction with Credits"
2001 Cannes Film Festival American Pavilion: Francis Ford Coppola
John Milius Script Excerpts with Francis Ford Coppola Notes
Storyboard Collection
Photo Archive
Marketing Archive
Archival DVD Extras:

"The Mercury Theatre on the Air: Hearts of Darkness - November 6, 1938"
"The Birth of 5.1 Sound"
"Ghost Helicopter Flyover"
"Apocalypse Now: The Synthesizer Soundtrack" by Bob Moog
"A Million Feet of Film: The Editing of Apocalypse Now"
"The Music of Apocalypse Now
"Heard Any Good Movies Lately? The Sound Design of Apocalypse Now"
"The Final Mix"
"Apocalypse Then and Now"
"The Color Palette of Apocalypse Now"
"PBR Street Gang"
"The Hollow Men"
Monkey Sampan "Lost Scene"
Additional Scenes

BD Touch
Metamenu Remote