LG 42LH50 LCD HDTV with NetCast Review
By Greg Robinson
Edited by Chris Boylan
LG 42LH50 Review
A Streaming Bargain
My father likes to call himself a proud member of the "Flat Earth Society" - he views technology as a necessary evil.  Any attempts by yours truly to bring him and my mother into the 21st century are often met with no small amount of kicking and screaming. Some time ago, I helped my parents purchase a top-notch Canton surround sound system for their living room to complement a plasma television they won in a contest. In all the times I've visited them since setting up that system I've never once seen them use it, unless of course I cue something up and force them to watch with me.
Most nights my parents prefer to fire up the old CRT in the den and channel surf (sans cable box) until they find something worth watching. When I ask why they don't use the vastly superior setup in the next room, the answer is invariably "it's too complicated" or "this one's just easier." Argh. So, why am I telling you this? Because LG's 42LH50 is the most "complicated" television I've ever spent time with -- but it's also ridiculously easy to use. It's so easy in fact, that even my parents could handle it.
The term "complicated" has a negative connotation that just isn't fair when discussing the remarkable 42LH50, so let's go with "advanced" instead. And what makes the 42LH50 so advanced, you ask? In a word: NetCast. NetCast is the all-encompassing term LG uses to describe its suite of internet-based content offerings. Plug a Cat5 Ethernet cable into the back of this puppy and in addition to standard television viewing, you also get Netflix streaming, VUDU on-demand movie rentals and purchases, Yahoo TV Widgets, YouTube video browsing and more that's sure to come. We'll look at NetCast in more detail below, but suffice to say the 42LH50 is a poster child for the television of tomorrow. And the best news of all? You can have it today.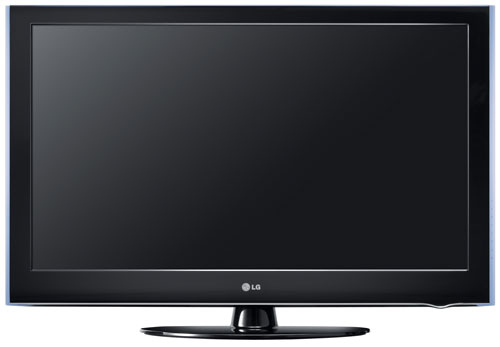 First Impressions
Upon unboxing the 42LH50, I was struck by the attractiveness of its piano gloss bezel and tapered surround. Installing the table-top stand was a piece of cake and I was making my audio/video connections within minutes. Once I had everything connected including the power cord, I noticed the sleek power indicator in the lower-right corner. When the TV is off, this thin, curved LED glows red to indicate its standby status. Turning the TV on causes the light to begin pulsating in a unique and elegant wave pattern before turning solid blue, evoking mental images of Cylons or Michael Knight's K.I.T.T. And let's be honest, if your display is going to remind you of a television series, you could do a lot worse than "Battlestar Galactica" or "Knight Rider." I'm now weeks into using the 42LH50 and that power indicator remains one of my favorite little touches on this display.
Now, about that shiny bezel... As it turns out, first impressions aren't always all they're cracked up to be. Put simply, the 42LH50 looks absolutely beautiful when the set is off. Although the black bezel and clear, tapered surround are both plastic, the display has a decidedly upscale look and it's one of the more attractive flat panels I've seen. But. The down side is that the black plastic bezel - which is fairly substantial, particularly along the bottom - is extremely reflective. Distractingly reflective. Annoyingly reflective. Though hardly a deal breaker, that super shiny bezel is one of my chief complaints with the 42LH50.
Remote, Control

Despite its unfortunate lack of backlighting, LG's supplied remote control is quite good. Buttons have a pleasant, spongy feel to them and the remote is remarkably uncluttered considering just how much the 42LH50 can do.  The cursor pad is ideally located and the all-important NetCast button is dead center beneath the pad. One of my favorite buttons is "Q.Menu" which stands for Quick Menu. This presents a small, circular mini menu containing the most commonly used settings, such as Picture Mode, Sound Mode, aspect ratio, etc.
Pressing the Q.Menu button while using NetCast features such as Netflix or VUDU presents no problems, however pressing "Menu," which opens the full on-screen menu, will abruptly close whatever NetCast application you're using before launching the menu. This is a minor irritant, but I'm sure it's a software wrinkle that will be ironed out in future models - hopefully even sooner with a software update downloaded automatically by the 42LH50. In the meantime, an "Are You Sure?" warning would be welcome if you inadvertently hit the button or decide that whatever you wanted to adjust isn't important enough to warrant interruption of your VUDU rental.
It's impossible to overstate the value of a clean and approachable user interface -- particularly for consumers who aren't tech savvy. (Here's looking at you, Mom and Dad.)  LG clearly understands this. Sporting full-color icons, a logical grouping of functions and intuitive navigation, the 42LH50's on-screen menu and graphical user interface (GUI) is by far the best I've seen on any television to date. Moreover, the 42LH50 offers a terrific amount of fine tuning, thanks in part to its ISFccc mode.
Drilling down into "Expert Control" you'll find brightness and contrast adjustments for the red, blue and green channels, but you also get color and tint adjustments for red, blue, green, cyan and magenta. And kudos to LG for the "Apply to All Inputs" option. Once you get your settings dialed in, the 42LH50 can - if you wish - apply those same settings to HDMI 2, 3, 4, et al. Put simply, this display is a tweaker's dream. Heck, you can even turn off that sexy power light, with separate options for disabling the "Standby" and "Power-On" indicators. Though why you'd want to quash this groovy geek beacon is a mystery to me, unless of course you had a nasty run-in with a Cylon when you were a child.
One final note on the GUI: in a brilliant display of user-friendliness, LG has created an on-screen, full-color quick reference guide, or "Simple Manual" as they call it. As it instructs on-screen (in case you forget), pressing the "Info" button when using the Menu or NetCast will launch a 12-slide presentation which features a picture of the remote control with descriptions of every button plus instructions for performing a channel scan, connecting to your network, using NetCast and lots more. This is a supremely helpful addition and it's something I hope we see on more displays in the future.
NetCast
After making a few preliminary "eyeball adjustments" to the picture, I promptly hit the red NetCast button on the remote to see what LG and its content partners had cooked up. The NetCast menu gets superimposed over whatever you happen to be watching. The menu consists of five simple icons: Yahoo! TV Widgets, Netflix, VUDU, YouTube and My Media. I'll talk a bit about each of these but trust me when I say that each of these services deserves its own article, so I'm really only scratching the surface here.
When I attended the Consumer Electronics Show (CES) earlier this year, Yahoo's TV Widgets engine was the talk of the show and rightfully so. If you've ever used the Microsoft Windows "Sidebar" then you're familiar with desktop widgets/gadgets/applets, etc. Basically they're mini-applications, always there when you need them, often using internet-based data feeds to serve up things like news headlines, stock quotes, sports scores, etc. Yahoo has taken this concept and created a wonderfully-simple taskbar that appears along the bottom of your screen at the push of a button.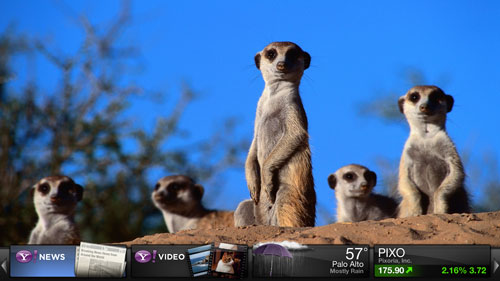 To use Yahoo Widgets, simply create a "profile" and you can then begin adding "snippets" to your "widget" bar.  Goofy names aside, this makes for a great alternative to powering up the computer. I added the Weather widget so I could monitor the brisk fall conditions here in CT as well as the depressingly high temps at my parents' place in Punta Gorda, FL. Other available widgets include Flickr, Twitter and USA Today Sports, with Yahoo  actively working on new ones as we speak. Although you can access Yahoo Widgets via the NetCast menu, the 42LH50 makes life even easier thanks to the purple "Y!" button on the remote. Pressing this immediately brings up the Widget Bar without interrupting whatever it is you're watching. Very slick.
If you're a Netflix customer, you're undoubtedly aware of their exceptional "Watch Instantly" service, which is free for anyone subscribing to one of their "unlimited" DVD rental plans, which currently start at $8.99/month. LG's implementation of Netflix Watch Instantly on the 42LH50 is identical to that on their Blu-ray Disc players (such as the BD 370) and the Roku box. That is to say, it's incredibly simple to use, terribly addictive and it behaves precisely as advertised. (You can read more in our editor's article: Netflix Instant Streaming in HD).
Permit me to skip over VUDU for a minute as I think it deserves its own section. The YouTube client on the 42LH50 is about as good as one could hope for.  By default, LG wisely keeps these small, often low-resolution videos constrained to a small window within the interface and searching is a fairly painless affair.
Finally, we have My Media. Like many modern displays, the 42LH50 features a USB port for viewing pictures, music and videos. However, that network jack out back allows you to take things to the next level. As a device on your home network, the 42LH50 allows you to browse shared media folders that it finds on other connected devices (read: computers). This is accomplished by way of the Common Internet File System (CIFS) protocol and requires a Microsoft Windows home network and the appropriate file sharing permissions on your target computer(s). I was able to browse and play several (non-copyright protected) music files and photos from my office desktop and the discovery and browsing process were extremely well executed.
VUDU, Woo-Hoo!
As you may know VUDU is a slick, Video On-Demand (VOD) service offering movie rentals and purchases (both new releases and catalogue titles) from every major Hollywood studio. Until recently, if you wanted to partake of VUDU you needed a hard drive-based VUDU box. (Currently starting at $149. Read more in our in-depth review of the VUDU box and service.) The 42LH50 does not have an internal hard drive, so the VUDU service you get here is streaming only with no capacity for "download and watch later." As such, VUDU on the 42LH50 varies slightly from the traditional VUDU experience - but less than you might imagine.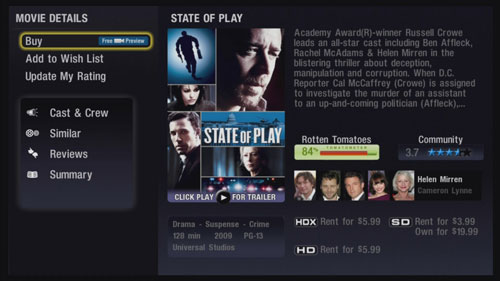 Although you can't download a VUDU title ahead of time, purchased titles begin playing immediately, even 1080p "HDX" selections. My wife and I watched an HDX stream of The Brothers Bloom and the picture quality was absolutely superb, nearly rivaling that of Blu-ray. It did buffer three or four times during playback, but I later learned from a VUDU representative that this was a temporary known issue that has since been resolved. The VUDU streaming experience has been designed with zero (noticeable) buffering and that goes for HDX titles as well. (Provided you have adequate bandwidth.) I subsequently rented the HDX version of Reservoir Dogs and had no buffering issues whatsoever. Nice.
The best thing about this streaming-only variant of VUDU is that new features and GUI updates are available immediately. Unlike the VUDU box, streamed VUDU actually streams the entire GUI, so there's no need to download a new software version overnight and reboot the machine. While I had the 42LH50 in-house, VUDU released a new feature where you can view Rotten Tomatoes movie ratings and read snippets of critics' reviews. The morning I received a press release email announcing this new feature, I was able to turn on the 42LH50 and check it out right away. Streaming VUDU on the 42LH50 is, in a word, awesome.
Oh Yeah, It's a TV Too
It's hard to believe that I'm nearly 2,000 words into this review and I haven't even touched on the fact that the 42LH50 is, at its core and above all else, a television. So you don't fall asleep at the mouse, I won't go into tuner types and jack pack connection options. Suffice to say you'll find everything you'd hope to find out back and a convenient side-panel location for HDMI #4 and the USB port.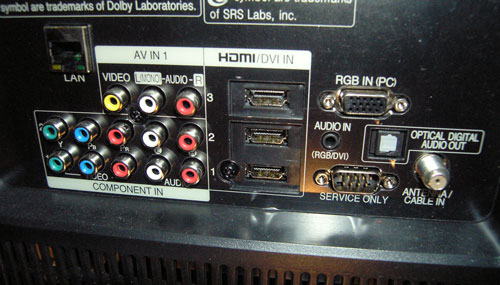 I'm a Dish Network customer so I didn't have the need (or the ability) to go through the channel scan process.  Instead, I connected my Dish DVR to HDMI #1 and used BetterCables component video cables to connect my Panasonic Blu-ray Disc player. I would normally use HDMI for the latter, but I opted for component so I could output a 480i signal from my player and test the video processing capabilities of the 42LH50.
Using my SpyderTV PRO colorimeter and software, I was able to calibrate the 42LH50 within an inch of its life. This was possible largely because the 42LH50 has a tremendous array of "Expert Control" picture adjustments, which resulted in an exceptionally accurate color palette and consistent grayscale tracking. The HQV Benchmark DVD and Blu-ray Disc were fairly uneventful, with the 42LH50 passing the jaggies and film resolution loss tests with ease.
Like many LCD flat panels these days, the 42LH50 offers a 120Hz "TruMotion" processor which aims to reduce motion blur and film judder. Unlike some models out there, the LG unfortunately combines these two functions and it's impossible to get one benefit without the other. Like many folks I've spoken to, I'm just not a fan of 120Hz and 240Hz processing. It has the unfortunate side effect of making film look like video, or more specifically, a poorly-filmed soap opera. Said another way, it just doesn't look right and it certainly doesn't look like film. For the duration of my evaluation, I left "TruMotion" disengaged.
Viewing a variety of Blu-ray and satellite content revealed an above-average picture with excellent (if not particularly punchy) colors and crisp details, free from artificial edge enhancement.  I found the Noise Reduction and Edge Enhancer features were best left in the OFF position and the out-of-the-box Sharpness settings were spot-on. The only complaint I consistently came back to was the 42LH50's less-than-ideal black levels. Blacks appeared brighter than I would like causing a loss of detail in the darkest areas of the picture. And the set's narrow viewing angle certainly didn't help matters. With respect to both the horizontal and vertical axis, the 42LH50 definitely looks best when viewed head-on and quality quickly drops off the further you move down the sofa. No one would ever mistake this set's image for that of a Pioneer Kuro plasma, but the 42LH50 still paints a highly engaging picture that looks great with a high def source.
Final Thoughts
In terms of video performance, the 42LH50 makes for an ironic case study. On the one hand, it is by far the most tweakable television I've ever tinkered with. Variable gamma, built-in color filters and test patterns, primary AND secondary color channel adjustments - you name it, you can refine it. The irony is that the 42LH50's biggest selling point is its robust NetCast media streaming capabilities and the average "streamer" looking for Netflix and YouTube is presumably unlikely to venture too far beyond one the LG's nine shrink-wrapped picture modes. Furthermore, despite its phenomenal degree of adjustability, the 42LH50 falls short of video nirvana due to mediocre black levels and below-average off-axis performance.
It may sound like I'm steering you away from the 42LH50 but the truth is actually quite the opposite. In point of fact, I absolutely love this television. Real world HDTV programming and Blu-ray video looks downright fantastic on the 42LH50 and the NetCast suite of streaming options reminds me of the first time I used a DVR:  How can I ever go back to a TV without this? Netflix and VUDU are two huge players in the burgeoning VOD market and the fact that the 42LH50 gives you both of them AND the Yahoo Widgets engine AND does so at a street price of well under $1,000 - well if that's not a streaming bargain, then I don't know what is. For the casual viewer or anyone looking for added value from their TV, the 42LH50 deserves serious consideration.
Where to Buy:
Manufacturer's Specifications for LG 42LH50 LCD HDTV:
Video:
Panel Type: 42.0-inch 16:9 widescreen LCD
Display Compatibility: Full HDTV 1080p
Signal Compatibility: 480i, 480p, 720p, 1080i, 1080p
Native Panel Resolution: 1920 x 1080 pixels
Response Time: 2.7 ms (GTG)
Wide Color Gamut
Brightness: 500 cd/m2
Contrast Ratio: 70,000:1 (w/DCR)
Refresh Rate: 120Hz (TruMotion)
Viewing Angle: 178 degrees (horizontal & vertical)
3:2 Pull-down & 5:5 24p Mode (Real Cinema)
Color Temperature: 3 modes
Color Fine Tuning: Independent R,G,B,C,M
Tuner: Integrated NTSC/ATSC/QAM HDTV Tuner
Audio:
Onboard Speakers: 10W x 2
SRS TruSurround XT
Dolby Digital 5.1 Decoder
Auto Volume Leveler
Inputs:
HDMI with HDCP: 4 (3 rear, 1 side)
Component (YPbPr) Video plus Analog Stereo: 2
Composite Video: 1
PC RGB (D-Sub 15 pin) plus PC Audio: 1
RF (F-connector for internal tuner): 1
RS-232c: 1
USB: 1
LAN port: 1 (no wireless)
Outputs:
Weight and Dimensions:
Weight: 37.9 lbs
Weight with Stand: 41.9 lbs.
Dimensions: 41.4" x 25.9" x 3.6" (WxHxD)
Dimensions with Stand: 41.4" x 28.3" x 11.7" (WxHxD)
Additional:
NetCast: Netflix, VUDU, Yahoo Widgets, YouTube
ISFccc Ready
Energy Star 3.0
SIMPLINK Connectivity (LG)
V-Chip
Panel Lamp Life: 60,000 hours
Removable Base
Warranty: One Year Parts & Labor
MSRP: $1,199.99
Manufacturer's Contact Information:
LG Electronics USA, Inc.
1000 Sylvan Avenue
Englewood Cliffs, NJ 07632
Toll Free: 800-243-0000
On the Web: www.lgusa.com