Vudu Movie Download Set-Top Box Review
By Joe Santiago
Magic Movie Machine
As HDTV displays get bigger and better, many would say that the cinema-going experience has soured and it continues to worsen. For these reasons, more and more people are looking for convenient ways of watching movies in the comfort of their own homes. Netflix and Amazon are both enjoying the popularity of their rent-by-mail services, while cable and satellite providers are cashing in with pay-per-view movies.
But for some people, waiting for discs to arrive in the mail or choosing from a limited selection of pay-per-view titles that start at pre-determined times is just too inconvenient. For these individuals, immediate gratification is the name of the game, and this is the exact demographic served by the new
Vudu movie download set-top box
.
So Many Movies... So Little a Box
The Vudu box is a "movie appliance" that allows you to instantaneously rent and purchase movies from its Internet-based service. Vudu boasts a 5000+ title library, all immediately viewable. In order to efficiently deliver large movie files to a distributed user base, Vudu uses a proprietary peer-to-peer file-sharing system. To eliminate any kind of lag, the Vudu box pre-loads the first thirty seconds of every movie on its built-in 250 Gigabyte hard drive (external USB hard drive support is said to be coming soon). As you begin watching a movie, Vudu starts downloading (or "streaming") the rest of the film to your box, while simultaneously uploading pieces of it from your box to unsuspecting fellow users; neat.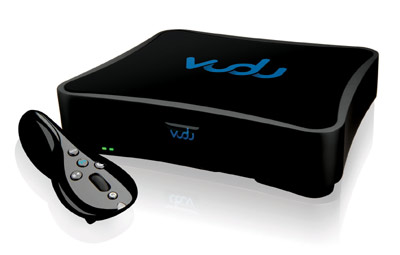 Let's get the sticker shock out of way early: bringing home a Vudu box will set you back a cool four C-notes (well, technically $399). The good news is that there is no subscription fee - you pay only for what you rent or purchase. As with a pre-paid phone card, you simply charge up your Vudu by purchasing blocks of $20, $50 or $100 with a credit card. This pre-payment funds all rentals and purchases. Read on to see what you actually get for your purchase price.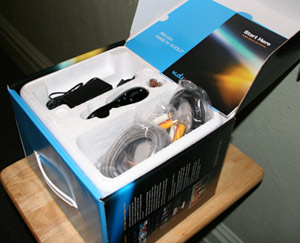 Un-Boxing the Box
As you unpack the Vudu unit, you might notice that the remote control is the centerpiece. This perception will continue to be the case throughout your time with the unit. This strangely shaped controller that fits so wonderfully in my hand yet so awkwardly on my coffee table, is integral to the whole Vudu experience. It sports a scroll wheel (clickable), 4 buttons, and one suspiciously button-like thingy labeled "more" that is reserved for future goodies. The controller comes off a bit quirky, yet simple, stylish and highly functional.
Because the remote control is RF (Radio Frequency)-based, it can work through walls or solid cabinet doors, but this does make it difficult (if not impossible) to integrate with standard IR-based universal remotes. Once you experience the ergonomic ease of the Vudu controller, you probably won't want to use any other remote, but it would be nice to have the option.
The Set-Up
The Vudu box itself is quite the looker. It has a shiny upper casing and feels dense and well constructed. It will certainly blend in with any high-end home theater or media system. The box comes with all the cables you'll need (HDMI, network, analog audio/video, etc.), so you should be up and running quickly, without any rude surprises.
I followed the setup guide, plugged in the supplied RF antenna (for the remote), network cable and HDMI cable in about a minute. Thanks to the HDMI port, connecting the Vudu unit to my Samsung 50-inch plasma television was a breeze - digital audio and video in one thin cable. The first boot-up seemed to take a few minutes - long enough for me to grab a drink from the fridge and head back.
At this point, I noticed something that I wasn't noticing - noise. Unlike some gaming systems, laptops, DVRs and other hard-drive-based devices, this baby runs quiet. The only way to really hear the hard drive spinning is to practically press your head against the box. And that's a little awkward (not to mention silly-looking).
Once the system is ready, it will walk you through a narrated set-up guide that makes sure you have an Internet connection, that you have some speakers, and most importantly, that you have an account to fund the happy times ahead. This guide is very well done with professional sounding voiceover work. No corners were cut here.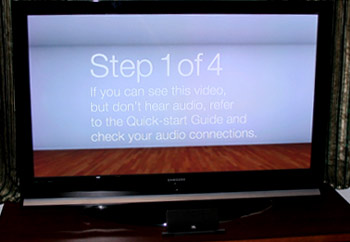 Step 4 of the guide reminds the user that an Internet connection and power must be continually provided for Vudu to do its thing. As you are soaking up all this setup goodness, you get a chance to play with the remote. Hopefully this is where the love affair begins to blossom. The clickable scroll wheel will be second nature to anyone that has used a similarly-equipped computer mouse.
I Like to Watch
After the setup is complete, you will be presented with the "home" menu. This menu is straightforward with large buttons on the top that include "Find movies," "New releases" and "My movies." Continuing to scroll right past the main buttons will land you on the large box shots of the titles in the "Featured Movies" section. The first few times you roll left and right around this list it will become evident that the scroll-wheel adds much to the appeal. With it, you will be traversing vertical and horizontal lists and menus with the greatest of ease.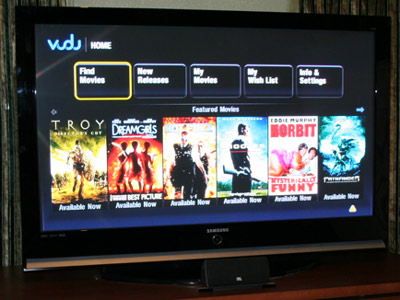 The featured movies change often, although I can't say I'm sure how they are selected. I have seen at least one questionable flick make the cut for this home page list. The box shots are high quality, large and make selecting a movie a tad more interesting. As you select a movie from the available choices, a larger version of the image appears with a star rating at the top. You can also quickly see the rental and/or purchase price from this view. The entire experience is a little reminiscent of browsing cover art with cover flow in iTunes. This has proven to be a well received feature, so much so that Apple has integrated it into their new operating system Leopard.
Vudu says that most rentals are priced from $.99 to $3.99. Most of the rentals I came across were $3.99. Movie purchases range from $5.00 to $20.00, of course newer releases tend to be more expensive than back-catalog titles. If you do decide to plunk down 20 bucks for a movie remember that you won't get any of neat-o extras that come with a standard DVD purchase. Instant gratification is a fair trade off for that stuff, right?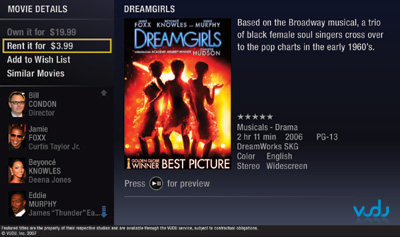 When you rent or buy a movie, it gets added into your "My Movies" section. You can stop playback and resume it later, as you would expect. If you have an ample Internet connection, a few seconds after ordering the movie you will see the "Watch it now" link. That's right, you can select your movie and start watching it immediately. That is very cool, indeed.
The video quality is surprisingly impressive. It might boggle the mind, but some movies seem to look better on Vudu than they do on DVD. The streams are DVD quality (720x480), but they look great with the Vudu box'es built-in upconversion processing (available over HDMI only). Output resolution can be set to 480i, 480p, 720p, 1080i or 1080p, with support for 1080p/24 (24 frames/second), so you're sure to find a setting that works with your television. And if your TV is lacking in HDMI inputs, you can also use the Vudu's component video, s-video or composite video outputs, but then you'll be limited to resolutions of 480i (S-video/composite) or 480p (component video).
Vudu promises real HD movies in the near future, but until then, the video quality is perfectly enjoyable.
[editor's note: HD content became available toward the end of November, see Joe's take on it here]
.
The sound is very good too, from regular old stereo to 5.1-channel Dolby Digital, depending on the title. You can of course, rewind the movie and go back a few frames. And if your Internet connection is up to snuff, you can even fast-forward a few minutes into the movie (though this may take some time as it buffers the film). The controller performs beautifully for this, perfectly suited for the task.

We're Going to Need a Bigger Pipe
By this point you have probably noticed that I keep qualifying my statements when we talk about Internet connections. The truth is that the Vudu unit requires a "fat pipe" to be happy. Although I regularly get download speeds between 4Mbps and 5Mbps (megabits/second), my Vudu was not satisfied for the first few days I had it plugged into my network. I would get a little yellow caution light telling me that I was under 2Mbps and that I would not get instant-on sweetness that I described earlier. I suspect that the busy little Vudu beaver was downloading movie intros in the background without telling me.
Even though my wait was not too bad (always around 5 minutes,) I obsessed to understand why all the speed testing sites I tried, including the site that Vudu sends you to from their website told me otherwise. After about 2 days of being plugged in, I received the much-vaunted double green lights (one indicating power, the other a healthy connection). I have yet to understand why Vudu became suddenly satiated, perhaps there are more peer users around me now, or maybe somewhere a chicken has lost its head. Either way, instant-on becomes very habit forming. If you are still rocking an old lower bandwidth DSL connection, you can still use the Vudu system, but be prepared to buffer and wait many minutes before you can watch any movies that you rent or buy.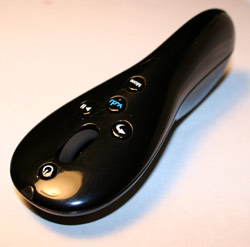 It was also kind of fitting that the little magic box name Vudu seemed utterly possessed at times. Movies would rewind intermittently, and sometimes some scenes would replay two or three times. I tried playing with the remote sensitivity controls, but that only seemed to make the problem worse. It is also interesting to note that this would occur even when the remote had no batteries installed. Clearly there was interference from somewhere. Before contacting my nearest shaman for help, I checked around the Vudu forums searching for the similarly afflicted. It was here that I learned that re-pairing the remote and the unit might do the trick. I followed the simple instructions and minutes later I was back to enjoying a responsive remote and stutter-free movies.
There are so many titles available that choosing a movie becomes half of the fun. Admittedly, many titles are decrepitly old or so specialized in nature that the potential audience would fit in an elevator, but Vudu has deals with all the major studios as well as many independents, so you're sure to find many "A List" titles to select from. Some notable movies are conspicuously missing, but these may be ones that are exclusive to some other paid provider for a particular window.
Categorically Speaking...
Movies are grouped into categories such as "new releases", "staff picks", some topical groups (such as the 3 different Halloween collections) and many, many, many more. The interface makes searching for a movie by genre a snap. Things get really interesting when you cross reference multiple genres. I searched for a western with horror and came up with "Jesse James meets Frankenstein's Daughter," Okay, now I am curious...
Once you do select a movie, you will see a screen that shows you the actors complete with photos and a cool little "Similar to this" link which brings up a list of titles in the same genre or by the same director or featuring the same actor(s). You can spend considerable time flipping through these finding other works with favorite actors or directors, potentially finding hidden gems of which you were previously not aware.
After you finally pull the trigger and commit to a specific film, you must start watching a rented movie within 30 days and complete your viewing within 24 hours of when you start it - familiar rules for anyone that has ever "paid-per-view." Once I was a few minutes into my first movie, I stopped to consider how painless everything was and how great it is to jump straight into a movie without fast-forwarding through those darn previews. Epiphany over, I hit play to resume the film.
Final Thoughts
All in all, I have had a positive experience with my Vudu. The picture quality is excellent, the selection is vast, and going from "now choosing" to "now playing" in seconds is a huge crowd pleaser. I have several movies on my Vudu that my 4-year-old watches regularly. My wife was also thrilled to find an old movie that she had been trying to find for ages.
Granted, at $399, it is a significant investment to make for the occasional movie watcher. Also, being constrained to watching downloaded films only on the Vudu box (no PC, networking or mobile device support) is a bit of a hindrance. However, even with this in mind, Vudu delivers what it promises with grace, convenience and no monthly fees. It should be considered by any movie buff or anyone who wonders, "precisely what does happen when Jesse James meets Frankenstein's daughter?"
Where to Buy:Specifications from the Manufacturer:
Size & Weight

Height: 2.4 in

Width: 8.9 in

Depth: 7.3 in

Weight: 4.2 lbs

Packaged Weight: 7.5 lbs

Storage

Unlimited rentals

100 hours of owned movies

Networking Requirements

High-speed broadband Internet connection

3 Mbps advertised (2.0 actual) for instant viewing



1.5 Mbps advertised (1.2 actual) for delayed viewing
Audio Outputs
HDMI v 1.1

Digital Optical

Digital Coax

Analog Stereo (RCA jacks)
Audio Formats:
Source: Dolby® Digital Plus

Output: Dolby Digital 5.1
Video Outputs:
HDMI v 1.1

Component Video

S-Video

Composite Video
Video Output Resolutions
1080p/24 (HDMI)

1080i (HDMI)

720p (HDMI)

480p (HDMI, Component)

480i (HDMI, Component, S-video, Composite)
TV Compatibility:
High Definition (recommended)

Enhanced definition

Standard definition
Connectivity:
Remote Specifications:
Range: 22 ft. (unobstructed)
Environmental Requirements:
Operating Temperature: 32 to 113 F (0 to 45 C)

Relative Humidity: 10 to 90% non-condensing
Warranty
Limited 1 year warranty for parts & labor
What's In the Box:
VUDU Box

VUDU Remote

HDMI™ Cable

Ethernet Cable

Composite Video with Analog Stereo Audio Cable

Power Supply & AC Cord

RF Antenna

2 AA Batteries

Quick-start Guide
Manufacturer's Contact Information:
VUDU Inc.
2901 Tasman Drive, Suite 101
Santa Clara, CA 95054
1-408-492-1010
Sales and Customer Care:
1-888-554-VUDU (8838)
Web site:
www.vudu.com