How to Connect An iPad (or iPad 2) to Your TV
By Chris Chiarella
A well-endowed (with video content that is) Apple iPad or iPad 2 is a joy to behold, but its relatively big, high-resolution screen often inspires a yearning for an even bigger, higher-resolution screen upon which to view our movies and more. And so we hear a lot of folks wondering how to connect an iPad/iPad 2 to the television.
I'm glad they asked.
I'm not aware of any officially "Made for iPad" televisions out there, although more and more models are offering USB ports. I can't recommend patching an iPad directly into the TV via the tablet's included, ubiquitous white USB/30-pin adapter cable, though. Sure, when I tried, my Samsung PN50C8000 Plasma immediately recognized the device as "Apple iPad" and offered to access its contents with the TV's Media Play feature. But it did not recognize any music or video on the device (even though both were present) and all it would play were the photos that I had taken via the iPad 2's built-in camera. Also, when I clicked the TV remote for more information about the connected device, a communication glitch of some sort led it to give me incorrect system data. In short, there's no sure, smooth way to connect via USB.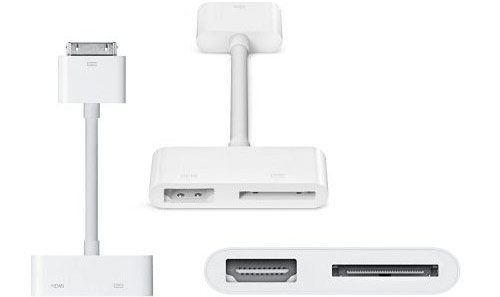 Well since we're talking about high definition here, what about HDMI? Apple makes a Digital AV Adapter ($39) that adds an HDMI port to the iPad 2 via a compact white dongle. With this adapter plugged into the 30-pin port, the iPad can output a 1080p video signal, as confirmed by the onscreen display on my Samsung plasma. While iTunes HD rental/purchase videos are at 720p quality, the iPad internally upsamples the image before passing it. I'm hard-pressed to think of any native 1080p content for the iPad, frankly (except perhaps for a game or two), but this is a wonderful accessory to have on hand as it also supports HDMI video out for the iPhone 4 and the iPod touch (4th generation). Apple makes a VGA Adapter dongle as well ($29) in case you want to connect your device to an old school computer monitor.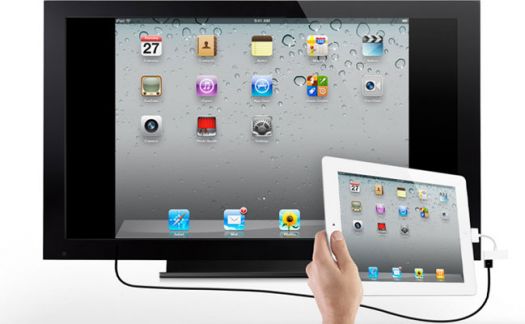 Analog is not forgotten either, with the Apple Composite AV Cable ($39) with standard def interlaced video outputs as well as the step-up Apple Component AV Cable (also $39) which offers the improved performance of separate Y/Pb/Pr feeds in addition to the analog stereo. There's even a USB plug on this many-headed snake, to charge the iPad battery for future use and to remain powered indefinitely while plugged in.
Of course the cleanest, most elegant--and, let's face it, coolest--way to go is with the Apple TV ($99). The iPad and iPad 2 (along with other Apple devices and even some non-Apple devices) support AirPlay, which enables video to be pushed wirelessly from iTunes to the Apple TV hardware and then on out to the display, at a maximum HD resolution of 720p. This figure pairs perfectly with the quality of iTunes HD rentals/purchases, which as we've seen can look pretty terrific on a large screen.
If you do use the HDMI adapter directly from iPad to TV, keep in mind that, in addition to the simple output of prerecorded video content from the device to the TV, the Video Mirroring function can reproduce the entire non-16:9 iPad/iPad 2 screen (data, games and more) on an HDMI-equipped TV.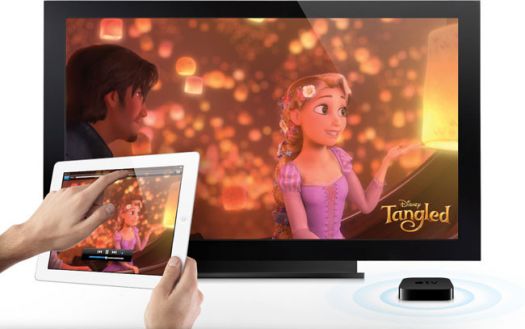 And there you have it. With the use of one optional doodad or another and minimal setup and fretting, we have several different choices to link our favorite gadget to our favorite destination, the home theater.
Where to Buy: