Samsung PN50C8000 3D Plasma HDTV Review
By Chris Boylan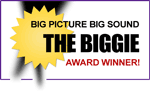 Black is Back
When friends ask me for a recommendation for a new TV, many seem surprised that I still recommend plasma TVs like Samsung's 50-inch PN50C8000 1080p 3D-Ready Plasma HDTV.  With all the hype and advertising around LED TV (which is really just a form of LCD TV, but I digress), plasma has been relegated by some to the bargain bin of TV technology, at least in the general public's perception.
But plasma still has a few tricks up its sleeve, namely stellar black levels and superior motion reproduction.  Its self-illuminating, self emissive technology also makes it virtually immune to the lighting uniformity issues that plague LCD and LED TVs.  Plasma does have its drawbacks, namely a lower overall brightness than LED TV and higher power consumption, but are these enough to rule it out as an option for high end home theater, or specifically high end 3D home theater?  Read on to find out.
The Set-Up
The initial set-up of the C8000 TV went without a hitch.  Plugging in a simple indoor over the air antenna, the C8000 was able to find 50 free DTV and HDTV channels in NYC, though a few of the ones it tuned it was unable to view, saying "mode incompatible."  But these were channels I had not seen before anyway.  All the usual local broadcast channels, such as NBC, ABC, CBS, Fox and PBS came in clearly.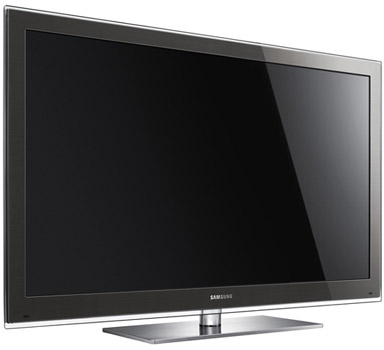 In terms of network set-up, the TV includes a standard RJ45 network port.  If you want to go wireless, you'll need Samsung's optional WiFi adapter, a wireless bridge or wireless gaming adapter.  I opted for wired, which connected to my home network quickly and easily.  Midway through the review I switched over to a Linksys WET610N wireless bridge, which also worked without a hitch.  Accessing Samsung's Internet@TV features required a couple of updates before I could get into the various services and apps.  One update that came through during our review was "MLB.TV" which led to a bit of a hiccup as this update failed for a couple of days (though it did eventually get corrected).
Accessing Netflix and VUDU required the usual device activation step to associate the TV with my accounts.  Even Pandora was unavailable, saying "device activation error," until I went to Pandora.com/Samsung to activate the TV and associate it with my Pandora account.  This is unusual as Pandora normally only requires that you enter your e-mail address and password in order to access the music service from a compatible device.  But it only amounted to a few extra minutes in the overall set-up process. Once activated for the various streaming providers, the TV happily streamed videos and audio without any problems.  I did get a couple of hiccups when watching VUDU HDX titles but these were most likely caused by my Internet Service Provider's lack of reliable speed.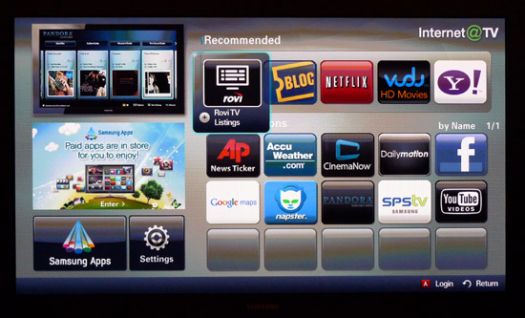 With Pandora, VUDU, Netflix, Hulu Plus, CinemaNow, MLB.TV and many more, plus an open Apps platform that lets developers post apps (for free or for a nominal charge), the Samsung currently represents the best of breed when it comes to value added content and services.  They even offer an "Explore 3D" app with content specifically tailored for your full HD 3D TV.  Too bad they don't offer a cool QWERTY remote like VIZIO for accessing the more text- or search-intensive services, but this is a fairly small gripe.
Enter the Third Dimension
OK, let's cut to the chase.  If you're considering the PN50C8000, you're probably interested in its full HD 3-D capabilities, and in this aspect, you will not be disappointed.  We viewed a number of Blu-ray 3D Discs, using the Samsung BD-C6900 as the player.  Cloudy with a Chance of Meatballs, Monsters vs. Aliens, Avatar, Coraline, Despicable Me - all excellent.  There are some instances of crosstalk (ghosting) from time to time, but less than we saw on Samsung's C8000 LED TV a few months ago.  Shadow details are a bit murkier in 3D than in 2D mode, but they hold up reasonably well.  For the most part, the 3D effect was involving, and satisfying.
In 3D mode, however, the TV does seem a little small.  I never thought I'd refer to a 50-inch TV as "small," but when you're used to seeing a wall of 3D at the local Cineplex or IMAX theater, the wow factor is a bit diminished on a 50-inch screen.  Instead of the movie theater's huge portal into the action, the TV looks more like a small window.  It's still a pleasing and impressive effect, but if budget and space allows, consider the 58-inch or 63-inch version instead.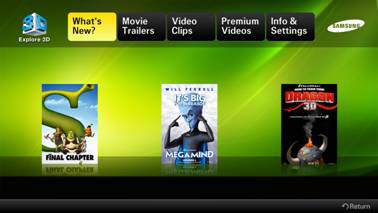 In terms of 3D content availability, this is still fairly light.  DISH Network announced (and has begun delivering) 3D movies on demand.  DIRECTV also has a few 3D options as do some local cable providers.  Blu-ray 3D Discs still only number a couple of dozen, but the trickle of available titles should increase in 2011.   In among Samsung's Apps you can find an "Explore 3D" app that delivers more 3D content: mostly trailers and short clips, though this content should also grow over time.
Samsung offers a 2D to 3D conversion mode to add a 3D effect to standard 2D content in real time.  It doesn't really compare with native 3D content, and can even be hard to watch for extended periods (particular on things like the evening news).  It did look OK on some content like animated movies and even some live action film material, such as the traditional 2D Blu-ray Discs of Avatar and Star Trek.  But overall, I'd say if the content is not native 3D, then simply put the glasses down and enjoy the set in 2D mode.
Although the C8000 series sets do not come with any 3D glasses in the box, you can find 3D TV bundles available which include the TV, a Blu-ray 3D player and a starter kit with movies and two pairs of glasses.
Sometimes Processing is Good
Although food may not always benefit from excessive processing, TVs are different as they need to display sources of varying quality, from VHS tape to Blu-ray, and this can present challenges to a TV's built-in video processor.  We used the usual battery of test discs to assess the set's video processing prowess, including the HQV Benchmark DVD and Blu-ray and the Spears and Munsil benchmark test.  For the most part, the set delivered excellent results in upconverting standard def material to the native 1080p resolution of the panel. Jaggies were pretty much non-existent, showing that the set has good diagonal filtering.  3:2 film cadence was quickly locked on, eliminating moiré for a test pattern extracted from "Super Speedway."  Detail tests were also very good although noise reduction was only slightly above average.  A mixed cadence test with video titles superimposed on a film-sourced background was clean in horizontal scrolling but took a couple of seconds to lock onto and clean up a vertical scrolling title, showing some combing and tearing of the letters as they travelled up the screen.

On 1080i material, the set also fared well with virtually perfect reproduction of a 1080i video segment (2:2 cadence), but some shimmer in edges of the boxes in the moving "Film Detail Test" on the HQV Blu-ray Disc. This shows that it may not be perfect at detecting and correcting for a film-based 2:3 cadence.  However, when viewing the stadium pan that follows the test pattern, virtually no moiré or other artifacts were visible.  So despite the slight stutter on test patterns, the set does well with real world 1080i material, whether it's from video or film-based sources.
For 1080p/24 content, such as you see on the majority of Blu-ray Discs, the performance on the TV is exceptionally strong with excellent black levels, accurate colors with good saturation, and clean reproduction of moving images. For movie viewing, the C8000 plasma offers a CinemaSmooth setting.  This displays films at a multiple of their native 24 frame per second rate (96 Hz), without any artificial motion interpolation.  On the Nimitz flyover sequence, about 25 minutes into I Am Legend, where Will Smith is knocking golf balls off the aircraft carrier's deck and into Hell's Kitchen, the panning shot is smooth and film-like, without the soap opera smoothed over look that you see on LCD or LED TVs that use motion interpolation.  This approach also avoids the motion judder that you can see when TVs convert the 24p moving image to 60 Hz.  Overall, video processing on the unit is extremely effective and clean.
About the only place where performance failed to impress was in the area of image retention.  While plasmas are no longer in much if any danger of developing permanent "burn-in," they can suffer from temporary image retention.  This is a condition that crops up when a fixed image is displayed on the screen for a prolonged time.  The image can leave a hint or ghost of itself behind which is most visible during periods of darkness on the screen.  This was not usually noticeable on real world content but was visible (and annoying) while I was calibrating the set using the picture controls.  The set has a number of anti-image retention safeguards in it, as well as a "Scrolling" pattern that you can engage in the "Screen Burn Protection" option in the menu which helps to wipe away any lingering phosphors.
Big Sound?
The sound quality of the built-in speakers was better than I expected, though a little boomy on the bottom and thin on the top.  The deeper chassis of the plasma sets compared to the ultra-thin edge-lit LED sets actually offers an advantage here as it gives the speakers a little more cabinet volume.  Of course, those who purchase a TV of this quality will hopefully be using it with a high quality sound system, or at least an external sound bar, but if you have to get by with the TV's built-in speakers temporarily, you should be satisfied.
The set includes a variety of SRS sound processing options such as SRS Theater Sound, SRS TruSurround, SRS TruDialog, as well as an Auto Volume feature (which, I believe is actually SRS TruVolume under a different label).  This is intended to minimize the differences between very loud and very soft parts in movies, or differences in volume between TV programs and those annoyingly loud commercials.  These options further enhance the sound from the built-in speakers, and allow you to enjoy movies after hours without disturbing the neighbors.

Turn Ons:
Excellent 2D Performance
Very Good 3D Performance with minimal crosstalk
Very good to excellent video processing and upconversion
Excellent offering of IPTV features and Apps
Nice-looking, substantial remote with backlighting
Turn-Offs:
A couple of glitches on Internet Apps (e.g., MLB.TV)
2D to 3D Conversion is fairly useless
Slightly more image retention than some competitive models
Black levels are impressive but not quite best in class
Final Thoughts
Overall, I enjoyed my time with the Samsung PN50C8000.  While 3D and black level performance were not the absolute best we've ever seen, they were excellent, exceeding the performance of most if not all LCD and LED TVs.  The C8000 series offers an impressive combination of features, performance and elegant styling sure to satisfy even the most demanding videophile.  If you really want to enjoy that cinematic 3D effect, you'll want to look at the larger 58-inch and 63-inch versions, but in a reasonably small living room, the PN50C8000 proves itself to be a strong performer for both 2D and 3D viewing.
Where to Buy the C8000 Plasma Series HDTVs:
Manufacturer's Specifications (PN50C8000):
Brushed Titanium Touch of Color Design

Includes Swivel Stand

Screen Size: 49.9" screen measured diagonally

Aspect Ratio: 16:9

Native Resolution: 1920x1080 pixels (1080p)

Dynamic Contrast Ratio: 7,000,000:1

Panel Response Time: .001 ms

600Hz Subfield Motion Refresh Rate

Wireless (WiFi) Connectivity: optional with Samsung LinkStick/USB adapter

Full HD 3D Ready

Media and App Capabilities: Samsung Apps, Samsung Internet@TV, DLNA with Samsung AllShare support, ConnectShare Movie (from USB port)

BD Wise Mode automates resolution and other settings when connected to Samsung Blu-Ray products

Anynet+ support (HDMI-CEC)

PiP capability

Built-in ATSC, QAM tuners

Sleep Timer

Exceeds ENERGY STAR Standards

V-Chip

Dimensions:


47.7" x 29.5" x 1.4"

47.7" x 31.8" x 8.9" with stand


Weight:


54 lbs.

63.5 lbs. with stand


MSRP: $2299.99
A/V Inputs & Outputs
4 HDMI Inputs
2 Component Inputs
1 Composite (AV) Input
1 PC Input (D-sub)
1 PC Audio Input (Mini Jack)
1 Ethernet Port
2 USB 2.0 Ports
1 Optical Digital Audio Output
1 DVI Audio Input (Mini Jack)
1 Headphone Jack
1 RF antenna/cable input
Manufacturer's Contact Information:

Samsung U.S.A.
85 Challenger Road Ridgefield Park, New Jersey 07660
ph: 800-SAMSUNG (726-7864)
on the Web: www.samsung.com