Apple TV Review
By Chris Chiarella
Edited by Chris Boylan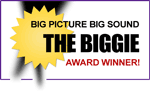 This Apple Today Keeps Obsolescence Away
The original Apple TV was introduced in 2007 as a standalone set-top box, giving the iPod and computer company a coveted foothold in the home theater. The device could connect to a home network wired or wirelessly, copy up to 40 gigabytes of iTunes Library audio/video content to its internal hard disk drive, and maybe even stream a new movie trailer or a 30-second song sample via the internet. Subsequent software upgrades also expanded its functionality somewhat, including on-demand movie rentals.
Right out of the gate, a limited feature set, relatively low storage capacity (later increased to 160 GB) and a not-insignificant $300 buy-in conspired to quell its acceptance, and Apple TV became something of a footnote to the company's product line rather than a success on the scale of the Mac or the iPod.
Flash forward to 2010, and an all-new Apple TV. (There's no name change or official "gen" designation.) A completely rethought streaming device, the 2010 model Apple TV feeds directly from the iTunes library of its host computer to play videos and music into the home theater, with a built-in iTunes online rental portal alongside Netflix subscription access to boot.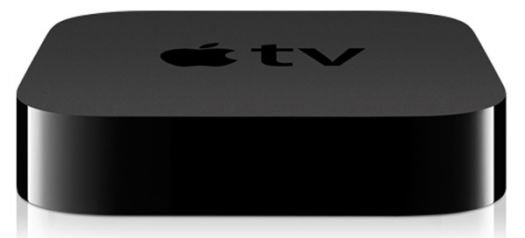 There's a whole world of next-generation connectivity available for today's TVs, but if your TV was manufactured before the Internet boom (so to speak) of the last year or so, the after-the-fact addition of an Apple TV can handily bridge that infotainment gap.
Apple-Teeny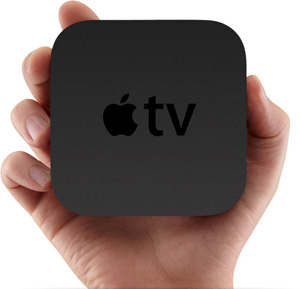 The first thing we'll notice, even before it powers up, is the physical redesign. It's a sleek black box less than four inches square and not even an inch high, and tipping the scale at about ten ounces. Despite these Spartan specs, Apple TV houses its own six-watt power supply, an IR receiver and 802.11a/b/g/n Wi-Fi, as well as eight gigabytes of flash memory along with Apple's renowned A4 processor.
Around back, the connectivity remains lean, but no less impressive. In addition to the AC cable connection and 10/100 Base-T Ethernet port are an optical audio port, and HDMI as the only video output. This choice carries quite a bit of subtext, as it positions the Apple TV as an all-digital, forward-thinking product for the high end. The lack of analog audio outs might vex some users, but at least optical provides more setup freedom than an HDMI-only alternative. There's also a micro-USB port for service and support.
Hookup, power-up and setup are straightforward, with a tiny Apple Remote included for basic navigation. We choose a language, plug into Ethernet or locate a wireless router (it found my Apple 802.11n AirPort, the same one I've been using since my review of the original Apple TV) then enter the security password, if any. I encountered a warning containing a term I hadn't seen in years, informing me that certain premium content could not be played without "HDCP" support, which might be problematic for some older or less enlightened gear. I spent several minutes "Waiting for network services..." while it established the necessary connections, before a moving screensaver of preloaded photos kicked in.
When I finally got bored of the wild animals floating by, I simply pressed Menu and there I was, being offered the latest in entertainment, There are movies and the latest TV shows to rent, as well as an "In theaters" section, for trailers of upcoming releases.
The "Internet" tab offers quite a few options. First is "Computers," for which I needed to configure Home Sharing within iTunes on my computer, version 10.0.1 or later, still as free as ever. In the Advanced sub-menu, I turned on Sharing, then walked the resulting code number back to the Apple TV to create that virtual pipeline.

All of the content accessed via this setting comes from iTunes, so we'll need to "Choose Photos to Share" on the Apple TV, and back on the computer too, if we want to see those pics. The host computer must be powered on, along with any external hard drives containing audio/video files, and iTunes must be open. For my purposes, I also ensured that the Apple TV was enabled in its menus to rent HD-quality videos, as available.
The Apple TV home screen seems more like a storefront than I remember, emphasizing what's new to rent rather than what we currently have in our libraries that we might like to watch in the home theater. In some cases, a particular movie was being promoted as one of the most popular new releases, and I was encouraged to rent it in HD, completely ignoring its presence in SD on my hard drive, from a recent Digital Copy transfer. Even a TV show I already owned in HD was offered as 99-cent rental, with no "You already own this" flag, which I would have appreciated.
Current Netflix subscribers can enter their Email ID, or we may create a new account back on the computer and link to this device. There's also Flickr online photo sharing and a large assortment of free podcasts at our fingertips. Free Internet Radio is pushed from around the world, with a multitude of genres and sub-genres to choose from ("ABC BEATLES" under Classic Rock!) and it doesn't sound too shabby over the good speakers. Paying customers of Apple's MobileMe service can also view shared photos in high quality.
"Did You Just Control the TV with Your Phone?"
YouTube is embedded as well, a feature I've grown quite fond of, but my first question is always the same: Does the hardware come with a keyboard, or a place to plug one in? The answer here is "No, but..." a free application can turn an iPhone or iPod touch into a sophisticated touchscreen Remote, with a deeper, richer set of controls than those on the simple silver slab included with the Apple TV. The Remote app sends its commands over the home network, so I did experience a slight lag at times, but unlike the bundled IR remote, it does not require line-of-sight with the set-top box. And yes, both the iPhone and the iPod touch provide a virtual keyboard, helpful for entering any and all data. The only major drawback to the Remote app is the iPhone/iPod Sleep mode when left untouched for a bit. I might go two hours without touching my iPhone if I don't receive a call, so "waking up" the remote each time I needed it became rather tedious.
In one of the configurations I tried during my review, I connected the Apple TV to a visiting plasma in my living room so my two kids could watch two different movies while my wife and I had a late dinner. We needed to pause it at one point and I did so with my iPhone, from the kitchen, hence my wife's confused, amazed query, quoted above.
I live for this shit.
Like the iPad, the Apple TV defaults to the HD version of a file if both HD and SD are available, and we are proffered elegant menus with movie poster are and credits, or album cover art. HD rentals arrive with an extra menu tab, for audio, as they pack both PCM stereo and Dolby Digital 5.1, on eligible titles. The gear we use for playback must of course support Dolby Digital 5.1 decoding, otherwise the simpler two-channel track is our best bet.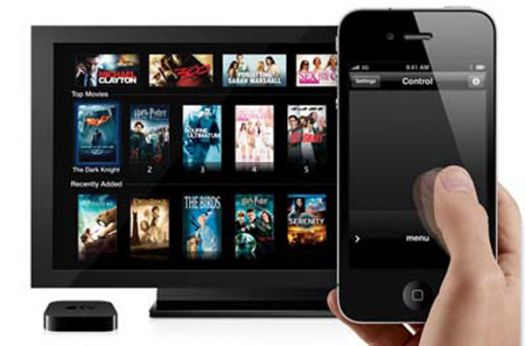 The "HD" videos in my iTunes library are noticeably sharper, more stable and more detailed than their SD counterparts, although still prone to compression artifacts. I'd put it a notch above DVD quality. Trailers in 720p and 1080p (the latter converted to the Apple TV's max output of 720p) look pretty wonderful, not perfect, but they can really show off what the TV can do, especially the really nuanced content like Pixar animation. High-quality content such as this required occasional rebuffering while streaming from my PC, and streaming the three-and-a-half-minute HD trailer for Avatar took longer than that to buffer before playback could begin.
Seven Hours to Gotham City
I of course rented an HD movie via the Apple TV, a tough one that I was very familiar with: The Dark Knight. Now, my broadband service is Verizon DSL, which typically delivers more than 90% of the advertised maximum speed of three-megabit-per-second downloads, which I would guess is comparable to what many consumers are currently using. As such, the Dark Knight file required seven hours to download to the local flash memory inside the Apple TV. The device was parked about 40 feet from my Wi-Fi router for most of my testing, although I saw no appreciable improvement in performance when it was connected to my wired home network. The rental comes with the usual terms of 30 days to start and then 24 hours to finish, and we are reminded that this movie can only be viewed on the Apple TV.
Once all was in order and I was able to click on Play, I was immediately struck by the deep blacks and crisp detail of the iTunes HD rental Dark Knight, at 1,280x720 pixels (720p) resolution. The bitrate is in the vicinity of only four-megabits-per-second: For comparison, I've reviewed Blu-rays that hit ten times that rate, although 40 Mbps is unusually high, even for packaged media. As is to be expected, there is more compression and a loss of some fine textures on this streamed version, but surprisingly it does not suffer from the video noise or mushy darks so prevalent on the Blu-ray of this same title.
This presentation preserves the shifting aspect ratios for the IMAX scenes, and the notorious edge enhancement is still in evidence. The Dolby Digital 5.1 audio is a fine, immersive accompaniment to the 720p video.
To skip chapters via the Apple Remote, we hit the down arrow, then a notched timeline appears and then we just press left or right, The Remote app for iPhone/iPod touch again provides deeper control, including a graphical chapter menu in the palm of our hand. We can also scan forward and back through our rented movie. There are slight stutters from time to time, particularly when scanning or chapter-skipping, but all in all, performance on HD movie rentals is solid.
However, with my current broadband speed (3 MBPS download) and the network performance I observed, I cannot recommend this is as a very elegant solution for watching HD movies in the home, as I would have to plan at breakfast time the movie I want to watch that night. For comparison, I rented the SD version of the same movie, which loaded in less than a minute and still looked pretty darned good on a 50-inch HDTV.
Turn-Ons:
A comprehensive portal to our current digital entertainment, plus online rentals
Eye-popping video quality, with 5.1 audio and nifty menus
HDMI-only video output: This thing is hardcore!
iPhone/iPod Touch remote app works great (and impressed the wife)
Turn-Offs:
HDMI-only video output: Is this thing too hardcore?
High-definition movie rentals painfully slow
Included remote control pales next to iPhone/iPod touch app (see Turn-Ons)
Final Thoughts/Conclusion:
Many times have my colleagues and I here at Big Picture Big Sound shared the wonders of Internet-ready TVs, as technologies have converged to bring once-unimaginable benefits to the home theater enthusiast. But since not everyone is in a position to run out and buy a new television to take advantage of these new features, there's the Apple TV, a more-than-ample fix that effectively links the contents of both the home network and the worldwide web to our living room, for a mere C-note.
Where to Buy:
Manufacturer's Specifications
MSRP: $99
Dimensions: .9" H x 3.9" W x 3.9" D
Weight: .6 pounds
Video Output: HDMI (1)
Audio Output: HDMI (1), Digital Optical (1)
Other: Micro USB port
TV Compatibility: HDTVs with HDMI and capable of 720p 60/50Hz including models from Hitachi, JVC, LG, Mitsubishi, NEC, Panasonic, Philips, Pioneer, Samsung, Sharp, Sony, Toshiba, Vizio and Westinghouse
Compatible Video Formats: H.264 up to 720p, 30 frames per second, Main Profile level 3.1 with AAC-LC audio up to 160 Kbps per channel, 48kHz; stereo audio in .m4v, .mp4, and .mov file formats; MPEG-4 up to 2.5 Mbps, 640 by 480 pixels, 30 frames per second, Simple Profile with AAC-LC audio up to 160 Kbps, 48kHz; stereo audio in .m4v, .mp4, and .mov file formats; Motion JPEG (M-JPEG) up to 35 Mbps, 1280 by 720 pixels, 30 frames per second, audio in ulaw; PCM stereo audio in .avi file format
Compatible Audio Formats: HE-AAC (V1), AAC (16 to 320 Kbps), protected AAC (from iTunes Store), MP3 (16 to 320 Kbps), MP3 VBR, Audible (formats 2, 3, and 4), Apple Lossless, AIFF, and WAV; Dolby Digital 5.1 surround sound pass-through
Photo Formats: JPEG, GIF, TIFF
Onboard Storage capacity: 8 gigabytes
Wireless Connectivity: 802.11a/b/g/n
Available finishes: Black
Processor: Apple A4 chip
Warranty: 1 Year, Limited
What in the Box?
Apple TV
Aluminum Apple Remote
AC Power cord
Documentation
Manufacturer's Contact Information:
Apple1 Infinite LoopCupertino, CA 95014ph: (800) MY-APPLE
On the web: www.apple.com