Denon AVR-591 Home Theater Receiver Review
By Ian White
Edited by Chris Boylan
More fun than reading a wiki-leak
Enjoying Boylan's Creamy Red Birch Beer (no relation to our esteemed editor). Simple. Releasing confidential U.S. diplomatic cables. Simple. Cheering for the Detroit Red Wings. Simple. Figuring out how to use your A/V receiver. Not so simple. If you have not purchased a surround sound receiver for a number of years, you are forewarned that the manual accompanying most new models, reads like a graduate dissertation about nuclear arms proliferation. Who writes these things? Who are these people? I am willing to bet that most of them have never actually sat down in front of their equipment cabinet and tried to hook one of these devices up. I can't wait to read the wiki-leak from the U.S. ambassador to Japan about this issue. I bet he never tried connecting the Denon AVR-591.
Manufacturers should not be standing in the corner right now pointing fingers at their documentation writers. You build overly complex equipment that nobody without a Ph.D. in electrical engineering can figure out and you should expect some grief from customers (and the lovable reviewing press). Surround sound receivers are ridiculously over-complicated. Some of them (my Denon AVR-4810CI included) have more surround modes than some North Korean cities have pictures of Kim Jong-il. Why do we need so many movie surround modes? I won't even bother commenting on all of the music surround modes that exist because it would take paragraphs to explain them all (and that would be a waste of your time when you could be doing something more useful like cyber shopping).
A surround sound receiver should really only do a few things and do them well; amplify, switch, and decode. Why does it need to do anything else? My Denon AVR-4810CI can not only power multiple systems and process every surround format in the world, but it can hover over North Waziristan for fourteen hours (8 hours if you engage its "stealth" mode) and fire 4 Hellfire missiles at four separate targets before having to return to my equipment rack. Manufacturers have gone a little overboard with these products. I'm sure I am going to hear it from the PR people for this one, but how many of the features packed into these receivers do customers really use? Eighty percent of the inputs/outputs on my Denon AVR are not in use. It probably explains why I get such good sound quality. Granted, for $3,000, the beast from the east better sound absolutely stellar.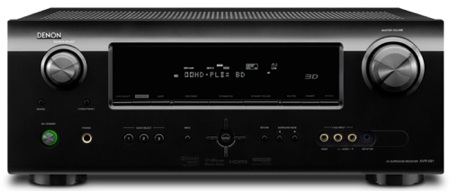 But what about a stripped down AVR from the same manufacturer that only costs $349? Can it even remotely compete with its much larger and fully decked out (not to mention significantly more expensive) sibling? I retrieved my
Pavel Datsyuk
Red Wings jersey from the closet, turned my Toldeo Mud Hens batting practice cap to the rally position, and opened 6 bottles of Boylan's Creamy Red.
Game on.
A face only a wanna-be samurai could love...
When Denon asked me which model I wanted to review, I made a point of selecting the AVR-591. Let someone else go insane disconnecting their entire system and having to reconnect it all over again. I spent an entire day connecting my reference AVR-4810CI; not because I'm an idiot, but because I wanted to make sure I did it right and never had to do it again. I sense a Slapshot quote in reference to a fashion show coming, but I'll refrain. The beauty of the AVR-591 is that it has exactly the right number of inputs/outputs, just enough power, and really doesn't know how to screw things up. At least not intentionally. It reminds me of Toshiro Mifune's crazy wanna-be samurai character from the Kurosawa classic The Seven Samurai. Unlike the guy in the movie, the AVR-591 lives to eat an out-of-control roll with some Harumaki and enjoy a wonderful bottle of sake.
The front panel of the AVR-591 looks like most of the new models from Denon and I doubt that most people would be able to tell the difference between it and some of its more expensive siblings. When I told some of my After-Shabbos film club members that it cost $349, they called me a liar. Denon has a reputation for being expensive and that certainly works in the AVR-591's favor. Everybody wants to own a Mercedes and Denon is offering a 2010 model for an amazingly good price.
The rear panel of the AVR-591 is where you'll notice the difference. Aside from 5 sets of binding posts, 4 HDMI 1.4a inputs (very nice), 1 HDMI 1.4a output, 2 digital inputs (one coaxial, one optical), 1 component video input, AM/FM antenna ports, a subwoofer pre-out, a iPod-docking station port, some analog audio inputs, and composite video inputs, there is nothing else. Zilch.

Sure, Denon could have added a USB 2.0 input and an Ethernet port. It's a legitimate gripe.  Denon also could have added some fancy Faroudja or Silicon Optix processor, but why mess with simplicity? And these add-ons would undoubtedly have increased the cost.  The AVR-591 passes through whatever you send it directly to your HDTV or projector and there isn't anything wrong with that.
I think this place is restricted Wang so don't tell 'em you're Jewish...
Buying a 3D TV? Not a problem for the AVR-591. IT will pass that Blu-ray 3D or 3D broadcast signal right through to your display.  Hooking up a Blu-ray player? Not an issue because the AVR-591 will decode all of the current surround formats. That being said, the AVR-591 is really geared toward a different type of user than the ultra-sophisticated A/V hobbyist.  Consider the college student with the brand new 32" LCD TV that Granny bought him for Christmas on Black Friday for his dorm room. Sitting in the corner are a collection of mismatched loudspeakers from his parent's basement that look awfully sad because they have nothing to power them. His primary sources are an iPhone and a Sony PS3.
Jump across the street to the newly married couple with a tiny apartment and a 5.1 surround system from NHT/Polk Audio/Klipsch/Paradigm that they bought at  Best Buy with some of their wedding money. Uncle Steve chintzed out and bought them a $180 Blu-ray player instead of the mirror they wanted from CB2. Their brand new 42" 3D HDTV looks great but they don't want to spend a fortune on the audio. They use a BD player, cable box, and share a Mac Mini which contains 400 ripped CDs and which streams Pandora internet radio.
Starting to get the picture?  Either would be the perfect candidate for the AVR-591.
Denon is on to something with this stripped down, 75-watt per channel surround sound receiver. Is there a catch? Read on young bucks, read on.
One of the issues with reviewing a $349 receiver, is that you can't really throw it to the lions and act surprised when it gets eaten. I was very tempted to review the AVR-591 in the context of my big rig, but ultimately decided against it. Experience has shown that Denon receivers sound great with my Spendor surround system. Big powerful receivers. How does it benefit the reader if I share my comments on how a $349 receiver drove an $8,000 loudspeaker system? It has no merit at all to be quite frank. How it drove a $1,200 surround system (the excellent NHT Absolute Zero 5.1 home theater speaker system) is another matter and that is where our tall tale on the high seas really gets interesting.
Loving the smell of napalm in the morning...

The recent Blu-ray release of
Apocalypse Now
was one of the most anticipated of 2010 and it certainly did not disappoint. The infamous "beach attack" scene where Robert Duvall (in one of the finest performances of his very distinguished career) extolls the virtues of napalm in the morning is an excellent work-out for any surround system and the AVR-591 did not reduce the surround track to a jumbled mess. For $349, you probably should not expect such high quality audio, but the AVR-591 delivered when it had to. Dialogue was clear and the front three channels filled the room with more than enough presence.
The final scene of the film (Spoiler Alert!) where Martin Sheen hacks Col. Kurtz (Marlon Brando) into itty bitty little meatballs is one of my all-time favorites and what makes the scene so unforgettable is the music that Coppola selected to accompany the imagery; the utterly frightening Doors track "The End." It is one of those songs that you can't get out of your head, and the AVR-591/NHT combination reproduced it with downright authority. The NHT Ten subwoofer is powered by its own amplifier (as are most subwoofers), so all the Denon had to do was direct the low-level information to the subwoofer and let it do its thing. I do love the smell of napalm in the morning. I'm sick...I know.
The film's lukewarm reception notwithstanding, I rather enjoyed The Expendables and think it was one of the better action films of the year. Gunfire and explosions (what were you expecting? Witty dialogue?) are a major portion of the audio track and there are a few sequences that can rattle your media room. The Polk Audio SurroundBar 6000 IHT that I recently reviewed did a respectable job with this Blu-ray, but it could not compete at all with the Denon/NHT combination; far more resolute bass, cleaner sounding dialogue at significantly louder listening levels, and a lot more detail. The Denon/NHT combination is three times the price of the Polk loudspeaker and should offer a lot more bang for your hard earned shekels. It does.
As much as I hate television, I can't stop watching The Soup on E! with Joel McHale. Not only is the show the most relevant thing on the boob tube, it is hysterically funny. We watched endless hours of episodes through the Denon/NHT/Samsung system and it sounded absolutely stellar.
We use Netflix and VUDU a lot in my home, and the Denon was more than up to the task. Jonah Hex was easily one of the worst films I have seen in years, but it was hard to complain about the audio quality. Dialogue was clear and punchy, and gunshots sounded quite real. One of my all-time favorite films is the B-movie classic Them! with its giant mutated ants. It has stood the test of time for more than 56 years. The mono soundtrack never sounded great, but the Denon made it more than listenable.
One of my favorite products of 2010 was the Logitech Squeezebox Touch and I used it as my primary music source while reviewing the AVR-591. Connecting the Touch to the receiver takes about two seconds and it was interesting to compare the sound quality using the DAC inside the Touch and the internal 24-bit/96-kHz DAC of the Denon receiver. While there wasn't a significant difference, I certainly felt that the Denon's DAC made music sound warmer and slightly more robust. The ability to stream so many stations and ripped tracks at such a high level of fidelity makes the Touch a tremendous bargain. Connected to the AVR-591, it was even more enjoyable. A very solid combination to say the least.
Turns Ons
Very good performance for only $349
Beyond easy to connect and use
Reliable and well-built
Will work with Blu-ray 3D players and other 3D sources

Decodes every surround format around
Its 75 watts will drive efficient loudspeakers to really loud levels
Did I mention that it is only $349?
Turn Offs
No wireless streaming capability
Lacks Ethernet and USB 2.0 inputs
Will not drive large inefficient loudspeakers in big rooms

Limited to 5.1
Binding posts could be better
Final Thoughts
It's extremely hard not to like the Denon AVR-591. For $349, you get a well-designed, moderately powerful surround receiver that will work with 3D sources and decode almost every surround format available. It is the ideal AVR for a lot of people because it doesn't try to do everything and make itself difficult to use. Don't let its entry-level price tag fool you because it does a lot of things very well; far better than any $349 receiver should.
For more information:
Buy a Denon AVR-591 Surround Receiver
Product Specifications for the Denon AVR-591 Surround Receiver
Power Output: 75 watts per channel (5.1)

Finish: Black
Weight: 22.5 lbs
Dimensions: 17"W x 6.7"H x 15"D
Surround Modes: Dolby Pro Logic IIx, Dolby TrueHD, Dolby Digital+, Dolby Digital Surround EX Decoding, dts ES Discrete 6.1 Decoding, dts ES Matrix 6.1 Decoding​, dts Neo:6 Stereo-to-Surround Cinema and Music Mode, ​dts 96/24 5.1 for DVD-Video Processing, DTS-HD Master Audio, Dolby Pro Logic IIz
Audio signal delay
Stereo/Direct mode with Pure Analog Path
Video game mode
Mono Movie surround mode
Connectivity:

True 24-bit/96kHz Digital Input
Assignable Digital Inputs: 2 (1 coaxial, 1 Optical)
Digital to Analog REC out
Analog Audio Inputs: 5 including Tuner
Source function renaming
Front panel A/V inputs with Composite and S-Video
Video Conversion: Analog to HDMI
Composite Video Inputs: 3
Composite Video Outputs: 1
HDMI Inputs: 4 x 1.4a inputs
HDMI Outputs: 1 x 1.4a output
Banana Plug speaker terminals
Pre-Amp Outputs: Subwoofer
iPod Dock Control Port: Using ASD-1R Denon iDock

56 station auto-preset memory tuning
Direct Function (Tone Bypass)
Speaker Time-delay and level controls
HDMI Audio/Video Repeater Function
HDMI Deep Color Support
HDMI xvYCC Color Space Support
Auto Setup Calibration
Auto/Manual Room Equalization
MSRP: $349.00
Manufacturer Information:
Denon Electronics U.S.A. (D & M Holdings)
100 Corporate Drive
Mahwah, New Jersey, 07430
ph: 201-762-6500