Logitech Squeezebox Touch Review
By Rachel Cericola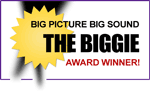 Logitech Squeezebox Touch Review
A Little Touch of Greatness

Last fall, Logitech announced two additions to its Squeezebox line. We got to check out the Squeezebox Radio, which is a nice little desktop unit for the bedroom, office or kitchen. Now the company has finally squeezed out the Squeezebox Touch. Designed to complement your home theater or stereo rig, this slim device provides access to music around the home network or around the world from a simple touch-screen interface.

Out of the box, the Squeezebox Touch was a little different from what we were expecting. It's not a touchable version of its Squeezebox Radio or Boom counterparts, with their built-in speakers. It's more of an updated version of the original Squeezebox home stereo component with an enhanced touch screen-based front end. You can hook it up to your existing audio/video system to stream music from connected computers, as well as streaming music services and thousands of web radio stations from around the world.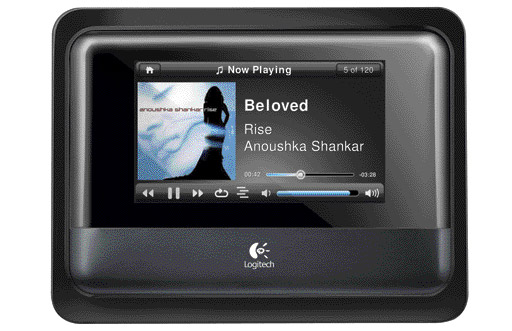 Super-Easy Setup
Inside the box, there is the Squeezebox Touch, a remote with batteries, the power cord, a cleaning cloth, and an RCA stereo cable. Plug the cable into the red and white connections on the back of the device and any available analog jacks on your receiver. Other options include a headphone jack and digital fiberoptic and coax outputs.  These last options are important to audiophiles who would prefer to let their main receiver or preamp/processor do the digital to analog conversion, rather than relying on the DAC built into the Touch. 

For our own testing purposes, we hooked the Squeezebox Touch three different ways. First, we used the RCA cable for connection to our Pioneer receiver. Next, we plugged our Logitech computer speakers into the headphone jack. Finally, we hoarded all of the selections to ourselves, by plugging in a pair of Bose QuietComfort headphones.

One quickie note about the computer speakers: Although this was our preferred method of casual listening during the review, it was not without sacrifice. It took two days and multiple battery changes for us to realize that the Squeezebox Touch was interfering with our wireless mouse and keyboard. While the Squeezebox powered over all, the keyboard and mouse suffered lag and complete breakdown during a few points. Moving the Touch to the end of our workspace seemed to clear up the problem. It's nothing major, but worth a mention if you intend to take the Touch out of your main rig and use it in a home office or in an office office.

Once you decide on how to listen, you'll need a way to access your network. The Touch has an Ethernet jack, but we went for the freedom of wireless, via the built-in 802.11b/g/n WiFi. After entering our network password, the Touch took about two seconds to connect to the network and offer a software update. About 95 seconds later, the software was loaded and the Squeezbox was rebooted.

As with every Squeezebox product, you will need a Squeezebox account to use the Touch. This is just an email address and password. After the Squeezebox account is established, you can add various apps, which can be stored to the Touch for later use. Adding apps can be done directly on the device or through your account on MySqueezebox.com. The benefit of this approach is that the Touch can still access Web radio stations and Internet music services like Pandora, without your main computer needing to be up and running. 

After all of that setup is completed, the main menu will offer options such as My Music, Internet Radio, My Apps, App Gallery, Favorites, Search and Settings. Overall, the Touch has a super-quick response time, which may take a second to get used to if you don't have a precise pointing finger.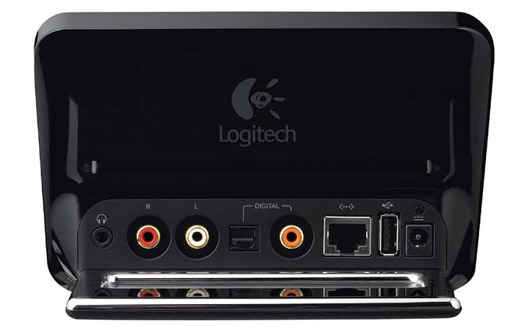 Musical Medley
To play your own music, the Squeezebox Touch offers a few options. You can slip in an SD card, add a little something via the USB port (like an iPod or a USB flash drive), or stream music from any networked computer. For the latter, you will need to download the Squeezebox Server, which is free and takes maybe 45 seconds. Once the software is installed, tap into My Music to access your collection via artist, album, genre, year, playlist, or random selection. The system automatically found every file we had, from iTunes to random MP3s we had burned to our PC.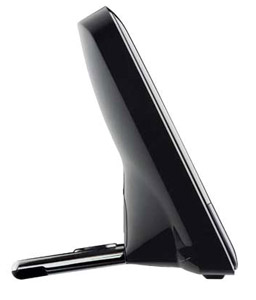 Having a way to get your collection to your stereo is definitely a nice perk, and is reason enough for many buyers to consider the Touch. However, this device offers endless music options from around the world. Go into Internet Radio to search through Staff Picks, Local stations, or Music, Talk, Sports and World categories. There's also a Search feature, which allows you to type in a station's call letters on screen to see if it's available via Web streaming.
Despite an overwhelming amount of stations, the Squeezebox Touch makes it fairly easy to choose a few favorites. For instance, we touched upon Music and chose our genre of choice, Alt. Rock. The device offered four local options, 21 other stations, five actual Shows, and then some additional choices, such as the ability to search by Location, look at what was most popular, or just explore other options.
Big Sound!
Logitech isn't messing around with the sound in this Squeezebox. While many of the line's other products are catered to small spaces or on-the-fly listening, this is the one that you'll want to use to show off what a massive audio geek you can be.  Aside from the presence of the digital outputs, Logitech promises a built-in 24 bit/96 kHz DAC with "advanced audio rendering technology." Audio purists will appreciate that the Touch also includes decoding for lossless codecs such as Apple lossless and FLAC, as well as WMA lossless via a built-in transcoding option.
The end result is something truly special, and it was most evident when we were streaming our own music. High-resolution original MP3 files came through in fine detail and clarity through our main system. While listening to a ripped MP3 of "Mull of Kintyre" by Wings, every guitar chord delivered a rich, full sound, as did Paul McCartney's vocals. We could also hear every heavy breath of Morrisey on The Smiths' "How Soon is Now?" Downloads from iTunes fared well, too. Super-crisp cymbals and heavy bass highlighted Rihanna's "Umbrella." We also received many smooth sounds from the Vince Guaraldi Trio. We could hear each of the piano keys clearly, even during flute and guitar highlights.
Editor Chris Boylan tested out the unit's analog and digital connections to his decidedly audiophile-quality rig (Integra preamp/processor, Conrad-Johnson amp driving MartinLogan speakers) and was impressed with what he heard. "Lossless rips of high-quality CDs were indistinguishable from the originals, with outstanding dynamics and excellent harmonic detail," he said. I think that means he liked it. [Editor's note: I did indeed.]
Turning the dial to Web radio, many stations also offered stellar sound quality. But others were decidedly compressed sounding with limited dynamic range, rolled off lows and slightly brittle highs. We weren't able to find any real clunker stations that sounded like they were transmitting from mom's basement, but some were definitely suffering from limited bandwidth and excessive compression. The good thing about Internet radio is that if you aren't pleased with the quality of one station, most likely there are 20 other stations that you will like.

Apps Aplenty
As with the Squeezebox Radio, the Touch offers access to a variety of apps, including the BBC, Facebook, Amazon's CD Store, Napster, Sirius Radio, Pandora, Slacker, and more. At press time, there were 29 apps available, which means Logitech hasn't added anything new since we reviewed the Radio last year. Some services require a fee, a subscription, or just an account name and password. All are free to download to your Touch, and many of the non-free services offer a try-before-you-buy period.

Most of the apps are music-based, but ones like Facebook and Flickr give you something to look at while stations or other entertainment plays along. The Facebook app also provides a peek at what friends are up to. However, if you see anything juicy, you'll have to run to your computer or whip out your smart phone to make any comments. The Touch offers no way of interacting.

Pandora, on the other hand, does let listeners interact with their music with the ability to rate music or create stations right from the Touch's LCD screen. We also appreciated the album art and ability to save artist/song details, with the option to purchase songs or albums later through Amazon.
Complete Control

The Squeezebox Touch comes with its own remote. While this may seem to negate the options of using your greasy fingerprints to control the device, it does make things a whole lot easier when you're settled into your couch, recliner or FBC (Fat Bastard Chair), and want to change the selection with as little expended energy as possible. It also offers a bit of functionality that's not available through the power of your pointing finger.
For instance, the remote has a button that takes you right to the Touch's main menu. The LCD doesn't have a dedicated button, but will take you back by holding down the "Back" arrow. The remote's "Sleep" button offers the option to put the device out once a song has ended. Other functions let you flip through tracks, repeat, and pick favorites. Also, "Now Playing" displays album art, artist/track info, and a few different visual synthesizer options, including the classic Squeezebox bouncing analog VU meters for that cool retro look and feel. 
Turn Ons
Super-quick response time
Tons of musical options and apps aplenty
Built-in Wi-Fi
Can be synchronized with any Squeezebox or Transporter for whole-house music
High quality internal 24/96 DACs and fiber/coax digital outputs with support for lossless formats make this system at home with any audiophile rig
Works with Squeezebox Controller for multi-room, multi-device control and integration
Turn Offs
No dedicated home button
Remote offers options not available through the touch screen controls
No new apps since Squeezebox Radio launched last year
Final Thoughts
The Squeezebox Touch builds on the classic Squeezebox design and performance, with some of the visual enhancements present in the Radio. However, it takes these features even further with a slicker, friendlier interface and a powerul (and pretty!) touch screen. For those who want to bring the power of Internet radio and networked music to your living room, with high-quality sound and a stylish front end to match, there's a new player in town, and it's called the Squeezebox Touch.

System Requirements
Broadband Internet connection required for Internet radio and music services
Ethernet or 802.11b/g/n wireless home network
For access to local music: 256MB RAM and 100MB hard disk space
Macintosh: Mac OS X 10.3 or later
Windows®: XP/2000/NT/7, Windows Vista®, 733MHz Pentium
Linux/BSD/Solaris/Other: Perl 5.8.3 or later
Specifications
Built-in 802.11b/g/n WiFi
USB host connector for accessing music and photos via USB drive or USB key
SD card slot for music and photos
Supports sampling rates up to 24 bit/96 kHz
Stereo analog (RCA), headphone jack, digital optical, and digital coax outputs
4.3-inch 24-bit color LCD with capacitive touch screen
Ambient light sensor to adjust display brightness according to environment
Infrared proximity sensor to detect presence
Supports MP3, FLAC, WAV, AIFF, WMA, Ogg Vorbis, AAC and Apple Lossless
WMA Lossless, APE, MPC and WavPack supported through transcoding
Supports MP3, Ogg Vorbis, AAC and WMA formatted Internet radio streams
Dimensions: 3.57 x 5.90 x 3.18 inches
MSRP: $299.99
What's in the Box?
Squeezebox Touch Wi-Fi music player
Power adapter with removable plug
Infrared remote control with batteries
RCA stereo cable
User documentation
Cleaning cloth
Manufacturer's Contact Information:

Logitech Inc.
6505 Kaiser Drive
Fremont, CA 94555

(800) 231-7717
Web site: www.logitechsqueezebox.com