DISH Network's Hopper Snags Best in Show at 2012 CEA Line Shows
By Rachel Cericola
The four major broadcast networks may not be completely thrilled with DISH Network's Hopper Whole-Home HD DVR, but the consumer electronics industry certainly thinks differently. The satellite provider's innovation was honored at this week's 2012 CEA Line Shows, by snagging the Best in Show award.
The 2012 CEA Line Shows was held this week in Manhattan. The event runs through today, Thursday, June 28, 2012.
DISH's Hopper system features three satellite-TV tuners and a 2TB hard drive that can store up to 2,000 hours of video. The Hopper works in conjunction with smaller, secondary boxes, known as Joeys. These units make second-, third-, and fourth-room viewing possible, allowing users to pause live TV in one room and continue watching in another room.
Another hook for the Hopper is its PrimeTime Anytime and AutoHop features. PrimeTime Anytime allows users to instantly record four primetime HD network channels, all with a single click, using just a single tuner inside the box. When you enable PrimeTime Anytime, the feature will automatically record shows on ABC, CBS, FOX and NBC in HD (where available) from 8:00 p.m. to 11:00 p.m. Monday through Saturday and from 7:00 p.m. to 11:00 p.m. on Sunday. The DVR will then store that content for up to eight days after the shows have aired. This puts a week's worth of TV programs on-demand, in case you've missed anything.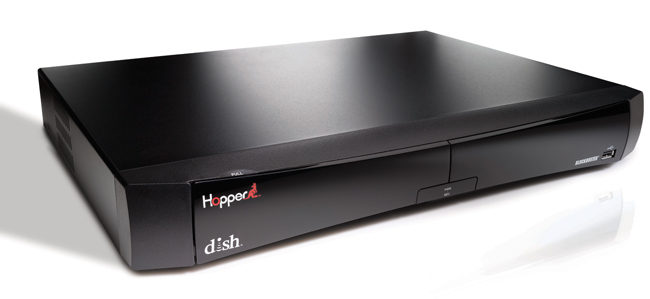 AutoHop, on the other hand, allows users to play back that stored PrimeTime Anytime content, completely commercial-free. The AutoHop feature can be used on any stored PrimeTime Anytime after 1:00 a.m. the night it's recorded. Once enabled, the system automatically skips (or "hops") over every commercial break.
DISH has also included access to DISH's Blockbuster @Home service into the Hopper's list of features. For an additional $10 per month, this option provides on-demand access to thousands of movies and TV shows.
"The Hopper embodies the evolving nature of innovation in technology and new ideas to deliver a better experience to TV viewers," said Joseph Clayton, DISH's CEO. "PrimeTime Anytime is a consumer-enabled feature that is a great way to showcase network content. AutoHop is an extension of what consumers already do, skip commercials on shows they record."
For More Information:
Also Check Out: