Best of CES 2013: 4K Ultra HD, OLED TV, Commercial-Free DVR, Surround Headphones and More
By Chris Boylan
Although there was no "next big thing" at this year's International CES in Las Vegas, we did see (and hear) plenty of cool new sights and sounds at the show this year. 3D TV was still on display, but not as heavily promoted as it had been in recent years.  A couple of companies (Dolby and Stream TV) had their glasses-free 3D TV technology on display, but these were not really ready for prime time.  Almost everyone is jumping into the Ultra HD game with 4K sets announced from most of the major TV manufacturers.  And the hot TV technology from 2012 (OLED) is still here though the prices are higher and production models are arriving a bit later than expected.
There have also been advancements to plasma and LED/LCD HDTV technologies that should lead to some excellent options for TV buyers who find the Ultra HD and OLED models too pricey.
Here are some highlights of the best new audio and video gear and technologies that we saw and heard at CES 2013.
Sony and Panasonic 4K OLED TVs
Japanese TV giants Sony and Panasonic teamed up last year on the research and development of OLED (Organic Light Emitting Diode) TV technology. Journalists, TV fans and hobbyists are excited about the joint venture as it could eventually lead to gorgeous paper-thin OLED TVs at lower manufacturing costs than the alternative OLED production methods used by Samsung and LG. The first examples of this partnership were on display at CES 2013.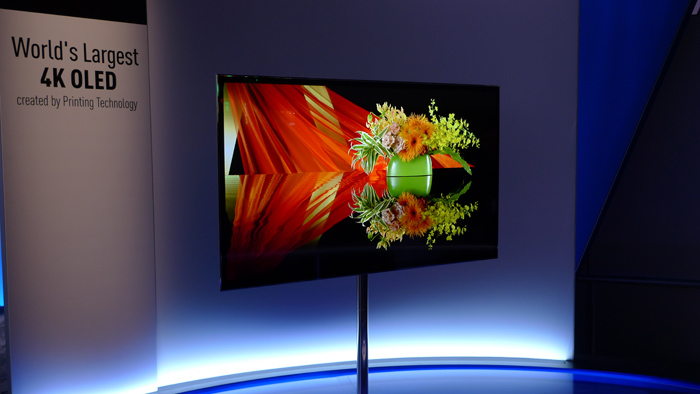 Although the Sony model misbehaved during its debut at their press conference (reportedly due to it getting unplugged during the actual unveiling), the Sony and Panasonic OLED TVs were on display at their respective booths during the show, putting out some stunning images. Both models measured in at 56 inches (conveniently one inch larger than Samsung and LG OLED TVs), and sported full 4K resolution -- four times the picture detail of full high definition 1080p. Black levels were exceptionally clean, colors were richly saturated and motion resolution was top notch. And the panels themselves were less than 1/3 inch thick.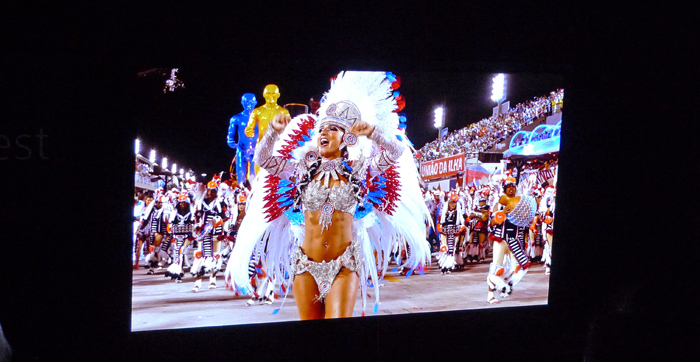 Neither company stated any pricing or timelines as to when (or if) their OLED TVs would make it into production, so this was more of a technology statement than a new model roll-out. But they were impressive nonetheless. LG and Samsung had their own 1080p OLED TVs on display which also looked excellent. LG is the only one with a firm availability date: their 55-inch OLED set is shipping now in Korea and is expected in the US in the Spring for about $12,000.  In terms of models we are likely to see in production soon, the 55-inch LG OLED HDTV is a truly impressive-looking piece of gear.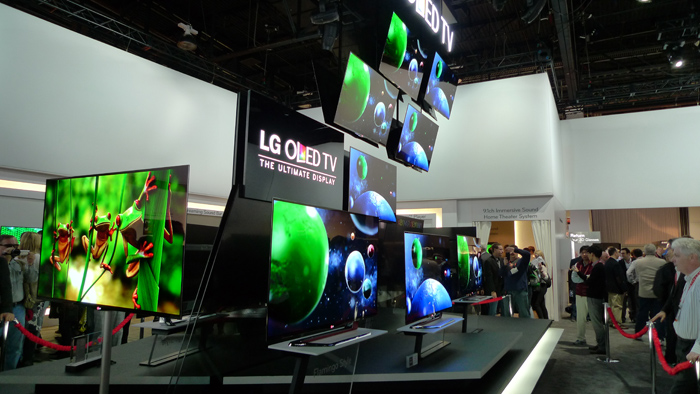 DTS Headphone:X Virtual Surround Sound
If there is a holy grail of headphone technology for movie lovers (and for gamers), it may well be the ability to capture a true surround sound stage in a portable form factor. Sure, playing a Blu-ray Disc through a nice receiver and 5 to 12 speakers on the wall and ceiling of your living room or home theater can be wonderful for the home, but what is a poor surround sound junkie to do when on the road, or when the family is sleeping? DTS thinks they have a solution, and it's called DTS Headphone:X.
In the DTS booth, the company invited visitors to sit in comfy theater seats and experience this technology first hand. First they played a sound check through a series of 11 speakers located around the demo theater. We listed as a voice identified the front channels, center, side surround, rear surround and height channels with pinpoint accuracy. This is to be expected from a discrete surround sound amplifier and speaker set-up. Then the DTS rep asked the audience to place the headphones on their heads and listen again to that same sound check.
When the sound check resumed, it was pretty obvious to me that my headphones were off or defective, and the channel test tones were still coming through the discrete speakers. The spoken channel ID moved around the room just as it had during the initial test, but when I moved the headphones off my head to complain, I realized the the sound disappeared. The sounds that I had thought were coming from the speakers were actually all coming from the standard pair of two-channel headphones on my ears. They repeated the channel ID sequence, this time beefed up with an Usher tune to show that actual music could also be localized within the surround soundscape just as easily as spoken test sounds. This was easily the most impressive sound technology demo I heard at the show.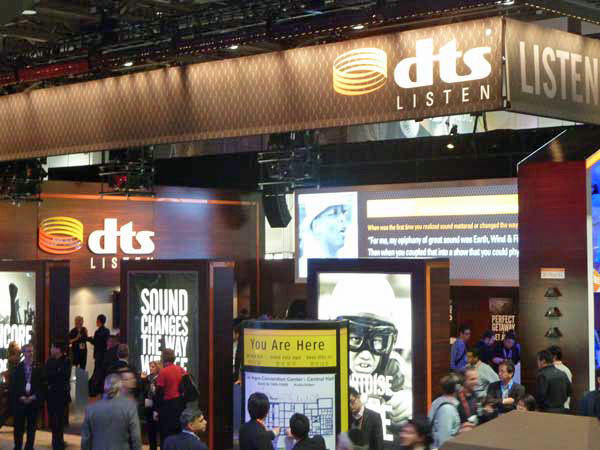 But don't run out to the store just yet looking for a pair of DTS Headphone:X headphones. DTS has developed the technology in the hopes of licensing it to device makers (phone/PC/tablet/media player), as well as manufacturers of receivers and headphones. Let's hope they're able to bring some manufacturers on board as I would love a chance to watch movies in full surround through my existing headphones at home and on the road.
Ultra HD 4K LED TVs
Last year at CES 2012, we saw some of the first 4K LED/LCD TVs. 4K resolution for home TV and video products typically means that the TV has a resolution which is twice that of 1080p HD in both directions (3840 x 2160 pixels). This means a 4K set offers four times the detail of a standard 1080p HDTV. In late 2012, the CEA defined a standard called "Ultra High Definition" or Ultra HD, which incorporates the 4K standard for home. This year, many manufacturers were showing off Ultra HD sets. Sony and LG released 84-inch sets to consumers in limited quantities last year, but more companies had Ultra HD on display this year in a number of sizes, including 110-inch behemoths from Samsung and Hisense.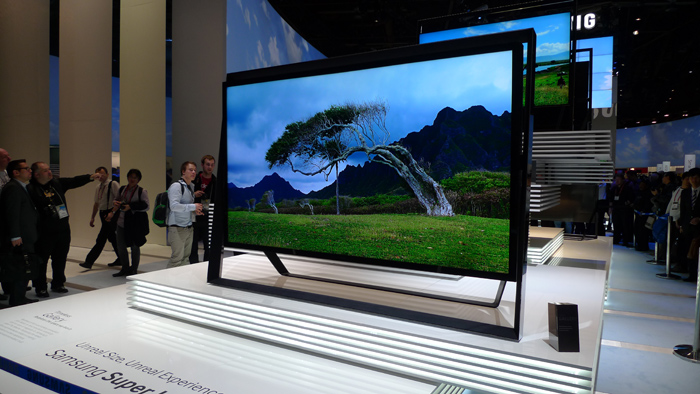 Ultra HD has a couple of advantages over standard HD: more detail in standard 2D viewing, of course, but also a better viewing experience for passive glasses 3D viewing. One thing we don't like about passive 3D is that it splits the picture detail between left and right eyes. This cuts picture resolution in half. With a 4K set, you can now get a full 1080p image to each eye, which leads to a smoother, more detailed image in 3D mode. Picture resolution on its own, however, does not address other limitations of LED/LCD TV performance (like uneven backlight uniformity), but the extra pixels do lead to a more natural looking, more detailed image. This matters more in ultra-large screen sizes (70 inches and up), but several makers announced upcoming 4K sets starting as small as 55 inches.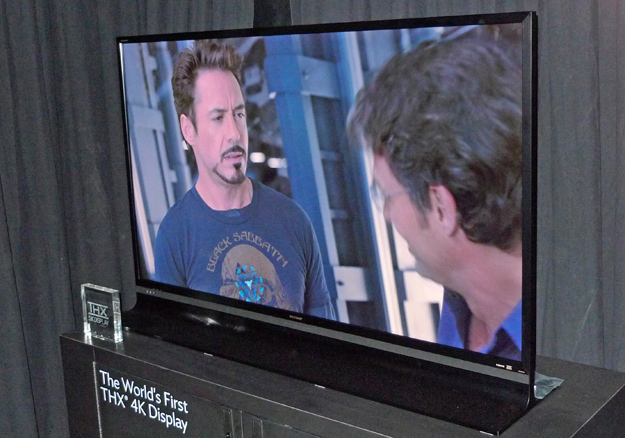 As for Ultra HD content, there really isn't any of that yet. Sony has a 4K player pre-loaded with 10 movies (including "The Amazing Spiderman"). You get one of these on free loan if you purchase their 84-inch Ultra HD TV ($25,000). But that's about it. More importantly there is not yet a standard for how 4K content will be delivered to the home. Until there is, 1080p Blu-rays and other HD content do look pretty nice upconverted to 4K.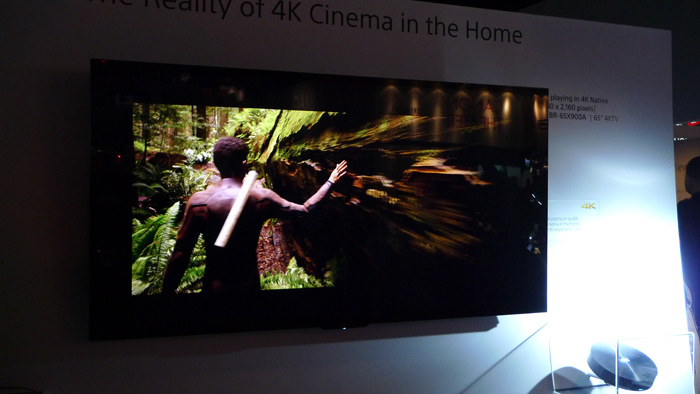 Plain Ole 1080p HDTV Gets Even Better
4K is all well and good, but will most likely price itself out of the mainstream for the immediate future.  Fortunately TV makers are making advancements in traditional 1080p HDTV technology as well.  Samsung's new F8000 LED TV series has improved black levels and lighting uniformity significantly over earlier models, but the best-looking traditional HDTV sets we saw out on the show floor were plasma models from both Samsung and Panasonic.
In 2012, Samsung's E8000 and Panasonic's VT50 plasmas were our two favorite TVs for picture quality. And once again both manufacturers have stepped up to the plate with noticeable improvements to black levels and color saturation. Samsung's F8500 series plasma offers enhanced brightness and deeper black levels than last year's model, performing well even on the bright showroom floor.
Panasonic's new flagship ZT60 series bests last year's VT50 black level performance pretty noticeably, as evident in a dark room comparison between the two sets using identical content (and reportedly similar calibration).Does the new Panasonic panel offer "Kuro Blacks?"  Hard to say in a quick demo using unfamiliar content, but clearly the 200 or so TV engineers that went to Panasonic when Pioneer folded up their TV business are making an impact. We're looking forward to getting each of these sets in house for more detailed testing.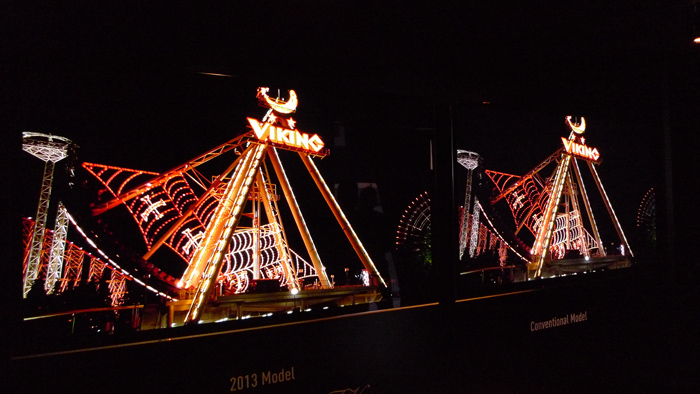 Commercial Free TV Viewing Any time Anywhere
The original Hopper DVR from DISH Network was one of our favorite video source components of 2012.  Unique features such as "Prime Time Anytime" (which tapes all prime time TV shows on the major networks with a couple of clicks) and the "AutoHop" feature which skips automatically over commercials, lead to a great TV viewing experience.  This year, they beefed up the processor, doubled the RAM, kept the massive 2 TB hard drive and added Sling Technology for remote viewing.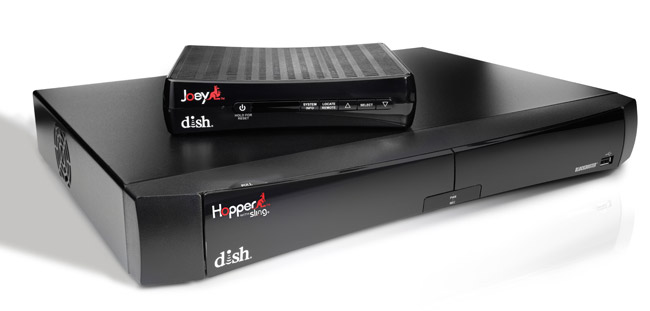 The DISH Hopper with Sling DVR has everything its predecessor had including AutoHop, Prime Time Anytime and an optional over-the-air tuner module but now also includes a bult-in Slingbox so you can view your live TV or recorded DVR programs from virtually anywhere on the planet.  Just log into your DISH account from a web browser or mobile app and you'll be channel surfing or catching up on recorded TV shows in a matter of minutes.  Also, new DISH Apps for iOS devices allow you to discover content, control your DVR, and even transfer your shows to an iPad or iPhone for local viewing on the device without the need for an internet connection.
We got hands-on with the new Hopper at the DISH booth and were impressed by how quickly we could navigate through channels and menus.  This is one perky DVR. The Hopper with Sling is expected to be available to DISH customers beginning next month (February, 2013).
Real Wireless Surround from a Sound Bar?
Many speaker and packaged home theater companies claim to do "wireless surround sound," but there's always a wire of some kind because speakers need power in order to make sound.  So: speaker wires or power cords - it's your choice. Philips has found a creative way around this. Their new Fidelio HTL9100 sound bar comes with detachable wireless surround sound speakers on the left and right of the bar.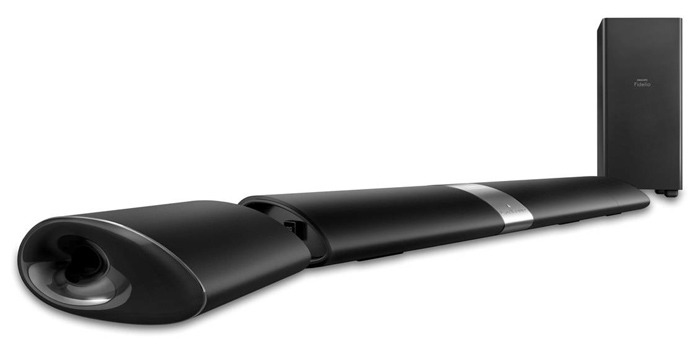 While the surround speakers are connected to the sound bar, their internal batteries are charging.  But when you want that immersive surround sound, just pop them off and hang them on a wall using the integrated keyhole mount on the back.  Or set them on the sofa or a bookshelf.  The speaker will pump our wireless surround for up to 10 hours on a full charge.  "Lord of the Rings" marathon anyone?  When you're done just pop them back onto the bar to recharge them. The system also comes with a wireless subwoofer (yes, this one does need to be plugged in for power).  The Philips Fidelio HTL9100 sound bar is expected to begin shipping in May at a list price of $799.99.
There were other impressive sights and sounds at the show, but these were the ones that made an impression on me. We'll be hearing (and sharing) more from these companies as these products make it into production.