Beauty and the Beast Review
By Lora Grady
Emma Enchanted
Hollywood is definitely in the remake business these days. In an era of big budgets and short attention spans, it's clearly safer to reboot a previously successful property than to gamble on an original that may falter along the way and ultimately fail to connect with an audience, thus leaving its producers out a boatload of money (see notorious critics' punching bag, "Ishtar") or even bankrupting a studio entirely (consider classic flop "Heaven's Gate").
For several years now, Disney has put a creative spin on the remake notion by offering live-action versions of its highly popular animated movies. So far we've seen a number of these, including "101 Dalmatians" with Glenn Close as a gleefully wicked Cruella deVille, and Tim Burton's vision of "Alice in Wonderland" featuring Johnny Depp chomping the CGI scenery as a bug-eyed Mad Hatter. Upcoming offerings are said to include "The Little Mermaid" with musical updates from "Hamilton" scribe Lin-Manuel Miranda, and the venerable James Earl Jones reprising his role as Mufasa in a refresh of "The Lion King".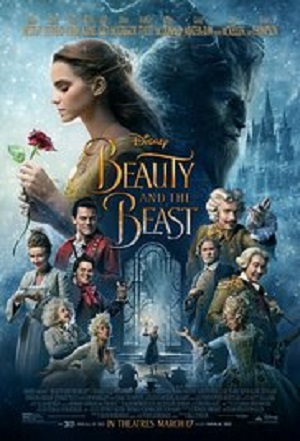 The latest live-action Disney retelling is the much anticipated "Beauty and the Beast", an expanded version of the 1991 original that retains the Oscar-winning score from the blockbuster creative team of lyricist Howard Ashman and composer Alan Menken, with reprised versions of the original songs as well as four new songs written just for the new film. And in the leading role we have Emma Watson (best known for the "Harry Potter" series) as the embodiment of iconoclastic Disney heroine Belle. She's a brainy beauty who winds up exiled from her small French village, held captive in a crumbling castle by an ill-tempered prince who's cursed to live as a fearsome beast. What follows is Disney's version of a classic romance, as the pair who initially view each other with scorn gradually discover common ground - though of course most romances aren't star-crossed by the effects of a morality lesson disguised as a terrible enchantment.
Audiences expecting an experience similar to the brisk, bright animated "Beauty" may find themselves surprised by this darker, ponderous version. The songs you love are still there, supplemented by those four new numbers from Mr. Menken in collaboration with the very prolific Tim Rice (Jesus Christ Superstar, Evita). Odd-couple buddies Lumiere and Cogsworth are still front and center as part of the enchanted staff playing host to Belle at the Beast's castle. Belle and the Beast still waltz together in an iconic ballroom scene that remains the centerpiece of the story. But the action's been expanded to fit a longer run time, and while it's interesting to see how the added backstory fills in some of the blanks, it wasn't really necessary. The result is a viewing experience where the pacing feels a bit off.
Still, there's much to recommend in this updated "Beauty", beginning with a spot-on performance by Ms. Watson. She's picture-perfect as Belle, bringing a level-headed mix of feminism and romanticism to the role whether she's resolutely defending the right to teach young girls in her village to read, defying lecherous lout Gaston (Luke Evans, "The Girl on the Train") who's set on marrying her, or subtly showing us the exact moment when she begins to see that her affection for the Beast might lead to something more.
"Beauty"'s cast is full of heavy-hitters, from Kevin Kline ("A Fish Called Wanda") as Belle's lovably eccentric father Maurice, to Ewan McGregor ("Moulin Rouge") as Lumiere, the chatty candelabra, and Ian McKellen ("Gods and Monsters") as cranky clock Cogsworth. Emma Thompson ("Love Actually") channels the legendary Angela Lansbury while still making the role of the motherly teapot Mrs. Potts her own. In fact, all of the actors voicing the anthropomorphic enchanted furnishings in the Beast's castle have loads of fun, and watching them shed their magical trappings and reunite with loved ones as the Beast's curse is lifted is one of the film's delightful passages.
But there aren't enough delightful moments in "Beauty". Josh Gad ("Frozen") is a hoot as the arrogant Gaston's simpering sidekick LeFou, but their clever duet exaggerating Gaston's attributes ("In a spitting match nobody spits like Gaston!" "I'm especially good at expectorating..."), which should be a comedy slam-dunk, falls flat due to lead-footed staging and a slower tempo that bleeds all of the fun out of the boastful exchanges. Similar issues plague the classic showstopper "Be Our Guest". Director Bill Condon's excellent prior work includes the soaring "Dreamgirls" and the aching elegy to old Hollywood, "Gods and Monsters", but "Beauty" might have benefitted from a lighter touch.
Those who see this version of "Beauty and the Beast" out of a sense of nostalgia for the original will likely enjoy it but may come away with a nagging sense of emptiness, of expectations unfulfilled. But the younger audiences to which the film is mainly targeted will likely be far less critical of its flaws. Luckily, for those who prefer the classic "tale as old as time" it lives on in its animated version, and satisfaction is just as close as the nearest Blu-ray player.
Editor's Note: I was able to see "Beauty" in its IMAX version at the newly renovated AMC Lincoln Square IMAX theater in New York City. The film has been formatted specifically for IMAX with about 26% more of the originally shot image, compared to the wider (but less tall) cinemascope version. If you have a chance, we'd recommend checking out the IMAX version for its stunning visuals and immersive audio soundtrack.