Moulin Rouge Blu-ray Review
By Chris Chiarella
The Movie
A lot of people have faulted Moulin Rouge for its lack of originality, which is at once true and not true. True in that so much of the plot is, shall we say, well-worn, not true in that this movie is less about the story it tells than how it all unfolds. And in that regard, Moulin Rouge is one of the boldest, most original movies of the past 20 years.
On its face, it's a vaguely historical account of the actual, notorious French nightclub/dancehall/bordello The Moulin Rouge. It's here in 1899 that the most-desired courtesan--a possession for the well-to-do, if only for a night--named Satine (Nicole Kidman) dreams of moving on from this lifestyle and becoming a legitimate actress. With a script from a newly Bohemian young playwright (Ewan McGregor) and the funding of a sinister Duke (Richard Roxburgh) she just might make it, if a fatal illness doesn't claim her first.
The romance and the drama aren't really fresh, but the music certainly is. Well, sort of: The movie finds new meaning in familiar songs of the 20th century, sometimes just a line from here and another from there, breaking them down and reassembling them to serve filmmaker Baz Luhrmann's ends. These reimagined, repurposed tunes strike a familiar chord, and our emotional response is echoed onscreen, curiously, and as we'd never seen before. The high-energy vocal and dance numbers are thrilling, mesmerizing, and among the finest ever put on film.
Too bad there aren't more of them. My wife pointed out that the movie loses much of its steam about an hour in, as the genuine showstoppers become harder to find. Moulin Rouge gets bogged down by increasingly leaden plot developments, and an ending that blatantly cribs from Madame Butterfly. Fortunately, on Blu-ray we can watch the first half over and over, even if we want to watch the second half only once.
The Picture
Baz Luhrmann doesn't make a lot of movies, but he makes the ones he wants to make and, even more importantly, the way he wants to make them. Each frame of Moulin Rouge is expertly crafted and now tweaked for this director-guided remaster, with seemingly nothing here that he doesn't want, but for a kiss of video noise and/or film grain, and some slight artifacts in the backgrounds. The reds are deliciously lush--not surprising considering the title--but the whole spectrum is lavish as well, particularly in the costumes, and the stage set for the musical within the musical in Act III. These are also some of the deepest, inkiest blacks I've seen in a while.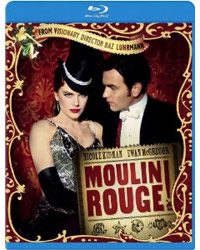 The Sound
The visceral power of the music is set free by the new high-resolution DTS-HD Master Audio 5.1 presentation, thankfully a match for the intoxicating visuals. To be fair, the musical numbers are clearly when the soundtrack shines brightest, with a full, wide spread and instruments placed behind us as part of the new orchestrations. Singing as well as crowd voices are thoughtfully placed in appropriate speakers and the really big scenes like the Can-Can sound downright huge. Bass too is rich and strong.
The Extras
The "Spectacular, Spectacular Picture-in-Picture Mode" adds a new Bonus View element to the existing DVD audio commentary with director/co-writer/co-producer Baz Luhrmann, production designer/co-costume designer Catherine Martin, director of photography Don McAlpine and co-writer Craig Pearce. Little windows pop up, sometimes more than one at a time, with song credits, photos, raw or behind-the-scenes footage, plus we can branch off to additional video pods. Or we can just watch with the audio-only commentary if we like.
From here it is a wealth of video content that delves deep into the artistic process of Baz and his team. Some bits, like the introduction and the featurette "A Creative Adventure" are brand-new, while much of it has been borrowed from the excellent two-disc DVD. One clever twist that must be acknowledged, however: Very often, old DVD bonus material is ported to Blu-ray in the same old standard definition, which can be a little jarring as the quality visibly shifts from high-def. Here, a stylized window surrounds the SD video clips so they only fill a portion of the HD screen, making their lack of detail less evident and the results more pleasing to the eye (assuming the reduced size doesn't bother us). I can't recall seeing this approach before, a rather clever workaround.
The disc is also BD-Live-enabled, with Live Lookup of the cast and crew brought to us by IMDb.com.
Final Thoughts
Moulin Rouge is required viewing for any fan of film or popular music, and a titanic achievement in sound and vision that demands a fine Blu-ray such as this. The DVD was a must-own for the previous generation, but is now reduced to a shiny coaster for our glass of absinthe as we watch this essential new edition.
Product Details
Actors: Ewan McGregor, Nicole Kidman, Jim Broadbent, Richard Roxburgh, John Leguizamo, Kylie Minogue
Director: Baz Luhrmann
Audio Format/Languages: DTS-HD Master Audio 5.1 (English), Dolby Digital 5.1 (English Descriptive Audio, Spanish, French, Portuguese)
Subtitles: English SDH, Spanish, Portuguese, Danish, Finnish, Norwegian, Swedish, English Commentary, Danish Commentary, Finnish Commentary, Norwegian Commentary, Swedish Commentary
Aspect Ratio: 2.40:1
Number of discs: 1
Rating: PG-13
Studio: Fox
Release Date: October 19, 2010
Run Time: 128 minutes
List Price: $34.99
Extras:

"Spectacular, Spectacular" Picture-in-Picture Mode (Bonus View)
Audio Commentary by Baz Luhrmann, Catherine Martin, Donald M. McAlpine and Craig Pearce
A Word from Baz
"A Creative Adventure"
"The Making of Moulin Rouge"
The House of Iona
From the Bazmark Vault:

Alternate "Father & Son" Opening
Nicole Kidman's First Vocal Test

Production Featurettes and Interviews:

The Stars
The Writers
The Design
The Dance
The Music
The Cutting Room

Marketing
"Toulouse Tonight" Web Series with intro
BD-Live with Live Lookup