The Lion King Blu-ray 3D Review
By Chris Chiarella
The Movie
The Lion King has been a major cinematic event ever since its original release more than 17 years ago, arguably the high-water mark for Disney's fabled reinvention of modern theatrical animation begun in 1989 with The Little Mermaid. How big of a deal is this movie? It just was re-reissued in theaters on September 16 and it has been the highest-grossing film for the past two weeks -- even beating out Brad Pitt's Moneyball debut.  Even more impressive is that, with dwindling theatrical revenue from 3D titles, nearly ever dollar spent by movie-goers on the King's theatrical re-release has been on its newly converted incarnation, The Lion King 3D.
Believe it or not, this was the first Disney animated feature not based on pre-existing material, although it is obviously inspired by the more operatic works of William Shakespeare. Be prepared, as Uncle Scar would say, because it is dark and it is frightening, as Simba, the cub who would be king, barely survives Scar's murderous scheme which (spoiler alert!) has already claimed the life of the great monarch Mufasa.
Scar's treacherous reign all but ruins the kingdom, as his dirty deal with the hyenas upsets the natural "circle of life." Simba grows to adulthood in exile but, haunted by his past, refuses to return and claim his rightful position. The spirits of his ancestors live on however, and have a lot to say about how this remarkably rich, compelling story plays out.
I should point out that The Lion King is premiering now on Blu-ray in both its 2D and 3D editions. This 3D set contains everything from the 2D release, and more.
The Picture
The 16:9 animated image in both 2D and 3D is among the most beautiful I have seen. Every frame appears to have been painstakingly restored to a pristine state, while even the finest lines of the artwork remain stable and almost impossibly sharp. And the colors are achingly bold and vibrant across the entire spectrum.
The 3D here isn't half-bad either, although it doesn't thrill to the same extent as Beauty and the Beast on Blu-ray 3D, which I watched first. The effect is well utilized on the elongated faces of certain animals, and familiar shots such as the sheets of birds cruising at different altitudes are given new life.
Characters pop against their background, and relative to one another. We can appreciate row upon row upon row of individual blades of grass, and dense jungle can reveal interesting layers, but the depth is simply not as pronounced on wide open spaces, while crisp 3D delineation is sometimes compromised by clouds of mist and dust.
The Sound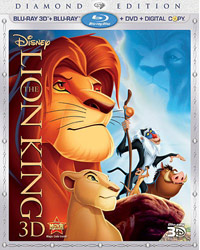 Like the movie itself, the DTS-HD Master Audio 7.1-channel soundtrack is fairly epic, marked by generous bass for everything from Simba's classy roars and the elephant steps to Pumba's not-so-classy hoof-kicks and untamed flatulence. The rears love any scene set in a canyon, from a belch ringing out to young Simba's sad little sorta-roar echoing, giving way to the pivotal stampede of wildebeests (hang on, everyone!)
There are two kinds of music here, and they excite in different ways, from the visceral power of composer Hans Zimmer and his chorus evoking the spirit of Africa and her tribal moods, quite distinct from the polished pop creations of Elton John and Tim Rice. Pretty much every scene here is a treat for the ears.
The Extras
There's quite a bit of new material in this set, although none really on Disc One, the Blu-ray 3D, perhaps due to the desire to dedicate every bit of available disc space to the feature's audio and video data. Instead of Bonus View, Disc Two (the 2D Blu-ray) supports the Disney Second Screen feature that takes picture-in-picture off the TV and puts it onto an automatically synched laptop or iPad to provide relevant additional content. There are about four minutes of staged-for-chuckles bloopers/outtakes.
"Pride of The Lion King" (38 minutes) is a profound retrospective documentary that goes beyond the wildly successful movie. "The Lion King: A Memoir - Don Hahn" offers the producer's very personal reflections, taking us back to the earliest stages of creation, well-produced with a variety of voices (about 20  minutes).
Four of the five deleted/alternate scenes have never been released before, and all include introductions by directors Roger Allers and Rob Minkoff, 14-and-a-half minutes all together. The extended "The Morning Report" (two-and-a-half minutes) is a song animated for optional seamless reinsertion into the DVD edition of the movie from 2003, presented separately here, in HD like all of the on-disc video extras. We can also watch the movie in a sing-along mode.
The interactive Blu-ray Art Gallery provides some pretty sophisticated viewing options and is broken down into four categories. Those hungry for the classic DVD bonus features will need a BD-Live connection though, as Disney is supplying them via their "Virtual Vault" technology, which could be a cool way to access old SD content, assuming it works when the discs hit store shelves next week. (The connection did not work for me before street date.) This choice might have been made to reduce the number of physical discs in the package, but I for one am hanging onto my old Platinum Edition DVD.
And on that note, Disc Three is a DVD of the movie with the Don Hahn bonus feature, while Disc Four carries a Digital Copy for iTunes or Windows Media. And I usually don't mention this sort of thing, but the "Discover Blu-ray 3D" promo video with Timon & Pumba is perfectly appropriate in this context.
Final Thoughts
I'd forgotten just how many of the fast-flying jokes tend to be puns in this otherwise grownup-skewing tale of jealousy, murder and betrayal, as The Lion King continues to offer something for just about every viewer to enjoy. It is the most successful title in the history of home entertainment--2D or 3D--a reign that is not likely to falter anytime soon, if this Blu-ray is any indication.
Product Details
Voice Actors: Matthew Broderick, Jeremy Irons, James Earl Jones, Moira Kelly, Nathan Lane, Ernie Sabella, Whoopi Goldberg, Jonathan Taylor Thomas
Directors: Roger Allers and Rob Minkoff
Audio Format/Languages: DTS-HD Master Audio 7.1 (English); Dolby Digital 5.1 (Disney Enhanced Home Theater Mix: Spanish, French)
Subtitles: English SDH, English, French, Spanish
Aspect Ratio: 1.78:1
Number of discs: 4
Rating: G
Studio: Walt Disney
Release Date: October 4, 2011
Run Time: 89 minutes
List Price: $49.99
Extras (all found on discs Two thru Four):

Disney Second Screen
Never-Before-Seen Deleted Scenes with introductions by Roger Allers and Rob Minkoff
Never-Before-Seen Bloopers and Outtakes
"Pride of The Lion King"
"The Lion King: A Memoir - Don Hahn"
"The Morning Report" Extended Scene
Sing-Along Mode
Interactive Blu-ray Art Gallery:

Character Design
Visual Development
Storyboards
Layouts and Backgrounds

Disney's Virtual Vault: Classic DVD features powered by BD-Live
DVD of movie and special feature
Digital Copy