Beauty and the Beast Blu-ray 3D Review
By Chris Chiarella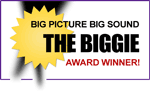 The Movie
On the short list of Disney's most beloved motion pictures ever, Beauty and the Beast is as touching, profound and entertaining as anything to emerge from the Hollywood(/Burbank) dream factory in the past 20 years. Its arrival was a true event in its day, honored as the first animated film ever nominated for the Best Picture Academy Award, and its advent in the third dimension now beckons to a whole new audience.
The tale is as old as time (give or take), tapping into man's deepest insecurities and offering a ray of hope. In our darkest moments, don't we all see ourselves as "beasts," doubting our self-worth? The notion that, despite our shortcomings, we can still find love in this crazy world is irresistible, hence this love story's many retellings.
This time around, a cold, callous young prince runs afoul of a sorceress who casts a spell on him and his servants (they should get their union rep on the phone, pronto), dooming them to bizarre forms until he can somehow find true love. The outlook is bleak until he meets smart, feisty and none-too-hard-on-the-eyes Belle, and their rocky relationship is as romantic as anything we're likely to see in live-action.
Disney chose to convert the original theatrical release of Beauty and the Beast for 3D, with a few new, subtle visual flourishes added.
The Picture
I'm generally skeptical of after-the-fact 2D-to-3D conversions, but assisting the cause greatly are the exceptionally complex design and layout of the original 1991 film, fraught with new three-dimensional opportunities that are seldom missed and never obnoxiously exploited. Some scenes are more obvious, like a tracking shot through picturesque woods, but the experience can be more subdued as well.
The breadth of Beast's castle is more impressive with the added depth, and even a single tree or rooftop can display different planes of focus. A busy scene like Belle's trip to town in the beginning reveals layer upon layer of villagers and activity, while even specks of dust floating in a shaft of light or a spigot extending out from a keg are exquisitely rendered.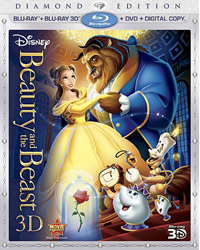 The iconic ballroom scene was one of the first uses of "3D" computer animation in a feature film, and now that it is presented in true stereoscopic 3D, it's as breathtaking as the very first time we saw it. I did note a few minor ghosting issues here and there, but in general the process is brilliantly executed for this disc. The menus meanwhile provide an elaborate CGI tour of the castle in thrilling 3D.
Three dimensions or two, I moaned out loud at the gorgeosity of this nigh-immaculate 16:9 image, with its vibrant colors and razor-sharp lines, touched by what is likely an unavoidable kiss of noise owing to the high levels of fine detail. We can even read the text in Belle's book, and yes it is in French.
The Sound
The DTS-HD Master Audio 7.1-channel soundtrack works exceptionally well in 2D of course, but it also greatly enhances the 3D action on screen (and beyond), as when Maurice and Philippe knock a swarm of none-too-happy bats out of a tree trunk. The aggressive remix makes the most of the outstanding original sound design, with lots of bass to keep us on-edge in the face of all this might and magic.
The various speakers come to life in clever ways, be it voices from the shadows or a discrete door knock or other off-screen touches. Trebles are also well-served in the clinking of beer mugs or the clanging of a spittoon, while directionality as for a fork running across a table is spot-on. This is a musical let's not forget, and the orchestra and singing voices come together sublimely, with sound effects (dancing houseware!) also folded in convincingly.
The Extras
No new supplements per se have been added, but everything is here from the Three-Disc Diamond Edition reviewed by our own Rachel Cericola one year ago. One perk of an extras-free Disc One (Blu-ray 3D): it loads more quickly than the Bonus View/BD-Live/etc.-packed Disc Two (2D Blu-ray).
The included 2D Blu-ray and the movie DVD in this five-disc set do not appear to be simple repacks however, rather they have been updated with new, more relevant previews and such. A detailed listing of the extensive bonus features, in high definition and standard definition going all the way back to the first special edition DVD, can be found below.
And for the first time, a Digital Copy of Beauty and the Beast is supplied to consumers as part of the bundle, compatible with our choice of iTunes or Windows Media so we need never be without this joyous film.
Final Thoughts
One of the best movies, best Blu-rays, and best 3D conversions I have ever seen (and heard), this Beast is a beauty, a winning special edition made even better with the inclusion of two new platters that take us into the third dimension and anywhere else we want to go with Belle and the gang.
Product Details
Voice Actors: Paige O'Hara, Robby Benson, Richard White, Jerry Orbach, David Ogden Stiers, Angela Lansbury
Directors: Gary Trousdale and Kirk Wise
Audio Format/Languages: DTS-HD Master Audio 7.1 (English); Dolby Digital 5.1 (Disney Enhanced Home Theater Mix: Spanish, French, Portuguese)
Subtitles: English SDH, English, French, Spanish, Portuguese
Aspect Ratio: 1.78:1
Number of discs: 5
Rating: G
Studio: Walt Disney
Release Date: October 4, 2011
Run Time: 85 minutes
List Price: $49.99
Extras (all found on discs Two thru Five):

2D Blu-ray with Original Theatrical Release (with optional "Storyreel" Picture-in-Picture Bonus View) and Special Extended Edition
Special Edition Audio Commentary by Don Hahn, Kirk Wise, Gary Trousdale and guest Alan Menken
Sing-Along Track
"Beyond Beauty: The Untold Stories Behind the Making of Beauty and the Beast"
"Composing a Classic: A Musical Conversation with Alan Menken, Don Hahn & Richard Kraft"
"Broadway Beginnings"
Early Presentation Reel
Alternate Story Open
Alternate Version: "Be Our Guest"
Alternate Score: "The Transformation"
Deleted Song with introduction by Alan Menken
Deleted Scene: "Belle in the Library"
Animation Tests, Roughs & Clean Ups
The Transformation: Pencil Version
"A Transformation: Glen Keane"
Camera Move Test
Bonjour, Who Is This? (A Disney TelePlay Game powered by BD-Live)
Enchanted Musical Challenge (A Disney Quest Game)
Jordin Sparks Music Video
DVD Bonus Features Archive
BD-Live
DVD of Special Extended Edition, Original Theatrical Release and "Work in Progress" Edition
Digital Copy