10 Questions with Full Metal Jacket Star Matthew Modine
By Greg Robinson
Younger audiences will probably know actor Matthew Modine as "Foley" from Christopher Nolan's The Dark Knight Rises, which is in theaters now. However, any child of the 80's or 90's can tell you that Modine was a key ingredient to the success of such films as Vision Quest, Married to the Mob, Memphis Belle, and Pacific Heights.

With a Hollywood career spanning decades, it wasn't until 2005 that Modine looked back on his best-known role and his experience working with one of Hollywood's most revered artists, Stanley Kubrick. The role was Private "Joker" and the film was 1987's Full Metal Jacket. Modine captured these reflections in a unique, photo-filled coffee table book entitled Full Metal Jacket Diary - a book he has just finished translating into a unique iPad "appumentary." (Read our app review of Full Metal Jacket Diary for iPad.)

Mr. Modine is currently on location in Canada filming his next project, but he was kind enough to set aside some time to speak with us about his new app and Warner's new 25th Anniversary Blu-ray edition of Full Metal Jacket.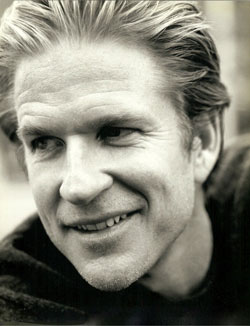 BPBS: Presumably, many people are discovering Full Metal Jacket Diary in its new iPad format. What they may not realize is that it was first a hardcover book, which you published in 2005 - a few years after the death of Stanley Kubrick. What inspired you to put the book together? What was the goal?
Modine: I had always wanted to do something with the photos I took on the set. I found a publisher that loved the photographs and we agreed that the images would need some information to accompany them; stories beside the photos that would establish the time and location where they were taken. I had kept an in-depth journal, or diary, while filming on-set and off. Once this was transcribed, we realized that there was an amazing story that unfolds over the two-year period of working on the film. My goal with the book, and one I shared with the people responsible for the iPad app, was to create something that Stanley Kubrick would think was unique, stunningly beautiful, and intelligent.

BPBS: Was it something you'd been sitting on for a long time, waiting for the right time?
Modine: No. And I wish I had started sooner. I wish that Stanley could have seen it, played with it. He foresaw, with his team on 2001: A Space Odyssey, the future. The space-flight stewardess carries a computer "tablet" that amazingly resembles the iPad.

BPBS: The book had a limited production run and is now something of a collector's item. Was that intentional? Now that the iPad app has been released, are there any plans for another print run?
Modine: No. I never plan to do another run of the printed book. I wanted the book to be a true limited edition. Each book has a laser-etched serial number on the back, 1-20,000. That's it. The iPad app of Full Metal Jacket Diary is a much more immersive exploration of the printed book. I love that the book has become such a valuable collector's item. I have seen them for sale for as much as $700. Fantastic. I still have a few signed copies for sale on my website (www.fmj-diary.com/store).
BPBS: Having spent some time with your new "appumentary" - I love that term, by the way - it's quite engaging. The format is unlike anything I've seen thus far on the iPad. Did you run into many technical snafus during its development and were there things you wanted to do but couldn't?
Modine: Yes, there where many bumps along the journey. It took nearly two years to create. Thankfully, Adam Rackoff, the producer of the iPad app, put together a great team of artists (Jason Parry, Taeil Goh, Cristina Rackoff, Dan Timmons, John Lippi, and Sam Matamoros) that were passionate about making something that Kubrick would think was cool. The great thing about an app is that you can add things at any time. There are some updates coming.
BPBS: Your on- and off-set photo gallery is one of the best things about FMJD. Many shots reveal a gifted photographer's eye - and yet, in FMJD, you mention being taught to use the Rolleiflex camera shortly before production began. Were you into photography before Full Metal Jacket? Is it something you've continued with since then?
Modine: My father was quite a good painter. I was taught light value and composition by him. The Rollei is such a great, painterly tool. I love it. Yes, I continue to take photographs with it, but not as often as I wish I could. Other film sets are not conducive to doing anything other than the job you are there to do, which is perform and act out a role. So I leave my camera home.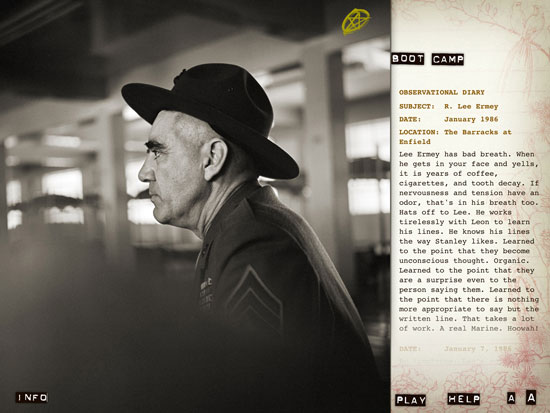 BPBS: Some of the anecdotes you share in FMJD - like calling out drill instructor R. Lee Ermey's bad breath - paint some folks in a less-than-flattering light. Has there been any reaction on that front? Have you gotten phone calls?
Modine: Nope. As far as I know, everyone really enjoys the book. And Lee Ermey had bad breath. I wasn't making that up. The thing is, I discovered a lot about myself at the time of writing. For instance, discovering things I don't like about others - were things, or traits that I didn't like about myself at that time. That was wonderful to discover. And the journey of learning how to "be" ones self. That journey is the most important journey and wonderful when you discover "self."
BPBS: This interview came together following our review of the new Full Metal Jacket 25th Anniversary Blu-ray edition. Have you seen the disc? The film was remastered for its previous Blu-ray release in 2007, and that's been carried forward to this new edition. Are you happy with the current look of the film on disc?
Modine: Yes. Leon Vitali oversaw the restoration of both picture and sound on the Blu-ray. Leon worked as an actor in Barry Lyndon and then stayed on with Kubrick for the next 30 odd years. Leon is a genius and a quality perfectionist. Not to mention, he is a really lovely guy. So he got the whole of the Kubrick collection right and beautiful. I love everything about this Blu-ray - except the cover artwork. I have no idea who made the decision to change the iconic poster art of the film to what it is now. It's a disgrace. Imagine changing the poster for A Clockwork Orange or Lolita. Why? Who? Terrible decision.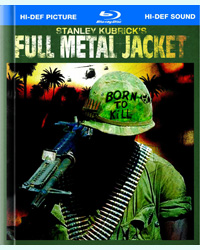 BPBS: Are you a fan of home theater and the Blu-ray Disc format?
Modine: Yes. If done correctly, it is amazing.
BPBS: Do you have any favorite discs? Any films you're eager to see on Blu-ray?
Modine: Favorites? Network and Little Big Man. And I'm eager to see Birdy on Blu-ray.
BPBS: I have to end with a confession.  Although I do love Full Metal Jacket, in my second favorite of your films, you're a dog. Is there any way you could make a few calls and get the wheels turning on a Blu-ray edition of Fluke?
Modine: Woof. Woof! Okay, I think they heard me! Cheers. Thanks. MM
Thanks again, Matthew. And thanks to Full Metal Jacket Diary producer Adam Rackoff for arranging everything. If you haven't already done so, be sure to read our iPad app review of Full Metal Jacket Diary. This is one app you don't want to miss!
Where to Buy:
More Information:
Watch the video below to learn more about the app: