Full Metal Jacket: 25th Anniversary Blu-ray Book Review
By Rachel Cericola
The Film
"Where is your honor, dirtbag? You are an absolute disgrace!"
In case you're keeping score, this is the third time we're seeing Warner Bros. release Full Metal Jacket on Blu-ray. Stanley Kubrick's 1987 war film made its debut on the high-def format back in 2006. It was a widely panned, barebones release, so a Deluxe Edition followed just a year later. Now that the film is celebrating its 25th anniversary, we have to assume that the third time is a charm. However, is the Full Metal Jacket: 25th Anniversary Blu-ray Book worth a triple dip?
If you're a fan of war movies, you've certainly seen Full Metal Jacket and could probably even quote it. If not, you're missing out on one of the best movies in the genre. The story follows Pvt. J.T. "Joker" Davis (Matthew Modine) from basic training into "a world of shit," and highlights some of the pain, the devastation, and the characters he encounters along the way.
Full Metal Jacket isn't heavy on the battle scenes or the blood (although there is plenty of both). It's just heavy overall. As expressed in "Full Metal Jacket: Between Good and Evil" (see The Extras), the movie is really about the war experience and how one goes from an everyday person to an everyday killing machine.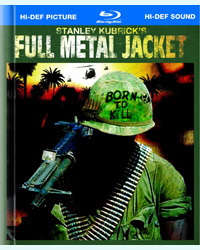 Frankly, we could talk all day about Full Metal Jacket's meaning, the acting, and its significance in the world of film. The fact that it even has significance is reason enough to own it. And can you really go wrong with Kubrick?
The Picture
According to the back of the Blu-ray book, this latest version of Full Metal Jacket has been remastered. Well, sure -- back in 2007. If you've seen that version, you know what the expect; the images are identical. If you don't have that disc, this 1.85:1 transfer offers some nice imagery overall. Still, there's a lot of softness here. War is hell, and can be a little fuzzy at times. The close-ups are better, but certainly not demo-worthy. Still, it's a clean print with some decent colors.
The Sound
Like the image, all of the audio tracks were ported over from the 2007 release, and that's sort of a bummer. This release is crying out for something a little bigger and better, but Warner is sticking with its Dolby Digital 5.1 and PCM 5.1 tracks. Opt for the latter for the best experience. The other is insanely flat. That said, this should be an immersive experience, but with the exception of a few helicopters, bullets and echoes, most of the action is up front.
The Extras
Here is where we should see something extra special. That would certainly make sense. As far as the Blu-ray is concerned, Warner Bros. just ported all of the extras over from 2007's Deluxe Edition and packaged them into a special Blu-ray book. The pick-ups include a commentary and an interesting 31-minute short titled, "Full Metal Jacket: Between Good and Evil.
There is a little something new: A DVD with the 2008 documentary, Stanley Kubrick's Boxes. Jon Ronson's depiction of the director actually unveils something incredibly cool -- boxes upon boxes with notes, letters, photos tons of other tidbits. Does it have anything to do with Full Metal Jacket? Not really. Is it cool? Absolutely. That said, it's too bad that it's just a standard-def DVD.
Now back to the book. Yes, it's a very nice 48 pages. In fact, it's one of the better Blu-ray book packages I've seen, because it doesn't just have a few pictures and cast bios. It also includes a short note from star Matthew Modine, as well as some of the photos he compiled for his Full Metal Jacket Diary. If you like what you see, there's also a new companion iPad app. That includes four hours of narration, audio effects, original music, high-res photos, letters, and the complete text from the out-of-print metal-bound book.
Final Thoughts
Is Full Metal Jacket worth another upgrade? Having the film in your collection is an absolute no-brainer. It's a wonderful, worthy purchase. If all you have is the first edition, you must upgrade immediately. In fact, we'd like to forget that version ever existed. As far as audio and video are concerned, there's nothing new from the 2007 Deluxe Edition, making an upgrade iffy. That said, true Jacket fans will want this version. It delivers just enough new extras to make it a satisfying purchase.
Product Details
Actors: Matthew Modine, Adam Baldwin, Vincent D'Onofrio, Dorian Harewoord, Arliss Howard, R. Lee Ermey
Director: Stanley Kubrick
Audio/Languages: PCM 5.1 (English), Dolby Digital 5.1 (English, French, German, Italian, Spanish)
Subtitles: English, English SDH, Castilian, Chinese, Danish, Dutch, Finnish, French, German, Italian, Korean, Norwegian, Portuguese, Spanish, Swedish
Aspect Ratio: 1.85:1
Number of Discs: 2
Rating: R
Studio: Warner Bros.
Blu-ray Disc Release Date: August 7, 2012
Run Time: 117 minutes
List Price: $34.99
Extras:

Commentary by Actors Adam Baldwin, Vincent D'Onofrio, R. Lee Ermey and Critic/Screenwriter Jay Cocks
Full Metal Jacket: Between Good and Evil
Theatrical Trailer
Stanley Kubrick's Boxes Standard-Def DVD