iPad App Review: Full Metal Jacket Diary
By Greg Robinson
We don't write too many app reviews 'round these parts, but there's good reason for that. Although Apple's app store currently features roughly three zillion apps, there aren't many that deserve the time and/or money of our movie- and home entertainment-loving readership. Of course, there are exceptions. Netflix? Gotta have it. DISH Remote Access? Awesome. DVD Profiler? I use it all the time. HBO GO? Love it. Today I'm pleased to report there's now another app my fellow movie lovers need to be aware of, another diamond in the rough: Matthew Modine's Full Metal Jacket Diary for iPad.

Before we get into the app, a bit of backstory is in order here. In 2005, actor Matthew Modine (Memphis Belle, Pacific Heights, The Dark Knight Rises) published a limited edition book entitled Full Metal Jacket Diary in which he reflected on his pivotal role in Full Metal Jacket and what it was like to work with legendary Hollywood director Stanley Kubrick. Overflowing with beautiful on- and off-set photos, and accompanied by Modine's honest, intimate, and entertaining chronicle of the time surrounding the film's production, FMJD was a unique publication fit for any cinephile's coffee table.

Now flash forward to August 2012, where Matthew Modine, working together with app producer Adam Rackoff and a platoon of graphic and technical specialists, has just completed a two year journey in bringing FMJD to the iPad. Classified as an "appumentary," FMJD is a new and unique experience for users of Apple's popular tablet, and its innovative format is one I can easily see other books emulating in the months and years ahead.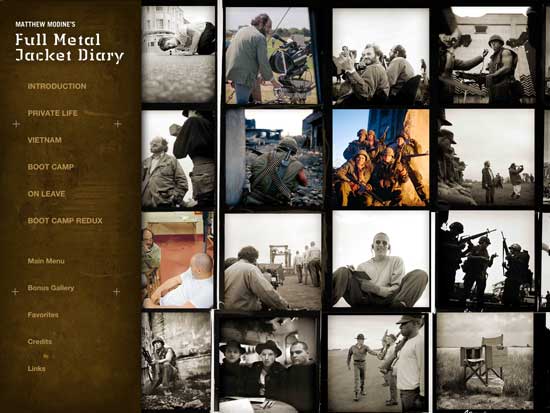 App Interface
After a brief introduction video, FMJD deposits you on an attractive Main Menu set against a backdrop of the app's many photos arranged at random. Touching a photo makes it change to another photo, though it would be great if you could bring it up full-size here. The core of the app, Modine's story and his accompanying photography, is grouped into sections such as "Private Life,"  "Boot Camp" and "Vietnam." Each section can be accessed individually, but like any story, it's best to start at the top/beginning and let the author tell his story.

Pressing "Play" activates Modine's audio narration, in which he reads the text you're seeing on-screen, occasionally supplemented with background sounds which nicely add to the ambience. Some readers may find this to be a slower process than just reading it themselves (another option the app provides), but there's something to be said for hearing a storyteller's actual voice when you're reading his story. This is especially true when the subject is an argument between an actor and Stanley Kubrick about how Full Metal Jacket should end.
Modine's writing is simple, honest, and to-the-point. The fact that he weaves in so many photos and stories about his wife, their living arrangements, and the birth of his son gives the story a wonderful sense of authenticity. And while Modine freely admits that he'll probably never be able to answer the question, "What was Stanley like?" his anecdotes and wonderful photos do a marvelous job of transorting the reader to this unique time and place.
The automatic page turning and photo advancing while you read is probably the best thing about this app's interface. Markers in the text tell the app when to change the photo, so what you're seeing always matches what you're reading. Each of the app's photos provides an "Info" button to learn more about the image, and you can also mark any photo as one of your "Favorites." Modine has a true photographer's eye and many of his captures exhibit a lovely combination of lighting and composition - surely some of which would have impressed even Kubrick himself.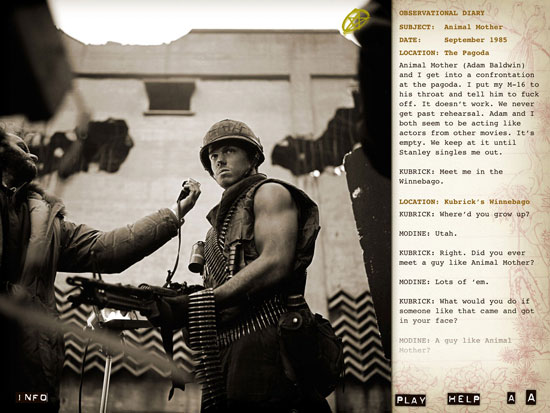 Final Thoughts
Taking full advantage of the iPad's generous screen size and multimedia capabilities, FMJD for iPad has something for everyone, whether you're a Modine fan, an admirer of Kubrick and the film, a movie lover, or just a gadget geek; and as someone who falls into every one of those categories, it was a while before I could put it down. This app is highly recommended and be sure to read our interview with Matthew Modine!
Where to Buy:
More Information:
Watch the video below to learn more about the app: