Will My PS3 Blu-ray Player and HDMI 1.3 Cables Do Full HD 1080p 3DTV?
By Greg Robinson
Question:

Dear Big Picture Big Sound,

In your article, "Do I Really Need HDMI 1.4 to Watch 3D HDTV?" it says that one can use HDMI 1.3 with Blu-ray 3D. An article I read elsewhere says that Blu-ray 3D over HDMI 1.3 will do 1080i, but not 1080p for 3D. For that it says you need HDMI 1.4. So, while technically it would seem that your article is correct, did you leave out this little fact on resolution or what? I am really confused now.

- Randy
---
Answer:

Dear Randy,

My apologies for the confusion. If it's any consolation, you're not alone. 3D is flying fast and furious this year and there's a lot of uncertainty floating around - particularly when it comes to legacy hardware and its ability to support the third dimension. As you astutely pointed out, my January article, which featured an interview with Andy Parsons of the Blu-ray Disc Association, did not touch upon the subject of video resolution with respect to Blu-ray 3D playback using legacy HDMI hardware. So let's dig a little deeper, shall we?
Before going any further, let us consider who your question pertains to. At the moment, Sony's PS3 is the only true "legacy" Blu-ray Disc player that can be upgraded for 3D playback of new Blu-ray 3D software (such as Sony's just-released Cloudy with a Chance of Meatballs). Said another way, the PS3 is the only Blu-ray player not sporting a "Blu-ray 3D" logo on its faceplate that CAN be upgraded for Blu-ray 3D support. Although there are plenty of new standalone Blu-ray Disc players from Samsung, Panasonic, Sony and others touting Blu-ray 3D support -- or future support via a firmware upgrade -- these are new-for-2010 models coming off the line with the necessary equipment and codecs on board.  As you are undoubtedly aware, Sony's PS3 is an HDMI 1.3-compliant machine, first released years before the adoption of Blu-ray 3D standards. (For more on Sony's PS3 and its support for 3D, check out our brief Q&A with the folks at SCEA on the topic of 3D Capabilities of the PS3).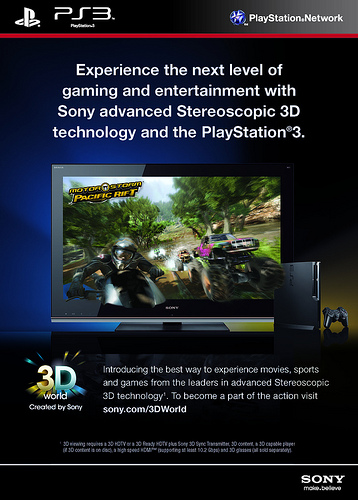 Now, back to your question.  In short, YES, it is possible for a pre-HDMI 1.4 device (like the PS3) to be modified via a firmware update to support Blu-ray 3D output at full 1080p resolution to each eye.  It is also very likely that your existing HDMI cables will support the Blu-ray 3D format as long as they are "High Speed" rated cables or better (more on that later).  The only limiting factors in a source device and cable supporting 3D output at full HD 1080p are codecs, meta data, processing power and bandwidth.
For the PS3 specifically, because it was invented long before the MVC (MultiView Coding) codec required by Blu-ray 3D was even created, Sony has the challenge of implementing MVC codec support without changing the hardware.  The PS3 also needs to be able to generate and receive from the 3D display the appropriate "meta data" in the communication that occurs between any HDMI-equipped devices.  This communication, called the "EDID" (Extended Display Identification Data) handshake, passes information from display to source about the capabilities of the components in the HDMI chain.  3D-ready TVs use the EDID to identify that they are 3D-compatible, and for the PS3 to work with these TVs, it must be able to read and react to this new EDID value.
Based on Sony's past performance, such as the firmware enhancement that enabled the PS3 to decode DTS-HD Master Audio internally, we are confident that they will be able to pull this off.  We should know for sure in September of this year (update: looks like Sony is pushing this back to October), as this is the current estimate as to when the PS3's Blu-ray 3D firmware upgrade will be available.  We tried to reach SCEA for confirmation of 1080p support in the PS3's Blu-ray upgrade, but they could not be reached for comment.
(Update: Sony did indeed deliver Blu-ray 3D support to the PS3 in full HD 1080p resolution, but at the expensive of bitstreaming or decoding the new lossless surround tracks).

We did speak with Steve Venuti, President of HDMI Licensing, LLC to get his take on your question. In addition to confirming that full HD 1080p 3D is possible to be output by source components that were developed prior to the HDMI 1.4 specification, Mr. Venuti also pointed out that HDMI cables should not be a major concern for consumers with respect to 3D: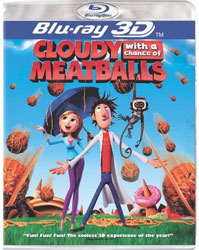 "HDMI cables and hardware are no longer being marketed with version numbers - 1.3, 1.4, etc. Instead, consumers will encounter compliance ratings such as Standard HDMI, High Speed HDMI and High Speed with Ethernet HDMI, to name but a few. Instead of focusing on the HDMI version number, consumers should look at the feature they're interested in, and make sure their hardware chain supports that feature - whether it's Deep Color, Audio Return Channel or 3D. If your source device (e.g. the PS3) and your display device (e.g. a new 3D-compatible HDTV) are compatible with 3D, your High Speed HDMI cable will be able to deliver the signal from A to B. The vast majority of HDMI cables sold during the past three years have been High Speed HDMI cables."
Further evidence that HDMI 1.3 devices can pass 1080p resolution comes from DIRECTV.  As reported by our friend the HD Guru, Gary Merson, the new 3D channels are being delivered at 1080/24p resolution using existing HDMI 1.3-compatible set top boxes, updated via a firmware update.  Now this is not the full HD 1080p frame-packing signal of a Blu-ray 3D Disc since the 1080p signal is being split in half for each eye, but it is still impressive and leads to a very high quality 3D image.
One thing that we know you will not be able to do is pass a Blu-ray 3D signal through a non 3D-ready A/V receiver.  Because these older HDMI 1.3 receivers did not have the HDMI EDID language for 3D display capabilities, they are unable to pass through this information from display to source, which prevents the Blu-ray player from entering 3D mode.  Potential solutions to this problem are to buy a Blu-ray player with dual HDMI outputs (e.g., Panasonic's DMP-BDT350 or Samsung's BD-C7900) or buy a new receiver with 3D-passthrough capabilities.
As I said earlier, 3D is clearly the "IT" technology for 2010. With new 3D hardware and new Blu-ray 3D software just starting to hit store shelves, you can rest assured we'll be hearing (and talking) more and more about 3D in the months ahead. Be sure to keep a close eye on our Blu-ray 3D player reviews and software reviews as we'll undoubtedly have more to say on this topic once we get a few more hours logged behind those sexy, 3D glasses. Thanks for your note.

Regards,
-Greg (and Chris)
Related Article:
Keep those cards and letters coming!
if you have a question for one of our home theater experts, shoot us an e-mail to "
Ask The Expert
." We'll select among these for future installments in this column. Due to the volume of requests we receive, we cannot reply to each question personally.