Cloudy With a Chance of Meatballs Blu-ray 3D Review
By Brandon A. DuHamel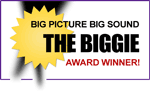 The Film
At first, I just could not understand the success of Cloudy with a Chance of Meatballs. I mean, in a year that gave us Up, this film with a seemingly flimsy story became a sort of runaway success at the box office, but why? I shrugged it off -- it had to be the 3D. But, when I asked my cousin who took her kids to see Cloudy in lieu of seeing Up of all things, she informed me that she didn't even see the 3D version. Her youngest one was too young and, besides, the 3D gives her a headache.  Seriously.
So, I felt compelled to investigate this little Sony animated that could. What was it really, just some sort of reverse Chicken Little based on a silly children's book? Upon further inspection, Cloudy with a Chance of Meatballs turns out to be almost subversively topical, and surprisingly relevant, but so lighthearted and breezy you never see it coming.
Brainy and misunderstood kid Flint (Bil Hader) grows up on the tiny island town of Swallow Falls idolizing scientists like Nicola Tesla and Alexander Graham Bell. All he wants to do is invent something great, but all of his inventions go haywire. Finally, one day, he creates a machine that can turn water into food. This is no small thing in a town where all they ever get to eat are sardines.  But, of course, his invention goes crazy, interrupting a local news report by weather girl (OK, weather "intern") Sam (Anna Farris) before rocketing up into the sky.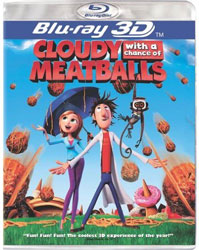 Soon, however, his invention starts raining down cheeseburgers, steaks, pancakes, and (yes) meatballs, and Flint becomes a sort of local hero. He's saved them from a lifetime diet of sardines, and possibly given the world a reason to come and visit the lonely island. Despite warnings from his hard-to-please fisherman dad (James Caan), Flint continues to use the machine to make food for the town, but the food items keep getting larger and more dangerous as the machine begins spinning out of control.  Flint enlists the help of pretty-weather-girl-with-an-inner-geek Sam to save Swallow Falls from a food storm of epic proportions.
Cloudy, from beginning to end takes no time to let up on the action, comedy, and fun. Before you know it, you're right into a spaghetti and meatballs tornado, but what seems like a lightweight animated CGI film is really a social commentary on the runaway juggernaut of science, on famine and even social engineering -- who knew?
The Picture
The 2D picture quality -- just kidding; I know we're all here to see the first Blu-ray 3D release unattached to any hardware bundle. Well, first let me start with all the necessary caveats -- the quality of your 3D picture will be highly dependent on your viewing equipment. The display is the most crucial element involved, then come those geeky (or stylish, depending on which camp you fall into) glasses. My display, a Samsung UN55C8000 definitely shows some slight ghosting (crosstalk) on 3D playback, but from the time the display was launched to now, the manufacturer has released a steady flow of firmware updates (I do mean steady -- like water) that have decreased the artifacting to such a level that it is barely noticeable or only noticeable in the most infrequent of scenes.
Some displays such as plasma are purported to not show any ghosting or crosstalk at all. I recently had the opportunity to check out Mitsubishi's latest LaserVue 3D-ready DLPs and noticed no ghosting. But enough with the techno babble and onto Cloudy with a Chance of Meatballs 3D!
Encoded in 2.35:1 1080p/24 MVC L/R Eye 3D, although my Panasonic DMP-DT350 simply shows it as "AVC MPEG-4 1080/24p," this 3D rendering from Sony is surely to be applauded. It was the first time I was able to sit down at home and watch ANYTHING in 3D without being truly annoyed and fatigued within minutes. There are some gimmicky moments, but most of the stuff leaping out at you and stuck in your face is completely avoided for a more well rounded "inside the action" sort of 3D.
Did resolution and color reproduction suffer? Perhaps they did, but, again, my television jumps into its "hyper mode" (or at least that's what I call it) for 3D to compensate for loss of brightness and color saturation and pulls the 3D image to within the same range that the 2D image playback is by pushing the contrast, backlighting, color saturation, etc. With a couple of my own very slight tweaks to some picture settings and the backlighting to bring it to exactly double the brightness of 2D, I could hardly notice the difference between the 2D color/brightness with specs off and the 3D version with specs on.
There are moments when things like hands are around the front of the display or water splashes out and the droplets just drip down defore your eyes or a body of water stretches out before you, not distractingly, but in an organic inside-the-action way that makes sense rather than makes you feel like someone threw a bucket of water at your face.
I'm well aware that there are those among us who hate 3D. I run into them all the time. The "3D is a gimmick" crowd or the "3D gives me a headache" folks. Nothing against them, I know 3D playback can really induce headaches, but if you do not suffer psychical trauma from 3D then you seriously owe it to yourself to check out what can be achieved with this newfound old technology. Yes, I said "old," because stereoscopic 3D, such as this is, has been around for a hundred years, even if it seems that it has only recently become something worth watching.
The Sound
Cloudy with a Chance of Meatballs is given a predictably aggressive DTS-HD Master Audio 5.1 mix, but it sounds surprisingly relaxed in volume levels. I actually had to play this soundtrack a few notches higher than normal to achieve my usual loudness levels. But never you fear bass addicts, meatballs thud, pancakes flop, and gummy bears wallop from all around you in this engulfing mix. All the while, the dialogue is clean, clear, and quite realistic sounding.
The Extras
Before you "flatten out," stick around a while for a couple of sneak peeks of Sony's next two 3D Blu-ray releases, Open Season 3D and Monster House 3D. After that, it's back to plain ol' two-dimensional HD for a bevy of features that Sony has piled on making Cloudy really feel like it's worth that value-added price tag -- almost.
Extras Include:
A Recipe for Success: The Making of Cloudy with a Chance of Meatballs (1.78:1; 1080p/24; 0:10.51)
Key Ingredients: The Voices of Cloudy with a Chance of Meatballs (1.78:1; 1080p/24; 0:12.39)
Extended Scenes (1080p/24)
Early Development Scenes (1080p/24)
Progression Reels with Introductions by Visual FX Supervisor Rob Bredow (1080p/24)
Miranda Cosgrove -- "Raining Sunshine" Music Video
Behind the Scenes of Miranda Cosgrove's "Raining Sunshine"
BD-Live
Final Thoughts
Cloudy with a Chance of Meatballs on Blu-ray 3D should help sate the palettes of all of those early-adopters out there like myself who have been longing to see something other than Monsters Vs. Aliens and the FIFA World Cup on their shiny new 3D displays. Sony's cutting edge use of animation technology pays off with this first stand-alone Blu-ray 3D release.
Product Details
Actors: Bill Hader, Anna Faris, James Caan, Andy Samberg
Directors: Phil Lord;Chris Miller
Video Codec: MVC Encoded 3D Full Resolution L/R Eye
Audio/Languages: English, French (Quebecois), Portuguese, DTS-HD Master Audio 5.1, Spanish Dolby Digital 5.1
Subtitles: English, English SDH, French, Portuguese,  Spanish
Region: A
Aspect Ratio: 2.35:1
Number of discs: 1
Rated: PG (Parental Guidance Suggested)
Studio: SONY PICTURES
Blu-ray Release Date: June 22, 2010
Run Time: 90 minutes
List Price: $39.95
Extras:

Open Season 3D and Monster House 3D Sneakk Peeks
HD Featurettes
Miranda Cosgrove Music Video
BD-Live