Where Did My Local DTV/HDTV Channels Go?
By Chris Boylan
Question:
Dear Big Picture Big Sound,
I'm hoping you can help me with a puzzling problem.  A few months back, I purchased a digital converter box (DISH DTVPal TR40) so I'd be ready for the DTV transition with my old (but still functional) analog tube TV.  I was getting about 15-20 channels here in New York City a few miles from the Empire State Building.  But this weekend I noticed that several of my channels have disappeared?  What gives?  I thought all of the channels I had would stick around.  Do I need a different antenna?  Do I need a different box?  Should I tell my wife we actually have to go out and buy a new flat panel TV (secretly hoping that this is the case!).
Help!
Sincerely,
-Flummoxed in Flushing
---
Answer: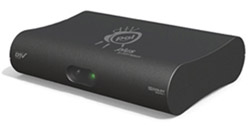 Dear Flummoxed,
Well the bad news is you don't need to buy a new flat panel HDTV (although if it helps your cause, I will send you an e-mail that says you do!).  What happened to you was, in fact, a result of the DTV transition.  Last Friday (June 12th), most of the full power analog channels in New York City and all over the country went completely off the air, except for a select few stations, known as nightlight stations, which will broadcast for up to 30 days repeating a message along the lines of "If you can see this, you're in trouble!"  These transitional analog broadcasts will transmit any emergency broadcasts as well as information describing how to make the switch to DTV.  There are also some lower power regional TV stations which were exempt from the analog cut-off but these are fairly few and far between.
But when these full-power analog channels went off the air, some of those analog channels were immediately re-assigned to new and existing digital channels.  Channels like PBS (13-1, 13-2, 13-3) went from a low power UHF band to a higher power Upper VHF band.  The good news is that this means you will probably be able to get more digital channels now than you could last week, but there is one small step you need to take: You need to "Find New Channels" on your digital converter box.  On your specific converter box, this is in "Menu... System Setup... Channel Setup... Find New Channels."
I have that same converter box here in house and I did notice one odd thing.  The "new" channels that it found (new versions of existing digital channels) did not seem to map properly to their correct channel numbers.  To fix this, I did a quick reset to factory defaults (also an option in the "System Setup" menu).  This will wipe out your current channels and preferences and allow you to start fresh adding the new channels from scratch.  Once done, I am picking up about 35 channels over the air (though a few are a bit too weak to lock).  The signal strength on some stations (particularly PBS) is much better for me now, after the switch and hopefully will be better for you as well.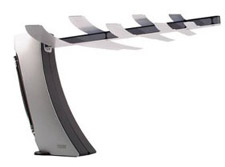 Anyone who relies on an antenna to watch TV on a digital tuner, digital converter box or HDTV with built-in tuner will need to do a similar process in order to find the new channels, unless your tuner does this automatically (most do not).  This is sometimes called "Auto Add," "Channel Scan" or "Auto Scan" and is usually found in the Channel or Tuner set up menu of your TV or digital tuner.
If after re-scanning your channels, you still aren't getting great reception, then you may need a new antenna.  HDTV and DTV channels are typically broadcast over UHF and high VHF frequencies so any high quality antenna that is capable of receiving these frequencies should work well.  Ideally you will want to place the antenna outside and as high up as you can, but there are some antennas that get good results indoors, particularly if you're close to the broadcast towers.
Note (added 6/19): Some DTV viewers in and around Chicago, Philadelphia and Boston may be having problems receiving specific stations (ABC affiliate stations WLS in Chicago and WPVI in Philadelphia, NBC affiliate WHDH in Boston) after the switch but these seems to be caused by under-powered broadcasts.  The FCC is currently working with these stations to address these reception issues.
I'll include some recommended antennas and articles related to the DTV transition below for further reading.
Hope that helps!
-Chris
p.s. Gotta give a shout out to Gary Merson, aka the "HD Guru" for filling me in on the official name of the "nightlight stations."  Thanks, Gary.  Also, BPBS writer Grant Clauser, who lives near Philadelphia mentioned the problems he's having receiving ABC's digital broadcast after the switch so we added the paragraph about that issue above.
Recommended Antennas for DTV and HDTV Reception:
Indoor:
Outdoor or Attic:
Antennas Direct Clearstream 2 - multi-directional medium gain antenna (1-50 miles) - optimized for UHF but also receives upper VHF
Antennas Direct ClearStream5 - new design, optimized for Upper VHF frequencies only, includes combiner for use with existing UHF antenna (coming in late June).
Winegard HD8200 - directional high performance high gain VHF/UHF antenna (up to 70 miles) - the big daddy of DTV antennas (and priced accordingly)
Related Articles:
Keep those cards and letters coming!
if you have a question for one of our home theater experts, shoot us an e-mail to "
Ask The Expert
." We'll select among these for future installments in this column. Due to the volume of requests we receive, we cannot reply to each question personally.