Where Can I See The Hobbit in HFR 48FPS IMAX 3D with Dolby Atmos Surround?
By Chris Boylan
Dear BPBS,
I have heard (and read) a lot about the new 48 fps HFR movie production process and also the new uber-surround sound format from Dolby (Atmos).  I've also read that The Hobbit will be the first movie to feature 48fps HFR picture and will also be available in Dolby Atmos surround in some theaters and even in IMAX in some theaters.  Is there anywhere I can go to see the movie with both HFR picture and Dolby Atmos surround sound?
-John in New York City
---
Dear John,
We're all very excited here at BPBS about the convergence of those two new technologies: High Frame Rate (HFR) video with Dolby's new height-enhanced surround sound (Dolby Atmos).  High Frame Rate film means that you're capturing the moving images at more than the traditional 24 frames per second. The first implementation of HFR doubles this frame rate to 48 frames per second (48 fps). This means that motion is smoother and potentially looks more like real life.
Update: Check out Joe Lozito's review of "The Hobbit: An Unexpected Journey" in HFR 3D.
Dolby Atmos surround is a new object-based sound recording, mixing and playback system that gives movie makers the ability to place sounds anywhere in a hemisphere of sound around the viewer - not just behind or in front, but above and all around the audience.  Both of these technologies have the potential to greatly enhance the movie-viewing experience.
"The Hobbit: An Unexpected Journey" will be the first film in theaters to take advantage of HFR and one of the first five films to include Dolby Atmos.  You can read a little more about our thoughts on Dolby Atmos.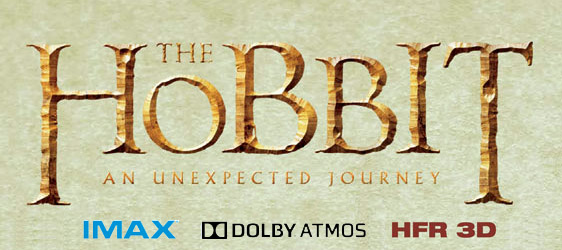 But unfortunately, while there are a fair number of theaters gearing up for "The Hobbit" by offering HFR projection, there are still fairly few theaters that support Dolby Atmos surround. The good news is that many of the so-called "Premium Experience" theater rooms across the country and around the world do include both Dolby Atmos and HFR 3D projection. Or you may be able to find the film in IMAX HFR 3D projection (but without Dolby Atmos sound, since IMAX and Dolby don't currently play nice together).
Be prepared to pay a bit more for a premium viewing experience though, as most theaters tack on a premium surcharge.  Oh, and the term "IMAX" as it applies to this movie means that it has been remastered for IMAX using IMAX DMR (Digital Re-mastering) technology.  The film was not shot natively using IMAX cameras.  It was shot natively in 3D however (like "Avatar") which should make for an enjoyable 3D viewing experience.
But the bad news for you (and for us) in New York City, is that no one theater is offering the film in both HFR 3D and Dolby Atmos.  The one movie theater that is set up for Dolby Atmos playback in the city (AMC's Empire 25 cinema near Times Square) is not set up for HFR 3D playback.  Meanwhile the AMC 34th St. 14 IMAX theater will offer the film in IMAX HFR 3D, but not in Dolby Atmos.  So you'll need to pick one or the other format, or go to see the movie more than once to experience both.
UPDATE: Dolby contacted us today (12/12) to let us know that the Regal Ewalk 13 theater in Manhattan has recently been equipped with Dolby Atmos, and, according to Dolby, it will be screening the film in both HFR 3D and in Dolby Atmos in their EPX theater.
For those in other areas of the country (and the world), you may have better luck.  Los Angeles, for example, has at least three theaters where you can see "The Hobbit" in HFR 3D and Dolby Atmos (The Arclight Sherman Oaks, AMC Burbank 16 & IMAX and AMC Century City 15 & IMAX). It's best to call the theater in advance to see which show times will be available in Dolby Atmos, HFR 3D or both.
We've included a list of resources below that include details of how and where "The Hobbit: An Unexpected Journey" is available in the various audio and visual formats.  The first link on TheOneRing.net is particularly helpful.
Additional Resources:
Keep those cards and letters coming!
if you have a question for one of our home theater experts, shoot us an e-mail to "
Ask The Expert
." We'll select among these for future installments in this column. Due to the volume of requests we receive, we cannot reply to each question personally.