VUDU Comes to Panasonic Blu-ray Players with VIERA Cast
By Rachel Cericola
Last week, we were aflutter with the news of VUDU coming to the PlayStation 3. It appears that the people at VUDU have been super busy, because today, they're announcing yet another way to get the service, via current 2010 model Panasonic Blu-ray players.
It's important to note that the service won't appear on just any Panasonic Blu-ray player, but only the ones with VIERA Cast access (this includes the DMP-BD65, DMP-BD85, DMP-BDT100, DMP-BDT300, DMP-BDT350 and DMP-B500). VIERA Cast adds instant, on-demand online entertainment to compatible Panasonic products, through content partners such as Netflix, Twitter, Pandora, Amazon Video on Demand, YouTube, Skype, and more -- and it's all accessible through your remote control.
Starting November 24, VUDU will join that lineup, offering more than 4000 full 1080p HD movies to rent or own. To welcome the service, new VUDU customers on VIERA Cast will be treated to a $5.99 credit. That should give you a nice taste of the HD that VUDU offers.
"Our core mission is to deliver the best selection of movies, at the highest quality possible, directly to the customer's living room," said Edward Lichty, Ggeneral manager of VUDU. "We are proud to partner with Panasonic to offer owners of VIERA CAST-enabled Blu-ray Disc Players access to the industry's best-in-class streaming movie experience, with immediate access to thousands of titles, including the hottest new releases, all with no subscription required."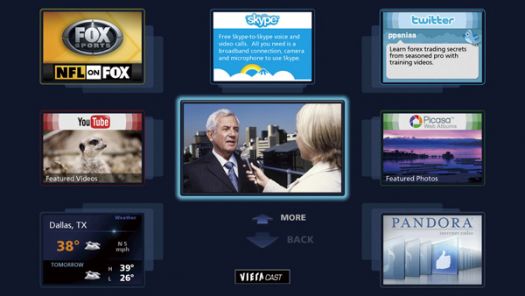 In 2010, Panasonic released a total of six VIERA Cast-enabled Blu-ray players. The DMP-B500 (MSRP: $799.95) is actually the first portable Blu-ray player to support VIERA Cast. Aside from the portability and HD, this slick unit features a 10.1-inch LCD screen, Wi-Fi connectivity (with a wireless LAN adapter), a "Photo Frame" function, and an SD card slot.
If you don't plan to hit the highway with your high-def, Panasonic also released two stand-alone players this year, the DMP-BD65 ($179.95) and DMP-BD85 ($249.95). Both players are almost identical, offering HD playback, 1080p upconversion and wireless networking via an adapter. The biggest difference here is that the BD85 comes with the adapter, while you have to buy your own for the BD65. Our own Chris Chiarella gave us a close-up peek at both players early on, with our fearless editor Chris Boylan taking a more in-depth look at DMP-BD85.
Last, but certainly not least, Panasonic also released three 3D-enabled players in 2010. The DMP-BDT100 ($249.95), DMP-BDT300 ($399) and DMP-BDT350 ($429.95) all do 3D, as well as 2D HD.  Just a few weeks back, Geoff Morrison gave us a look at the DMP-BDT100, with extremely pleasant results. A few weeks later, Chris Boylan took on the DMP-BDT350. The BDT350 is not available on Amazon. However, the BDT100 does offer Wi-Fi connectivity via an add-on adapter, while the BDT300 throws in built-in wireless access and a second HDMI port.