Panasonic DMP-BD85 Blu-ray Player Review
By Chris Boylan
Panasonic DMP-BD85 Review
One Step Forward...
Panasonic has been a leader in the Blu-ray player category as long as there has been such a category.  Breaking ground with the first standalone player to support DTS-HD decoding and the first to support BD-Live networking, it seemed that nothing could stop Panasonic's Blu-ray dominance.  Until last year.  In 2009, Panasonic chose to offer Amazon video-on-demand instead of Netflix streaming in their VIERA Cast IPTV platform.  They decided not to offer a WiFi networking option for their players, and they released players that had a sporadic but annoying tendency to randomly freeze when playing back Blu-ray Discs.  What a difference a year makes.
Panasonic was able to fix the random Blu-ray freeze in last year's players via a firmware update, they added Netflix and Pandora streaming to the VIERA Cast platform, and they're throwing in a nice compact WiFi adapter with this year's top of the line players, including the DMP-BD85 Blu-ray Disc Player, the subject of our review.

The Set-Up
It was with a sigh of relief that I opened the box to find not only the remote control and batteries, but a compact USB WiFi adapter (they call it a "LAN Adaptor") along with a USB extension cable to allow you to place the adapter in an open space where it can easily connect to your home WiFi network.  And connect it did to my trusty old 802.11G Linksys router's WEP-protected wireless network, after I provided the shared key in the quick network set-up that loaded upon first powering up the player.  To test the connection I checked for a firmware update and found one, spending the next 5 to 10 minutes waiting while the machine upgraded itself from firmware 1.4 to 1.14 (and later to 1.23, courtesy of an additional firmware upgrade).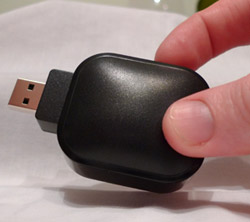 For other settings, I selected my preferred language (for the menu), and a screen shape of 16:9.  I plugged in both an HDMI cable and a set of analog RCA cables to the player's analog audio outputs (more on that later) and I was ready to rock.  Well almost, I also had to insert an SD card into the slot (at least 1 GB please), as Panasonic
still
does not include enough on-board storage to run BD-Live nor do they include an SD card in the box.
Our first viewing session ("Fantastic Mr. Fox" on Blu-ray) did not go well at all - there was a mysterious RF-type of static interference on the screen, which even interrupted disc playback several times.  I tried plugging and unplugging the cable (an inexpensive "Copartner" branded HDMI cable) to no avail.  But, as a last ditch effort, I plugged in an equally inexpensive HDMI cable from the Amazon "Basics" line and the distortion and interference immediately disappeared, never to be seen again.  I would blame the cable alone except for the fact that it was previously used for a Denon DBP-2010CI with no hint of this interference throughout the review period.  So we'll chalk it up instead to "one of those things" and move on.
Nothing but 'Net
In the VIERA Cast section (accessible via direct button on the remote), I was able to immediately start browsing YouTube videos and Picasa photo albums as well as view the local weather.  Clicking over to the Netflix box allowed me to get the unique player activation code.  After a couple of minutes on the PC activating the player at Netflix.com/activate, the titles in my Netflix Instant Queue showed up on the BD85, ready for instant viewing. Quality of the Netflix stream was much like it is on other players: decent detail in the HD stream but with some visible compression artifacts, particularly during dark scenes which put the "HD stream" closer to DVD quality.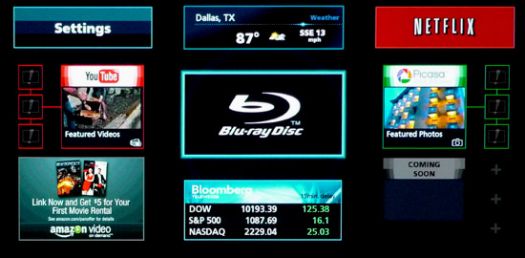 Sound from Netflix is still limited to 2 channels, but this can be decoded into multi-channel matrixed surround on most receivers.  As with other Netflix streaming players, my delivery bar signal strength meter varied depending on time of day (a factor of bandwidth available from my internet provider).  Pandora, my favorite internet streaming music provider, was enabled via the recent 1.23 firmware upgrade to the player, but a back-end server update still needs to be made on the VIERA Cast servers in order for Pandora to be visible on the VIERA Cast screen.  Until the server change is made, Pandora cannot be accessed from the player.  That back-end update was not available as of the time of this review but Panasonic tells us that change will be coming very soon.  [update - 6/7/2010 - Pandora is now avaliable in VIERACast for those with the 1.23 firmware.]
Please Wait While Your Selection Loads...
Panasonic promises a quick boot-up and they're not kidding!  With the Quick Start mode engaged, it takes under 2 seconds to go from powered off to the Panasonic splash screen and "no disc" message.  With Quick Start mode turned off, it takes about 25 seconds to accomplish that same task.  The drawback is that more power is consumed in standby mode with Quick Start enabled, so if you're trying to be super-green then leave Quick Start off and wait the extra few seconds for startup. Opening the tray, also once a task that required patience, is now usually immediate, unless of course the disc is still spinning, in which case you will have to wait for the disc to stop before the tray will open.
Once up and running, a standard DVD (Gladiator) loads in about 20 seconds, a standard Blu-ray (Hitch) in about 36 seconds and a BD-Java Blu-ray Disc (Pirates of the Caribbean: Curse of the Black Pearl) in about 39 seconds.  These times are a bit better than last year's models but slower than the current generation players from LG, OPPO and Samsung.  To test an extreme slow loader, the Blu-ray of Inglourious Basterds took a whopping 150 seconds (yep, two and a half minutes) to load to the first visible disc content.  But, when I swapped out the 1 GB standard SD card I had in the slot with a 4 GB Class 4 SDHC card, I was able to view disc content in about 85 seconds.  This particular movie loads a great deal of BD-Live content onto the SD card when loading the disc, which makes your choice of SD card more important than it normally is.
The Picture
Panasonic has been building a reputation for excellent DVD upconversion in its Blu-ray players, particularly at the relatively low price points they are able to meet.  For 2010, Panasonic has made some pretty significant enhancements to its Uniphier video processing platform, but these enhancements are only available in the DMP-BD85 and in the Blu-ray 3D players (DMP-BDT300, DMP-BDT350).  Unlike previous years where all the players in the line shared the same video processing, Panasonic is offering a more compelling reason to upgrade to the higher end players this year, beyond the analog multi-channel outputs, WiFi and improved audio circuitry.  The entry-level BD45 and BD65 players are certainly not bad at upconversion - in fact, they use the same video processing as in last year's BD60 and BD80, but for the BD85, Panasonic has gone a bit further.
Rather than follow the standard process of upconverting the chroma (color) signal from the compressed 4:2:0 stored on the disc to 4:2:2, then de-interlacing the 480i DVD signal to 480p and doing additional color processing, Panasonic has chosen to apply the deinterlace processing first, which gives the video processor more color information to work with when doing the chroma upsampling from 4:2:0 to 4:2:2 all the way to 4:4:4.  What this means to the layman is that the DMP-BD85 is able to provide full color detail for each and every pixel in the 1920x1080 pixel progressive output, restoring details that are lost in the video encoding process.  This leads to cleaner edges and superior visible detail in the video signal.  According to Panasonic, the improvements in chroma processing apply not just to 480i and 1080i material, but to 1080p material as well (though the improvements to 1080p discs are much more subtle).
Putting that processing claim to the test, the Chroma Zone test plate pattern on Spears and Munsil's Benchmark Blu-ray Disc looked beautiful (as far as test patterns go, that is), with excellent definition and smoothness on the radiating lines. This is the cleanest I've ever seen this test pattern showing that the player's chroma processing is top notch.  The player easily locked onto both 2:2 (video) and 2:3 (film) cadences on both DVDs and Blu-ray Discs, which represent most material available in both formats, though it did have mixed results on the more unusual cadence tests, leading to some visible moiré and tearing around edges.   The BD85 also performed well on the "jaggies" tests in SD and HD versions (HQV DVD and Blu-ray, as well as Spears and Munsil Blu-ray), showing that the player includes an excellent diagonal filter.  Mixed cadence tests (a film-sourced background with video titles overlaid) was clean, with virtually no tearing or comb artifacts.  Overall the player performed extremely well on standard def and 1080i high def content converting the output to 1080p.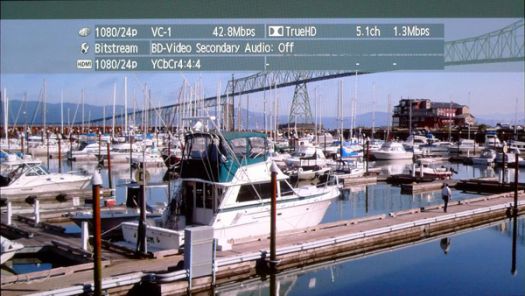 Moving onto actual 1080p HD content, the Blu-ray Disc of Baraka, a stunning nature film transferred digitally at 8K, is an excellent reference for detail and color precision.  During an aerial flyover of a volcano, thin rivulets of glowing lava offer crisp delineation from the brown cooled magma background.  Even standing right up next to our 50-inch 1080p plasma screen, the edges of the lava are smooth and crisp.  Compared to the LG BD390, also an excellent performer, the color detail and edge precision is just a bit better on the Panasonic player, and these fine details become even more visible when we blew up the image onto a 100+ inch 1080p projection screen.
On 1080i Blu-ray Discs, the improvements become a bit more apparent.  Legends of Jazz is a wonderful 1080i Dolby TrueHD recording of live jazz performances shot in HD video.  On the BD85, playing the Jane Monheit/John Pizzarelli version of "They Can't Take That Away from Me," subtle details such as the sparkle finish of the drums, and the glowing red light on the guitar amp are reproduced cleanly, without any jagged or blurred edges.  And Jane Monheit's curvaceous figure stands apart from the background with a bit more depth, more three dimensionality than we normally see.  If you enjoy nature documentaries and concert films, frequently shot in 1080i/60 or 1080p/30 (and transferred to Blu-ray at 1080i/60), then the DMP-BD85 is the player for you.
On standard DVD content, we watched snippets from Gladiator (including the Coliseum flyover), to verify that the player could resolve the difficult diagonal edges of rooftop tiles (it did). We also put on Fifth Element on DVD (a reference title before the days of Blu-ray Disc) and found that the BD85 did a nice job resolving all the hairy details in the archeologist's beard in the opening sequence in Egypt.  Moving onto the regeneration sequence, Leeloo's skin and orange hair came through in vivid, colorful detail without too much aliasing around the edges of objects ("I'd like to take some pictures... for the archives").  There's still no mistaking the DVD with the remastered Blu-ray version of the film, but for those with an extensive library of DVDs, and for those who want to watch films not yet available on Blu-ray Disc (like the "Star Wars" movies, for example), the DMP-BD85 will help get the most of the standard def versions.  The player's 24p (24 frames/second) output option for standard def DVDs is a nice touch, and is a feature rarely seen on mass market Blu-ray players.
The Sound
Although Panasonic has improved picture performance, they haven't exactly ignored sound quality either.  The DMP-BD85 offers a number of sonic improvements over earlier models, some of which benefit only the multi-channel analog outputs but some of which are designed to improve the sound over HDMI, in PCM or bitstream modes. The primary improvement is a "Jitter Purifier."  Panasonic engineers noticed that the way audio data is transmitted over HDMI is not ideal as there is no true "audio clock" in the transmitted signal.  The audio clock is instead calculated on the receiver side from the video clock using a couple of parameters sent over the link in packets.  This procedure can apparently lead to jitter as the CTS (Cycle Time Stamp) used for these calculations can be affected by minor variations in phase of the audio and video clocks in the player.  Panasonic has found a method of calculating a more precise value of the CTS which pushes any jitter into the non-audible bands.  The benefit?  More precise calculation of the audio clock and improved sound quality, even when using HDMI digital connections (bitstream or PCM).
The player also includes a "High Clarity Audio" feature which allows you to disable analog video processing (if you're not using the component or composite video outputs).  This minimizes any interference between the analog video processor and audio processing.  For those who like to get a little experimental, they've also introduced "Digital Tube Sound Effects."  These three modes emulate the transfer function of analog tube amplifiers to impart a smooth tube-like sound to digital audio.  We tested these out using various musical content, such as singer-songwriters, jazz ensembles and light classical pieces, and found that engaging the tube sound effects did indeed impart a more analog-like sound to the music.  It brings out a fatter, slightly more prominent midrange, and an overall rounded off frequency response, free from the brittle treble that you can hear on some digital content.  It was not as effective as using an actual tube amp (like my trusty Conrad-Johnson Premiere 11a), but it can provide an interesting effect when listening to music.
The final new audio feature is 7.1-channel Audio Reformatting.  This is a Blu-ray only feature which allows you to output 7.1 channels of sound over analog or PCM digital (HDMI), for titles that have 6.1 channels or less.  So, for example, if you're watching a movie with a 5.1 channel Dolby TrueHD soundtrack on a 7.1 channel system, by turning on "Audio Reformatting" in the menu, and setting the Digital Audio output to PCM (or using the analog outputs), you can get sound in all 7 channels plus subwoofer.  We tested the feature on some 5.1 titles and found that it worked as expected.  The feature only applies to Dolby and PCM soundtracks on Blu-ray Disc (e.g., Dolby TrueHD, Dolby Digital Plus, PCM 5.1).  For DTS soundtracks on Blu-ray Disc, the BD85 continues the tradition of earlier Panasonic players in amplifying 5.1 channel soundtracks to 7.1 using a variation on DTS Speaker Remapping.  Of course, if you'd rather skip this feature entirely, then just use bitstream out (over HDMI) and let your receiver do the decoding and any additional post-processing.
Putting the player's audio section to the test, I spent most of the review period listening to the player using its multi-channel analog outputs.  The challenges in using a player's multi-channel analog outputs are significant, and the Panasonic DMP-BD85 is no exception here.  I'll get into the details about that later.  But suffice it to say that after some manual tweaking and quality time with an SPL (Sound Pressure Level) meter, I was able to get some sweet, sweet sounds out of the player's multi-channel outputs.
On stereo CDs, I was happy to see that the BD85 rectified a problem with earlier Panasonic players where the bass was not being properly redirected to the subwoofer when speakers were set to small.  On the BD85, stereo CDs had a palpable presence with a nice wide and deep soundstage which did not vary significantly whether I had the speakers set to large or small.  The Mobile Fidelity Sound Labs version of "Rush: 2112" on CD took on the huge sense of space that I'm used to hearing with a high end preamp/processor doing the Digital/Analog conversion.  On the DTS-HD Master Audio Blu-ray Disc "Drumline," the crisp attack of the horns and snare drums were supplemented by the deep bass of the bass drums, accented by the sizzle of the crash cymbals.
Another go-to disc for me for audio quality is the Dave Matthews/Tim Reynolds "Live from Radio City Music Hall" Blu-ray Disc with its Dolby TrueHD 5.1 channel audio track.  Although there isn't a lot of extension on this recording with only amplified acoustic guitars and vocals, the disc is a great test of a player's ability to delineate fine details in the music as well as in the crowd sounds that emanate from the rear of the surround soundstage.  The disc does an excellent job capturing the space of Radio City Music Hall and presenting Matthews' wavering soulful vocals and Reynolds' masterful guitar riffs.  All that was missing to turn this viewing into a real concert experience was a whiff of that "wacky tabacky."
The Set-Up (Part II)
Overall, the audio output of the Panasonic player is top notch, if a bit low in overall level.  The challenges involved in setting up the analog outputs are partly based on the way analog outputs operate in general, as well as the way receivers handle these types of inputs.  Again, it's important to note that this is only relevant to those who do not have HDMI-capable receivers, but choose the multi-channel analog inputs for compatibility with older gear.

The primary issue is the way the subwoofer channel is transmitted over analog cables - 10 dB lower than the other channels, in order to prevent overload.  This is not unique to the BD85, but is common across all players with multi-channel analog outputs.  To use the analog outputs, you will need a receiver that can compensate for this lower bass level.  You'll also need to adjust speaker size, level, delays and configuration on the player as most receivers and preamps do not allow you much control or calibration of multi-channel analog sources.  But on the Panasonic players, even finding the speaker configuration panel can be a serious chore, and once you've found it, getting everything set up properly isn't much easier.
The Panasonic's analog output speaker configuration panel is accessed by selecting the "TV/Device Connection" menu within the setup menu, and then the "Analog Output" menu.  Select "2ch+5.1ch" if you have a 5.1 channel system or 7.1 if you have a 7.1 channel system.  Then hit the OK button again (though it doesn't seem like that would do anything) to get into the speaker configuration panel.  Once here, you can adjust each speaker by highlighting it with the cursor then hitting the left/right buttons: the speaker icon changes to illustrate whether your speaker is small large or not present at all.  Adjust the delay and level controls by highlighting those, and use the "Test" button to generate white noise to each speaker (except the subwoofer).  Using an SPL meter, you can adjust the levels.  But don't expect to hear any changes as these will not be audible until you exit the configuration menu and get back in.  But don't forget to hit the "Complete" button when you're done otherwise all of your changes will be lost.
There are so many problems with this configuration panel that it's hard to know where to begin:
Finding this speaker configuration menu should be much more straightforward
Speaker delays should be adjustable in feet or meters (instead of microseconds).  As it is, you will need to refer to a conversion table in the manual to convert distances into delay times.
The subwoofer channel should have a test tone like all the other speakers
Adjustments to speaker levels should be reflected in real time so you can hear (and measure) the effects of your changes
The "Complete" button is oddly named.  If it is required to hit this button to save your changes then why not label it "Save" or just make it pop up automatically when you try to exit, "Would you like to save your changes? Yes/No"
Frustrating isn't the word.
This leads into my primary complaint about the DMP-BD85.  While other companies such as Samsung and LG continue to improve their user interface with each generation, the Panasonic menu hasn't changed substantially since their earliest Blu-ray players: It's a clunky, text-oriented set-up menu with labels that aren't always intuitive.  And now, with the BD85, there are even more settings available which clutters menus further.  Instead of an icon-driven splash screen that offers you multiple content choices at start-up, you get a virtually blank splash screen that requires you to hit buttons on the remote in order to access the various content options (USB drive, VIERA Cast, etc.).  If there happens to be a disc in the tray (CD, DVD or Blu-ray), then the player assumes that what you want to watch or listen to and fires it up without giving you any options.  For those who don't care about Netflix streaming and USB or SD card media playback, this may be fine, but for others, it won't be.

Some video settings are in the main setup menu while others, such as the chroma processor and 24p mode for DVDs, are hidden in a "Display" menu, only available during disc playback.  "Subtitle" which is a direct button on many competitors' remotes is also hidden in the "Display" menu.  And some controls such as aspect ratio adjustment (for zooming nonanamorphic DVDs) are accessible via a totally different button labeled "sub-menu." And now, with the removal of the "Set-up" button from the remote control (now available from the "Functions menu," under the "Other Functions... Setup" option) it is even more difficult to get into the set-up menu and make adjustments.  They even have two totally different ways of accessing VIERA Cast - via the VIERA Cast button on the remote, or via the "Network" button on screen in the Functions menu.  Why not keep it consistent?
Once you know your way around, you'll be able to access everything you need, but the Panasonic Blu-ray user interface could use a serious ground-up overhaul.
Quirks R Us
In addition to the less than optimal user interface, we did notice a few relatively minor quirks along the way.  Apparently the Panasonic Blu-ray players have had compatibility issues playing back the first disc in the "Alien Quadrilogy" DVD set.  Thanks to one of our forum contributors "thebat356" for the tip on this.  On the BD85, the disc actually does play, using its default Dolby Digital audio track, however if you select the DTS soundtrack of the 2003 Extended Cut of the film, you will be treated to utter silence.  Also, I did explore the Divx and AVI playback capabilities of the player using the player's USB port and a USB flash drive.  As with earlier Panasonic players, aspect ratio can be a problem, with 4:3 content sometimes being stretched out to 16:9 with no way to un-stretch it (the same occurs with YouTube content played in full screen mode).
But more seriously, when playing back Xvid-encoded AVI files from a USB thumb drive, the player actually shut itself down on three separate occasions.  Starting the player back up and resuming where you left off will play through this glitch but it's annoying to say the least.  After publishing this review, we did some further testing and this turned out to be media-specific: in other words, if you use a decent quality name brand USB flash drive for your videos (instead of the cheap promo drive we initialy used), the player plays these AVI files fine.
The last quirk (at least the last one that I noticed) occurs if you try to access any network based features (such as BD-Live, or VIERA Cast) within a minute of the player booting up.  If you try to get into these features too quickly, you will be treated to a message that implies that you have no network connection, or that BD-Live is not available in your area.  Wait a couple of minutes or so after booting the player, and you can access the network content without issues.
The remote is also a bit quirky in its design.  They've made it smaller than previous years (about an inch shorter), and tightened up the buttons a bit, which actually makes it easier to move between the menu and playback controls.  But the omission of the "set-up" button, and moving the previously large "Display" button up to a tiny button near the top numeric keypad makes it trickier to get into that Display menu to make adjustments during playback.
Turn Ons
Excellent video performance on DVD upconversion
Superb Blu-ray playback
Strong audio performance
Netflix streaming, YouTube and (soon) Pandora Internet radio
WiFi included
Quick start-up and reasonably fast disc load times
Turn Offs
Awkward user interface
Aspect ratio issues with AVI and YouTube playback
Some glitches with Xvid-encoded AVI file playback
Remote lacks some basic functions (subtitle, set-up)
No DLNA or home network media sharing feature
STILL no on-board storage or SD card in the box for BD-Live (Really, Panasonic?!)
Final Thoughts
Although I spent a lot of time describing the operational idiosyncrasies of the player, these are relatively easy to get used to over time.  Casual users will not need to access the set-up menus often (if at all) and so will most likely never notice many of these issues.  The video and audio performance of the player are strong and more than make up for any ergonomic challenges.  I was a bit concerned about the unit shutting down while playing back Xvid AVI files but that turned out to be media-specific so nothing to really be concerned about. Overall, the DMP-BD85 represents an excellent performer with a strong set of features certain to satisfy the casual user as well as the discerning audio/videophile.
Where to Buy:
Features and Specifications
Video

Video Processor: Panasonic Uniphier with PHL Reference Chroma Processor Plus, Adaptive High Precision 4:4:4 Color upconversion, P4HD (Pixel Precision Progressive Processing for HD)
Video Resolution: up to 1080p/24 or 1080p/60
1080p/24 option for DVD and Blu-ray Disc

Audio

On-board decoding for Dolby Digital, Dolby Digital Plus, Dolby TrueHD, DTS, DTS-HD High Resolution Audio, DTS-HD Master Audio, PCM, MP3
D/A Converter: 192kHz/24bit
Jitter Purifier
96 Khz Surround Remaster
Digital Tube Effects
High Clarity Audio

Convenience

VIERA Link (HDMI-CEC) - HDAVI Control 5
WiFi: 802.11b/g/n WiFi USB adapter included with USB extension cable (DY-WL10 Wireless LAN Adaptor)
Playback Information Window
VIERA Cast currently features Amazon VOD, Netflix, Picasa, YouTube Weather and Stocks (Pandora coming soon
AVCHD, JPEG, DivX 5 and DivX HD Playback

Input/Output

Video: HDMI digital A/V, Component Video, Composite Video
Audio: HDMI digital A/V, Multichannel analog audio output (5.1 and 7.1), stereo analog audio output, coax digital output, fiberoptic digital output
Additional ports: USB 2.0 High Speed Port (2), SD Card slot, Ethernet Network port (RJ45)

Specifications

Audio S/N : 115dB
Dynamic Range: 100dB
Power Source:  AC 120V, 60Hz
Power Consumption:

Powered On: 26W
in Standby Mode  0.1W
in Quick Start Mode  8.4W

Weight: 5.7 lbs.
Dimensions (H x W x D)  2-3/16" x 16-15/16" x 9-13/16"
Warranty: 1 Year Parts and Labor (limited)
MSRP: $249.95
Manufacturer's Contact Information:
Panasonic Corporation of North America
One Panasonic Way
Secaucus, NJ 07094
1-800-211-PANA (7262)
Web Site: www.panasonic.com