VUDU Coming to Sony PS3
By Rachel Cericola
VUDU is slowly invading all of your networked electronics. According to the VUDU blog, the latest device to get the goods will be Sony's PlayStation 3.
The PlayStation 3 VUDU application will be available to all PS3 owners in the U.S., via the PlayStation Network. This will make the PS3 the first and only gaming console to offer VUDU.
The application will be free, but you'll need to pay up to get movies. The typical VUDU rental runs anywhere from 99 cents to $5.99. If you want to own it, that will cost you between $4.99 and $24.99. Prices vary, depending on the title and the resolution. VUDU has plenty of HD content, which also includes Dolby Digital Plus 5.1 channel surround sound.
VUDU users will also be able to share recommendations and programming, through social networking add-ons.
The PlayStation Blog says that the VUDU app will be available in the PlayStation Store before the end of this month. Once you do the download, it will appear in the XMB under "Video."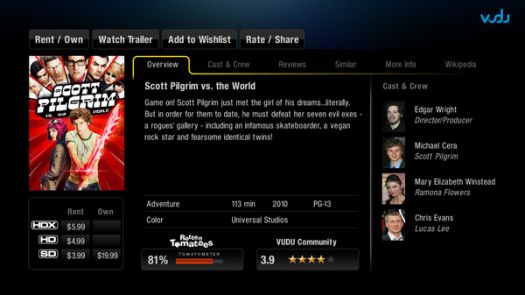 VUDU also says that a new 2.0 interface will be coming before the end of the year. The company says that VUDU 2.0 boasts a better browsing experience, as well as social media aspects.
Where to Buy: