VIZIO XWH200 Universal Wireless HD AV Kit Review
By Rachel Cericola
Edited by Chris Boylan
Ho Ho Ho, It's Magic
If you're like me, the back of your AV cabinet is getting to be a scary sight. We love adding new electronics to the TV setup, not just for review purposes, but just for fun. What we don't love so much is the web of wires that has accumulated. It's become so out of control that even Spider-Man would fear this web. Instead of trying to weave yet another wire into that mess of cables behind the TV, VIZIO has come up with the XWH200 Universal Wireless HD Video & Audio Kit.
The XWH200 allows users to cut some of those cords, and place up to four different high-def devices far away from the TV. That means you can finally wall-mount that big, beautiful HDTV and have it look like the piece of art -- or at least a piece of art with a power cord. Whether that power wire is exposed or inside the wall, the XWH200 can make the installation a whole lot cleaner, without having to worry about visible A/V cables.
Compatible with just about anything with an HDMI port, this system streams connected devices wirelessly. It's cool, but it's certainly not a new concept. However, what makes this setup different than something like last year's Philips Wireless HDTV Link (SWW1800) is that it can deliver both 1080p and 3D content as well as lossless multi-channel audio. It can also do those things fairly inexpensively with an MSRP of $229.99 (currently $179.99 on Amazon!).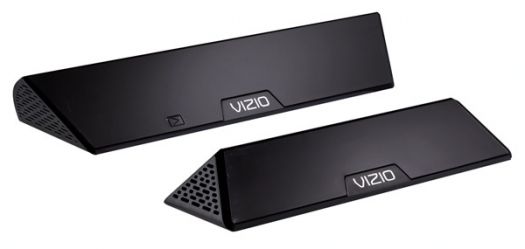 Slightly Slippery Setup
VIZIO's XWH200 kit includes a transmitter and a receiver box, as well as power cables for each, and two HDMI cables. How sweet of them! This basically means you should be able to hook up at least one device right out of the box.
As we've mentioned a thousand times before, there is no such thing as being truly wireless in the world of AV gear. Just as so-called "wireless speakers" still need a power cord, both the transmitter and receiver of the VIZIO XWH200 need power cables. Also, the receiver requires an HDMI connection to your TV and the transmitter box will need one HDMI cable for every AV component you want to connect. If you already own a home theater receiver with HDMI switching, then you could simply connect the receiver's HDMI output to the XWH200's transmitter module and you'll be good to go.
The XWH200 is quite a cool looking setup. Both the transmitter and receiver are sleek, lightweight, and easy to place. The receiver unit can also be wall-mounted just below or just above your TV, if desired.  It's a good thing that these boxes look nice, because they aren't built to be hidden. For the XWH200 setup to work properly, an in-room setup is an absolute must -- and a bit of a science, actually.
The actual wiring portion of this program is a bit of a no-brainer. You probably don't need directions to know where power cables and HDMI cables go, right? That said, the setup takes some tweaking and may elicit a bit of profanity. We hooked up a total of four devices to the XWH200, and the first two had issues.
First, we tried both our old Samsung BD-P1500 Blu-ray player and the new Pioneer BDP-430 Blu-ray 3D player we currently have in for review. For some reason, we couldn't get a picture and didn't really know why. To make matters worse, the remote was absolutely no help (see below for more on that). After moving around the receiver box and rebooting the devices, we finally got our picture. Was it interference? The placement? Aliens? We don't really know, but once we shut everything down and took a nice stroll, we came upon the same problem. This happened maybe a handful of times during our test period. However, unplugging the XWH200 and plugging it back in seemed to make all right in our AV world.  And once it locked and gave us a picture, it was pretty rock steady
Placement is certainly key. Once you find a nice spot for AV equipment, it's easy to add items into the wireless setup. We had no problem hooking in items and having each one appear on our Panasonic TC-P50GT25 3D plasma, which was about 15 feet away.

According to VIZIO, the XWH200 works up to 30 feet away. We tested that out briefly, with no problems to report. Just know that there's no sneaking around corners or putting AV equipment into a remote part of the attic. This system is specifically designed for in-room use. The XWH200 is not designed for people that want AV components in other rooms or under couches. Also, you'll want to be able to flip through device options from your favorite seat.
Rippin' the Remote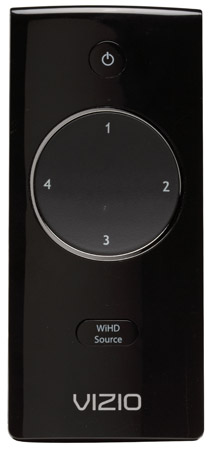 VIZIO has been kind enough to include a remote with the XWH200. However, it's really one of the more maddening controls we've ever come across.
The pint-sized remote has a power button and a click-wheel so you can toggle through the four connected devices. It certainly seems simple enough. However, the remote and transmitter unit offer no tactile or visible feedback, which makes setup even more difficult. Until we got a picture going, we thought the remote had a dead battery or maybe the last user got frustrated and took a hammer to it. We certainly thought about it!
Complaints aside, the remote does actually work. The power button turns the whole setup off and on, and the click-wheel allows you to flip through connected devices. It's hard to complain about a design flaw on such a simple device, but it was certainly a missed opportunity -- one that's likely to upset more than a few users out there.
If you find yourself one of the frustrated, it's easy enough to toggle through devices using the one button on the front of the transmitter.
Wire-Free (and 3D!) Fun
Once you have the XWH200 hooked up properly, expect to have a lot of wire-free fun. We tried the XWH200 with four different devices. The first two were the aforementioned Blu-ray players. Although we were able to get a picture going with the Samsung, we spent most of our test period using the Pioneer BDP-430. That's because this is a Blu-ray 3D player, and yes kids, the XWH200 can handle 3D.
We flipped through a variety of content, including an entire viewing of Tangled in 2D. Both the image and audio were as stunning as when we reviewed the Blu-ray back in March. Even better than the beautiful 1080p image was that it was stutter-free. The film played through with no loss of the image at any point; it was as if the player were hardwired.
Next, we tried the D-Link Boxee Box, which also brings up a nice little argument in favor of the XWH200 setup. If you have a device like the Boxee Box, a web-enabled Blu-ray player, or any other type of streaming box, you may want to hardwire that web connection. If you don't have that option near your TV or AV cabinet, the XWH200 is quite the lifesaver. No new wires to fish! Just place the transmitter box and source components near an Ethernet jack that is within 30 feet of the receiver, and you've got a hardwired web connection with a wireless twist. We used this method to tap into videos through the Boxee Box, as well as Netflix access with our Blu-ray player.
Besides the Netflix, the XWH200 also allowed us to take advantage of another one of the Pioneer BDP-430's perks: 3D movies. This is a Blu-ray 3D player and the XWH200 supports that feature. We sat through Cloudy with a Chance of Meatballs, and this setup works as advertised. Just like our 2D viewing, there were no blips or other issues: it delivered all of the 3D effects in all of the right places.
Last, but certainly not least, we hooked up our AV receiver, which is a must if you want to stream up to 7.1 sound. We use a 5.1 system, and were able to get 5.1 sound from movies, sports, music, and anything else that was available through our connected devices using the XWH200 as the link. A more likely installation, however, is using your existing AV receiver as the control center and just plugging its HDMI output into the XWH200's transmitter.  In this case, you'd only ever have the transmitter set to one HDMI input and all source switching would be done directly on your receiver.
This was the last scenario we tested.  With our DISH DVR and Blu-ray players hooked up directly to our AV receiver, and the receiver's HDMI output connected to the XWH200 transmitter box, we pulled a "set it and forget it," and used our own remote to toggle through devices, channels, and Netflix, VUDU, and other features with the XWH200 pitching in only to deliver wireless video to the TV.
Turn Ons
Streams HD video and audio wirelessly
Simple connections and hook-up

Supports 1080p, 3D and 7.1 channel surround sound
Compact and cool looking
Gorgeous image and sound
Turn Offs
For in-room use only

Remote offers no feedback
No love for non-HDMI devices
Has occasional hiccups that required unplugging/plugging in the unit

Final Thoughts
Not having to tether all of your AV equipment to the TV is certainly a nice bonus. It creates a cleaner setup -- and can even save you time and money on adding additional outlets, web access, and other essentials. The XWH200 doesn't put many limitations on what devices can be added into the wireless setup. If it's got an HDMI jack, you can enjoy full 1080p HD, 7.1 surround sound, and all of the other features we demand from today's AV systems. VIZIO absolutely nailed it with those options, as well as a $229 MSRP. Yes, it could use a better remote. Also, it may involve a frustrating setup, with the occasional need to unplug the unit to reset it.  But if you can live with these limitations, VIZIO's XWH200 offers an interesting solution to those who want to live their lives without wires.
Manufacturer's Specifications:
Manufacturer's Contact Information:
VIZIO, Inc.
39 Tesla
Irvine, CA 92618
Phone: 949-428-2525
Toll Free: 888 VIZIO CE (888.849.4623)
On the web: www.vizio.com