Tangled Blu-ray Review
By Rachel Cericola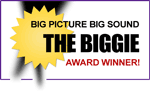 The Film
It's hard to believe that Tangled will be the last of the Disney fairytales -- at least that's what the studio has said. They may have to consider reversing that decision, because the film is just so darn good.
Because it's based on the Brothers Grimm classic Rapunzel, you should know the story well. Rapunzel (voiced by Mandy Moore) has a lush, magical mane. As a baby, she's kidnapped by Gothel (a devilishly wonderful Donna Murphy), who raises the child as her own personal fountain of youth. Of course, 18 years of being cooped up in a castle would make most teen girls anxious and kind of curious about the outside world. Soon, Rapunzel wants to wander. Along comes Flynn Rider (Zachary Levi), the thieving prince charming who helps to get Rapunzel out of her castle, as well as her shell.
As far as Disney flicks go, Tangled has it all. The studio has spawned another gorgeous princess, who just happens to be an iron-skillet-wielding badass. There's a monstrous mother figure, handsome comic relief, and a slew of memorable four-legged friends. It also has an above-average selection of songs and even though it's CGI, Disney has gone out of their way to make it appear as if it were hand-drawn. It's also insanely hip, romantic, and a ton of fun to boot. Talk about going out on a high note with the fairytale thing; Tangled is absolutely fantastic.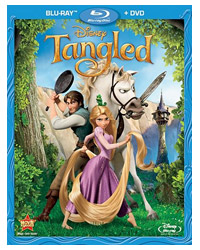 Want to unravel more about the movie? Check out Beth McCabe's theatrical review of Tangled.  Interested in the 3D version?  Check out Chris Chiarella's Tangled Blu-ray 3D review.
The Picture
For some, the film Tangled may be a little predictable. However, there are even fewer suprises when it comes to the film's image -- and that's a good thing. Disney has a track record of making incredible-looking Blu-rays and this 1.78:1 transfer is no exception. It's stunning. This is a clean, flawless print with an amazing color palette and details to match. Both Rapunzel's hair and Flynn's eyebrows almost look real. Even smaller details, such as buildings, roads, and the outlined detail on the guards' chest plates, are simply wonderful. Skies are a deep blue and the forest has lush greens. The film overall is bright and beautiful. Even if you aren't a fan of fairytales, you might want to bend the rules a bit just to see this truly awesome image.
The Sound
Disney has matched the image to a tee with a wonderful DTS-HD Master Audio 7.1 channel mix. The soundtrack offers up a ton of emotion, as well as the bulk of the film's bass. Tangled offers a pretty immersive experience, though, complete with galloping horses, flinging arrows, and flapping bird wings. Of course, the songs are also nice and bold with a big presence. Will you be singing them five years from now? Maybe not, but you will definitely still be using this Blu-ray as a demo disc.
The Extras
We've been slightly spoiled by Disney's recent crop of Diamond edition releases. For that reason, Tangled seems pretty tame as far as extras are concerned. There are deleted scenes, extended songs, and a look at storybook openings that didn't (thankfully) make the cut. There's also a 12-minute making-of short, which comes off more like a promotional piece. It's quick and quirky, thanks to hosting duties by leads Mandy Moore and Zachary Levi. Finally, we had high hopes for the "countdown," which was cute and served as a nice refresher course covering the past Disney films (remember The Adventures of Ichabod and Mr. Toad?). However, at just over 2 minutes, it was also disappointingly short.
Final Thoughts
Tangled may not be "a whole new world," but it certainly knows how to get the job done. Without a doubt, this is an entertaining movie that will be enjoyed by children and adults alike now and in years to come. We have to wonder if Tangled will eventually get its own Diamond edition, with a better set of extras. But why wait? As its 50th animated feature, Disney shows they just keep getting better with age. A wonderful film and a drop-dead gorgeous image make this one a must-have.
Product Details
Voice Actors: Mandy Moore, Zachary Levi, Donna Murphy, Brad Garrett, Jeffrey Tambor
Directors: Nathan Greno, Byron Howard
Audio/Languages: DTS-HD Master Audio 7.1 (English), DTS-HD High Resolution 7.1 (French, Spanish), DVS 2.0 (English)
Subtitles: English SDH, French, Spanish
Aspect Ratio: 1.78:1
Region: A
Number of Discs: 2
Rating: PG
Studio: Walt Disney Studios Home Entertainment
Blu-ray Disc Release Date: March 29, 2011
Run Time: 100 minutes
List Price: $39.99
Extras:

Deleted Scenes
Original Storybook Openings
50th Animated Feature Countdown
Extended Songs
Untangled: The Making of a Fairytale
Tangled Teasers
Discover Blu-ray 3D with Timon & Pumba
Standard-Def DVD