VIZIO VHT510 Wireless Home Theater System Review
By Chris Boylan
Step up to the Bar
While we'd like to think that everyone who invests in a flat panel HDTV also spends a little extra for a decent sound system, the fact is that most HDTV owners simply rely on their TV's built-in speakers for their auditory enjoyment.  And while TV picture quality generally trends upwards every year, the same cannot be said for TV sound.  The thinner a TV gets, the less room it has for speakers, and speakers that lack the necessary cabinet volume tend to sound thin and anemic, with no bass and limited dynamic range.
But many prospective surround sound system buyers are put off, not only by the price of a surround system, but by its complexity.  People don't want to have to deal with the extra wires and complicated system set-up of a full-fledged surround system.  Oh sure, there are affordable integrated HTiB (home theater in a box) systems, but these still usually require that you run a bunch of wires around the room to get sound to all of the speakers.
VIZIO is here to help.
VIZIO's VHT510 Wireless Home Theater System is a true 5.1-channel surround system, so you won't have to settle for simulated surround sound.  The VHT510's front three channels are integrated into a simple one-piece powered soundbar, and the rear channel speakers are driven by a wireless powered subwoofer module, which means you won't need to run speaker wires from the front to the back of the room in order to enjoy fully discrete 5.1 channel surround sound.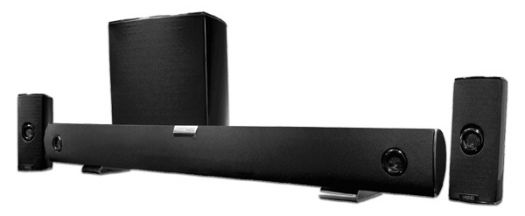 The Set-Up
Connecting the VHT510 is simple enough.  There are only two inputs: a fiberoptic digital input and a stereo analog input.  An optional wireless iPod dock can be added as a third input, but we did not test this particular accessory.  The digital input supports Dolby Digital and DTS multi-channel digital signals as well as two-channel PCM.  DTS decoding is new for VIZIO and a welcome addition.

The simplest way to connect the soundbar would be to plug all your components (DVD or Blu-ray player, cable box, game system) into your TV and use your TV's fiberoptic digital output or stereo analog outputs into the soundbar.  But this is not necessarily the best way to go as most TVs cannot pass through DTS sound through their fiberoptic outputs.  And many DVDs and Blu-ray Discs feature DTS soundtracks.  If you route this DTS sound through your TV then it will be stepped down to two-channel stereo, which means you will lose that 5.1 channel discrete surround sound.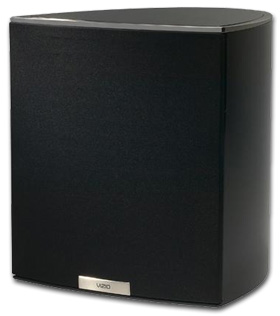 The best quality you'll get will be to plug your Blu-ray or DVD player's fiberoptic digital output
directly
into the VIZIO sound bar's digital input and connect your TV's analog output into the VHT510's analog input for other sources.  This way you will get fully discrete high quality DTS and Dolby Surround from Blu-rays and DVDs, and still get stereo or matrixed surround sound from your cable box, satellite receiver and/or gaming console.  At this price point, a single digital input is pretty much par for the course at this price point, but an extra one would have been useful.
Once your source components are plugged in, there isn't a whole lot else to do except connect the subwoofer and surround speakers.  But don't look around for a jack for these on the bar itself.  The subwoofer and rear speakers are wireless.  The subwoofer module has a wireless receiver built-in and it includes the speaker jacks for the rear speakers.  These are clearly labeled, so you won't mix up the left and right channels.  Yes, there are wires from the wireless subwoofer module to the rear speakers but these should be easy enough to hide behind a couch or along a baseboard using a raceway or wire channel.  Place the rear speakers somewhere in the back half of the room (preferably behind you, equidistant from your main listening position) and you are good to go.
If placement of the rear speakers behind you is not feasible, you can put the VHT510 into a "Front Surround" mode with the surround speakers placed to the left and right of the soundbar.  In this mode, SRS Circle Surround HD can be used to create a virtual surround soundfield.  Our listening and evaluation was exclusively done with the soundbar's standard Rear Surround mode (the default).
VIZIO says their 2.4 GHz Wireless HD Audio technology allows the subwoofer module to be placed up to 60 feet from the sound bar.  Ours was more like 12 feet away, and we had no noticeable problems with interferences nor with the unit losing the signal.  The subwoofer placement isn't too critical as low bass frequencies are mostly non-directional.  Now all that's left to do is plug the sound bar into a power source, and do the same for the subwoofer/wireless amp module and you'll be ready to rock.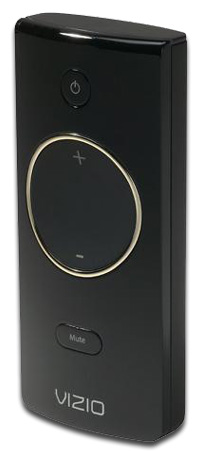 Remotely Interesting
Of course, the VHT510 comes with its own remote control, and it offers quite a bit more control than you might expect from a simple sound bar.  The basic controls (power, volume, and mute) are visible on the front, as well as playback controls for an iPod if you add VIZIO's optional wireless iPod dock.  There is also a small slide-out panel that reveals individual level controls for the subwoofer, center and rear speakers, bass and treble controls, and direct input selection.  There are also buttons to enable SRS TruVolume and SRS WOW and SRS TruSurround HD (more on those later).
So, How Does it Sound?
Enough about the details, how does this thing sound?  Actually it sounds very good, considering the price (MSRP: $389.99).  I did have to bring the treble down a tick or two in order to tame a bit of brittleness in the high end, but this was easy enough to do on the remote.  When you adjust the tone or speaker levels, the sound bar has a nice visual indication of exactly where your settings are set compared to the default via the position of a moving blue LED bar.  The bass is fairly extended without being overly boomy, dialog is clear, if slightly thin at times (particularly on lower registers of male voices), music from soundtracks is presented with suitable openness and good dynamics.  It's not going to be replacing my reference system any time soon, but for a quick movie or casual listening to Pandora on the TV, the VHT510 definitely gets the job done.
The first movie we put on was Disney's Tangled on Blu-ray 3D Disc, and the soundbar had no trouble decoding the disc's core legacy DTS 5.1 sound embedded in the DTS-HD Master Audio soundtrack.  In an early chase scene where Flynn escapes from the king's soldiers (and their persistent horse Maximus who apparently thinks he is a dog), the sounds of pursuit envelop us with arrows whizzing by our heads and galloping hoofbeats approaching from behind. Music swells during climactic moments and lyrics of the many musical numbers are always clear and intelligible.
Next up was Avatar, also on Blu-ray 3D (Panasonic promo disc), and the final battle for Pandora filled the room with the sounds of the planet's natives (humanoid and otherwise) fending off a violent attack from the invading humans with their advanced technology.  From the flapping of the dragon-like Banshee's wings, to the whoosh and explosion of missile fire, to the thunderous stampede of the rhino-like hammerhead Titanotheres, the VHT510 creates the illusion of being in the thick of it in a desperate battle for survival.
For music, I put on a number of different tracks in stereo and in surround.  The DTS CD of "The Eagles: Hell Freezes Over" is one of my favorites for testing multi-channel music from mostly acoustic instruments and vocals.  On this live recording, supporting instruments such as strings and even some voices are sometimes placed discretely into the rear channels for a more immersive effect, though mostly the rear channels are used for the crowd sounds.  Most of the musical action comes from the front three channels.  The VHT510 does a nice job presenting the discrete surround soundstage, though the image in the front is decidedly narrow, dictated by the soundbar's width.
The sound never gets completely out of its box.  It's clear that we are listening to speakers here, not live musicians, but the frequency range is fairly well balanced without excessively harsh treble or boominess in the bass. The soundbar can get a little harsh toward the higher end of its volume range, but at that volume, it borders on "honey, the police are here" loud.  The VHT510 is well-suited for smaller rooms, though it will provide a noticeable improvement over any TV's built-in speakers in any size room.  We had it set up in a 14x16 foot room and it didn't sound like it was running out of steam until we really pushed it.
I was a little worried that having the subwoofer in the back of the room might be distracting, as it provides bass for the whole system, including the front three channels.  Rear placement is not absolutely required, but since the subwoofer module also includes the speaker jacks for the rear speakers, it's likely that you will position the subwoofer near these rear speakers. But the sub kicks in at a low enough frequency that it doesn't draw too much attention to its position.  Turn the sub off though, and you'll definitely miss it -- the sound bar on its own doesn't do much in the way of low bass.  Overall, the transition from lower midrange to upper bass was fairly cohesive. The upper bass, around 80-120 Hz, is not particularly prominent, but I'll take this over excessive boom any day.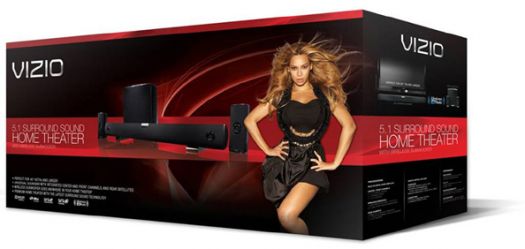 A Few Words about SRS
VIZIO includes three SRS options on the VHT510 when in standard rear surround mode: SRS TruVolume, SRS TruSurround HD and SRS WOW HD.  SRS TruVolume is helpful if you're watching TV and notice big discrepancies in volume level between channels or between the TV program and the commercials.  With SRS TruVolume engaged, these volume discrepancies are minimized.  It works well in leveling out these types of volume variations and can make TV viewing much less annoying.
SRS TruSurround HD (recommended for movies) is an enhancement to two-channel and multi-channel sources to enlarge the soundfield, and SRS WOW (recommended for music) is another spatial enhancement option only available for 2-channel sources.  There are LED lights on the display that indicate which of the SRS processing modes is active.  You can read more about the various SRS options in Greg Robinson's write-up of his SRS Factory Tour.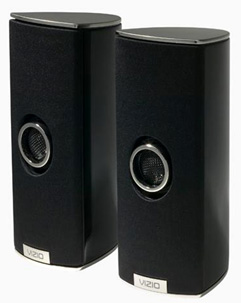 In my listening, the SRS TruSurround HD normally enhanced the depth of the soundfield, but it didn't always improve the overall sound.  On that 5.1-channel Eagles recording, on the song "Seven Bridges Road," enabling TruSurround HD gave abnormal prominence to one specific baritone vocal part.  What should have been a low harmony turned into the vocal lead.  It didn't necessarily sound bad, but it wasn't what this song is "supposed" to sound like.  And I say this after having heard this track on many different systems (both high-end and low-end) over the years.
And on the excellent new Blu-ray of Rush "Moving Pictures," (another DTS-HD 5.1-channel surround track) engaging SRS TruSurround HD made the mix sound more concert-like, with a bit more depth and reverb than was present in standard mode, but at the expense of high frequency detail in instruments like hi-hats and crash cymbals.  Again, it's not necessarily unpleasant, but it's not how this remastered recording is supposed to sound.  Listening to multi-channel music, I preferred having the SRS processing off.
For movies and two-channel music content, the SRS TruSurround HD processing did add a welcome sense of width and overall spaciousness to the sound without changing the overall sonic character.  As for SRS Wow HD (orange light lit on the sound bar), I didn't care for this effect too much on the recordings I auditioned.  It brought the bass up in a mix a little too prominently and made the recordings sound a bit more aggressive than I like.  Fortunately the button to engage or disable SRS processing is right on the remote so you can experiment with it and see which mode you prefer for music and movies.  But also keep in mind that the equalization applied in the different modes creates a very different tonal balance, so you may find you need to adjust the bass and treble (and the subwoofer level) when switching between the various SRS and non-SRS listening modes.
Turn-Ons:
Low price ($389.99)
Great sound for the money
Nice bass output from small powered sub
Decoding for PCM, Dolby Digital and DTS codecs
Discrete rear channels without wires from front to back of room
Turn-Offs:
Only one digital input
A bit thin in the upper bass
SRS TruSurround HD and WOW HD are not ideal for some content

Final Thoughts
The best sound you can get for a home theater system or media center comes from piecing together a component system: an A/V receiver or preamp/amp combo and separate speakers.  But putting together such a system can be a daunting task, not to mention an expensive one.  For under $400, the VIZIO VHT510 offers a taste of discrete 5.1-channel home theater sound with simple set-up and wireless rear speakers.  If you're still listening to the speakers built into your TV then stop torturing yourself and just buy one of these.
Where to Buy:
Manufacturer's Specifications:
What's in the Box:
VIZIO VHT510 Home Theater SoundBar
Wireless Subwoofer
2 Satellite (surround) Speakers with 20 foot speaker cable
Power adapter for SoundBar
Power cable for Subwoofer
Remote control and battery
SoundBar Stand and 2 preinstalled mounting screws
RCA stereo input cable
User Manual
Quick Start Guide
Manufacturer's Contact Information:
VIZIO, Inc.
39 Tesla
Irvine, CA 92618
Phone: 949-428-2525
Toll Free: 888 VIZIO CE (888.849.4623)

On the web: www.vizio.com