VIZIO VF552XVT 55-Inch LED HDTV with VIA (VIZIO Internet Apps) Now Shipping
By Rachel Cericola
Hot on the heels of its Beyonce-licious Super Bowl ad, VIZIO is now taking orders for its latest HDTVs.

These are the sharpest VIZIO sets to date, adding in the most robust set of IPTV capabilities we've seen on any HDTV. That's because VIZIO has created its own set of web-based extras, called VIZIO Internet Apps (VIA). Those options can put VUDU, Netflix, Amazon, Rhapsody, eBay, Flickr, Yahoo!, and other neat services on your new, big HDTV. Each one of the sets also includes a remote with a slide-out QWERTY keyboard, so you can easily whip through your many options, Tweet or even post to your Facebook page. Here's a peek at all three of the new sets:

The biggest of the bunch is the VF552XVT. This 55-inch HDTV allows you surf through all of VIZIO's apps, using 802.11N Wi-Fi technology. When you feel like watching good old TV, this set boasts a 1920 x 1080 resolution, a 2,000,000:1 contrast ratio, 240Hz motion smoothing, TruLED backlighting, Smart Dimming technology, and five HDMI inputs. Here is the direct link to the product: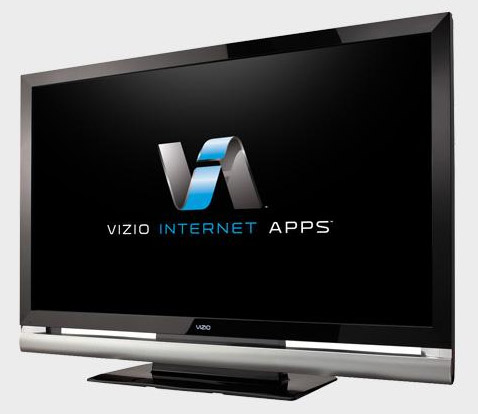 For something a little smaller, the SV472XVT has many of the same features, inside a 47-inch HDTV. Aside from the size, the only other difference is that the number of HDMI connections drops to four. Oh -- there's also, a cheaper price tag. Check out the link for more info:

The smallest in the crop of new VIZIO HDTVs is the SV422XVT. This 42-inch unit has a lot of the same features as both of the other HDTVs, with the exception of a 50,000 contrast ratio and four HDMI inputs. Here's a closer look:
If you're looking for a nice LED-backlit HDTV without all of the web features, Amazon also has the VF551XVT for $1699. We got to take a look at this unit last fall -- and loved it! Highlights include a 1920 x 1080 resolution, a 2,000,000:1 dynamic contrast ratio, Smart Dimming and TruLED backlight technology. Here are a few key links:

The VF551XVT is shipping now. The others will start to ship on Monday, February 15, 2010. Amazon is currently throwing in free shipping on each unit, so order now.