VIZIO VF551XVT LCD LED HDTV with Local Dimming Review
By Chris Chiarella
Edited by Chris Boylan
VIZIO VF551XVT Review
Dim Bulbs (And I Mean That in the Best Possible Way)
We've heard a lot of talk about LEDs as they pertain to LCD HDTVs over the past couple of years. Frankly most people don't want to dip their spoon into this alphabet soup, they just want a picture that looks good. They don't concern themselves with the fact that all LCD TVs need a backlight to deliver their picture, or traditional LCDs' reliance upon Cold Cathode Fluorescent Lamps (CCFLs), which are polarized and diffused before passing through color filters and the liquid crystal. It's a fine although not perfect system, but with that much light being delivered so much of the time, there is often a tradeoff between the overall brightness of the image and the quality of the black level, which can work against one another.
Light Emitting Diodes (LEDs) offer an alternative to CCFLs. They're brighter, use less energy and they can be more evenly distributed across the rear of the display panel.  And if the TV offers a feature called local dimming, clusters of LEDs inside the TV can be addressed individually, depending upon the demands of the image at any given instant. Why would a TV maker bother with LEDs versus more common CCFLs, and add/act upon that new layer of specific picture data? It all boils down to contrast ratio, one of those HDTV buzz terms, a number often maligned for having been inflated by just about every manufacturer lately. It really just refers to the TV's range of brightness to darkness, essential for a realistic image, and LCD has tended to lag behind plasma in this regard.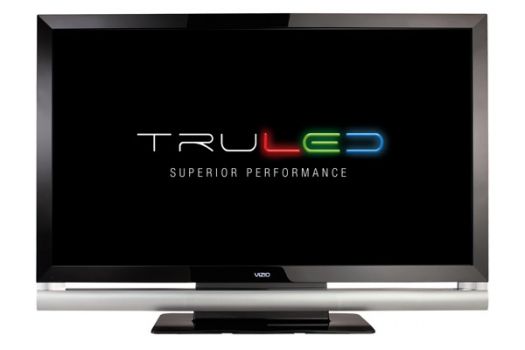 Someone figured out that if we want a dark area of the screen to be really dark, we should try turning off the backlight behind it. And then they figured out a way to do it. The VIZIO VF551XVT LCD HDTV packs 960 white LEDs grouped into 80 independent "Smart Dimming" segments that can be brightened, dimmed or switched off completely as need be. As a secondary bonus, LEDs are inherently more energy-efficient than CCFLs, so if some of them are turning off intermittently while we watch, the electricity savings increase even further.
Another noteworthy high-end video feature of the VF551XVT is its 240 Scene Per Second (240 SPS) "Smooth Motion" processing. If you read my review of the VIZIO SV470XVT LCD last year, you might recall that the standard "refresh rate" (how often the image is rendered and displayed on screen) is 60Hz, or sixty times per second, and the SV470XVT doubled the refresh rate to 120Hz. The new VF551XVT now effectively quadruples the standard rate, enhancing its native 120Hz processing with a scanning backlight, effectively delivering 240 "scenes per second." The goal of this high speed scanning is to rid the image of any native choppiness, and minimize motion blur, suppressing the distracting appearance of video "stuttering" or motion trails across the screen. To achieve the adjustable Low/Middle/High Smooth Motion effect, VIZIO applies varying degrees of Motion Estimation/Motion Compensation (ME/MC) processing to the image.

Connectivity for the VF551XVT is exceptional. The rear panel proffers four HDMI inputs, an RGB PC input and component video, as well as composite video and increasingly hard-to-find S-video. There's also a DTV cable/antenna port and both digital optical and analog stereo outputs, to pass through the audio signal from the built-in tuner or any connected source. On the left side of the cabinet is another HDMI input (handy to quickly patch in an HD camcorder), plus another component video and composite video input with shared analog stereo in. Also provided is a USB port for the TV's built-in Media Viewer, which even supports high-def digital video, just plug in a loaded flash drive.
Factory Fresh
We used calibration settings recommended by VIZIO for the evaluation, and visually verified the resulting levels as optimal using our trusty Digital Video Essentials Blu-ray--with its snazzy included color filter--and other test patterns as well as real-world material. Starting in "Movie" mode, we made some tweaks to the Backlight level (down from 55 to 24) and Color (from 50 to 43). Color temperature was set to "Standard" (the closest to 6500K) and under the Advanced settings, individual R/G/B cuts and gains were adjusted as follows: Red High: 127; Green High: 120; Blue High: 77; Red Low: 129; Green Low: 120; Blue Low: 103. Keep in mind that your results may differ due to sample-to-sample variations.
For all critical evaluation, we disabled the set's optional video processing such as Noise Reduction, Color Enhancement, Smooth Motion processing and Advanced Luma. High Contrast was set to "On" in order to enable the Smart Dimming technology.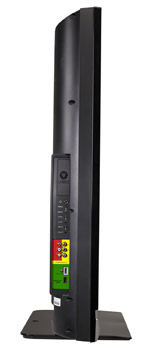 Firing up the HQV Blu-ray demo disc (over HDMI at 1080i, requiring the display to perform the deinterlacing), I began as always with the HD Noise Test. The VF551XVT delivers an exceptionally clean image on both the close-up of the flowers and the long shot of the sailboat. I could have used a bit more image detail, but I watch a lot of Blu-rays and I'm starting to think that perhaps this disc is showing signs of its age, as the technology has visibly improved in the ensuing years. But according to HQV criteria it was a 10 out of 10. During the Video Resolution Loss Test (rotating white bar atop the black-and-white test pattern), the fine horizontal lines in the four corner boxes are plainly visible, without strobing, indicative of full-resolution processing.
Diagonal Filtering "Jaggies" Test - Pattern A (three short bars moving up and down inside the dial) the top two bars had smooth edges but the bottom bar did not, for only a 50% score. The one big rotating bar of Diagonal Filtering "Jaggies" Test Pattern B fared better, with no significant edge issues at any point around the circle.
Again in the Film Resolution Loss Test--similar to the Video Resolution Loss Test, only this time the entire test pattern is moving side-to-side and the signal is encoded from 1080p24 to 1080i/60 using a 3:2 cadence--the full-resolution processing yields well defined black-and-white horizontal lines in all four corner boxes. Lastly, in the related Film Resolution Loss Test - Stadium (real video footage, panning a football stadium) no moiré pattern appeared in the difficult upper deck. So the deinterlacing performance on 1080i Blu-ray signals was a qualified success.
But how would this HDTV fare on standard-definition input? Running the battery of HQV DVD demo material at 480i over component video, I was initially impressed by the tiny horizontal lines clearly visible at Marker 1 and the extreme smoothness of the dark-to-light blue color swatch in the Color Bar/Vertical Detail pattern. On "Jaggies" Test Pattern 1, (long bar inside the dial), the telltale jaggies do not appear until the bar enters the green area, at about ten degrees. Notched corners aside, the top two lines of "Jaggies" Pattern 2 (three bars inside the ring) were smooth while the bottom line displayed jagged edges, for a middling "Good" score. Next, there were definitely some details in the bricks of the background building (good), just like there was definite jaggie-ness in the flapping Flag (not so good).
Staring at the Picture Detail scene, the statue did not seem quite natural, more like blobs of light, the grass appeared natural but soft, without much detail, while the hard geometric bricks of the bridge were fine. The steps to the left showed some faint jaggies. The Noise Reduction nature clips contained significant levels of noise (particularly "mosquito noise," although it varied somewhat from shot to shot) but not always an acceptable amount of detail, although this balance seemed to improve throughout the course of the clips. Motion Adaptive Noise Reduction, with the roller coaster, had a noisy sky, and image detail could definitely be stronger, although video streaking was not especially bad. For Film Detail/3:2 Detection, the TV locked into "Film Mode" with acceptable speed, ridding the stands of their initial moiré in the Super Speedway clip.

Performance on the assorted Film Cadence clips was pretty solid overall, although the 2-2-2-4 and 2-3-3-2 DVCAM clips began to exhibit some flicker and twitch on both the newspaper and the rims of the coffee cups. Mixed 3:2 Film Material with Added Video Titles (Horizontal Text Crawl) and Mixed 3:2 Film with Added Video Titles (Vertical Text Crawl) both locked on quickly although both could also have been a little sharper.  IF these two tests, the edges on the verticaly scrolling text were slightly crisper. So overall the noise level on standard definition material was serviceable, but natural-looking detail was scarce.
Bright Ideas for Black Levels
Next I screened a few time-honored movie clips, with an eye (or two) on the black levels in particular. On the Blade Runner: The Final Cut Blu-ray, the sharp white credits had that not-too-bright, analog film look against the deep black background. I immediately noticed too that the black letterbox bars were really black, indistinguishable from the background. The underlying blacks in all scenes were deep and true. The opening shots flying over the urban sprawl, the silhouettes of the futuristic buildings and the spots of light in the expanse below, later in Gaff and Deckard's spinner trip to police HQ, all showed a dramatic play of light and shadow.
And what better Blu-ray to showcase the contrasts between dark and light than the more recent The Dark Knight? Poring over the car chase and just as strikingly the Chinese extradition scene (both IMAX sequences), I marveled at the exquisite dance of the inky shadows from cut to cut, while the brighter picture information came through loud and clear. For a change of pace, I put up the climactic battle from Sleeping Beauty, and even for animation the benefit of more zealous blacks can be substantial, as the drama of the ominous lighting and all-powerful ebony dragon seemed to be turned up a notch, with just the right amount of detail.
In short, the difference with local dimming (or Smart Dimming as VIZIO calls it)can be profound. There's even a handy Demo mode that lets us watch whatever we want with the dimming automatically activated and deactivated every few seconds. Truthfully, the bright areas of the frame are affected too when the dimming is active, and the dark areas are going to lose some of their detail, of course. It comes back to the tradeoff I mentioned earlier, between brightness and black level, both important but now we have broader relative extremes to play within.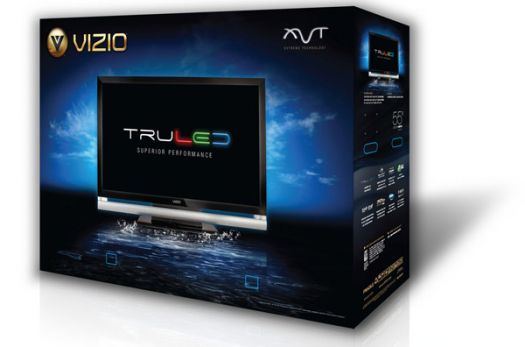 On a similar note, off-axis viewing on this LCD was better than expected, yet not nearly as generous as VIZIO's official numbers might have led us to believe. While vertical positioning was not much of an issue, side-to-side seat changes yielded a significantly washed-out image if we moved within greater than a 90-degree spread off of center. Keep that figure in mind when placing the VF551XVT in your own living room or home theater.
As for the Smooth Motion, in my initial round of tests, the image tended to look artificially smooth, giving the illusion that it has been sped up, which I know is not actually the case. This was true of much of the video that I demo'd on the VF551XVT, as it was with the SV470XVT before it. The VF551XVT can however support 24 frames per second natively, without frame interpolation or 2:3 conversion, when we turn the Smooth Motion effect to "Off." The TV then repeats the frame five times (via 5:5 pulldown) into 120Hz. The Smooth Motion option is in fact the master switch for the ME/MC on/off, while the TV's "Real Cinema" mode (Off/Precision/Smooth) determines the particular ME/MC behavior when a 24p signal, specifically, is detected.
Taking the time to critically re-evaluate the performance at Off, Low, Medium and High settings, I did notice some inherent chop in the IMAX opening sequence of Dark Knight, in its original, non-enhanced state (Smooth Motion off), although this version looked the most natural and truly film-like to my eye. After repeated viewings at Low, I developed a new appreciation for VIZIO's added smoothness, despite an undeniable video-like slickness to the image at times. At Low, I felt we had the best opportunity to balance the benefits of this technology against the drawbacks, as the effect at both Medium and High was too distracting.
The thing is, almost every movie shot on film is captured at 24 frames per second, and the "purist" way to play that back is by repeating each of those frames an even multiple of times. This maintains the look of film when played back at home. With Smooth Motion processing on the VIZIO (as with many other sets), intermediate frames are inserted between each frame, and although they reduce blur, this process also smoothifies the motion in a way that feels not-quite-right to me, and others I've spoken to. There are all sorts of clauses in Hollywood contracts to maintain filmmakers' intentions, what do they have to say about this?
The VF551XVT also packs two excellent built-in audio enhancements from SRS Labs: SRS TruSurround HD and SRS TruVolume. TruVolume effectively levels content at disparate volumes, ending those loud jolts when we cut to commercials, while maintaining an enjoyable balance between highs and lows. TruSurround HD is every bit as fascinating, as it manages to craft a credible faux surround from only a two-channel signal and using only the TV's pair of onboard speakers. I could have sworn I heard sound effects from behind me, when there was a knock on the door in Blade Runner I jumped, and all of the movie audio was spacious and clear.
Turn-Ons:
Big, crisp 1080p picture at a reasonable price
Packs two of the hottest technologies in LCD: local dimming LED backlighting and frame rate enhancement
TruSurround HD and TruVolume take built-in TV audio to a whole new level
Turn-Offs:
A few negligible pet peeves, like a not-always-responsive remote control
Even now, staring at VIZIO's 240SPS-enhanced moving images, I'm still not a fan of "Smooth Motion" video
Final Thoughts
Plenty of consumers very much want enhanced frame rates on their LCD HDTV (even if I'm not yet convinced but hey, at least I can deactivate it), and they also want local-dimming LEDs, they just don't realize it yet. With impressive size, connectivity and a generous feature set, the VIZIO VF551XVT LED LCD is a tremendous home theater value, assuming you have the room for it.
NOTE: The VF551XVT is being replaced in the line with the VF552XVT which should offer identical performance but adds VIZIO Internet Apps (VIA) which offers IPTV capabilities including Netflix and VUDU streaming among other services.  The VF552XVT will being shipping in early Q1 2010.
Where to Buy:
Manufacturer's Specifications for VIZIO VF551XVT LCD LED HDTV:
Video:
55" class (54.6" viewable)
Resolution: 1920 x 1080 pixels
Contrast Ratio: 1,400:1; Dynamic Contrast Ratio: 2,000,000 (with Smart Dimming)
Refresh Rate: 240Hz SPS (Scenes per Second)
Response Time: 5 ms (typical)
Colors: 1.06 Billion
Brightness: 500 cd/m2 (typical)
Viewable Angle: 178 degrees (horizontal and vertical)
Color Temperature: 6500K (standard), 9300K and 11000, with independent Red, Green and Blue fine-tuning
Tuner: Integrated NTSC/ATSC/QAM HDTV
3:2 or 2:2 Reverse Pull-down
Signal Compatibility: 480i, 480p, 720p, 1080i, 1080p
Supported PC Resolutions: 1920 x 1080, 1024 x 768, 800 x 600, 640 x 480 via VGA/HDMI
Pixel/Dot Pitch: 0.630mm (H) x 0.630 mm (V)
Audio:
Total Audio Wattage: 30 Watts RMS (15 W x 2)
SRS Labs TruSurround HD
SRS Labs TruVolume
MTS Stereo decoder
Dolby Digital decoding for ATSC/QAM
Inputs/Outputs:
HDMI 1.3 Inputs (5; 4 back, 1 side)
RGB PC with stereo mini-jack audio input (1)
Component Video (2; 1 back, 1 side)
S-Video input (1)
Composite Video input (2; 1 back, 1 side)
Analog Stereo input 4; 1 shared between composite and S-video on back, 1 shared with composite and component video on side)
Analog Stereo output (1)
Digital Optical Audio output (1)
USB 2.0 (1)
RF ATSC/NTSC cable/antenna (1)
Weight and Dimensions:
Weight: 78 lbs.
Weight with Stand: 90.4 lbs.
Dimensions: 51.5" x 33.9" x 5" (WxHxD)
Dimensions with Stand: 51.5" x 35.9" x 13.5" (WxHxD)
Additional Features:
Limited Warranty: One Year Parts & Labor, Free Lifetime Technical Support, Free On-Site Repair, Zero Bright Pixel Defects Guaranteed
VESA mount compatible
Multimedia formats supported: MPEG-2, MPEG-4, H.264/AVC, WMV, VC-1, MP3, JPEG
Picture-in-Picture (PIP)
Picture-outside-Picture (POP)
Closed Caption (CC)
V-Chip 2.0
3D Comb Filter
Motion-adaptive deinterlacing
Freeze
Panel Life: 40,000 hours to half original brightness
Power Consumption: 168W average, 0.33W standby
Removable Base
MSRP: $2,199.99
What's in the Box?
55" HDTV
Universal programmable Remote Control with learning function (incl. batteries)
Manual
Quick Start Guide
Power cord
Cleaning cloth
VIZIO, Inc.
39 Tesla
Irvine, CA 92618
Phone: 949-428-2525
Toll Free: 888 VIZIO CE (888.849.4623)
On the Web: www.VIZIO.com