The Sound of Dexter: Q and A with Mixers Pete Elia and Kevin Roache
By Chris Boylan
As Dexter fans prepare for season 7, the sixth season of the hit Showtime series about a morally conflicted serial killer comes out this week on Blu-ray Disc. The Blu-ray set features a stunning 5.1-channel lossless Dolby TrueHD soundtrack which brings home the tension and energy of the series even more dramatically than the original 5.1-channel Dolby Digital broadcast. Recently we had the chance to sit down with Dexter re-recording mixers Pete Elia and Kevin Roache to chat about creating the perfect soundscape for Dexter.  You can find the video link below or read along to see what these sound gurus have to say about bringing Dexter's sound to life.
BPBS: Thanks for joining us today, guys. Congratulations on wrapping up another great season of the show. We've seen (and heard) the Dexter Season 6 Blu-ray set which came out this week, and the Dolby TrueHD 5.1-channel audio track is impressive. We're curious whether you have to make significant compromises in the mix to make sure that it sounds good in a full multi-channel home theater system while still not sounding terrible through a TV's tiny speakers?
Pete Elia: We do have to consider all playback environments, but we really focus most of our attention on the 5.1 full surround presentation, which would be best represented on these Blu-ray DVDs. Nowadays more and more people at broadcast are able to experience that as well with 5.1 cable companies and systems at home. So we really focus on that but the stereo fold-down version -- the "smaller" version that will just come out of the TV -- is extremely important to us and we will check back and forth. If there's a moment we question, maybe we're getting huge impact in 5.1, we want to make sure that some of that impact exists on the other formats.
We'll check it, but we don't necessarily have to let the least common denominator drive our decisions any more. We used to really have to worry about that, but nowadays with the Dolby fold-downs and various mastering processes, multiple versions off the 5.1 version are very good; very representative. So we can really give the best theatrical type of experience in the 5.1 and know that the life of that will live on the smaller versions
Kevin Roache: And now with digital transmission of audio, when you get it at home, it's less damaged in the process. So it's much closer to what you'd hear on the dub stage.
BPBS: Interesting. So, is the final mix that you use for the Showtime broadcast identical to the one you put on the Blu-ray or do you tweak it further for the Blu-ray release?
Pete Elia: It is the final broadcast mix that goes on the Blu-ray. There is not a separate mix. Blu-ray is probably the best representation you will get of our true 5.1 mix.
BPBS: So, to get into the real nitty gritty (this is a show about a serial killer, after all), how much effort goes into giving the various death scenes a unique and different sound design, or a similar one, for that matter?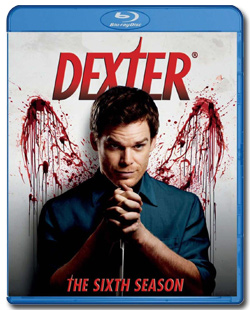 Pete Elia:
I think that's dictated by what we see. Sometimes they happen in an industrial place, and the din and the noise of that can create a certain feeling. Sometimes they happen out in the middle of nowhere or in a room that's hidden and super quiet and there's a tomb-like silence that can create a certain type of tension. That is very much dictated by the script and how the picture is put together for us.
Kevin Roache: The similarity though, while every death scene is different, Dexter always has the environment kind of covered in plastic. And it has come to be very foreboding to hear his footsteps on that plastic crinkling as he walks up to his victims. You kind of know... it's something you now associate with the coming murder.
BPBS: Definitely. I'd say it's one of the signature sounds of the show. And speaking of signature sounds, can you describe your favorite moment or moments in the series from a sonic perspective? Which scene or scenes are you most proud of when you see and hear them in playback.
Kevin Roache: It's the moment (in season 2) before James Doakes dies: he's in the cabin out in the swamps, and the cabin just explodes. That's an incredible moment. And in season 6, some of my favorite sound moments are when the four horsemen of the apocalypse march down the street and you can hear those horse hooves marching on pavement. And then also when they uncover the locusts and the whole entire team is covered in a huge swarm of locusts. That was very dramatic.
BPBS: Indeed! Thanks again for joining us today and good luck as you move into a seventh season.  Thanks also to Dolby for arranging and filming this Q&A session.
More Information: