Dexter: The Sixth Season Blu-ray Review
By Rachel Cericola
The Film
When we last left Dexter Morgan (played by Six Feet Under's Michael C. Hall), he had a bloody bad situation on his hands -- literally. That's pretty much how we always leave Dexter. The guy's a serial killer of serial killers and all around bad people.
In Dexter: The Sixth Season, the main focus is the Doomsday Killer, which actually turns out to be a duo played by the unlikely pairing of Edward James Olmos and Colin Hanks. The two keep Dexter and his crew hopping with a season-long series of killings based on the Book of Revelation.
Besides the obvious, religious themes run rampant throughout the entire season. While that may seem a little blasphemous to some, it makes for completely compelling TV here.
In between all of that madness, little sister Deb (Jennifer Carpenter) makes Lieutenant, Dexter makes friends with reformed criminal Brother Sam (Mos Def), Harry (James Remar) makes multiple appearances, Quinn (Desmond Harrington) makes a complete ass of himself, and Dexter makes do as a single father. Well, in between all of the murders; there are some doozies this season, as well as a whopper of a finale.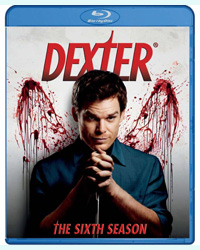 After six seasons, the show may seem a little crusty for some. That said, Dexter: The Sixth Season is a bloody good time in more ways than one. Enjoy.

The Picture
While some of the scenes may keep you wincing, you won't want to shield your eyes from this 1.78:1 transfer. This is a good-looking release. It's super-clean, with some amazingly gory details on display. Of course, some aren't as gory, but they're still amazing, all the way down to the stubble on Dexter's face. Even in the darkness and inside the church, imagery is nice. Overall though, this one works best outdoors and during daytime scenes, where that Miami sun isn't the only thing that shines. There are the aforementioned details, as well as spot-on skintones and other gorgeous colors.
The Sound
The dialogue is certainly the star of the show, but this Dolby TrueHD 5.1 track should still keep you jumping -- a lot. The score is surprisingly good, very active, and will keep you well perched on the edge of your seat. However, there are also a ton of great atmospheric sounds, with thuds, gunshots, screams, rippling water, and much more filling the soundfield. It's not just a great track for a TV show, but a great track in general. For more details on the sound of Dexter, check out our Q&A with Dexter Sound Re-recording Mixers Pete Elia and Kevin Roache.
The Extras
This section is this set's one disappointment; none of the three discs included have any extras. Instead, Showtime makes use of the BD-Live option. From there, viewers can watch select episodes of other Showtime shows, includng The Borgias, Californication and House of Lies. If you're only interested in Dexter, there are also a few interviews with the cast, including David Zayas, Michael C. Hall, Jennifer Carpenter, Lauren Velez, Colin Hanks, and Desmond Harrington.
Final Thoughts
Dexter fans will absolutely want to snap up this 3-disc set. Why shouldn't they? Dexter: The Sixth Season is a good one, and may even creep you out in some spots. If the religious themes don't hook you, the acting and some of those shockers certainly will. The special features are the most disappointing part of this set, but excellent audio and video more than make up for that.
Product Details
Actors: Michael C. Hall, Jennifer Carpenter, Desmond Harrington, C.S. Lee, Lauren Vélez, David Zayas, James Remar
Directors: SJ Clarkson, John Dahl, Ernest Dickerson, Michael Lehmann, Seith Mann, Stefan Schwartz, Romeo Tirone
Audio/Languages: Dolby TrueHD 5.1 (English), Dolby Digital 5.1 (French), Dolby 2.0 Surround (English, Spanish)
Subtitles: English, English SDH
Aspect Ratio: 1.78:1
Number of Discs: 3
Rating: NR
Studio: Showtime Entertainment
Blu-ray Disc Release Date: August 14, 2012
Run Time: 103 minutes
List Price: $65.99
Extras:

Interviews
House of Lies: Episodes 1 & 2
Californication: Season 5, Episodes 1 & 2
The Borgias: Season 2, Episodes 1 & 2