Sony HT-ST7 7.1 HD Soundbar with Wireless Subwoofer Review
By Rachel Cericola
Raising the Bar
While manufacturers have spent years perfecting and pushing the "wow factor" of video, audio has sort of taken a backseat. As a result, a lot of people are investing all of that home theater money into an eye-popping picture. It's certainly understandable. However, no matter how great an HDTV looks, it usually sounds pretty bad.
Hey, it's hard to squeeze a cool audio system into one of those slim TV bezels. So over the past few years, soundbars have become a popular option. A soundbar is an easy way to boost the sound of any TV. It doesn't take up a lot of space and typically, doesn't take up a lot of your budget.
With the popularity of the category, another little niche has opened up: the high-end soundbar category. Just because a person doesn't want to sacrifice a lot of space to a bunch of speakers doesn't mean they don't want great sound. The Sony HT-ST7 HD Soundbar with Wireless Subwoofer is designed for such a listener.
This particular soundbar package promises 450 watts of immersive "7.1-channel sound," thanks to seven amplifiers and nine speakers. There are two 2.5-inch cone woofers and two 0.75-inch dome tweeters for the front right and front left channels (one of each per side), as well as five 2.5-inch full-range drivers in the center. I put "7.1" in quotes above because there are no separate side or surround speakers here. All sound comes from the main unit itself, courtesy of Sony's "S-Force Pro" front surround technology. Bass response is supplemented by the powered 100-watt wireless subwoofer (included in the system). The sub can be placed virtually anywhere in the room, though I would recommend some experimentation in placement to get the best sound.

Sony has also made this set mobile device-friendly. Sadly, there's no AirPlay on-board, but there's Bluetooth connectivity with Near Field Communication (NFC) for instant pairing. As far as connectivity, one of the things that makes the HT-ST7 a true standout is the inclusion of three HDMI inputs, which you don't see on the typical soundbar. This allows the setup to support both Dolby TrueHD and DTS-HD Master Audio soundtracks natively, either of which you'll find on almost every single Blu-ray release.
Now, the HT-ST7 does have an above-average list of features, but it also has an above-average price tag to match. Sony is listing this package with an MSRP of $1299.99. Is it worth the price? Let's take a closer look.
Out of the Giant Box
When the HT-ST7 showed up at my front door, I was sure there had to be a TV hidden inside. This box is ginormous and completely bucks the whole idea that a soundbar is compact. Well, such a magnificent beast does require a lot of packaging -- and magnificent it is. The soundbar measures 42.62-by-4.38-by-5.12 inches (with the grille frame and without any stands), while the subwoofer takes up another 9.5-by-15.5-by-16.25 inches. It's big, but also probably the most stylish soundbar set I've ever laid eyes on. It's the kind of setup that will incite people to say, "What's that?"
Also worth noting is that the components are built really well. A lot of times when you are setting up a soundbar, you can not only see, but feel the inferior, almost flimsy quality. That's not so with this Sony set. The stuff is heavy, built to last, and more importantly, built to rock the room.
Sadly, the unit doesn't come with any HDMI cables, but has pretty much everything else you'd need to rock out rather quickly. Besides the actual speakerbar and the subwoofer, the package includes an IR blaster, a digital optical cable, a pair of wireless transceivers, screws and stands, and a really cool looking remote control.
Sony has designed the soundbar to sit on a shelf or be attached to the wall. Either way, you'll want to insert the Bluetooth transceivers before you proceed.
The front of the soundbar has five buttons, all of which blend nicely into the finish. Two of the buttons provide manual controls, with the others providing one-touch access to power, Bluetooth Pairing, and the Input choice. The inputs on the back are sort of concealed in a spot flush in the speaker's cabinet. It may be a little tight for larger fingers, but my dainty digits were able to squeeze into the spot just fine. Inside that area, there are three HDMI inputs, one HDMI output, a coax connection, two optical inputs, and two analog inputs. The subwoofer takes even more of a minimalist approach, with just an on/standby indicator, an on/standby button, and the Secure Link button for when there are several wireless devices in the mix. There's also a slot for the wireless transceiver.
It's important to note that the HT-ST7 does support ARC (Audio Return Channel), so you can get high-quality sound from sources built into your TV, such as Smart TV apps (Netflix, VUDU, Pandora, etc.) or even from your TV's built-in HD tuner, all without the need to run a separate HDMI or fiber-optic cable. The HDMI cable you connect from soundbar to TV to carry the video signal to the TV also carries sound from the TV back to the soundbar. The set also comes with an IR blaster for controlling other components. In terms of operation, you can opt to use the existing TV or cable box remote control you know and (possibly) love or you can use the slick little unit that Sony has provided.
Like most soundbars, you don't need a receiver to use the HT-ST7. However, it would be possible to do so, if you need even more inputs and outputs than the HT-ST7 provides. For this review, I did the typical setup, connecting the A/V sources directly to the HT-ST7 and connecting the soundbar to my TV. Specifically, I used a DISH Network Hopper box and a Panasonic Blu-ray 3D player as sources via HDMI connections to the HT-ST7, then connected the HT-ST7's HDMI output to my Panasonic VIERA TC-P50GT25 plasma. Then, I connected the power cords for both the soundbar and the subwoofer and fired up the system.
Sound Off!
While no soundbar could replace a high-quality discrete multi-channel speaker system, the HT-ST7 does deliver some impressive, immersive sound. It has a really wide soundfield, but never sounds thin -- if you're tweaking it properly. I spent a good few minutes pushing the Voice button and wondering why this thing sounded so tinny, until I realized it was the Sound Mode button that was needed.
Yes, the HT-ST7 offers all sorts of sound options, which is exactly the type of premium you'd expect at this price point.
There are four sound modes: Movie, Music, Football, and STD. Most are self-explanatory, with the latter offering plenty of joke fodder, as well as a standard effect for everyday TV viewing. Sony has also included three Voice modes (the aforementioned button) for tweaking dialogue. Last, but certainly not least, there are three Subwoofer tones, so you can sharpen up the bass performance. The actual subwoofer has no buttons or switches on it, so you'll do all of your tweaking through the main remote.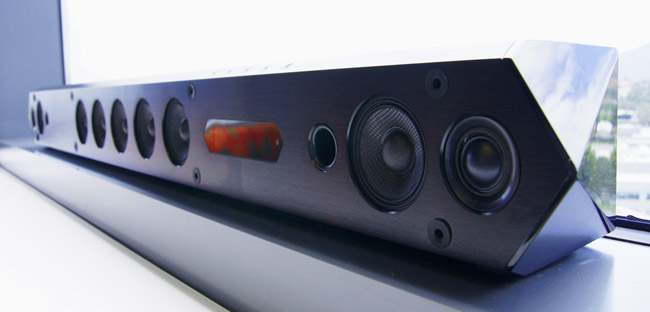 First, I tried out the HT-ST7 with my DISH Network Hopper and an HBO airing of Pitch Perfect, The Dolby Digital soundtrack sounded "aca-awesome!" Each of the character's voices were clear and distinct. It was a pleasant surprise to see how detailed a soundbar could be.
Then, I switched to something a bit more demanding: The DTS-HD Master Audio 7.1 track and a few (ahem) killer scenes from the original Kick-Ass on Blu-ray Disc. Again, I was really happy with how much sound the slim bar was pumping out, with nice heft to gunshots and explosions as well as excellent dialog articulation. Of course, it wasn't as immersive as a full speaker complement, but I was very impressed at how wide the soundfield was spread around.
That type of delivery is achieved via Sony's S-Force Front Surround technology. It sounds like a load of marketing speak, but there's no denying that this soundbar has a soundfield that goes well beyond the physical boundaries of its slim chassis.
Wondering About the Wireless?
As mentioned, the HT-ST7 can support Bluetooth pairing via NFC (Near Field Communications). If you have an NFC-capable device, pairing is a snap -- or a touch, in this case. Instead, I opted to use my iPhone, which can pair with the setup via standard Bluetooth. No add-ons or hoop jumping is needed. If Bluetooth is enabled on your phone, the HT-ST7 should pop right up and streaming should be seamless.  If you get prompted for a passcode (which I didn't) then use "0000."
As with movies and TV shows, music streamed via Bluetooth was also very enjoyable through the ST7. Of course, the sound will be dependent on the source material. However, I didn't have any complaints, whether I was streaming music stored on my phone or one of my favorite Pandora channels.
This is My Boom Stick

Sony has made the HT-ST7 compatible with your everyday TV or set-top box remote control, at least as far as the basics are concerned (like volume control). However, there's also a little stick remote included for those looking for a dedicated option or access to the more advanced features and tweaks of the bar. It's cool-looking and so tiny! At approximately 6.5-by-1-by-1 inches, this thing spent a lot of time wedged in my couch cushions. However, you may want to fish it out. Good things come in this small package.
At first glance, the remote has a total of seven buttons -- and two of those are for volume. Otherwise, there is a mute option and a power button. The remaining buttons are for the Input, Sound Mode and Voice modes. It's pretty straightforward, but those last three buttons will have you toggling a lot. For instance, if you opt for one the HDMI connections, you're still going to have to flip through all of the soundbar's other inputs to get there.
The big surprise is when you slide the remote open. Yes, this thing has Pinocchio-like powers and can expand to expose subwoofer controls and other advanced options. It's pretty darn cool.
Turn Ons
It's very pretty
Built-in Bluetooth with NFC support
Custom sound and voice enhancement modes tailor sound to your personal preference
HDMI support (3 in, 1 out) with ARC simplifies connections
Support for Dolby TrueHD and DTS-HD Master Audio formats
Remote offers a little surprise inside
Turn Offs
It's pricey!
Minimal bass adjustment options
For the money, AirPlay would be nice
Remote is cute, but requires a lot of toggling
Bottom Line
Sony has set an ambitious goal here: They're trying to satisfy the audiophile with a single stylish speaker bar (and subwoofer), instead of a complicated receiver/multi-speaker package. Yes, audiophiles sometimes have smaller living spaces, but most would rather forgo a bathroom and furniture or even incur the wrath of the resident interior decorator than go the soundbar route in their main A/V system. That said, audiophiles do have bedrooms and dens -- and the HT-ST7 would make for a nice addition to these secondary rooms.
Also, some owners are just looking for sound that's better than the TV speakers, without the complexity of a multi-channel system and these buyers would be quite happy with the sound quality, style and usability of the HT-ST7. For the money, the package could use AirPlay or DTS PlayFi, and maybe even a USB port. But these quibbles aside, the HT-ST7 is a great-looking -- and fine-sounding -- entry into the soundbar market. If you have the scratch, pick one up and don't look back.
Manufacturer's Specifications:
Company Contact Information:
Sony Electronics Inc.
16530 Via Esprillo
San Diego, CA 92127
Phone: 877-865-7669
On the web: www.sony.com