Kick-Ass Blu-ray Review
By Rachel Cericola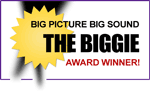 The Film
Is it possible to make a bad movie called Kick-Ass? We wouldn't know. That's because Matthew Vaughn's (Layer Cake) future cult flick isn't just a good movie; it's actually a great movie.
Kick-Ass takes the superhero genre to the next level, getting down to brass tacks (and sometimes brass knuckles) to show us what we really want to see our superheroes do: kick some serious ass.
The story starts with Dave (Aaron Johnson), an uber-nerdy high-schooler whose passion for crime fighting and getting a girlfriend lead him to the alter ego of Kick-Ass. Like Spider-Man, Kick-Ass needs a little time to get comfortable with the crime-fighting business. Unlike our friendly neighborhood Spider-Man, this spandex-clad hero doesn't actually have any superpowers.
Although his superhero name stands at the top of the marquee, the real stars are the subordinate characters of Big Daddy (Nicolas Cage) and Hit Girl (a marvelous Chloë Grace Moretz). Both join Kick-Ass in the crime-fighting game, by kicking things up a notch -- as well as in the teeth. These two are not interested in flying, spinning webs or even telekinesis. That's because they don't have to be; they have a lot of insane fighting skills and an arsenal of scary hardware to make that superhero magic happen.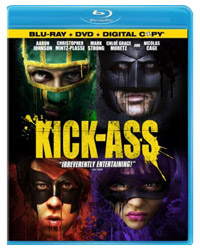 Kick-Ass certainly lives up to its name and should please fans of the comic book. However, be forewarned. This is not a cutesy crime-fighting kiddie flick. It's cool, comical, and completely violent. Think Tarantino-style violence; bullets fly, bodies implode, and guts are impaled.
Also, the movie will completely restore your faith in Nicolas Cage -- not the shopper, but the actor. That's a superpower all on its own.
Want to check out a supersized look of this dark superhero flick? Check out Joe Lozito's review of the theatrical release of Kick-Ass.
The Picture
Kick-Ass has the superpower of a pretty awesome 2.40:1 transfer. Right off the bat, red and gold colors pop off a hero wannabe. Soon after, the blues of high school cheerleaders practically leap off the screen. All of the costumes look awesome, as do most of the brighter scenes in the movie.
That brings us to some of the darker scenes. While not always, the image does have some problems with detail during those darker moments. Also, some of the shots inside Big Daddy's lair were a bit fuzzy. Overall though, none of that really detracts from the movie.  There are plenty of sharp details and textures, from Dave's clothes to the costume-created muscles on Big Daddy's outfit to a quivering pinky finger inside a giant clamp.
The Sound
A superhero movie without good audio is like a superhero without a nerdy alter ego. Lionsgate gives Kick-Ass the DTS-HD Master Audio treatment, but pumps it up to 7.1 channels. This release can certainly fill that soundstage with the extremely graphic fists of fury, a crazy barrage of bullets, and the constant swordplay. There are tons of effects here, from fights to fireballs. This soundtrack doesn't miss a single one of them. Be prepared to scare the neighbors.
The Extras
Lionsgate has packed the utility belt for this release, including a standard-def DVD, a digital copy, compatibility with D-Box motion as well as BD Touch and Metamenu apps, and LG Live, which is the Lionsgate version of BD Live. The latter offers on-screen LG Gadgets for time and weather, with additional options for Facebook and Twitter integration, wallpapers, and a peek at the Lionsgate news feed.
One interesting Blu-ray feature is the "Ass-Kicking Bonus View Mode," which intertwines audio and video commentary, behind-the-scenes clips and other goodies in with the regular movie. Many of the other extras, including the making-of and "The Art of Kick-Ass," are divided up into a plethora of mini featurettes. What's included covers just about every aspect of the movie, from the concept to the violence to costumes. Overall, it's a hearty set that should leave fans completely satisfied.
Final Thoughts
Kick-Ass is a movie geek's fantasy on so many levels. It's got the nerds, the comic-book connection, and a pretty awesome Blu-ray. Although it has a few minor image issues, this movie is wildly entertaining and this release pretty much matches the mayhem. Exceptional audio and extras also seal the deal, making this one superhero story that you don't want to miss.
Product Details
Actors: Aaron Johnson, Christopher Mintz-Plasse, Mark Strong, Chloë Grace Moretz, Nicolas Cage
Director: Matthew Vaughn
Audio/Languages: DTS-HD Master Audio 7.1 (English), Dolby Digital 5.1 (French)
Subtitles: English SDH
Aspect Ratio: 2.40:1
Region: A
Number of Discs: 3
Rating: R
Studio: Lionsgate
Blu-ray Disc Release Date: August 3, 2010
Run Time: 117 minutes
List Price: $39.99
Extras:

Ass-Kicking Bonusview Mode
Audio Commentary with Director Matthew Vaughn
A New Kind of Superhero: The Making of Kick-Ass
It's On! The Comic Book Origin of Kick-Ass
The Art of Kick-Ass
Marketing Archive
D-Box Motion Code
BD Touch and Metamenu Support
Bookmarks
LG Live
Standard-Def DVD
Digital Copy