Samsung HT-AS730ST Home Theater Receiver with 5.1 Speaker System Review
By Chris Chiarella
Edited by Chris Boylan
Samsung HT-AS730ST Review
Blu-ray Wanted
If you follow home entertainment trends at all, then you know that everybody (and his aunt, most likely) wants a Blu-ray player. The penetration of HDTV is only growing, and despite our sluggish economy, people appear to be buying BD players and other sources that take advantage of all that a big screen HDTV display has to offer.  So that leaves but one glaring hole in the next-generation home theater experience: the sound.
The low-end solution would be a DVD-quality "home theater in a box" (HTiB), a 5.1 speaker system with the Dolby Digital and DTS decoding, plus the requisite wattage to amp it up. But this approach doesn't take into account the higher-resolution lossless multichannel audio capabilities of Blu-ray, or the wondrous host of possibilities offered by de rigueur HDMI connectivity, for audio and video. What's an aspiring-yet-budget-conscious HD maven to do?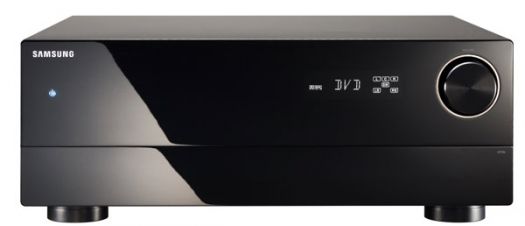 Samsung has assumed that you've gone ahead and bought that Blu-ray deck--who knows, maybe even one of theirs--and just need something to handle the audio duties, hence the HT-AS730ST AV Receiver with Speaker System. This is actually Samsung's second attempt at a traditional audio/video receiver product in recent years, a significant redesign bundled with five matched speakers and a subwoofer. It has ample inputs and switching capabilities (as detailed below), most notably three HDMI inputs and a single out to the TV. Important to note however is that its "just add Blu-ray" readiness does not include Dolby TrueHD or DTS-HD Master Audio processing. Instead, it relies upon the player's onboard decoding and ability to pass the audio as multichannel PCM over HDMI, as so many do these days.  The AS730S takes it from there, with conversion of the digital signal to analog and amplification to all 5.1 (or by adding two speakers 7.1) channels for an immersive and lossless surround sound experience.
Home Theater Out-of-the-Box
Unlike most other receivers I've tried, the main unit of the AS730 does not weigh much at all despite its large chassis, which has a lot of empty space inside. Of course, the metal box does require a fair amount of height to accommodate the many connections around back, including color-coded terminals for up to seven satellites and the subwoofer, plus whatever legacy devices you might have lying around, be they composite or component video.
The loudspeaker suite consists of four identical satellites, skinny "Tallboys" in hard plastic shells with tiny silicone feet for standing, molded keyholes for hanging, and a threaded metal screwhole for attaching a speaker stand. The center is a few inches wider with a different, symmetrical driver arrangement to accommodate horizontal placement. All are less than four inches deep, keeping them flat-panel-friendly. All feature Samsung's new BioKelp-material cone, chosen for its purported ability to produce clearer, more detailed sound. It's also an excellent source of Vitamin A.
The subwoofer is where most of the heft is at, a beefy front-firing/bottom-ported quasi-cube of coated medium-density fiberboard with its own 150-watt amp tucked inside (and sticking out the back). Ample lengths of hair-thin, bare-wire-terminated speaker cables are included for the five speakers (consider upgrading it to a heavier gauge), subtly color-coded to aid initial hookup.  And while our review sample was sadly lacking a subwoofer cable, Samsung tells us that this cable is included in the box at retail so you won't have to make a mad dash to Radio Shack just to get hooked up.
The back panel of the receiver provides five-way binding posts for all seven channels, so you could conceivably upgrade the speakers later, though Samsung does not officially recommend doing so. They say the speakers and amplifier are made for each other (and not in the romantic sense).  This is a complete 5.1-channel bundle but can be upgraded to 7.1 with the addition of two speakers.  Any brand will do but try to get 4 ohm speakers if possible as these are a better match for the receiver and other speakers in the system.   Two hundred of the receiver's rated 700 total watts are reserved for that contingency.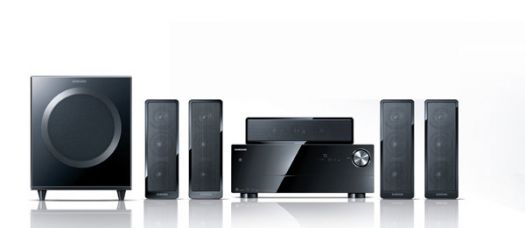 Source connection is pretty straightforward if you're going Blu-ray-only, a mite trickier if you plan to take advantage of the HT-AS730ST's many input options. A total of three HDMI repeaters stand ready to accept high-definition source components with full 1080p video pass-through. The receiver does not support any manner of video upconversion, so for example a composite video signal coming in, as from a videogame console, must pass through to the display as composite video out, meaning that it cannot exploit the singular HDMI output. As with a growing number of components, no S-video input or output is supplied.
An outboard iPod dock is included, which connects via Samsung's own proprietary plug/jack to the receiver. This is a fully licensed "Made for iPod" device, supporting authentication for the latest crop of Apple players and iPhones. DTS Neo:6 surround automatically engages and matrixes the music/videos out to multiple speakers when the iPod's stereo signal is recognized though you can switch over to stereo mode if you're a 2-channel purist. If you'd like to watch iPod-sourced video on your big screen, you must use the "Monitor" or "VCR" (both composite) video outputs.
Auto Sound Calibration (ASC) mode is included, along with a small setup microphone, to tailor the receiver's output to our unique room layout, the reflectivity of walls and so forth. For those of you who have never completed this step, I would recommend it: The prompts are simple, the entire process brief, and we wind up with a sound system customized just for us in our specific environment.
For our review I connected Samsung BD-P1600 Blu-ray player as the primary audio/video source.  If you do the same, just make sure that the HDMI Digital Output of this player (or any other Blu-ray player, for that matter) is set to "PCM" rather than "bitstream." As I mentioned earlier, the receiver will take the decoded audio channels supplied by the receiver over HDMI and amplify them much as it would the individual analog signals. Speaking of which, if we so choose we can exploit the mulitchannel analog (RCA-type) outs of our Blu-ray player (if provided) and feed those directly to the available 7.1 analog ins of the receiver instead, though this will not take advatange of the handy-dandy speaker calibration offering I was raving about just a few short sentences ago.
5.1 Away!
The 650 watts of total 5.1 amplification at my disposal (100 x 5 for the five channels, plus 150 watts within the powered subwoofer) made light work of Master and Commander: The Far Side of the World Blu-ray, up to the challenge of one of the most demanding DTS-HD Master Audio soundtracks in my library. There was a pleasing fullness to all five channels and a serious kick to the low frequencies, reproduced with fine fidelity overall. I found the sweet spot--between "louder is better!" but before distortion became a problem--to be at around "50" (out of 60) on the master volume readout. Subwoofer volume is adjusted by its own knob around back, but on a big, bassy action movie I wouldn't consider running it above 40 percent, as my review unit began to buzz like an angry robot.  If your bass proclivities run more toward the extreme, feel free to replace the included sub with one of a beefier (and more expensive) nature.  Just be sure to re-do the auto-calibration for best results.
The power and precision of the Dolby TrueHD hero Iron Man were also well-served, within the above-mentioned limitations. This is a busy mix with a lot of modern mechanical trappings, a stark counterpoint to the 19th-century Fox seafaring adventure, and the slick polish of it all came through, although I would have been grateful for a bit more reliable low-end oomph to back it up. But my main criticism of the 5.1 performance here is that the sound can sometimes be too localized, as if coming from individual speakers rather than being part of a single unified soundfield. I suspect that the problem is the compact speaker design, more for unobtrusive visual style than for ideal audio reproduction.  But when invoking our super-critical audiophile-approved golden ears, we must remember the price tag here: $499 for 5 speakers, an advanced HDMI-equipped A/V receiver and a powered subwoofer.  It's amazing it makes any sound at all.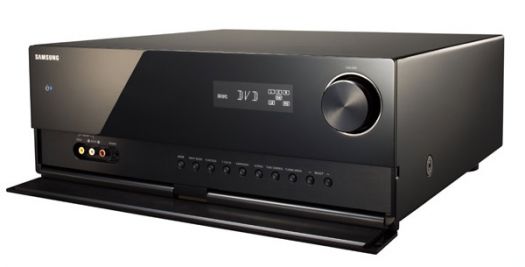 The HT-AS730S boasts Samsung's "Crystal" amplifier technology, and as I did some more critical listening--at more modest volume levels--on music, in different formats, it became clear that the sound quality of this system was remarkably clean for its price point, with acceptably high fidelity.

I did encounter a few quirks during my tests. The center channel cut out on me for no apparent reason, but was easily restored after just a quick power off/on. Interestingly, the reboot automatically reset the volume from my 50 down to 30 (half-power). The speakers also spat out weird pops and such when connected gear was turned on and off. I must however praise the flawless single-remote interoperability between the connected Samsung TV, Blu-ray and receiver, even without any programming whatsoever. The HT-AS730ST supports HDMI-CEC, with Samsung's own Anynet+ secret sauce on top of that. The physical layout is unusual for a receiver remote, long and narrow and easily mistakable for the BD-1600 Blu-ray remote. It allowed solid control of the connected iPod too, with a dedicated "IPOD" button to boot.
Turn-Ons:
Extremely versatile, generous connectivity: Just add Blu-ray!
Convenient interoperability of connected devices
Can be upgraded to 7.1 - just add speakers!
Useful accessories included (iPod dock! Auto Calibration mic!)
Turn-Offs:
Despite impressive design/build, subwoofer maxes out way too soon
Compact satellites don't always add up to a unified soundfield
Final Thoughts
As a value proposition, for consumers looking to add the last piece of the puzzle to their Blu-ray home theater, the HT-AS730ST is a sound investment (pun intended). Performance of the system was solid (though not exceptional) on a variety of tasks, and with a variety of software. For small- to medium-sized home theaters, for use with wall-mounted flat-panels, or for easy day-to-day enjoyment without breaking the bank, this little home theater system might just do the trick.
[editor's note: Overall score downgraded from 3 to 2.5 stars and value score downgraded from 3.5 to 3 stars after additional testing of a second review sample and in consideration of similarly priced HTiB products offering substantially better ergonomics and features]
Where to Buy:
Features/Specifications of the HT-AS730ST:
MSRP: $499.99
Available Finish: Black
Power Rating: 100 watts x 7 into 4 ohms (20-20,000 Hz) + 150-watt powered subwoofer
iPod/iPhone dock
Auto Sound Calibration with Microphone
Onboard decoding for Dolby Digital, Dolby Pro-Logic-II, Dolby Pro-Logic-IIx, Dolby Digital EX, DTS, DTS-ES Discrete 6.1, DTS 96/24, DTS Neo:6
Multichannel Analog Input (7.1-channel)
FM tuner
Energy Star compliant
Dimensions (W x H x D):

Receiver: 17.32" x 6.5" x 15.16"
Satellites: 3.68" x 10.67" x 3.03"
Center: 14.17" x 3.05" x 3.68"
Subwoofer: 12.2" x 15.24" x 16.85"
Gross (Carton): 21.18" x 18.31" x 28.43"

Weight:

Receiver: 14.5 pounds
Gross (Shipping): 62 pounds

Warranty: 1 Year, Limited
Connectivity (Rear-Panel):
HDMI-CEC inputs (3), HDMI-CEC output (1)
Component Video inputs (2), Component Video output (1)
Composite Video inputs (4), Composite Video outputs (2)
Digital Coaxial audio input (1)
Digital Optical audio inputs (3)
Analog 7.1-channel input
Analog Stereo inputs (4), Analog Stereo outputs (2)
Subwoofer Pre-Out
Speaker terminals: Five-way binding posts (7)
Front panel: Headphone jack, Composite Video/Analog Stereo input
Speakers:
Matched Left/Right/Front/Rear "Tallboy" two-way satellites (4)
Dedicated Center Channel PS-AC730 (1)
Powered Subwoofer PS-AW730 (1)
Company Information:
Samsung Electronics America, Inc.
105 Challenger Road
Ridgefield Park, NJ 07660
ph: 800-SAMSUNG
Website: www.samsung.com