Master and Commander: The Far Side of the World on Blu-ray Disc Review
By Chris Boylan
Back during his prime, it was said that Sting could break wind into a microphone, and it would sell. And similarly, Russell Crowe could stare blankly into a camera and we would watch it. His presence and charisma could make an uninteresting film interesting. But in the case of Master and Commander: The Far Side of the World, we have the inimitable Russell Crowe in the leading role and a compelling story to boot, and it's a winning combination.
Set in the early 19th Century, Russell Crowe plays Captain Jack Aubrey ("Lucky Jack"), a seasoned commander in her majesty's navy. On a mission to capture or destroy any ship supporting Britain's enemy France, Crowe's ship the HMS Surprise is instead set upon by a French privateer vessel, the Acheron Aceron's captain appears equally committed to the destruction of a British naval vessel. He is also quite skilled, and is in command of a ship far nimbler, and more powerful than the Surprise. Hunter becomes the hunted as Captain Jack's loyalty to his country comes into direct conflict with his responsibility to his crew and their safety. Will Lucky Jack, his ship and his stalwart crew survive the day? Watch the film and you'll find out.
For an alternate take on the film, see Joe Lozito's Master and Commander review.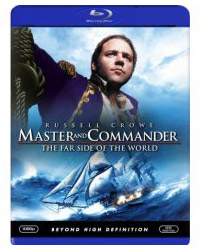 The Picture
Master and Commander features a 1080p widescreen AVC-encoded transfer letterboxed in the original theatrical aspect ratio of 2.4:1. Set primarily on the high seas, with many rolling shots of waves and many a close-up on actors' faces, this Blu-ray Disc transfer oozes detail and accurate well-saturated colors. The transfer reveals individual stubble hairs on Crowe's scraggly cheeks as well as fine grain in the wooden hull of the ship. In the many night scenes, shadow details are well-preserved, not washed out. On their travels, the crew of the Surprise visits the Galapagos islands and these panoramic landscape shots are what high definition was invented for. Definitely an upgrade over the existing DVD, which was no slouch in the video department either.
The Sound
Master and Commander on DVD has long been a reference disc for audio, with its subtle whispered dialog, sweeping score and deep explosive cannon blasts. Presented in lossless DTS-HD Master Audio 5.1 surround, Master and Commander's audio track does not disappoint on Blu-ray. From the deep low explosive force of cannon fire to the subtle buzzing and chirping of beetles and birds on the islands, the disc presents an immersive auditory experience that perfectly complements the film's visuals.
The Extras
Extras on this Blu-ray release are not terribly substantial. Some deleted scenes, a historical/geographical trivia track, a pop-up map showing the ship's progress to the far side of the world, a "search content" feature that allows you to find specific parts of the movie quickly, a "personal scenes" feature, theatrical trailers of this and other Fox titles, and D-Box motion enhancement. The deleted scenes were entertaining, but would not have added much in the way of depth to the film had they been left in. And the "personal scene selection" is interesting, allowing one to string together a series of scenes for viewing in sequence - useful if you're evaluating audio or video equipment or simply want to put together your own "Master and Commander's Greatest Hits." Missing are many of the extras on the DVD special edition. For a dual layer disc, I would have hoped for more and this is the only thing keeping the disc from a 4-star overall score.
Final Thoughts
With reference quality audio and video transfers, and a well-made enjoyable film with strong performance by Crowe, Paul Bettany and the supporting cast, Master and Commander on Blu-ray Disc is a worthy addition to any film collector's library. I would have liked to see more extra features, particularly those that exploit the Blu-ray format or at least those that were included on the DVD release. But even without these, this is indubitably the best way to enjoy this film and still earns a buy recommendation
Where to Buy:
Product Details:
Actors: Russell Crowe, Paul Bettany, James D'Arcy, Edward Woodall, Chris Larkin, Max Pirkis, Jack Randall, Max Benitz, Lee Ingleby, Richard Pates, Robert Pugh, Billy Boyd
Director: Peter Weir
Audio/Languages: DTS-HD Master Audio 5.1 (Enlish) Dolby Digital 5.1 (French, Spanish)
Subtitles: English, Spanish, Cantonese, Korean
Region: A
Aspect Ratio: 2.4:1
Number of discs: 1 50GB Blu-ray Disc
Rating: PG-13
Studio: Fox
Blu-ray Disc Release Date: May 13, 2008
Run Time: 138 minutes
List Price: $39.99
Extras:

Deleted scenes
Historical/geographical trivia track
Pop-up map
"Search Content" feature
"Personal Scenes" selection
Theatrical trailer
Fox on Blu-ray (more trailers)
D-Box motion enhancement codes