Think You Can't Put a Projector in Your Living Room? Epson Says, "Think Again."
By Chris Boylan
If you want to replicate a movie theater experience in your home or provide a truly impressive way to watch THE BIG GAME, a 55-inch or even 65-inch TV isn't going to cut it. When it comes to screen sizes, bigger is definitely better. But while home theater projectors can create a massive picture, they've typically been relegated to basements, testosterone-infused man caves or dedicated home theater rooms. Older projectors were simply not bright enough to compete with typical living room lighting conditions. Also, the placement requirements of most projectors can make installation tricky and/or expensive.
Companies like Epson have been addressing the brightness issue with brighter and brighter projectors. Now you can easily find a home theater projector with over 2,000 Lumens of brightness for under $1,000. And earlier this week at CEDIA Expo, the company introduced a new projector that may have solved the placement problem too. The Epson Home Cinema LS100 is a Full HD 3LCD Ultra Short-Throw Projector that uses a laser light source to generate up to 4,000 Lumens of white and color brightness. Because it uses an ultra-short throw lens, you can place it just 18 inches from the wall and get a huge 120 inch (10 feet) diagonal screen, with no need for digital keystone or complicated picture settings.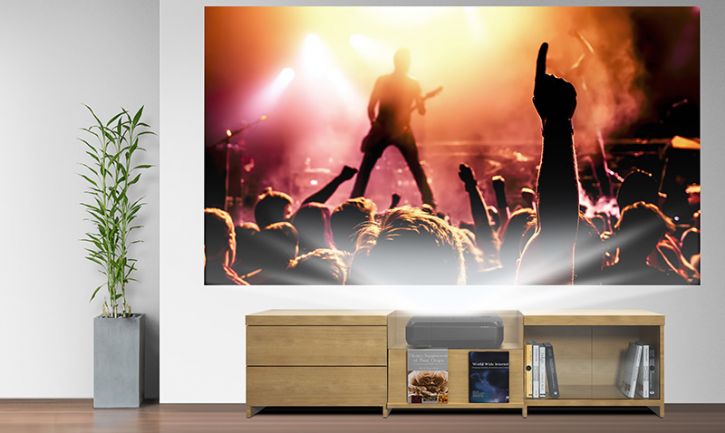 With the projector so close to the wall, you eliminate that annoying shadow when viewers get up for a snack, or when your daughter invites her friends over for a "Just Dance" marathon (been there, done that). Also, having the projector at the front of the room makes conectivity that much simpler. You can put the projector on the same stand as your video sources (cable or satellite box, Roku, Apple TV, etc.) and you can easily connect the projector to a receiver or powered soundbar without having to run cables to the back of the room or ceiling.
The LS100 features three HDMI ports as well as two USB ports, a VGA computer input and an analog audio/video input for older sources. It even includes a built-in speaker, though we'd recommend an external sound system or high quality soundbar for better performance. The projector offers Full HD (1920x1080 pixel) resolution. The laser light source is not user-replaceable but is expected to last upwards of ten years of average use (20,000 hours). The projector comes with a two-year warranty.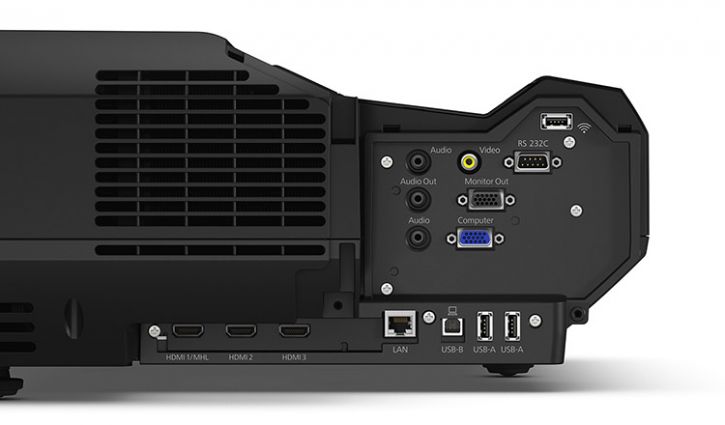 The Epson LS100 is expected to start shipping in November, 2017 for a list price of $2999.99.
Related Articles: