Epson's New Home Cinema 1450 Projector Wants to Be Your Everyday TV with 4200 Lumens of Color Brightness
By Chris Boylan
If you want a huge TV screen on the cheap, projectors offer great bang for the buck. $3,000 for a 65-inch TV? Please! Home theater projectors can give you a 100-inch image - or even larger - for half the price. But the big drawback with projectors is limited light output. If you want to watch TV with the living room lights on - or during the day with the drapes open - most projectors just can't compete with that ambient light. Colors get washed out and images look faded.
Epson has been on a mission lately to address this issue. And their latest projector, the Home Cinema 1450 ($1,499), is one of their brightest consumer projectors ever, rated for a whopping 4,200 Lumens of both white output and color output. That last bit is important. With Epson's 3-Chip LCD design, there's a separate LCD display unit inside for each of the three primary colors: red, green and blue. This gives the projector the ability to maintain high brightness for color content as well as white content. Other technology such as single-chip DLP, which uses a spinning color wheel to create colors on the screen, may get decent brightness for white images (when the color filter is out of the loop) but tend to have a dimmer image on content with actual color in it.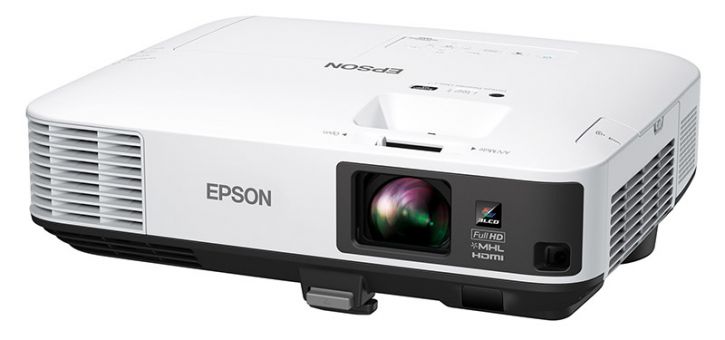 The Home Cinema 1450 features two HDMI inputs (one with MHL support), two PC/VGA inputs, a composite video input and analog audio inputs. It also includes two USB ports, an ethernet jack and an RS-232C port for use with an external control system. Although there is no lens shift capability, there is a 1.6:1 optical zoom and automatic digital keystoning to adjust for less than ideal placement. The projector's native resolution is 1920x1080 pixels (1080p) with a standard HD aspect ratio of 16:9. The 1450 includes a built-in speaker powered by a 16-Watt amp so it's ready to rock right out of the box. For best results, we'd recommend hooking it up to a powered soundbar or receiver and there's an analog audio output on board to help make that happen.
The projector uses a UHE (Ultra High Efficiency) lamp, which is rated by the company for 5,000 hours of regular use or up to 10,000 hours in Eco mode. The bulb is user replaceable and currently sells for $99. It's covered by a 2-year limited warranty with 90 days on the bulb. In case you're torn about watch to watch, the projector can actually display two different sources next to each other on the screen. So it's not exactly "PiP," (Picture in Picture) but "PntP" (Picture Next To Picture).
The Home Cinema 1450 is expected to be available April 17th via select retail stores and e-tailers with a suggested retail price of $1,499. Epson will have the projector on display tonight (April 6, 2017) at the Pepcom DigitalFocus show in New York City.
Related Articles: